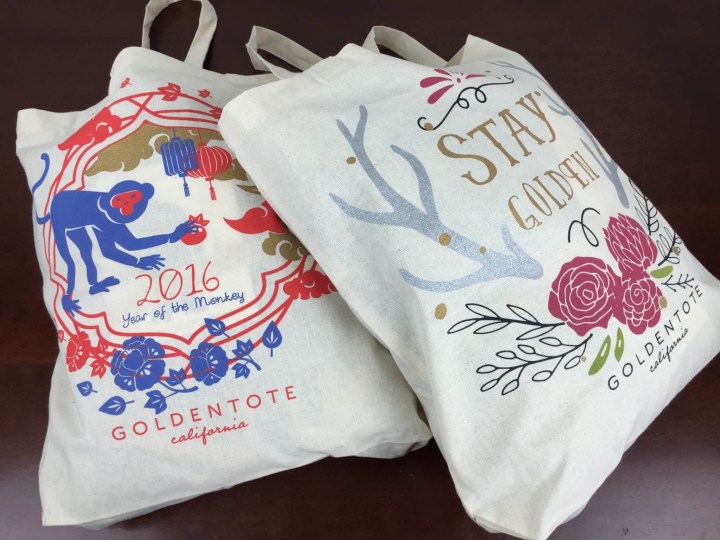 Golden Tote is a monthly fashion grab bag – Get new pieces monthly that are fashionable, seasonable, and affordable. When you pick the $149 tote you select two pieces and then you get 5-7 pieces with a total value of up to $600! When you get the $49 tote you pick one item and get 2 (or sometimes 3). Unlike regular subscriptions you have to purchase it every month, but you can return it. If you decide to keep part of your tote, any kept 'chosen items' will be sold at boutique price and surprise items for $35.
This is a review of the $149 tote. See my review of my $49 tote for January 2016 here and my other $149 tote here. Note that you get free shipping at Golden Tote if you spend $149 or more.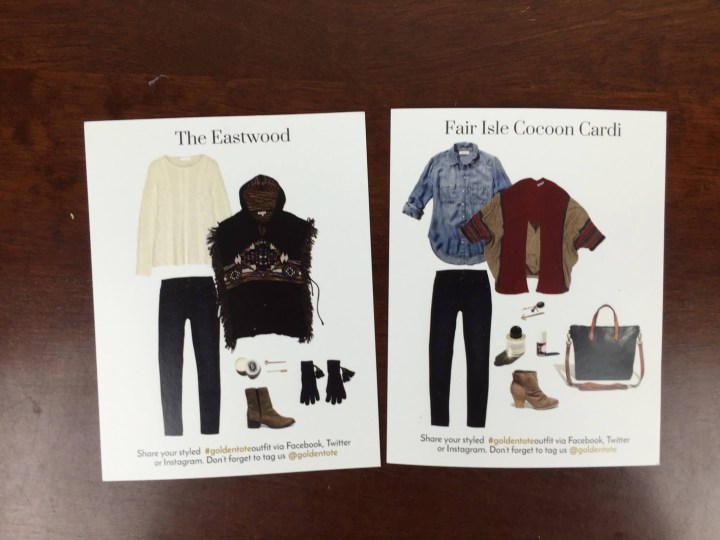 The box comes with styling cards for your "chosen" items giving ideas on what to wear it with and how to accessorize.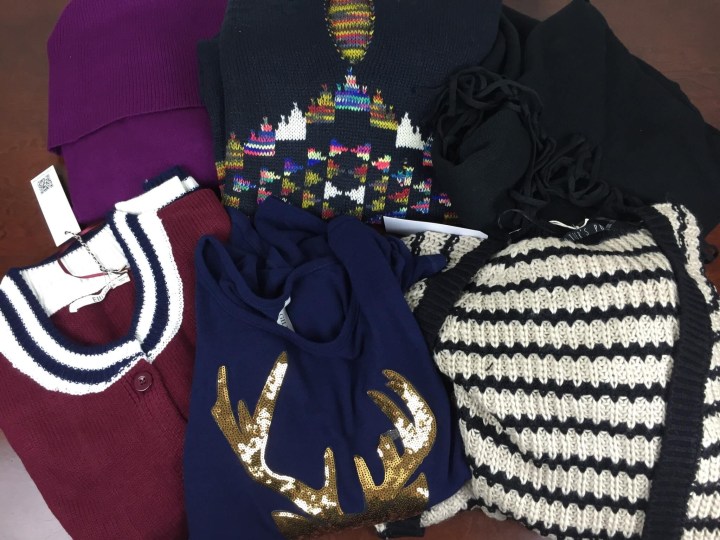 Everything in my box!
January Chosen Items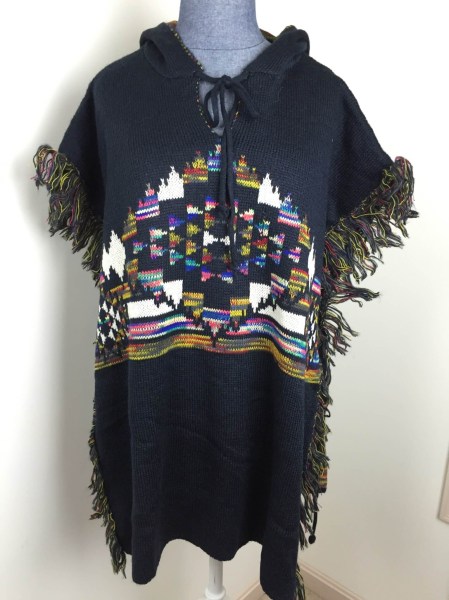 The Eastwood ($45) My husband helped me unbox this one and when he pulled this out, he said if that isn't totally you I don't know what is! I gleefully told him I picked it – this was one of my chosen items! I love the style and it's super warm and cozy! I love their style suggestion for this poncho (with a sweater and ultra-skinnies).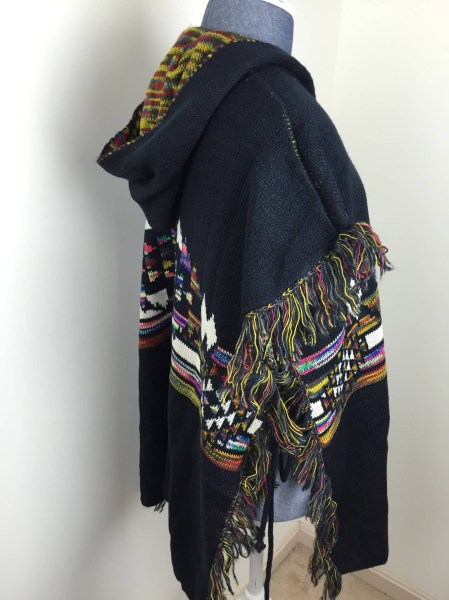 Fringe Cowl Neck Sweater ($68) Also totally me, I know this will be a new staple item in my wardrobe. And the fringe goes all the way around!
January Surprise Items.
Ellison Varsity Jacket: This is actually pretty cute on, but it's totally not my style 🙁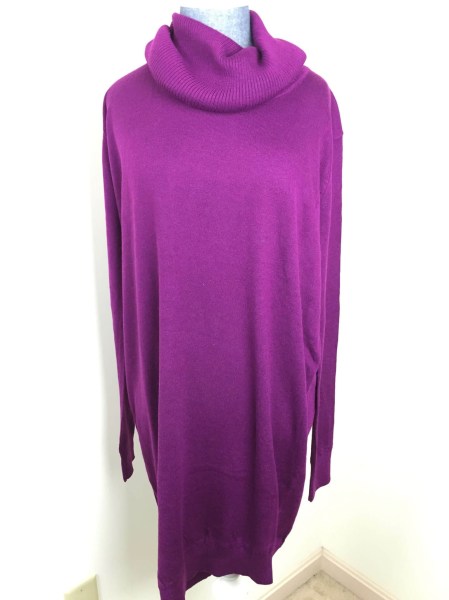 Lumiere Cowl Neck Sweater Dress: This is totally my style, although with the cold, I tend to wear dresses with pants (not leggings, I go full pants!). It might be a little weird, but that's how I do it. Anyways this will be great with a belt or a lower huge statement necklace. I love this color!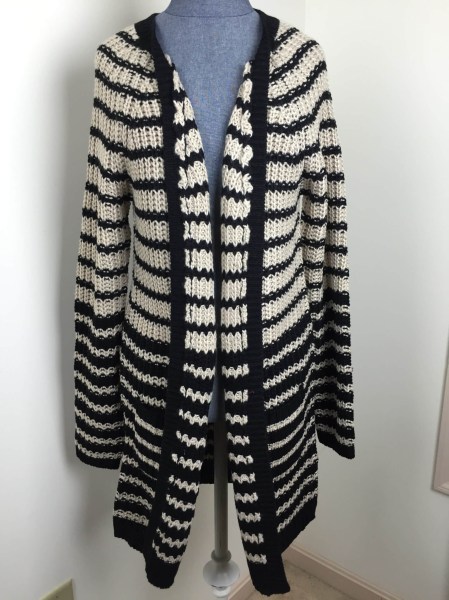 Miracle Tiger Stripe Cardi: If you saw how mind-boggled I was at all the sweaters in my other tote, this made me super happy too! I'm super-guilty of the monochromatic (read: I wear a lot of black) look and adding a topper to my outfit makes me feel like I'm wearing something different. This is in my stylist notes so I probably tend to get more outerwear/cardigans/ponchos than the next gal – but it really shows that they are listening to those notes!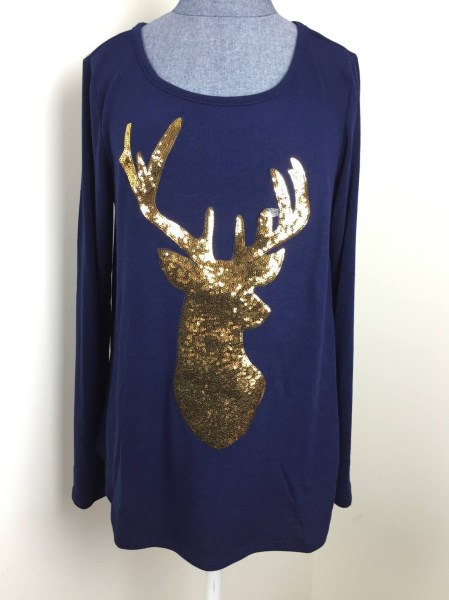 Gilli Sequin Deer Top: I LOVE this! Unfortunately it's defective (one of the antlers was flipped over). The clothing is packed in bags before it's picked by the packers, so I'm not surprised that nobody noticed (the error is really on the manufacturer's side).
If you remember, I went overboard on ordering this month, and after looking at this set vs my other $149 tote, I'm really not sure which one I'm sending back. I loved both totes equally, but I'm leaning on returning this one – only because it will make managing the defective item a tad easier, but it's a tough call! And then I start thinking about my chosen items, and I'm completely paralyzed! However, since this one has a "no" item for me (the varsity sweater), I think the scales have been tipped. Taking this tote on its own it's absolutely great and I couldn't have asked for more (except perfect antlers)!
Visit Golden Tote to subscribe or find out more!
The Subscription
:
Golden Tote
The Description
: Golden Tote is a clothing surprise bag. Each month you'll get either 5-7 clothing and accessories picks in your tote ($149) or 2-3 items ($49).In creating your Tote, Golden Tote allows you to select one item out of two for your first item ($49 tote) and two out of four for the larger tote. The Tote itself is reusable lightweight canvas!Sizes XS-Large. No individual returns but you can regift or exchange with friends. Alternatively you can return your entire order but you cannot return a single item or two.
The Price
: $49.00 per month