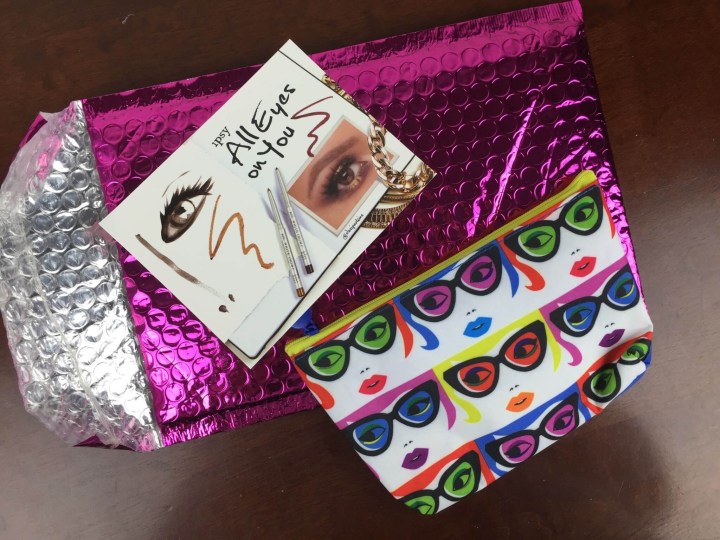 The Ipsy theme for January is "All Eyes on You." Ipsy is a monthly beauty subscription – get 5 items in a cute bag for $10 a month! It's the most popular subscription box (even though it's a bag) with over 1.3 million subscribers and 100k new ones monthly. If you're an Ipsy fan, be sure to watch for my monthly spoiler posts – I pick one reader randomly from the comments as my referral link for most of the month. Several of the past winners were able to load up on bonus items! Ipsy always comes in a fab pink mailer bag!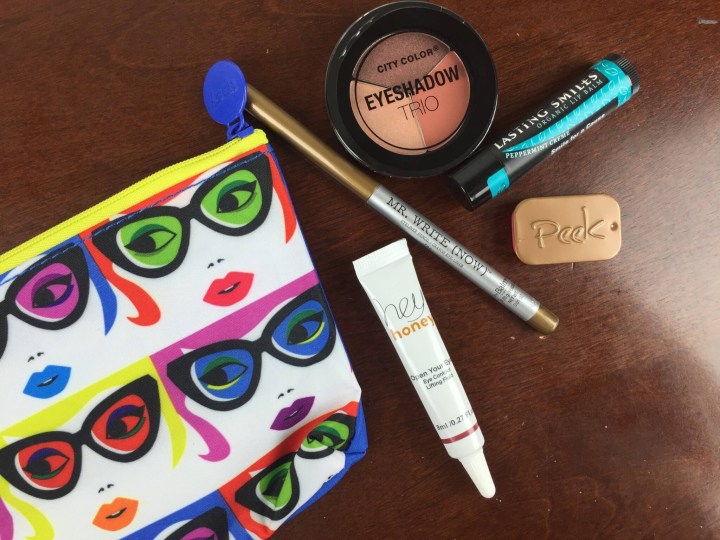 Everything in my bag for January!
The January Glam Bag featured a mod pop art print.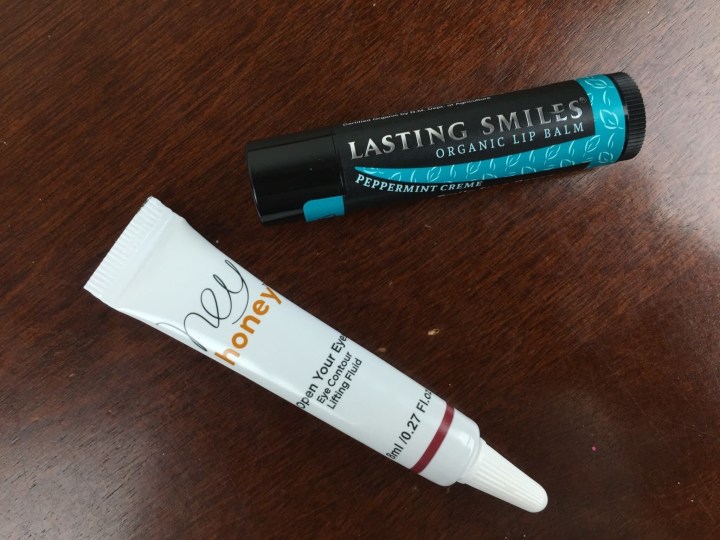 Hey Honey Open Your Eyes Eye Contour Lifting Fluid ($14.93) This is a firming treatment to help restore radiance under and around your eyes. Always something I'm working on, so I'll use it all up! You only need a little – this small tube is over half the full size!
Lasting Smiles Organic Lip Balm ($5) I've received this lip balm a few times over several subscriptions, and I'm never disappointed about it, because Lasting Smiles raises money for cleft lip surgery in developing countries.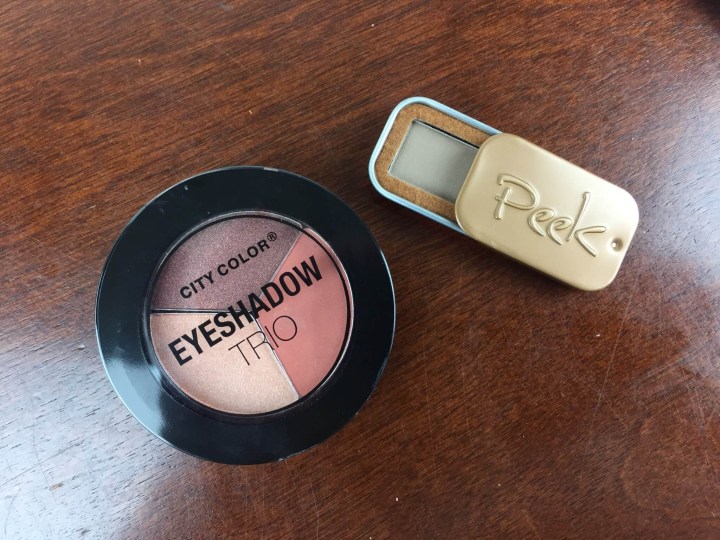 City Color Cosmetics Eyeshadow Trio in Falling Leaves ($5.99) This is an ipsy exclusive palette and I totally love it. I didn't expect to, but I do! Swatches below.
PEEK Beauty Natural Stain Brow Powder ($7?) This is an all natural henna brow stain with rosemary and thyme oil. I haven't seen Peek's products anywhere besides their site, but they're all in the neat little slide out metal cases. The powder looks funny in the photo – it's like a medium brown. In the full-size it comes paired in two blendable colors in pans larger than this one for $22, so I went with $7.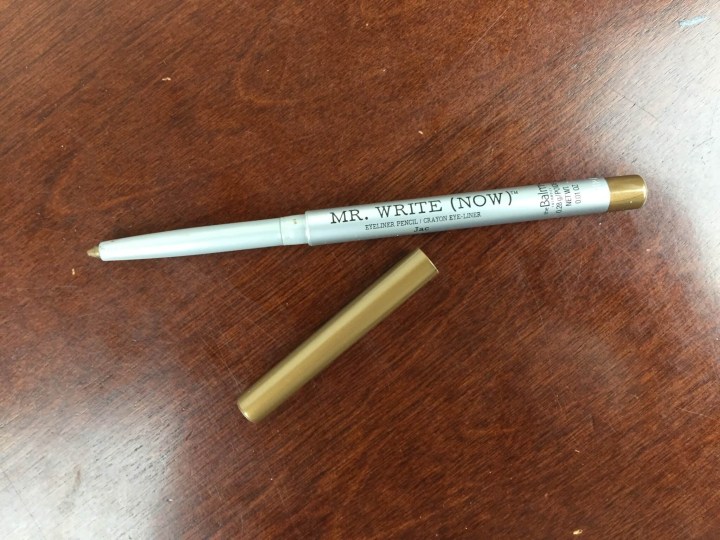 theBalm Cosmetics Mr. Write (Now) in Jac B. Bronze ($17) I absolutely love this liner! The color, the built-in sharpener, the formula, and the excellent application. One might say it's The Balm!
L-R: shadow trio, henna brow powder, eyeliner.
This was a totally amazing bag! I thought every item was either totally awesome or nice to have, plus it had around $60 in value. Last night I picked up an Em Cosmetics palette and a Colour Pop shadow set with my points, too. Speaking of points, remember to subscribe to the newsletter so you see the February 2016 Ipsy Spoilers – I will open the referral link giveaway with the first spoiler!
You can check out Ipsy here and subscribe, and don't forget to visit your Glam Room (and do your review points!).
The Subscription
: 
Ipsy
The Description
: Monthly Glam Bag with deluxe samples and full-sized beauty products. Comes with a cute little bag to store your loot.
The Price
: $10 per month
The Reviews: See all our Ipsy Reviews.
The Spoilers: Check out Ipsy Spoilers.