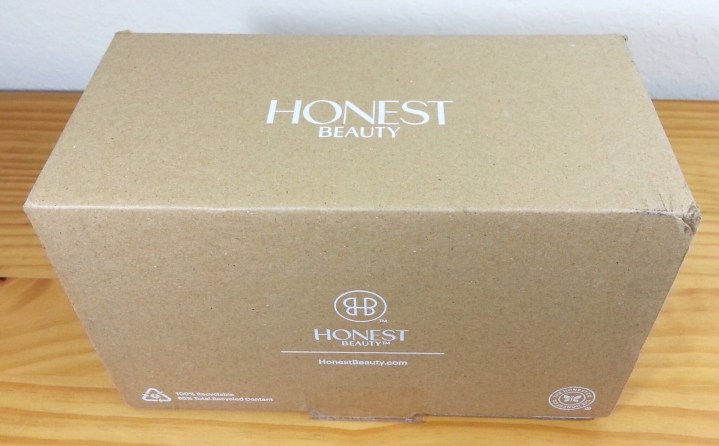 Honest Beauty is a beauty subscription box from the Honest Company.  They offer a comprehensive line of skincare and makeup that has been formulated to match the standards of The Honest Company.  Honest Beauty Bundles are $50/month for 3 products of your choice.  Plus, you can add on up to 5 items at a 25% discount!  You can also take the quiz and get matched with skincare products and pick up a free trial ($5.95 shipping charge).  The free trial will roll into a subscription 7 days after receipt.  Check out Brandy's Honest Beauty review for how to get the most savings on your orders as well as details on the free trial.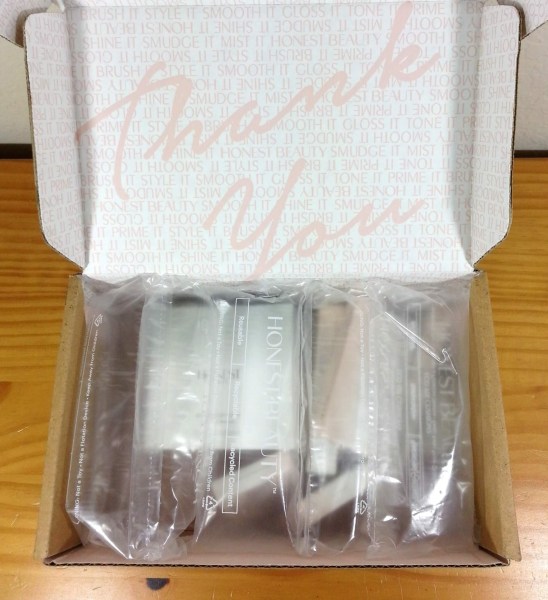 Air bladder protection – so much easier to clean up than the paper squiggles.
My first Honest Beauty Box!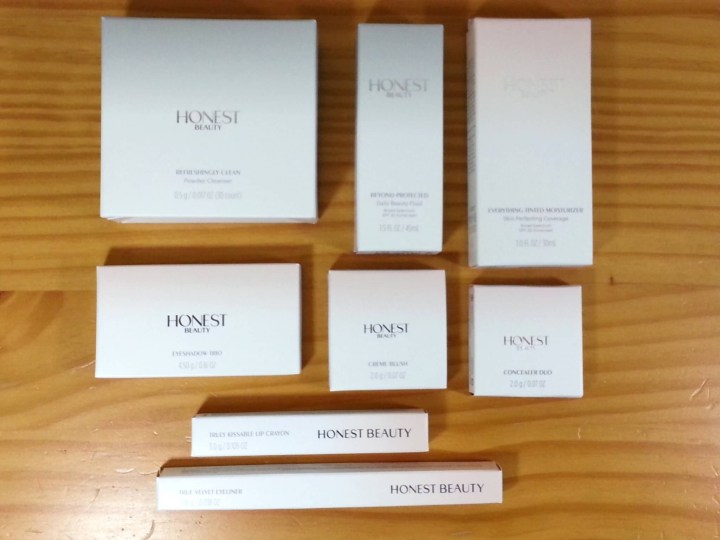 Everything in my box.  I received the Honest Beauty Bundle, plus 5 add-ons.
Refreshingly Clean Powder Cleanser ($22):  I've never tried a powdered facial cleanser before, so this seemed interesting.  It contains chamomile, calendula, and aloe to calm the skin.  Plus, there's zea mays (corn), oat, and rice powders to help absorb oil.  Aspen bark is used in this as an exfoliator.  This REALLY did absorb oil and would be great for someone with oily or acne-prone skin.  I preferred to use this at night; it was too drying when it was only washing away traces of sleep.  One of the drawbacks, for me, was that it was fussy when used with my scrubbie.  It would definitely work better on a dampened facial brush or in your hands (as directed).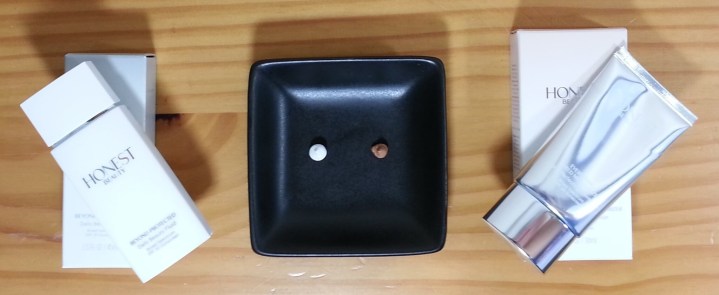 Beyond Protected Daily Beauty Fluid ($28):  This has an SPF of 30 thanks to the zinc oxide in it – which I need since I spend so much time outside at work.  It is very thick and feels like a sunscreen, but doesn't leave that white hazy finish.  It felt very heavy and took a little while to absorb.  The finish provides a dewy look.  I have normal skin, with a slightly oily T-zone.  I think I would have had a better experience if I'd gotten the oil-free formula.
Everything Tinted Moisturizer ($28) shown in Honestly Cinnamon:  I don't often wear foundation because of the humidity; I end up sweating it off.  So to get an even complexion when I wear other makeup, I've begun using BB creams. This is very similar in both texture and coverage to what I normally use.  It also has an SPF of 30.  Once my skin acclimated to this, it had a very natural appearance.  Like the beauty fluid, I probably should have gotten the oil-free formula.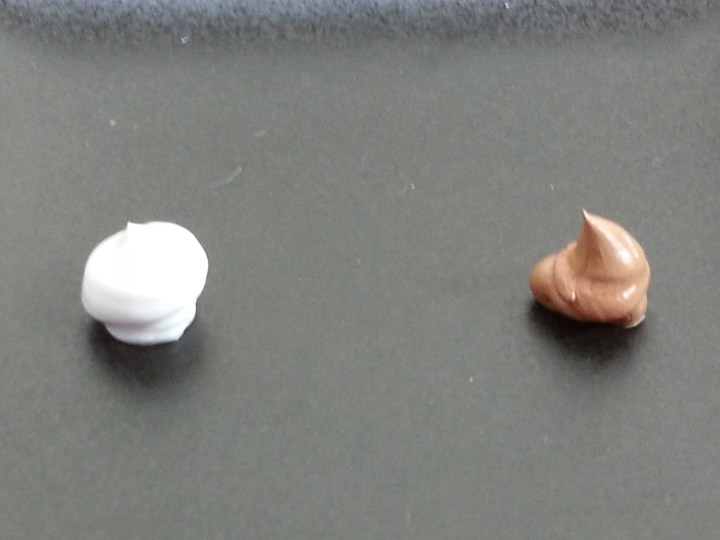 Close up of each moisturizer.  As you can see, these are thicker formulations.  I had to work the tinted one in a bit to avoid having that dreaded foundation line.  I did a pretty decent job of matching my skin tone – sorry, forgot to take a picture.  (Thanks, Brandy, for informing me that these shades arrive darker than they appear online!)
Creme Blush ($22) shown in Truly Charming:  This peach-coral blush had nice creamy formulation.  As you'll see below, a little goes a long way, and this needs to be blended well.  Otherwise, you may end up looking like a rag doll.  I don't generally use creme blushes, so I'll have to practice my application.  
Truly Kissable Lip Crayon ($18) shown in Mulberry Kiss:  The picture makes this color look really purple – it is not.  It is a deeper berry color.  I am not really into the super vibrant lip colors that have been all over the place lately.  For me, this is bright enough.  It applied smoothly and was easy to build up the color.  The swatch below is after several passes.  Also, no sharpener needed for this.  Simply twist the base when the tip runs low.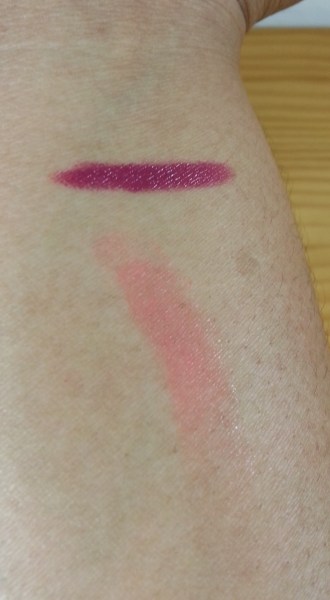 True Velvet Eyeliner ($16) shown in Truly Cocoa:  This eyeliner delivers a concentrated and smooth finish.  I am in love with this shade of brown!  It is so rich and maintains the integrity of a true brown.  Plus, the built in smudger is perfect for softening lines.  I wore this to the office and came home with an intact line – good staying power.
Concealer Duo ($20) shown in Smooth Sable:  I like that this comes with two shades, allowing you to blend your perfect match.  I know that my coloring changes with the seasons – definitely more tan/golden in the summer.  This duo allows me to adjust without having to buy another concealer.  Like the blush, use a light hand when applying this.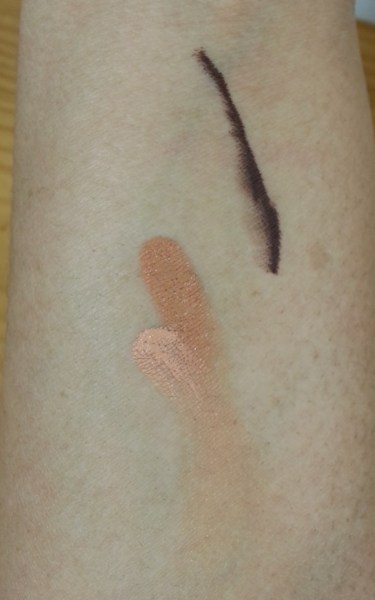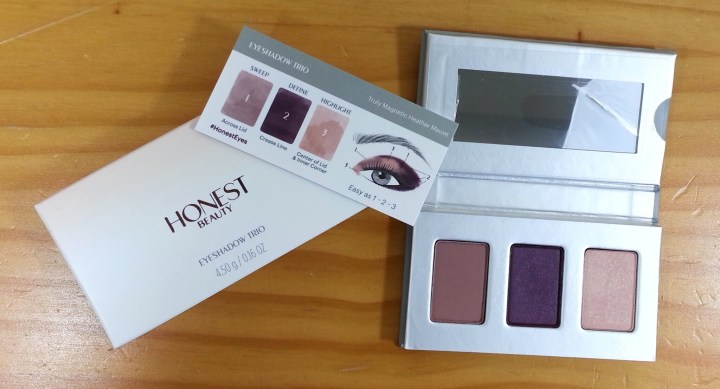 Eyeshadow Trio ($25) shown in Truly Magnetic Heather Mauve:  I chose this palette since purples are supposed to help accentuate brown eyes.  It came with an information card showing how to use each shade (base color, crease definer, and highlighter).  The formula has rich pigmentation and is easy to build up for deeper color.  The shadows feel almost creamy, but have a powder finish.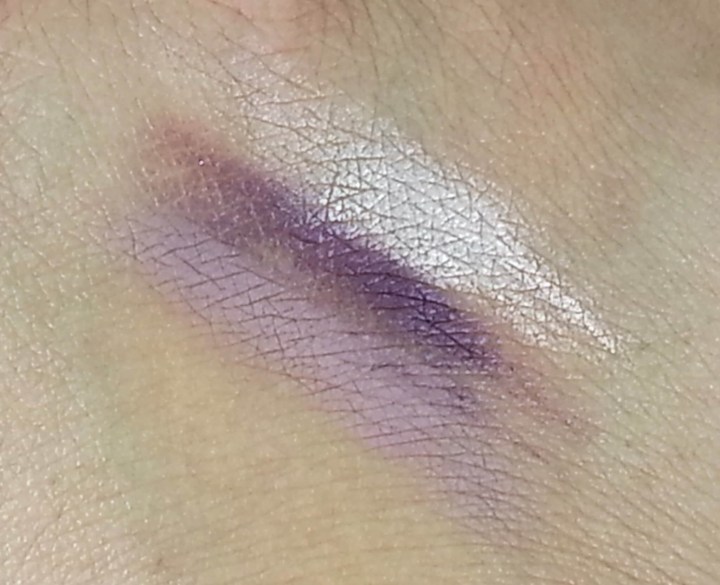 So two things:  (1) didn't realize my hand was so wrinkled, and (2)  a primer underneath will really make that plum pop.
Overall, I was impressed with the quality of Honest Beauty products, and they are reasonably priced.  However, I don't understand the turnaround time for the subscription; every 4-8 weeks.  The Honest Beauty items I received required a minimal amount of product to achieve maximum results, and I wouldn't be able to use enough to justify a replacement in that time-frame.  Plus, most cosmetics have a 6-12 month shelf life once opened.  I would be interested in a "Guest Checkout" option, but that is not available.  The other thing that surprised me was the return policy.  They honor returns 365 days from receipt!  Sorry, I've worked retail and that is a long time for me.
The Subscription
:
Honest Beauty
The Description
: Honest Beauty is a comprehensive line of skincare and makeup that has been formulated to match the standards of The Honest Company. Their Honestly Free Guarantee means the products perform safely and beautifully with no questionable ingredients! Line consists of face, lip, eye, and cheek products for makeup, as well as enhance, protect, cleanse, and hydrate products for skincare!
The Price
: $50 for 3 products – add on up to 5 additional ones at 25% off.
The Coupon
:
Get a free skincare trial when you subscribe
.