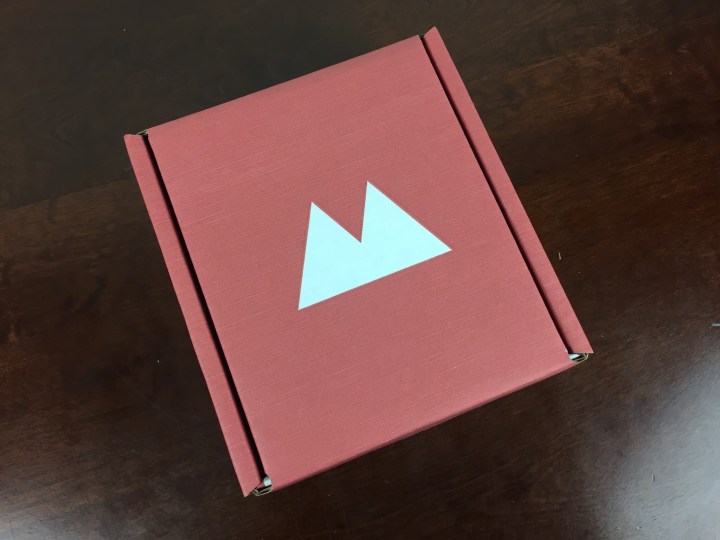 Fuego Box is a monthly hot sauce subscription box that brings the heat without being extreme, focusing instead on the best flavors (while still of course being hot – just without added heat extracts and the like).  They search out the best flavors to go with every type of food and discover new artisan hot sauce makers to bring to your door. Your first monthly box will be an introductory box (see our review of the Fuego Box intro box), with a tasting journal and two favorite hot sauces from Fuego Box. Subsequent boxes include 3 full-sized artisan-made hot sauces like this box.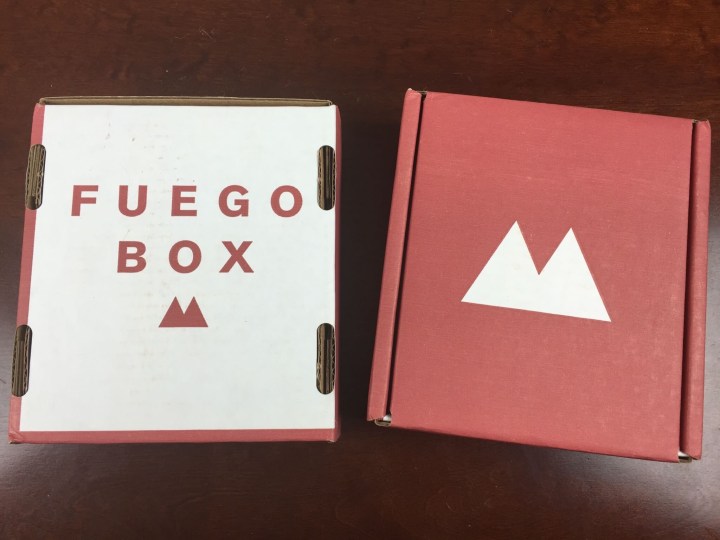 The box is certainly distinctive, and it does a good job of keeping the precious bottles intact.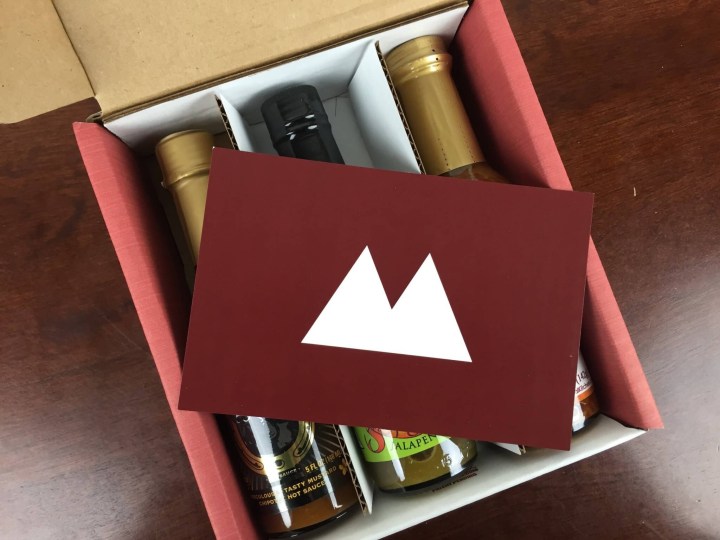 The box is specially designed for shipping hot sauce bottles.  The card on the inside of the box has a bold Fuego logo, in case you missed it on the lid.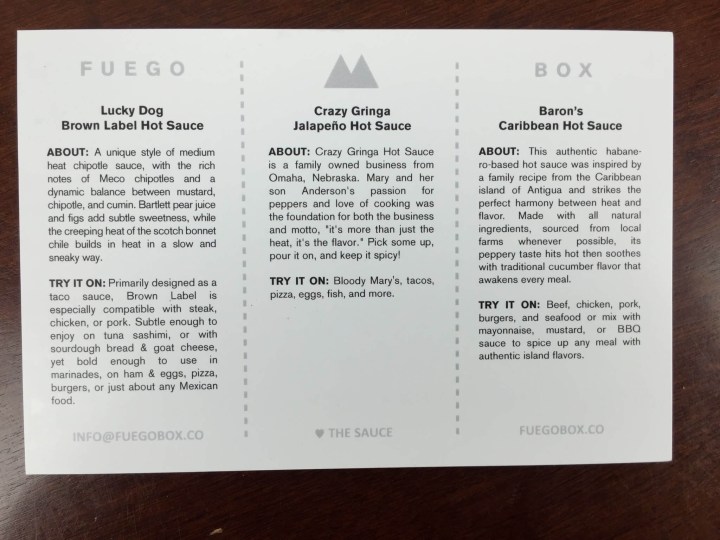 The information card gives the details on each product – the flavors, the peppers, and where it was crafted. The card also gives food pairings for each sauce.
We received three table-size bottles (5 oz each). The sauces were pretty upscale looking, and the packaging is very professional.  It suggests that, although the sauces are often boutique or only regionally distributed, they aren't the product of a first-time experiment in someone's garage.  I continue to be pleased with the selection of sauces.  None are too hot to enjoy liberally, and the curators have done a great job of varying the heat and flavor profiles represented by the selections.
Lucky Dog Brown Label Hot Sauce:  A really unique hot sauce, as it uses a good dose of mustard as a primary flavoring agent.  Perhaps its the packaging persuading me, but I can't help but think this would go superbly on hot dogs or all manner of sausage.  The heat level is moderate, with the flavor balance of the mustard and chipotle providing the entertainment.  The unique flavor makes this an excellent condiment for meat (e.g., steak sauce or ketchup/mustard substitute) rather than a standard use hot sauce.
Crazy Gringa Jalapeño Hot Sauce:  This sauce has an interesting character — it has a beautiful jalapeño flavor, but a healthy dose of vinegar gives it a texture and snappiness more akin to a Louisiana style sauce.  This is our current favorite for nachos and traditional hot sauce applications.
Baron's Caribbean Hot Sauce:  I received quite a surprise when tasting this sauce.  It has a traditional Caribbean sauce look — chunky and a bit orange from the scotch bonnets, but the bright cucumber flavor was not expected.   Onions and cucumber provide refreshing sweetness and cool, but the heat still comes through very well.  This is an awesome sauce for fish or any dish served well by a spicy chutney, but I can also see it going well with falafel, or any Mediterranean or Middle Eastern dish traditionally served with cucumber accompaniment.
This is a really great subscription for hot sauce lovers, particularly if you like to put your sauce on food as a complement instead of a test of mettle.  I love the variety provided, even among a single month's selections.  For example, the above pic shows the variety of textures and consistencies of the sauces — taco sauce style (Lucky Dog), Louisiana style (Crazy Gringa), and chunky Caribbean (Baron's).  The heat level is great and varies between sauces — none was wimpy or too hot to eat.  Very flavorful sauces with lots of potential and versatility.
Visit Fuego Box to subscribe or find out more! Use coupon code AMIGOS to save $10 on your first box!
The Subscription
:
Fuego Box
The Description
: Fuego Box is a hot sauce of the month club focused on craft and small-batch hot sauces. They search for perfect artisanal sauces you've probably never heard of. They avoid insane heat, gimmicky labeling, and extract-based sauces, focusing on dynamic flavor accompanied by the appropriate amount of heat. A hot sauce club for people who love food. Get 3 hot sauces per month or per quarter, or opt for just one hot sauce every month.
The Price
: $29.95 per month or per quarter with free shipping, or $12.95 per month + $5 shipping for one sauce per month.