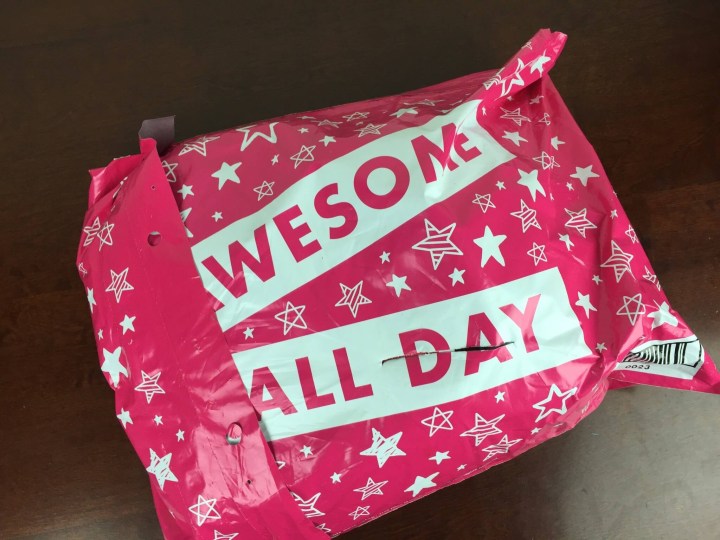 FabKids is a kids clothing subscription that's part of the Just Fab family and is a boutique subscription  – you'll get a showroom or boutique of outfits curated for your kid, making it easy to select great items without rooting through all the racks. Pick one or skip by the 5th (you'll get charged unless you skip). My kids love picking out a new outfit every month, and they are always among some of their favorites. When you sign up for FabKids you will be invited to join and get your first outfit for $15!  Just use this link to sign up!
As usual, I let my kids select their outfits. We went for stuff for my daughter – she's in school so tends to go through/need clothing more frequently. Here's what she picked:
The items come all wrapped in plastic.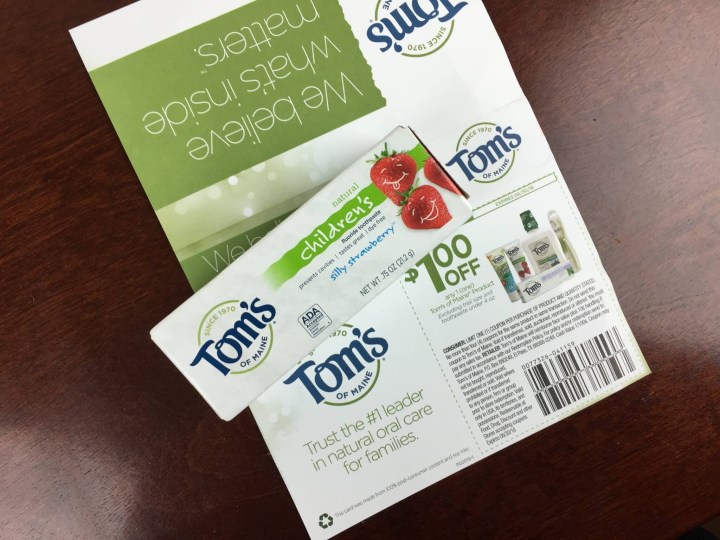 We also received a travel size Tom's Silly Strawberry Toothpaste!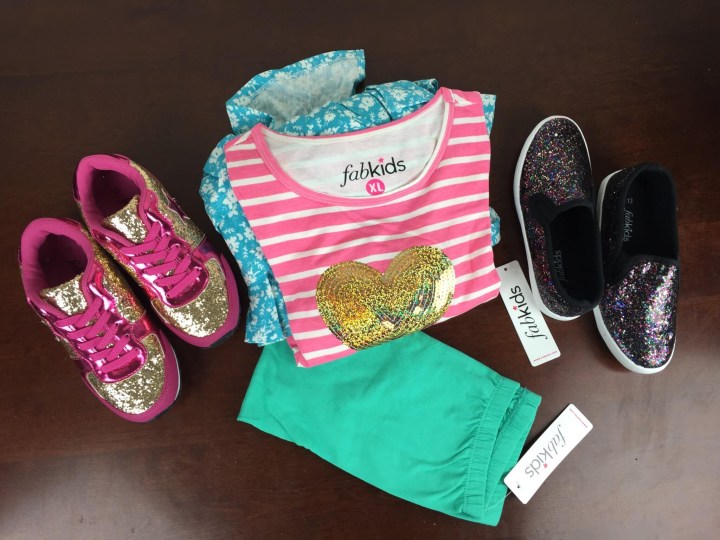 So fab!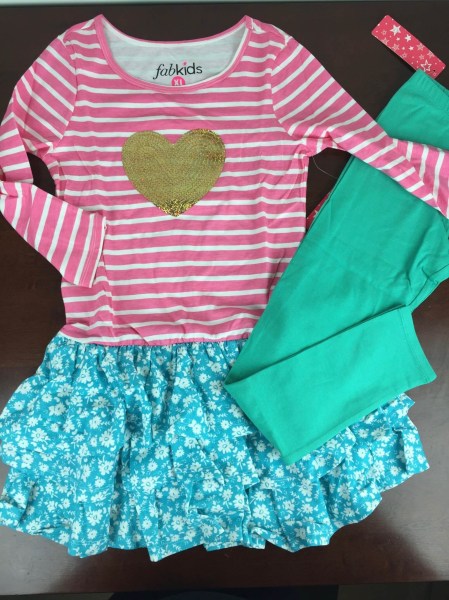 Stripes & Floral Outfit ($29.95, regular $48) My daughter absolutely loves the FabKids dresses with the ruffles on the bottom. She beelined to this one, and selected a not-so coordinating color of pants, but that's how elementary school kids dress – with really wild combos! I love seeing what she comes up in the mornings by herself. I messed up and bought this a size too large, but this one fit fine and besides – she's wearing it to school tomorrow. (Our compromise for not wearing it to bed).
She's thrilled (and attempting to show off her shoes).
Fashionista Athlete Shoe Pack ($39.95 VIP, $70 regular) I actually picked these out for her. She loves glittery shoes and it was a fun surprise. The sneakers as expected aren't super high quality but my daughter loves them and she can run around in them and be all sparkly.
This is always a fun subscription to get because my kids love the clothes. FabKids did just introduce an activewear line for girls, but she didn't select anything from it, which I didn't mind, because disappointingly, it's not a mini version of Fabletics (some of their "activewear" includes their standard under-dress leggings and even the shoes we purchased, which I wouldn't classify as activewear quality). I'm really hoping they step that up.
Visit Fabkids to subscribe or find out more. You'll get your first outfit half off when you sign up (or less, right now it's $9.95!).
The Subscription
:
FabKids
The Description
: FabKids is a monthly subscription box of kids clothes You can select one of the outfits or skip it entirely. Free shipping & free returns. The clothing is exclusively produced for FabKids (some designed by Christina Applegate).
The Price
: $30 per month
The Coupon
: Get your first outfit for $15! Just
use this link to sign up!