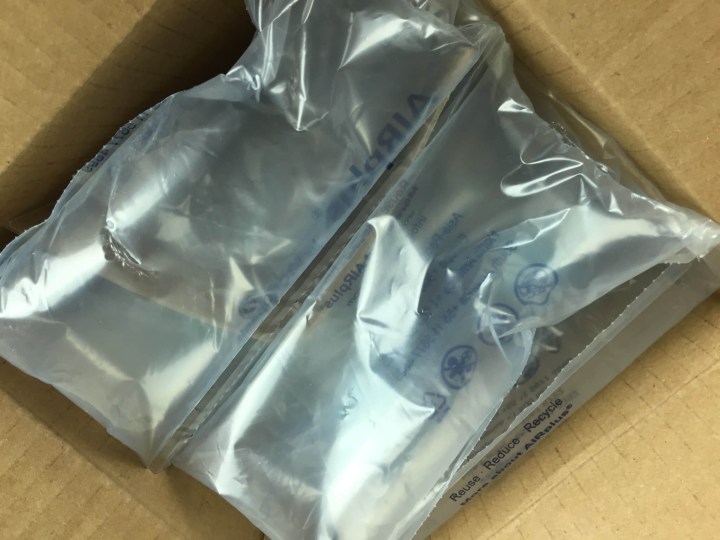 ePantry is an eco-friendly subscription service that allows you to quickly pick your favorite high quality cleaning and household supplies and set up a customized schedule for their shipment to you. ePantry carries a variety of brands including Method, Mrs. Meyers, Seventh Generation, Preserve, and more.   If you're like us, you hate shopping for cleaning and healthcare products at the grocery store (it's just too much!).  Our family loves this service because we can do all "that" shopping not at the store.
You'll pay the cost of the products (you can see the details on every product on the ePantry site), plus a $2.99 shipping charge. Note that I received the hand sanitizer for review this month.  ePantry has an automatic shipment feature plus a system to calculate exactly how much you need. For $39.99 you can join the VIP program and get free shipping for the year plus a free gift every quarter.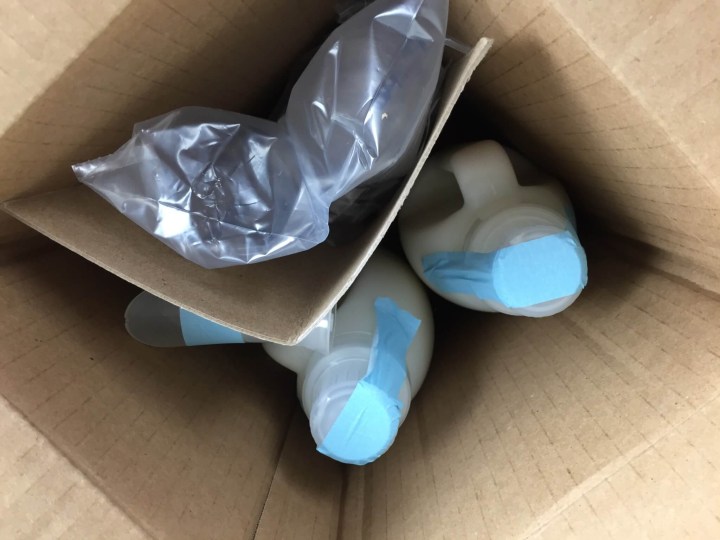 The care given to packing the items is always impressive.  Caps are taped to avoid unintentional openings, and bubbles and other materials are well-deployed.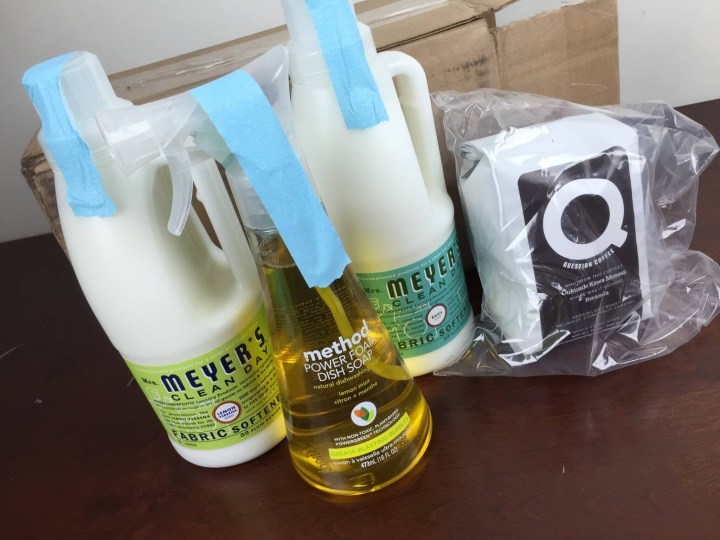 ePantry is a B corporation and they carbon offset all their shipping and uses recycled materials wherever possible. We love that everything is packaged to ensure it doesn't leak. When you start with ePantry all you need to do is take a super quick quiz so they can create a suggested bundle for you, but you can customize it as much as you'd like. See our complete ePantry walkthrough here!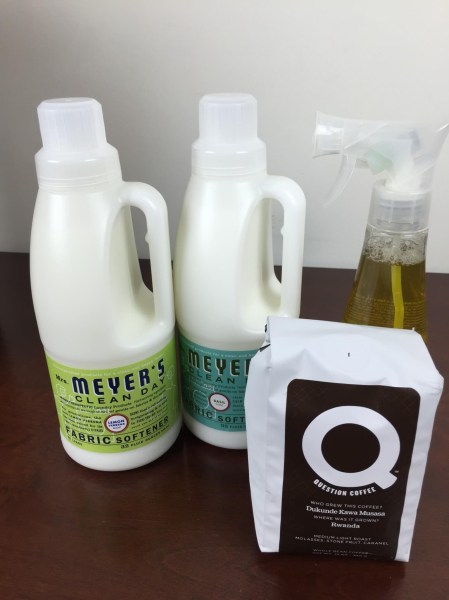 Everything in our box!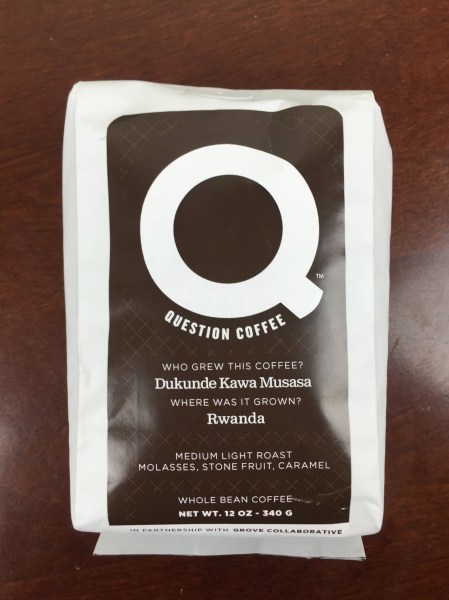 This bundle included a bag of Rwandan-grown Question Coffee.  
This coffee had a great, juicy molasses and nectar flavor.  Consistent with the social conscience of ePantry, sales of Question Coffee support a coffee collaborative that helps Rwandan women improve their lives. Although I normally feel weird about food being packaged with cleaning supplies, this was bagged separately in a plastic bag.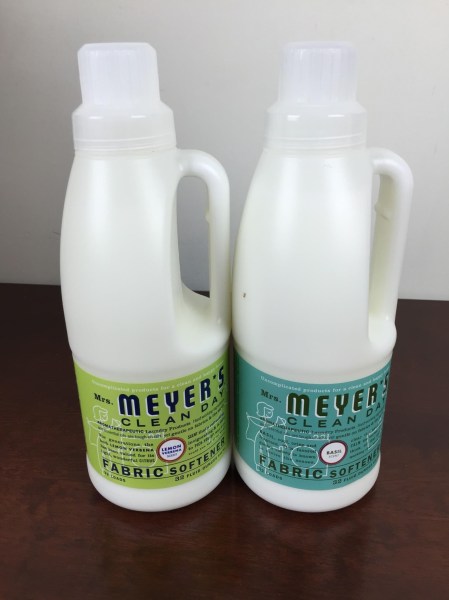 Mrs. Meyer's Clean Day Fabric Softener in Lemon Verbena and Basil: we always need laundry softener and Mrs. Meyer's is our brand of choice – they have several great scents, and we use every one! You can get it slightly less expensively an Amazon Prime Pantry box (delivery $5.99).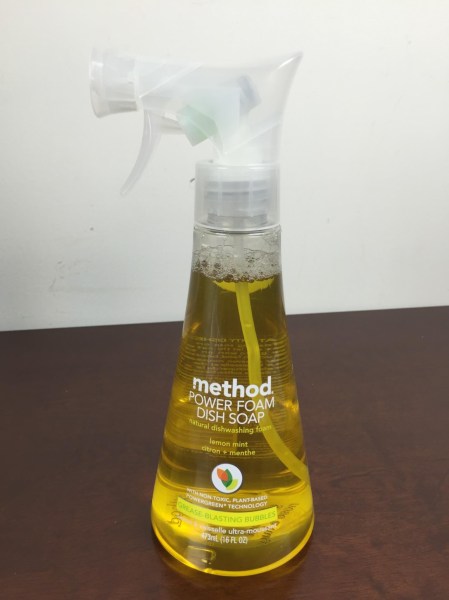 Method Power Foam Dish Soap — lemon mint:  the Power Foam dispenser is great for applying directly to a scrubby instead of your dish water.  It is a great mechanism for controlling the amount of soap used (and wasted).  Method has several great scents, as well.
ePantry is our go-to for dishsoap and fabric softener in particular.  I love that the brands offered through ePantry all seem to have really awesome scents.  Every time we see a new one, we have to try it!
Visit ePantry to check it out and personalize your own subscription You can get a free $10 credit plus a free Mrs. Meyer's hand soap when you sign up.
The Subscription
:
ePantry
The Description
: Flexible household product subscription service. Choose from Method, Mrs. Meyer's Clean Day, Seventh Generation cleaning products and add on TP, paper towels, and trash bags.
The Price
: Varies with item selection
The Coupon
: Get $10 off your first order when you sign up plus a free bonus item!
Use this link to activate
!