EatsieBox is a monthly subscription box filled with treats and snacks customized specifically to your preferences.  You tell them what kinds of snacks you enjoy (jerky, candy — you can even request treats for your dog!), and EatsieBox will tailor your subscription to suit your whims.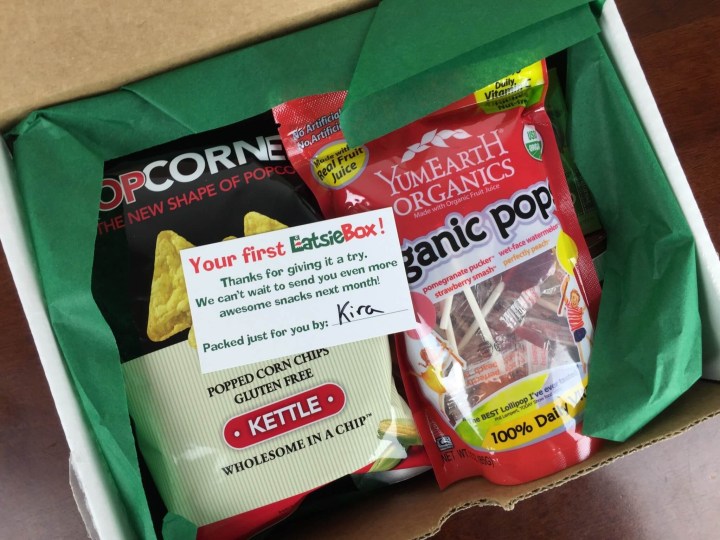 Everything was nestled carefully in tissue. The signed packing card gives this tailored subscription a very curated feel, like you have a personal snack stylist.
What a selection!  The box had a great mix of snacks, from the boutique candies to fun stuff for the kids.
Lunchables S'mores Dippers:  I'll take this graham, marshmallow creme, and chocolate chip combination over little squares of turkey and American cheese any day.  These are probably best split between a couple people, but including them in my daughter's lunchbox will earn me title of Best Parent Ever.
Yum Earth Organics Organic Pop:  Organic ingredients make these lollipops taste bright and delicious — plus they have a full day's vitamin C.  This pack includes pomegranate, watermelon, strawberry, and peach pops.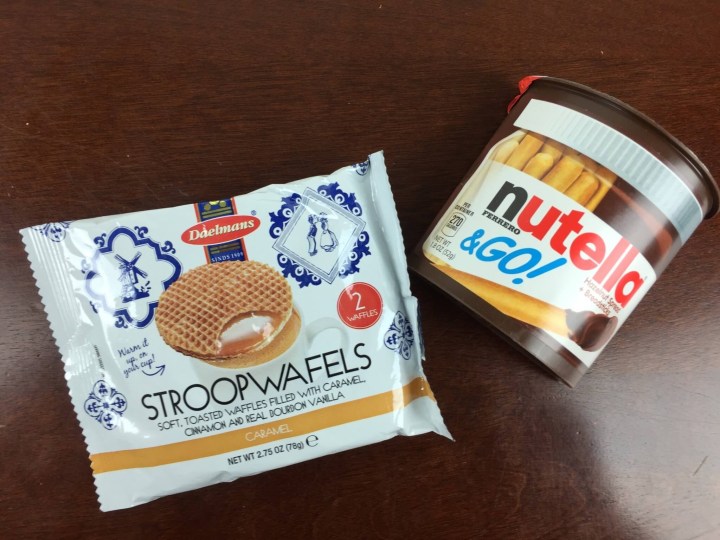 Daelmans Stroopwafels:  Stroopwafel is the new salted caramel.  Delicious cold or heated on cup or in microwave, these are simply addictive.  This version has a bit of cinnamon in with the caramel.
Ferrero Nutella & Go!:  This snack pack features the classic hazelnut and cocoa spread and includes breadsticks for dipping.  Perfect for an on the go indulgence — you can take that jar of Nutella out of your purse now.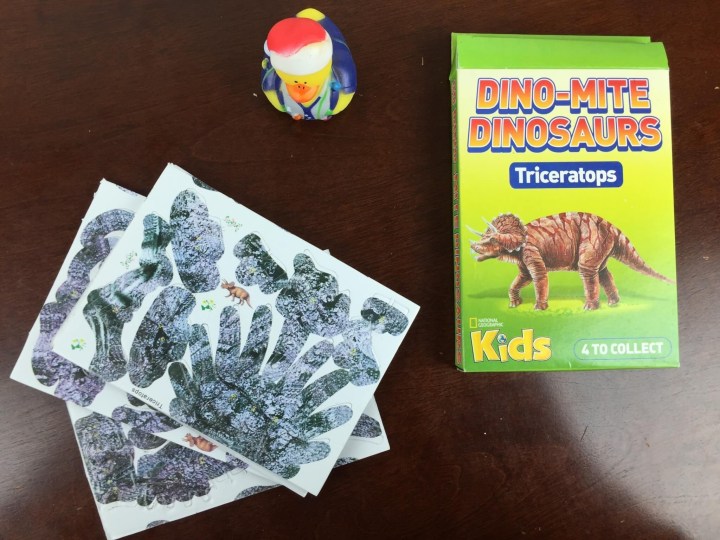 Dino-mite Dinosaurs puzzle:  One in a set of four, this punch-out puzzle constructs an awesome 3-D standing triceratops!
Rubber ducky:  A classic bath toy — this particular duck is decked out for the holidays, wearing a Santa cap and festooned with a sttring of lights.
Gin-Gins Chewy Ginger Candy:  Highly addictive, these have a powerful, but sweet ginger kick and a very chewy texture.
Southern Boy Iced Teas Razzleberry Tea:  Bagged tea for brewing up to a gallon of iced tea using hot steeping, overnight cool steeping, or as sun tea.  The tea is a blend of organic black teas with organic raspberry and blackberry flavors.
Choward's Lemon:  An American classic, Choward's mints have a firm, but not crackly, crunch.  I usually see the pink variety of Choward's, but this lemon version is equally delicious, with a gentle lemon flavor.
PopCorners Kettle Popped Corn Chips:  Air popping keeps these naturally gluten free chips light in fat.  They have a lively crunch with the same low-guilt of popcorn.
Krave Chili Lime Beef Jerky:  Made in the U.S.A., this premium jerky is minimally-processed and low fat.  This variety is steeped in a tangy and spicy chili lime marinade.
Panda Cherry Licorice: This high-quality Finnish licorice is flavored with cherry puree and licorice extract.  The texture is fresher and springier than American-style licorice.
Nestle Lion Bar:  A British classic (Nestle acquired the brand from Rowntree's), this fabulous bar combines so many wonderful things — at the core is a wafer with caramel, peanut butter and crisp cereal, all covered in milk chocolate.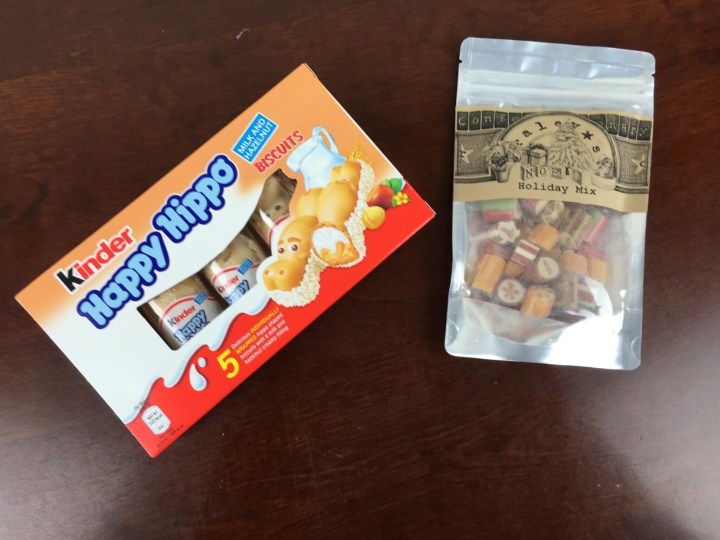 Kinder Happy Hippo Biscuits:  A German delight, these crisp Hippos (similar to a standard ice cream cone) are filled with milk and hazelnut cream, then dipped in crispy bits.
Raley's Confectionary Holiday Mix:  The boutique confectioner gives traditional hard fruit-round candies the holiday treatment with special flavors — peppermint, eggnog, cinnamon, clementine, mint-chocolate, and figgy pudding.
EatsieBox really came through with a big selection of snacks.  I like getting such variety in a single box, because it gets me to try things I wouldn't think of grabbing at the store, but enjoy nonetheless.  The customization feature is really great for making sure the surprises stay within your comfort zone.
Save 50% on your first box with coupon code HELLOEATSIE,  $35 off a six month subscription with HELLOEATSIE6, $75 off a twelve month subscription with HELLOEATSIE12.
Visit EatsieBox to subscribe or find out more!
The Subscription
:
EatsieBox
The Description
: EatsieBox puts the U In Yum – a completely custom box is created just for you every month! Tell us what you do and don't want (coffee, dog treats, spicy foods, jerky, etc) and we'll send you a handpicked selection customized for you.
The Price
: $27.00 per month