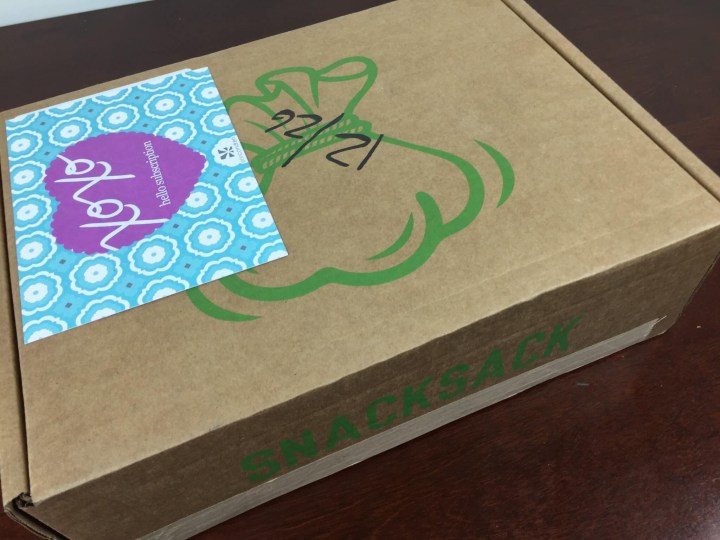 SnackSack is a monthly snacking subscription box that aims to bring high nutritional value natural snacks to your door every month. Snack Sack comes loaded with a variety of health-conscious snacks that leverage fruits, vegetables, and other natural ingredients to provide you with a more nutritious and balanced snack pantry.  Snacks are organic or all-natural, non-GMO, vegan, fair-trade, or gluten-free.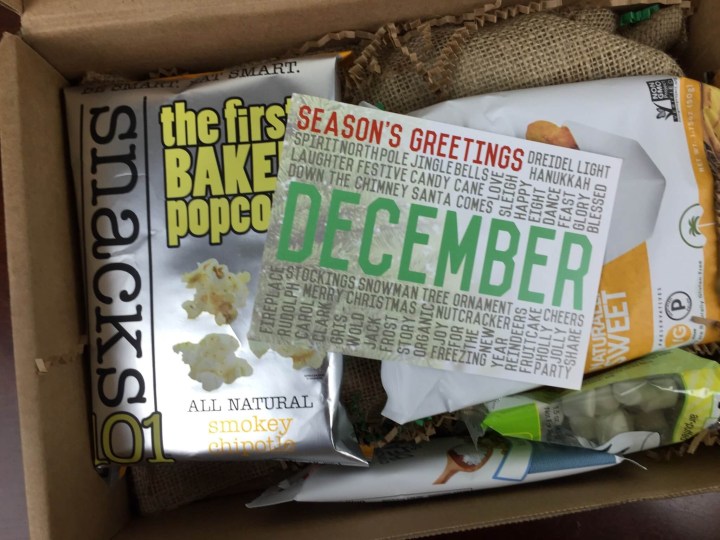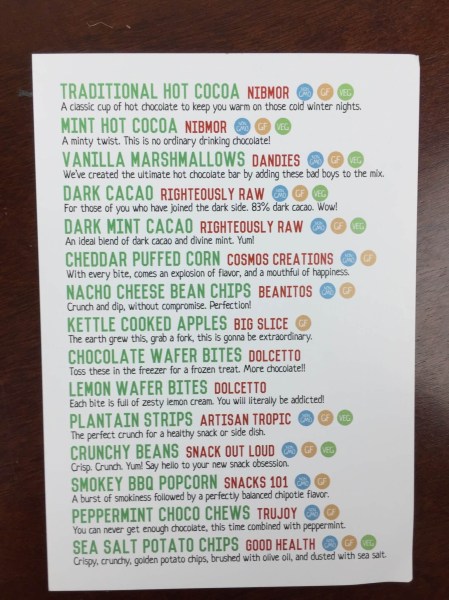 The information card gives you brief info on the many snacks packed into this box, plus a guide to which the snacks are non-GMO, gluten free, and vegetarian.
Outside the sack!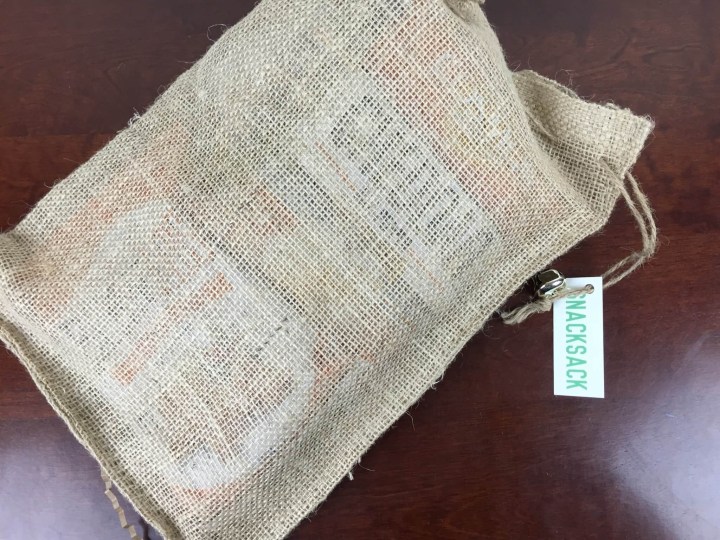 We are always amused that the snacks still come with an actual burlap sack because they never all fit in. Jingle jingle! This month had a bell!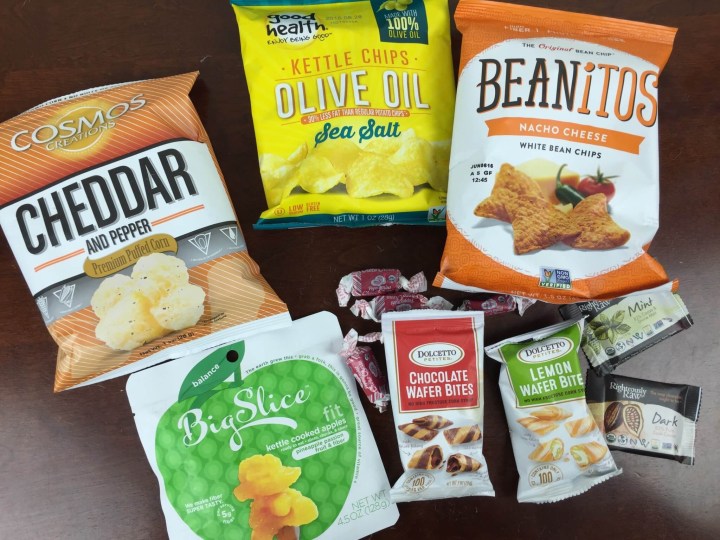 I think they should draw a sack on the bottom of the box and lose the burlap.
All the items in the box for December!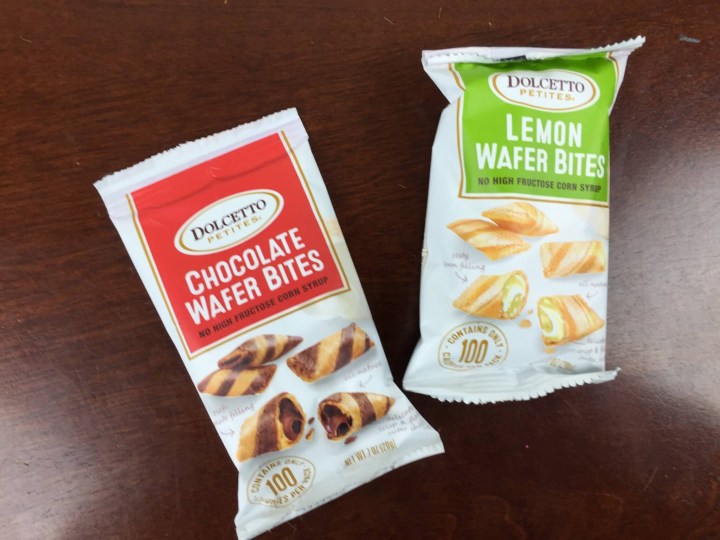 Dolcetto Petites Chocolate Wafer Bites
Dolcetto Petites Lemon Wafer Bites
These are so delicious – light and crispy and filled with a nice creamy filling! The lemon are totally divine! I love all the flavors of this unique treat!
Trujoy Peppermint Choco Chews: These are very very lightly minty and taste just like a tootsie roll.
Righteously Raw Pure Dark Bites in Dark & Mint: I'm on chocolate overload here so I put them in my desk stash for when things get barren after the holiday chocolate overload!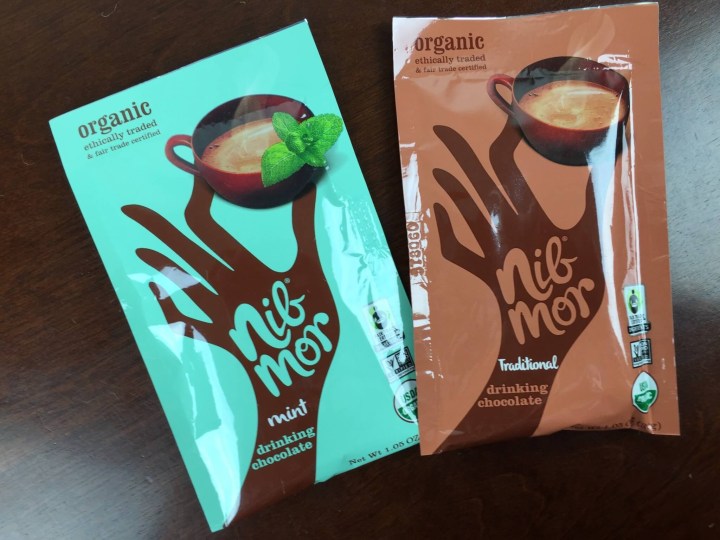 NibMor Drinking Chocolate Mix – Mint & Traditional: This is ethically sourced and fair trade certified, in addition to being organic! This truly delicious drinking chocolate is sweetened with organic coconut sugar! This was a great discovery!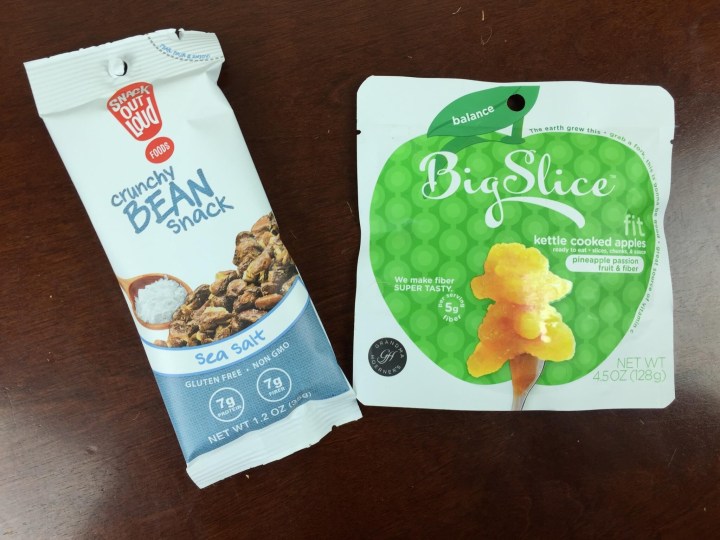 Snack Out Loud Crunchy Bean Snack – Sea Salt: My husband was pretty wild about these! They're a great mix of protein and fiber and very crunchy!
Big Slice Kettle Cooked Apples – Fit: I was excited to get this! We've only ever received the caffeine-laden version in our subscriptions before – this one has no caffeine and is designed for balance with pinapple and passionfruit. Next send the cinnamon toast flavor please! That one has to be a must try too!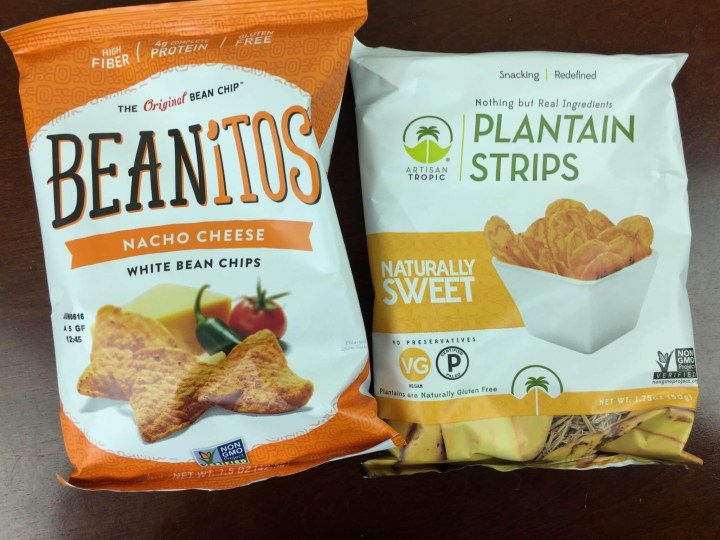 Beanitos Nacho Cheese Bean Chips: Nice and cheesy and they taste really great! The white bean chips are much more glycemic friendly than corn, and I think they're fab!
Artisan Tropic Plantain Strips: I was happy to get the Naturally Sweet flavor instead of a salty one – it makes them a little more versatile. I haven't tried them yet, because I'm thinking about whipping up some sort of yogurty sweet dip for them!
Cosmos Creations Cheddar and Pepper Premium Puffed Corn: OMG I ATE THE ENTIRE BAG! All at once! I couldn't stop myself, I'm about to buy a case of them. Cosmos are indescribably good.
Snacks 101 Smokey Chipotle Popcorn: This was a baked popcorn and they use coconut oil as the fat. They weren't my fave popcorn ever, but interesting to try. They claimed less messy hands but I didn't find that to be the case (but what would I compare it to?).
Good Health Olive Oil Kettle Chips – Sea Salt: I honestly opened box after box yesterday desperately seeking chips. These non-GMO made with 100% olive oil totally fit the bill (and hurrah to SnackSack for providing salty snacks!).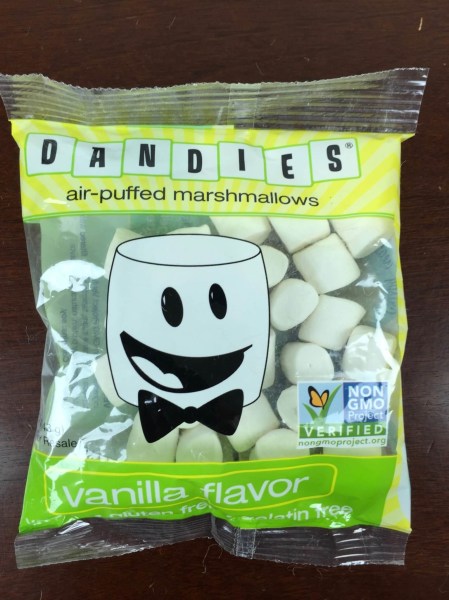 Dandies Vanilla Vegan Puffed Marshmallows: Finally, adorable little vegan marshmallows to go in my drinking chocolate!
This was a really awesome box! I'm always astonished at just how much they fit in here. Everything is really tasty and interesting to try, and healthful without being too weird. It's important to me that snacks fit into my lifestyle!
Visit SnackSack to subscribe or find out more! Get 15% off the entire lifetime of your subscription! Use coupon code HELLO15.
The Subscription
:
SnackSack
The Description
: Monthly surprise delivery of delicious all-natural & organic snack foods. We curate a delicious assortment of gluten-free, non-gmo, & vegan goodies. Sent from beautiful Colorado directly to your doorstep.
The Price
: $23 per month