Awesome Pack followed us to Florida this month! Awesome Pack is a whole family fun subscription box with a tabletop board game in every box. Whether your family includes kids or not – choose either the family box or the Big Kid box, for the game loving fun at heart big kids – this is a great fun box that will keep you away from your screen! Every box will include a board game and other fun activities selected based on your preferences. Family Boxes include a family board game, and Big Kid boxes are for kids 12+ and will include higher quality (and more advanced!) games and other activities. You do not have to have a child to order this box, they have plenty of adult awesomeness, but our family has kids, so that's what our box includes.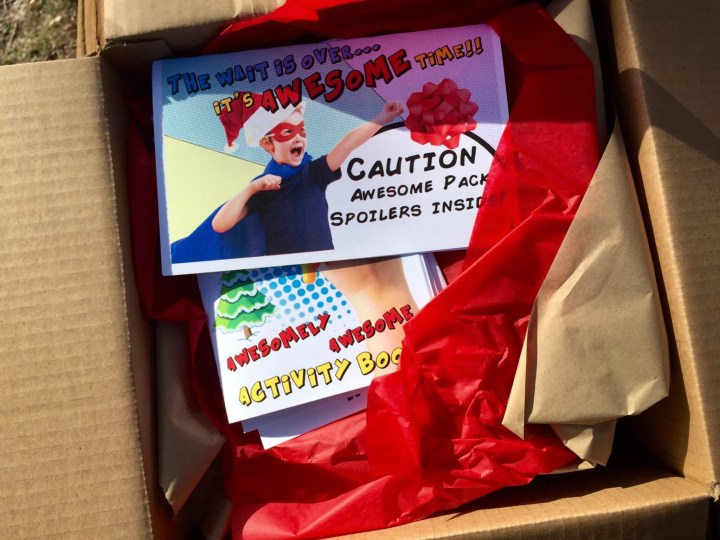 The packaging is designed to get everyone totally psyched for game night! It's Awesome time!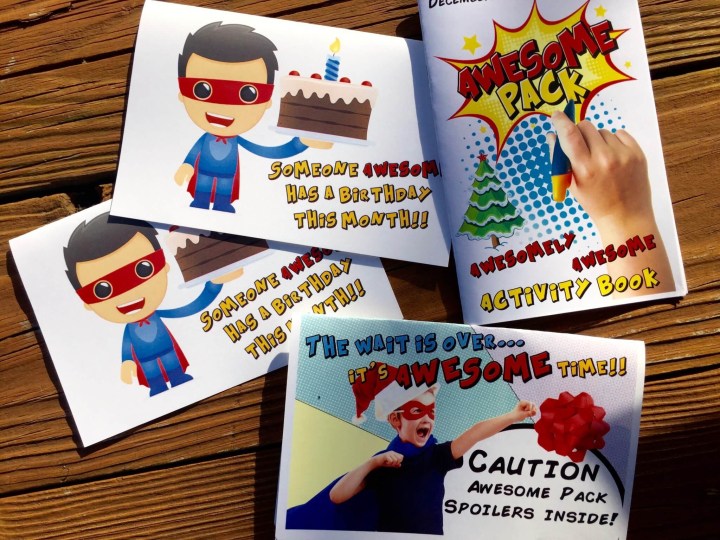 Did you know that along with the monthly Awesomely Awesome Activity book, Awesome Pack will send you a birthday card?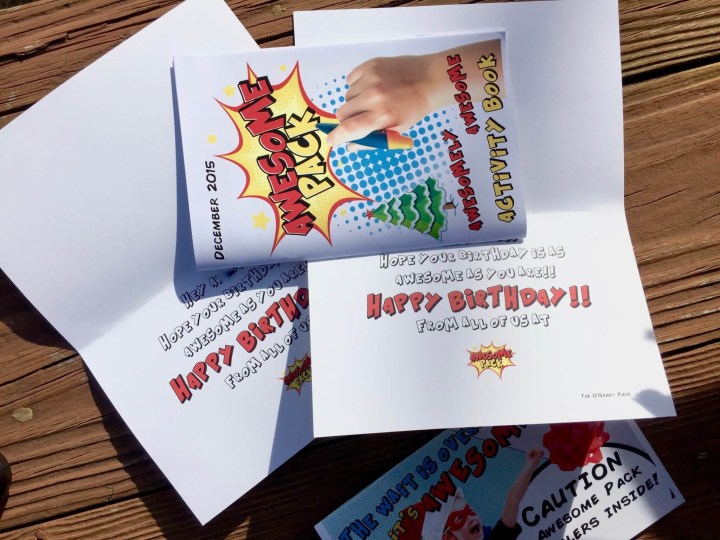 Happy Birthday big kids! (they are 2 years and 2 days apart)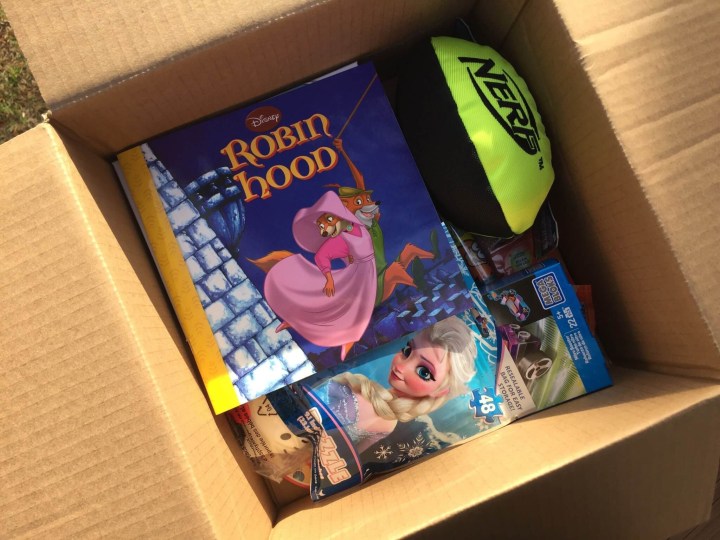 Awesome Pack curated this box for our family, which includes mom, dad, a 7 year old girl, a 5 year old boy, a 1 year old baby, and a dog.  We always sing the EVERYTHING IS AWESOME song when this box comes!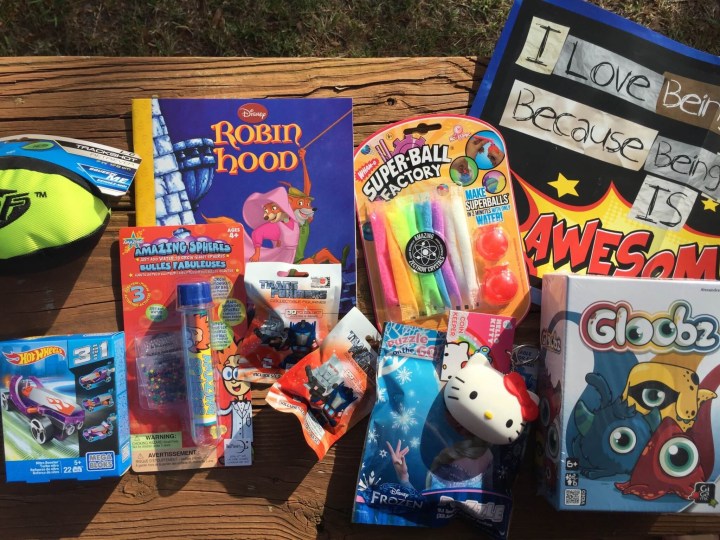 All the items in the Awesome December Box! Note that my big kids' birthdays are in 4 and 6 days and Christmas is two weeks away, so instead of showing items being played with, we've saved them for gifts, because they're Awesome!
An information card detailing all the items awesomeness is in the box.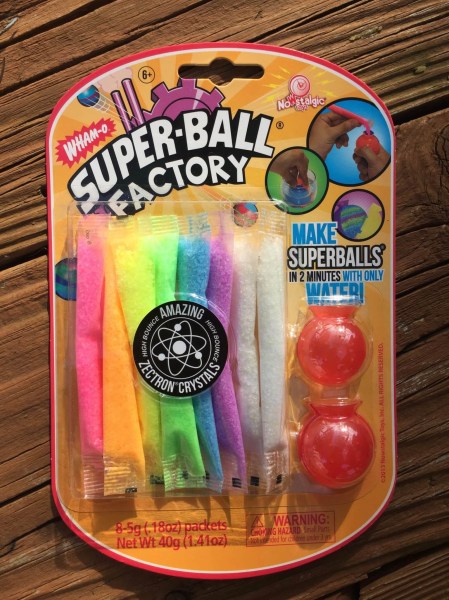 Wham-O Super-Ball Factory: This was voted the most fun! You pour the AMAZING ZECTRON CRYSTALS into the mold, dunk it in water, and create bouncy balls swirled with color!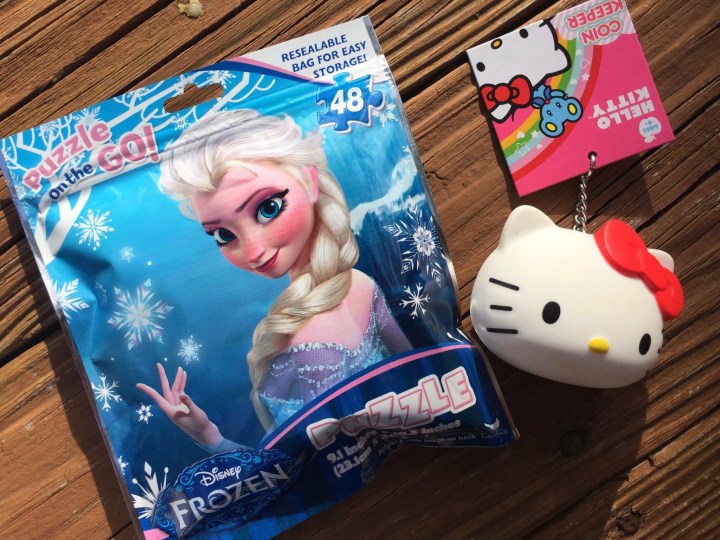 Disney Frozen Puzzle Pack
Hello Kitty Coin Keeper
Two really fun items for my 7 year old daughter. Yes, Frozen is still all that, and Hello Kitty always has been and always will be!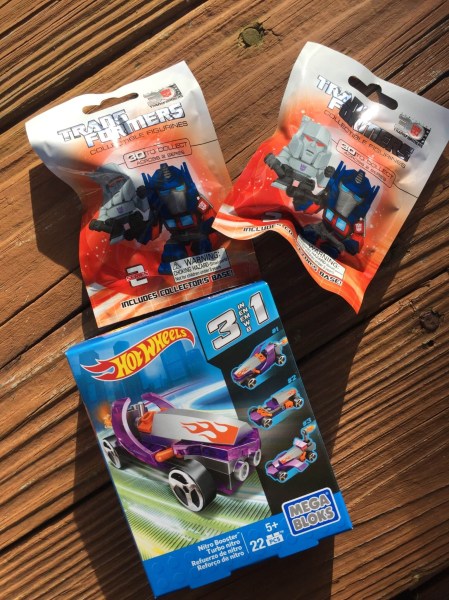 Transformers Collectible Figurines
Mega Blocks Hot Wheels 3 in 1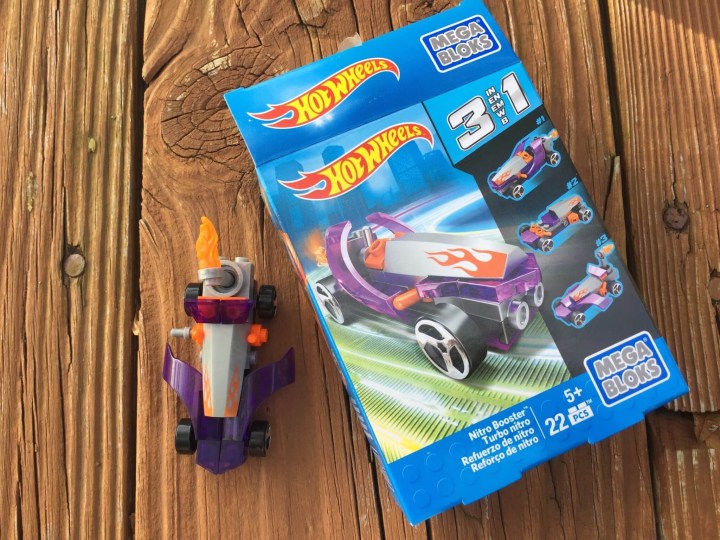 My awesomely awesome sister assembled this bad boy – it makes 2 other creations too!
The Transformers went into stockings (I didn't open them when taking the photos), so I stole this photo from another of my reviews.
Amazing Spheres: This is a fun science kit with two types of spheres for different experimentation with polymers and water, plus one of those cool coke bottle test tubes!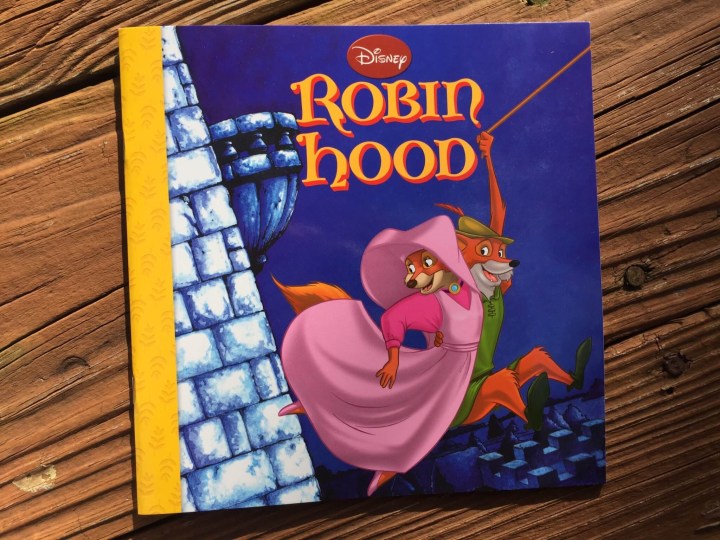 Disney's Robin Hood: I love these because they have coated flexible pages but relatively advanced text for a children's book (i.e., they're much more interesting for me to read to the kids!).
Nerf Dog Trackshot Retriever: This has a great squeaker and it's tough, too. In the spirit of Christmas, we gifted it to my niece's German Shepherd, Ginger, toys for all the dogs!
And finally the game! This month was Gloobz! It was perfect for the holidays because you can have up to six players! I found a video explaining it, but basically you flip over cards and have to grab the right paint can and creature, then you use the discs to keep score. It's relatively simple yet raucous! There's also play calling involved, but you can leave that out for younger players. We found that this game was very adaptable to lots of age ranges!
https://youtu.be/IEUidWLx3p4&rel=0
We love that Awesome Pack is tailored to our family, so everyone gets a special toy, game, or craft selected just for them, and we also get a game for the whole family to play (sometimes just mom & dad – it depends).  It is a great way to make sure you have some new fun activities for enforcing NO screen time!
Visit Awesome Pack to subscribe or find out more!Use coupon code Hellosubisawesome for $5 off your first month!
The Subscription
:
Awesome Pack
The Description
: Awesome Family Fun time that is customizable to your family's size, ages and genders. There is a Board game in every pack! Every pack contains Awesome games and activities handpicked for each family to offer hours of fun! We also offer a pack for families without kids. We offer free shipping to the USA and to Canada.
The Price
: $44.99 per month