Darby Girl is a product of the DarbySmart DIY site (in conjunction with Girls' Life magazine).  Aimed at tweens and early teens (Girls' Life is directed to 10-15 year old girls), this subscription box provides "dazzling DIY materials, cinchy step-by-step instructions, awesome inspiration, and more."  Sent every other month (February, April, June, August, October, and December), Darby Girl sends craft projects "from fashion accessories to room decor and more" and is "carefully curated just for GL readers and inspired by our favorite new trends."  The cost is $19/box with discounts for paying for 6 months or 12 months at a time.  Based on some poking around on the internet, it seems the box we reviewed is a starter box, not tied to a specific month.
I reviewed this box with my two daughters, aged 11 and 14 — right in the target demographic for Darby Girl.  Here's what we got: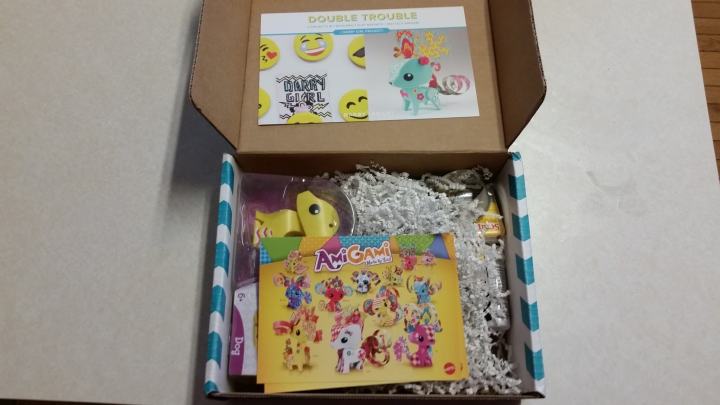 After opening the pretty teal box, this is what we saw – AmiGami!  That looks like fun.  But what's underneath the squiggles?  It looks like we got two projects.  Yeah!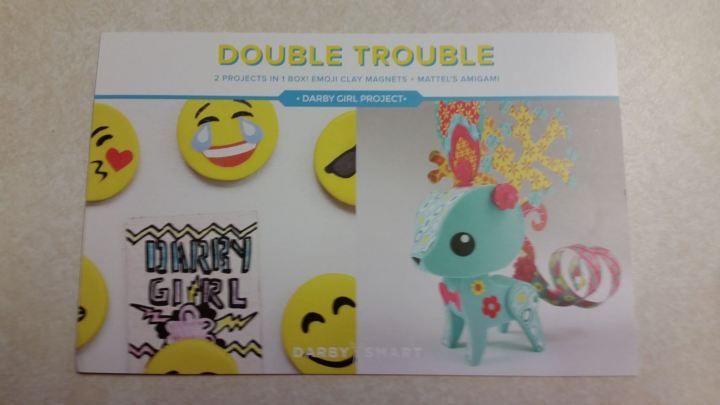 Inside the box, we found a Mattel AmiGami project and all the supplies we needed to make emoji magnets, including clay, a cookie cutter, sharpies, magnets, and glue.
Project #1:  Mattel AmiGami

Everything we needed for this project was in the package.  It had the plastic dog form, plus a lot of stickers and curling paper, plus little nodes that you use to attach the curling papers and other aspects to the dog form.  My 11-year old did this project on her own.  The most challenging part of this project for her was getting into the shrinkwrap of the package!  She enjoyed making the dog, putting silly stickers on the form and adding the tail, ears, and hair poof.
The stickers and the paper accessories are supposed to be reusable, so we kept the project to do another day.  However, it seemed pretty simple for her and I would bet she won't pick it up again.  The product package indicates for ages 6+, so it's not surprising that a tween/teen would find it a little too simple.  That said, my younger daughter thought the finished product was cute and she giggled while she was trying out different ears and tails.
Project #2:  Emoji Magnets
For the emoji magnets, the box provided all the necessary materials and a card with a link to the instructions as well as some inspirational emojis.
There were two packs of Sculpey III Oven-Bake clay (~$2.50/pack) and a circle cookie cutter.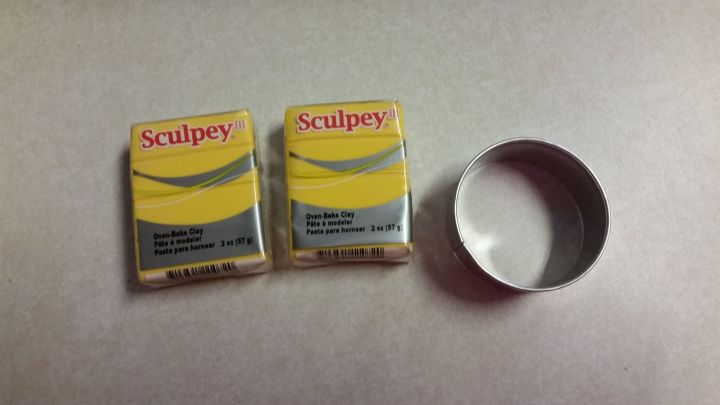 There were also a dozen ProMag Flexible Magnets (~$5), a three-pack of fine point Sharpie markers (~$4), and Liquid Fusion Clear Urethane Adhesive (~$6 for 2 oz, the bottle in this box was 0.66 oz).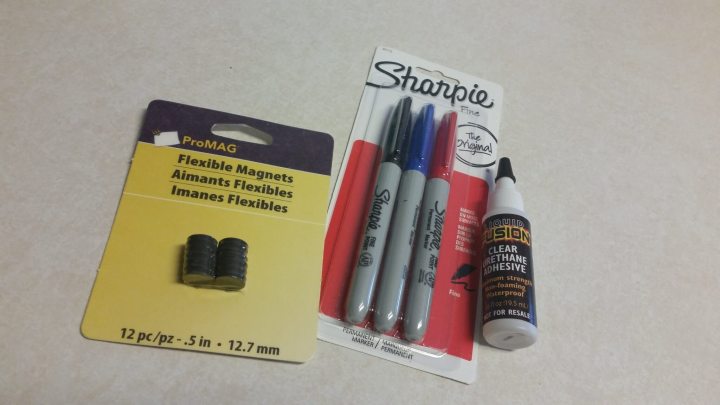 Both of my girls worked on this project together.  They had to get the instructions from the internet (the instructions for all Darby Smart projects are online), which they didn't particularly like but was easy enough for them.  It took some elbow grease to roll out the clay to the correct thickness, but they were able to do it.  I'm not sure that a young tween working alone could, but easily with a parent's assistance could complete the project.  Also, this project required them to bake the magnets in the oven to harden.  I have no problem letting my girls use the oven at this stage, but just a heads-up, particularly if you have young tweens.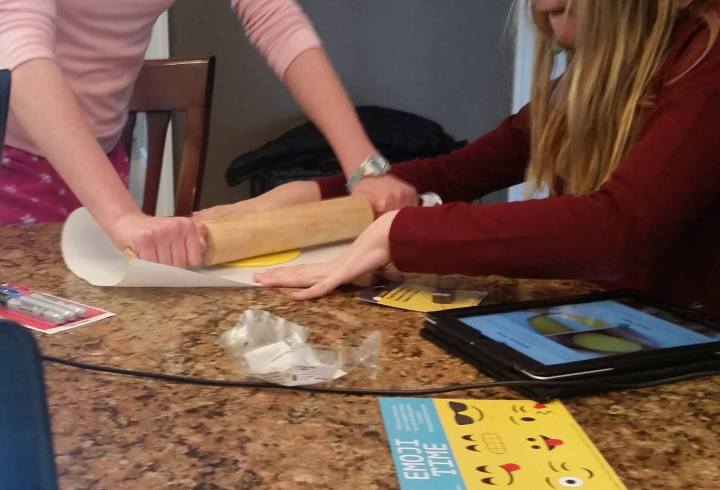 After they rolled out, cut, and baked the clay, they decorated their magnets.  There was plenty of material in the box for each of them to make three magnets (or six for one).  Their only complaint during this stage was that the black Sharpie marker petered out, but we had plenty of extra Sharpie markers laying around the house so they could finish their project.  Here are the finished magnets: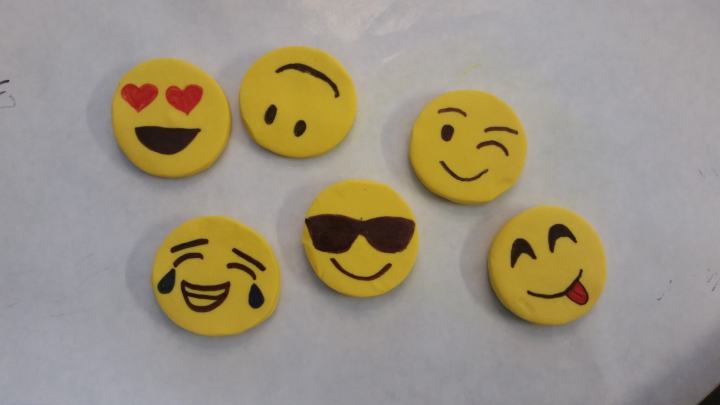 Bottom line:  My daughters did enjoy the projects in this Darby Girl box, but I do wonder if the AmiGami project was too young for the target demographic.  (My older daughter didn't care at all that she was not around when my younger daughter made it; too babyish for her.)  The emoji magnets were definitely in the right age range, as far as interest and difficulty level.  They really did have fun with that project, including looking up different emojis to draw.  Lots of giggling and teamwork came from the kitchen while they were working on it.  This was our first experience with Darby Girl, but my girls would definitely be interested in more projects like the emoji magnets.
Visit Darby Girl to subscribe or find out more! You can get 1 month free with an annual subscription – no coupon code needed, just visit and subscribe.
The Subscription
:
Darby Girl
The Description
: From fashion accessories to room décor and more, every project is carefully curated just for Girls Life readers and inspired by favorite new trends. Each Craft Club box contains everything you need to make something amazing.
The Price
: $19.00 every other month