The Cocotique theme for January is New Year, New You!   COCOTIQUE is a deluxe beauty box subscription service for women of color and diverse ethnicities.  Each month Cocotique will ship to your door a specially curated deluxe box filled with 5-8 sample size and full size beauty and lifestyle products for just $20 including free shipping.  After trying out your samples, you can then purchase the full size products in the Cocotique Shop.  Cocotique offers an exciting and fun experience for women of color who love beauty and are in search of an affordable way to try new beauty and lifestyle brands.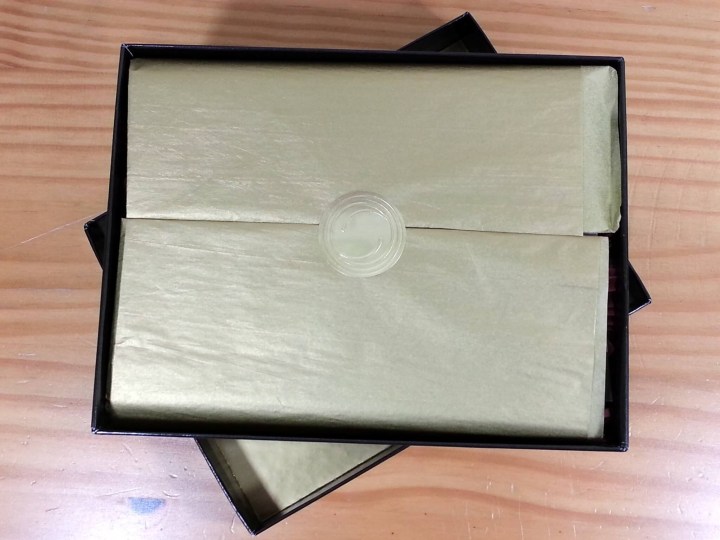 The gold wrapping makes this box feel so luxe.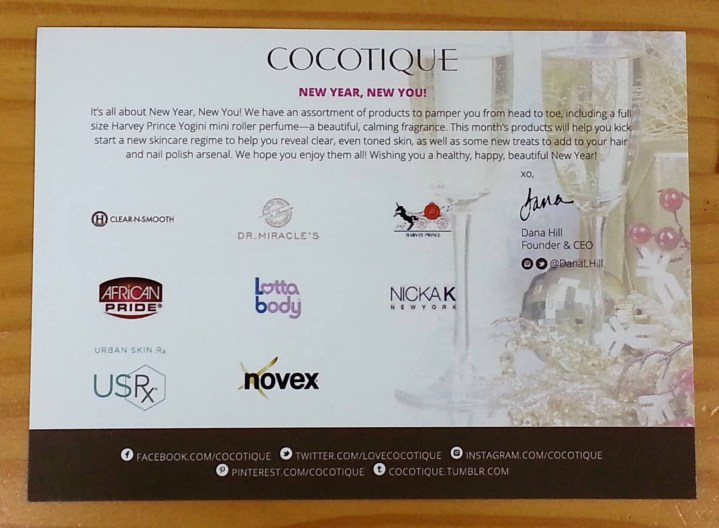 The front of the information card contains a note from Cocotique founder and CEO, Dana Hill. 
The back has a brief description of each item as well as costs for full size products and discount codes to be used on the items' home sites.
Here's the start to a new me!  Everything in my box.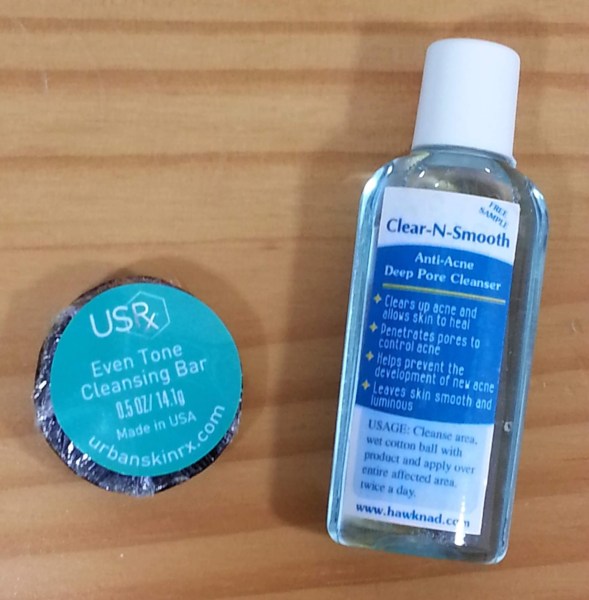 Even Tone Cleansing Bar by Urban Skin Rx ($33.00/3.3 oz.):  I was wondering why this sample was so small, but after seeing the price for the full size version, I get it.  The soap contains a blend of kojic and azelaic acids, both of which help fight against acne and promote even pigmentation.  According to the website, the lather should be left on the skin for 1-2 minutes before rinsing off.  At my age, I still get breakouts from time to time, and this will definitely be used when the next flare up comes.
Clear-N-Smooth Anti-Acne Deep Pore Cleanser by Hawknad ($12.99/6.0 oz.):  This is not really a cleanser per se.  It's more along the lines of a toner or astringent.  This should be used to help clear existing pimples, shaving razor bumps, and prevent new ones from developing.  I couldn't find a list of ingredients for this.  I do know that it uses salicylic acid and has a VERY strong rose scent.  Sorry, but I cannot get past the scent.  Luckily, my teenage niece can use this.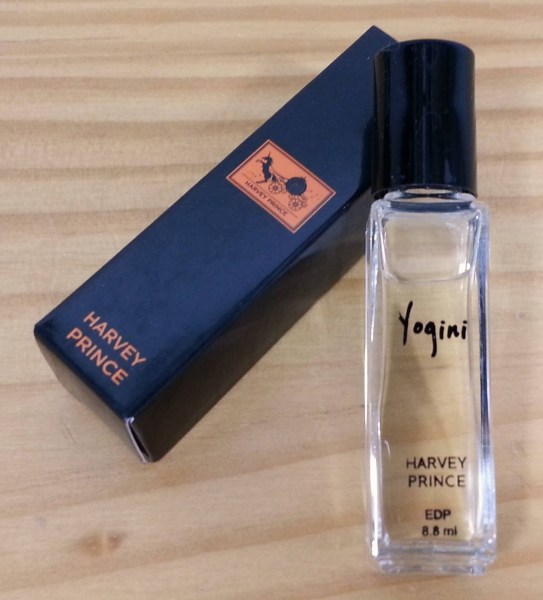 Yogini Perfume Mini Rollerball by Harvey Prince ($23.00/8.8 ml):  This is the scent of liberation – their words, not mine.  This is a nice evening scent.  It goes on a little strong, but dissipates into a subtle, sultry fragrance.  Some notes in this blend include:  sandalwood, pink grapefruit, and Egyptian myrrh.  From a cost standpoint, this alone was worth the box.  

Silver Star Nail Lacquer by Nicka K New York ($4.99):  This is nice silver shimmer.  The brand recently reformulated and redesigned its polish.  They are DBP, toluene, and formaldehyde free.  Nicka K boasts optimal coverage in minimal coats with long-lasting vibrancy and a chip-resistant formula.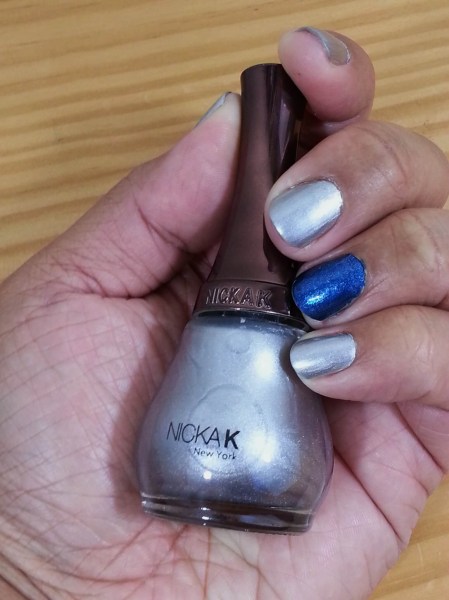 As you can see, I couldn't wait to try it out (definitely a rushed manicure).  I used 2 coats of polish, and the picture was taken after 2 days of wear.  I really liked the long handle on the cap – reminiscent of Julep's Plie wand.  I felt a little space-y and was remembering David Bowie, hence the blue. 
Brazilian Deep Conditioning Treatment by Novex ($16.99/35 oz.):  This can be used as either a daily conditioner (leave on for 3 minutes following shampoo) or a deep conditioner (leave on for 15 minutes).  It does contain silicones and parabens.  I used it as a deep conditioner and noticed a difference in the ends of my hair – much smoother and softer.  
Olive Miracle Silky Smooth Edges by African Pride ($2.99):  This was one of five items that were randomly included in this month's boxes.  It is a petroleum-free pomade used to smooth down edges and flyaways.  I wish that I had gotten the Moisturize Me Curl & Style Milk by Lotta Body, which was also offered, instead.  That, I've used and liked.  This, however, will be added to the donate pile.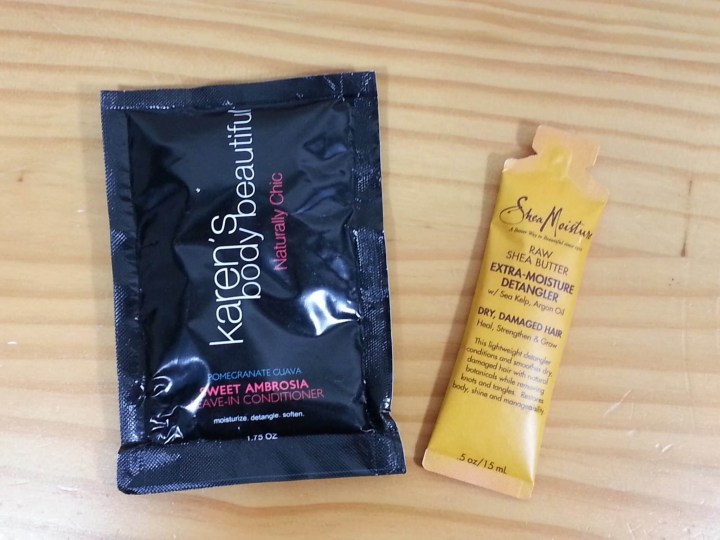 These were surprise bonus items in my box.
Sweet Ambrosia Leave-in Conditioner by Karen's Body Beautiful:  This is a new brand for me.  Karen's Body Beautiful uses natural and organic ingredients to create their products.  Some things in this conditioner include:  jojoba oil, avocado oil, calendula, and vitamin E.  This leave-in is designed to detangle, soften, and moisturize.  Also, it can be used before heat styling because it is water based.  I'm excited to try this out. 
Raw Shea Butter Extra-Moisture Detangler w/ Sea Kelp & Argan Oil by Shea Moisture:  Shea Moisture is a brand I know and love.  So, I was very happy to see this leave-in conditioner/detangler as a bonus.  The sachet has about 2-3 uses in it.
Apparently, Cocotique's theme for a new me this year starts with better hair since the products were predominantly hair care items.  The value of the box was well over $40, but that was due to the rollerball.  I really enjoy that Cocotique continues to introduce me to new brands each month.
Visit COCOTIQUE to subscribe or find out more! Get 10% off your entire subscription with coupon code BOX10.
The Subscription
:
COCOTIQUE
The Description
: Each month, you will receive a COCOTIQUE Box with 5-6 expertly curated beauty and lifestyle samples delivered to your door. Your COCOTIQUE Box will include a variety of samples from skin care, hair care, fragrance, nail and lifestyle companies.
The Price
: $20.00 per month