Chisel Shave Club is a men's monthly wet shaving subscription box that sends an assortment of wet-shaving accessories each month. Chisel Shave Club is available for $29.99 per month with discounts for longer subscriptions.  After you see the contents, you will see why this is a fantastic deal. New 6 and 12 month subscriptions will receive a a free double edged safety razor handle and brush as in the box shown here.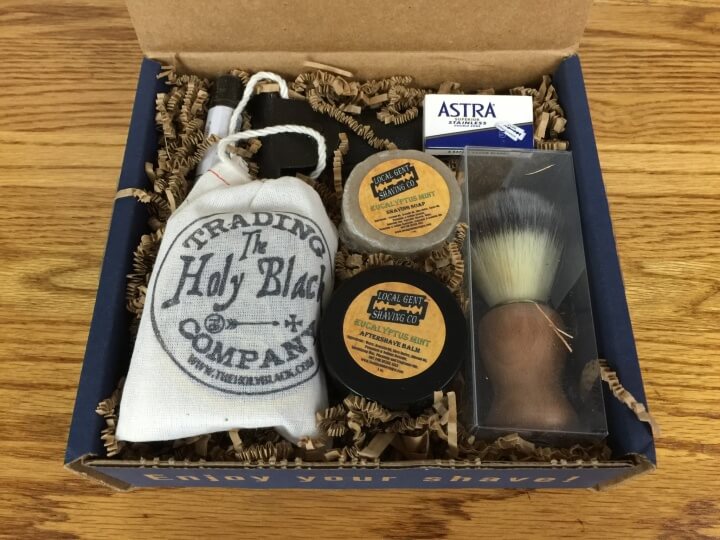 As you can see, Chisel Shave Club is all about presentation.  Upon opening the box, I was instantly impressed by how everything fit and was visible.
Inside the Holy Black Trading Company bag was a small soap bar and a sticker with the company logo on it.  The soap smells amazing.  It is made from coarse ground coffee with shea and cocoa butter.  It smells good enough to eat.
More than just shaving, Chisel Shave Club also included a peppermint lip balm from Soap Commander ($2).  It's nice and refreshing on the lips and the peppermint makes you feel like the protection is instant.
Aftershave balm is also included from Local Gent Shaving Company.  It is labeled as eucalyptus mint and has a very classic clean scent.
The shaving soap from Local Gent Shaving Company is also a eucalyptus mint scent.  This is used with the brush below.
The brush is an essential part of the wet shave.  This one has a nice wood handle and looks great.
Five Chrome Platinum blades from BIC are also included.
Astra provides five more stainless double edged blades.
The Chisel razor has a nice weight and a gorgeous chrome look to it.
The razor also comes with a case.  
You can also see how the razor comes apart for replacing razors and cleaning.
If you are looking for an awesome close shave and you wish to go for an old fashioned wet shave, I highly recommend Chisel Shave Club.
Visit Chisel Shave Club to subscribe or find out more! Save 10% on your first box with coupon code HELLOSUBSCRIPTION10.
The Subscription
:
Chisel Shave Club
The Description
: Chisel Shave Club is dedicated to helping men discover the lost art of wet shaving.  We help men find the products that work best for them by sending a selection of wet shaving products to our members every month. Products in each box include: shaving soap, razor blades, aftershave, lotion, pre-shave oils, and other men's grooming items.
The Price
: $29.99 per month