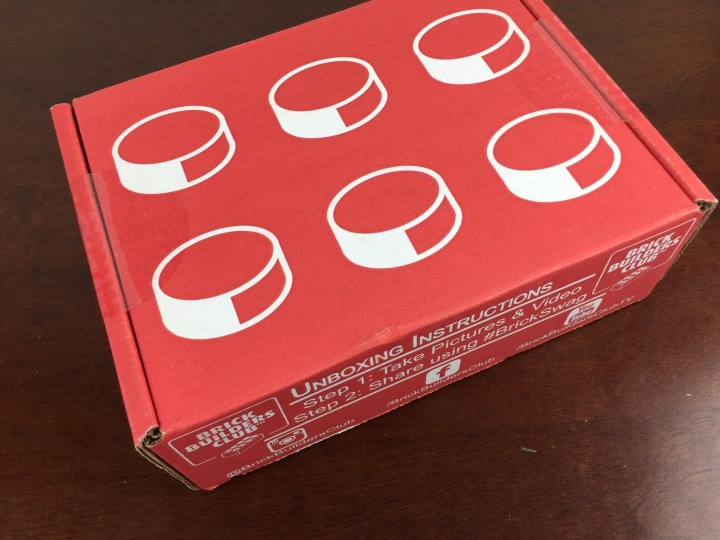 December's Brick Builders Club was a fun Star Wars themed box! Brick Swag by Brick Builders Club is a monthly subscription box f or fans of LEGOs and other studded brick building systems.  Each box comes with brick-related swag, including an exclusive build pack.
Everything in the box.  In a typical month, you can expect everything except the Build Pack to be brick-themed, rather than actual bricks or brick accessories.  This is a brick fan's box, not a brick supply box.  However, the box now includes a brick booster pack loaded with LEGOs, in addition to the Build Pack; the latter, however, still remains the only structured build in the box.
Each box comes with BUILD magazine, a short glossy booklet with several single or double page features, like the Build Table, where fans submit pics of their creations. One page of BUILD lists the the contents of the box. BUILD is filled with fun stuff like fan-contributed pics and more info on the items in the box.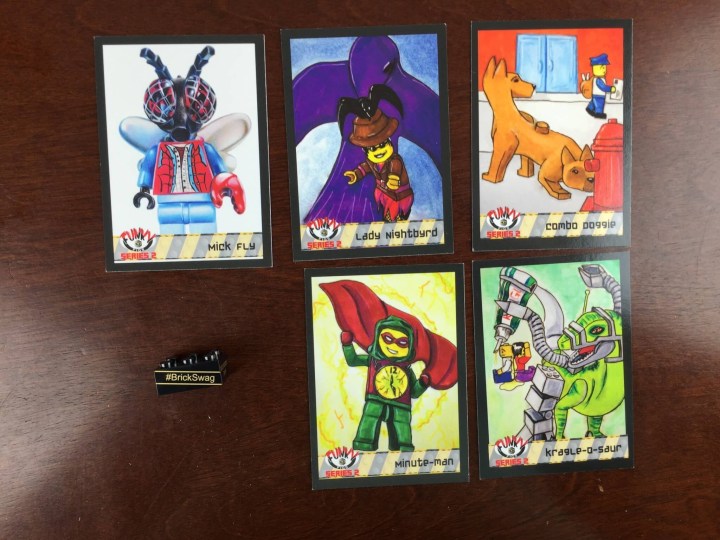 Funky Figs Trading Cards:  These silly cards feature LEGO characters imagined to inhabit the LEGO universe.
The back of the cards, adding some silly backstory to the crazy characters.
The December 2015 Brick of the Month – featuring the Star Wars font!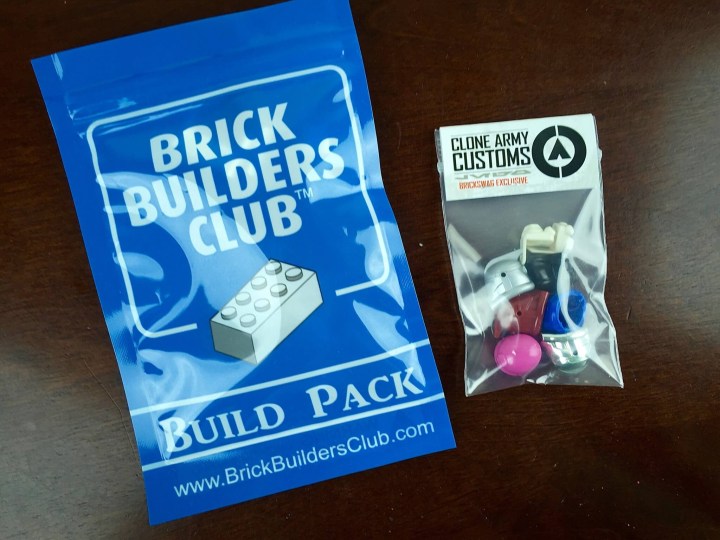 The custom build is in the Build Pack
Clone Army Customs Helmets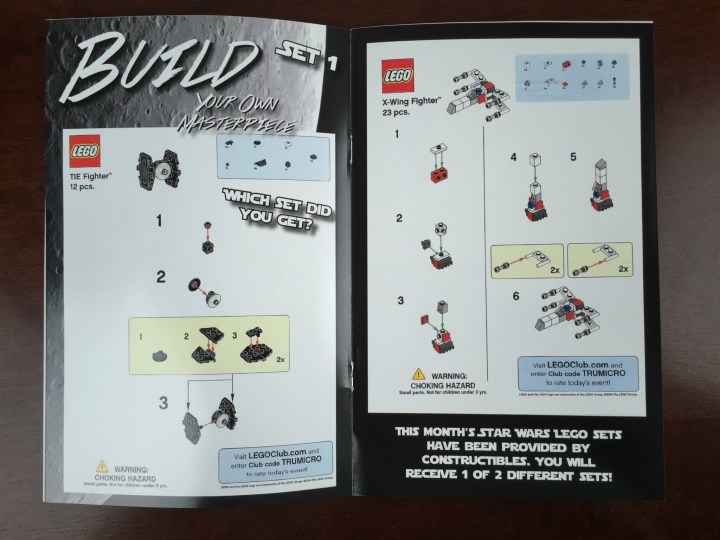 The Build Pack had an adorable turkey project this month.  The Build Pack contains all the needed pieces, and BUILD always has the complete instructions. This month had a variation – we got a TIE Fighter & X-Wing Fighter Set (which I haven't yet built!).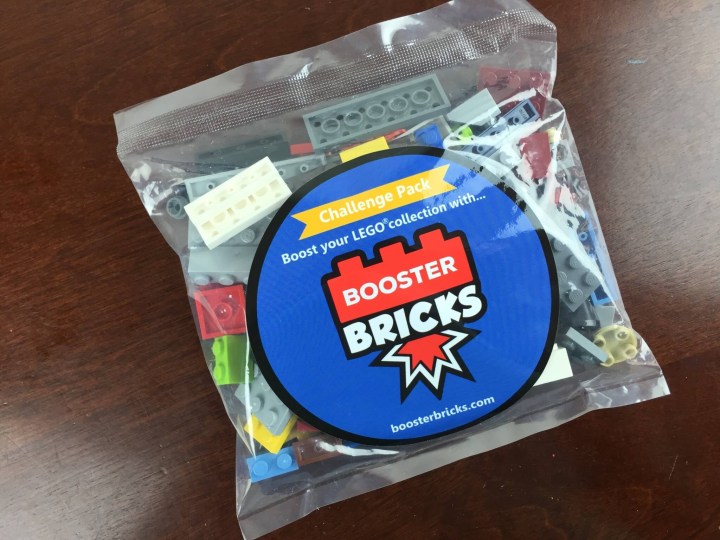 The brick booster pack includes a nice pile of pieces to stretch your collection.  The contents vary from subscriber to subscriber, so it's a real crap shoot as to what you'll get.  I actually really like this idea, and would love it if I received a small booster pack each month.  I remember playing with LEGOs as a kid, and it always involved rummaging through a mixed-up amalgamation of random pieces.  This helps bring that nostalgic sense of jumbledness to the very orderly and planned-kit-heavy universe of LEGOs today, where one's collection comprises pieces with preordained purpose.
There was a mini build challenge using your booster pack!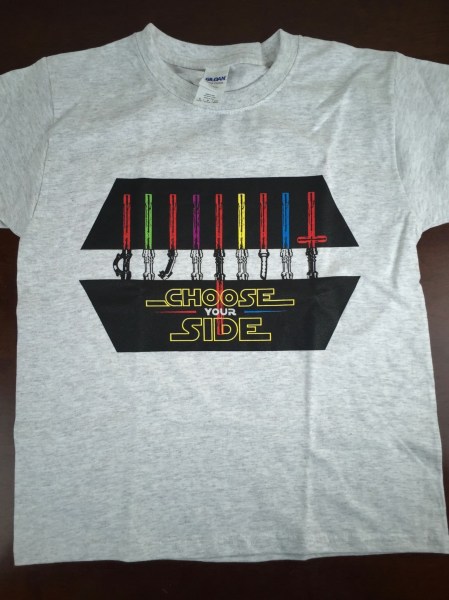 The Tee shirt has to be everyone's favorite part of the box.  This month was a Choose Your Side Star Wars inspired shirt!
And to top it off, a pster featuring some Lego Star Wars items!
Of the growing number of (unofficial) LEGO fan boxes, Brick Builders Club is the lifestyle box, weighing heavily toward LEGO-themed merchandise, rather than actual LEGOs or third-party kits — though, as mentioned above, this edition contains more actual LEGO bricks than usual, and it looks like the Booster Bricks are becoming a recurring item.  At $34 (including shipping), it is in the middle of the pack price-wise. This box is perfect for a LEGO fan that prefers to purchase their own sets but still wants swag and other fun gear (just like a box for gamers – you buy the games, the box sends the swag).
Visit Brick Builders Club to subscribe or find out more!
The Subscription
:
Brick Swag by Brick Builders Club
The Description
: Brickswag is a monthly subscription service for Lego Fans. Each box includes items such as t-shirts, trading cards, parts packs, master techniques and more.
The Price
: $34 per month