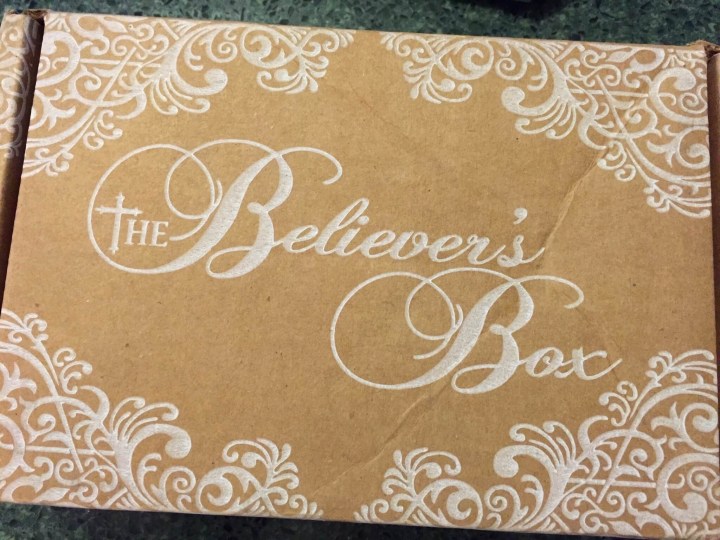 The Believer's Box is a monthly subscription box for Christian women designed to strengthen your faith with items to celebrate your Christian lifestyle. Every month you'll receive Christian-inspired jewelry and accessories, a new print, and 2-3 witness or scripture cards to keep in your wallet or give to others. This box lets you wear and share your faith.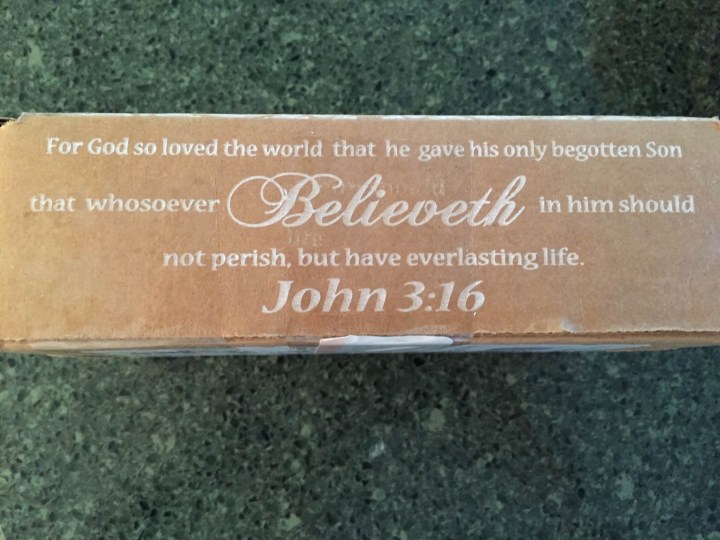 The side of the box bears a verse from John 3:16.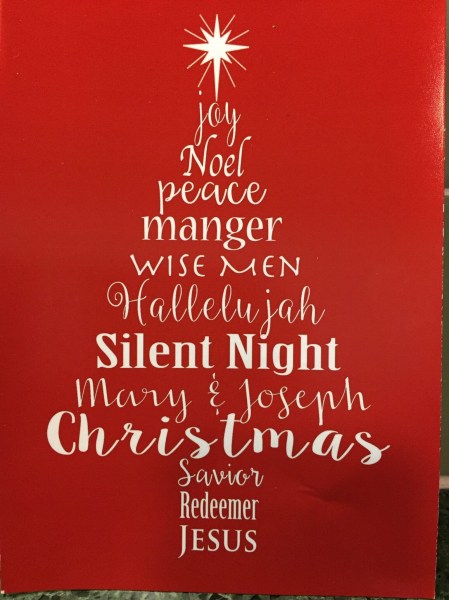 The information card is a cute print – the base of the tree reminds us of the meaning of Christmas.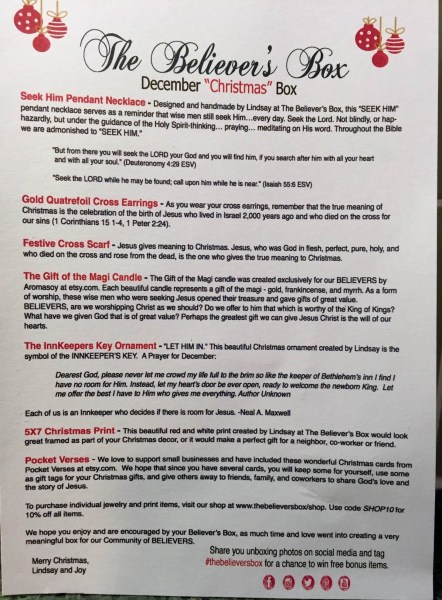 The information card gives details on each item, connecting them to the Christian inspired theme and how you can use them to reflect and practice your faith. The theme for December was Christmas!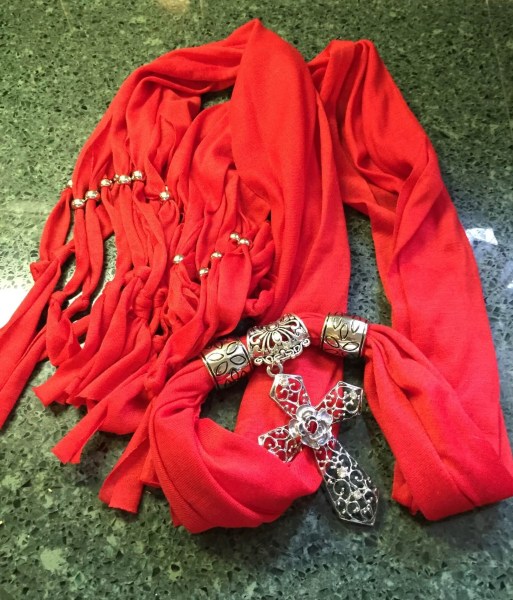 Holy moly, this was a great box to open!  The first item that I noticed was the red scarf.  Normally, my boxes come with squiggles paper (you know, the cute colored shredded paper).  So seeing material piqued my interest right away, and boy oh boy was I in for a delightful surprise see this Festive Cross Scarf.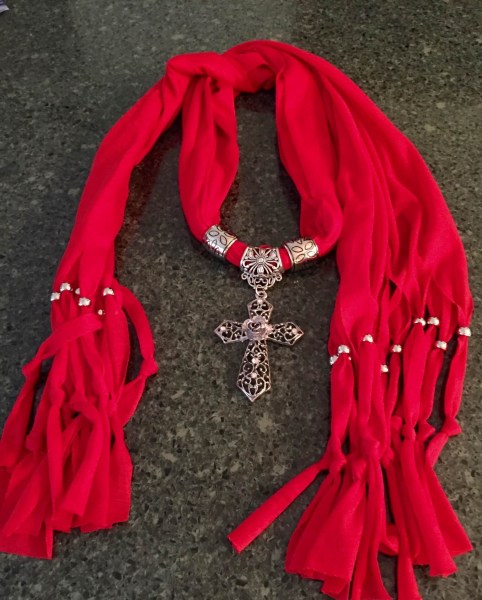 I've never seen anything like this and it's with silver jewelry which is what I almost always wear.  I can't wait to wear it to church or my ladies group.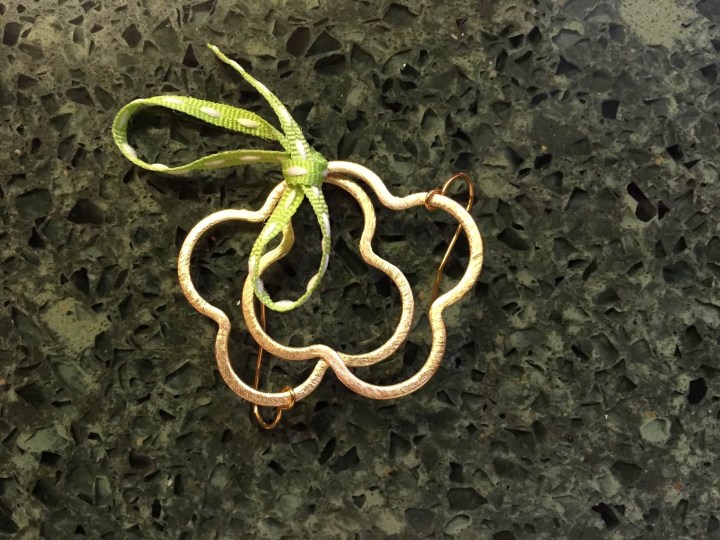 There were 2 other jewelry items.
Gold Quatrefoil Cross Earrings: These remind us that the true meaning of Christmas is the celebration of the birth of Jesus.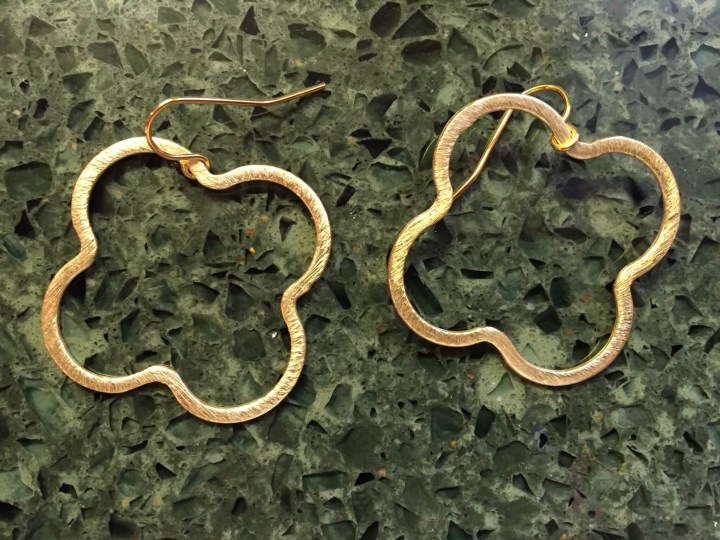 I love the simple design of these earrings.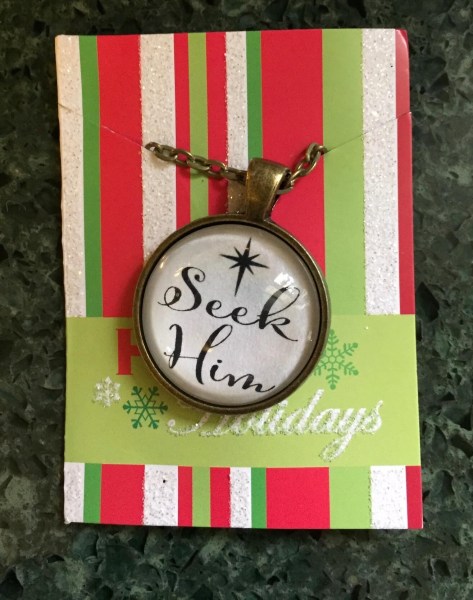 Seek Him Pendant Necklace: This necklace serves as a reminder that wise men still seek Him…every day.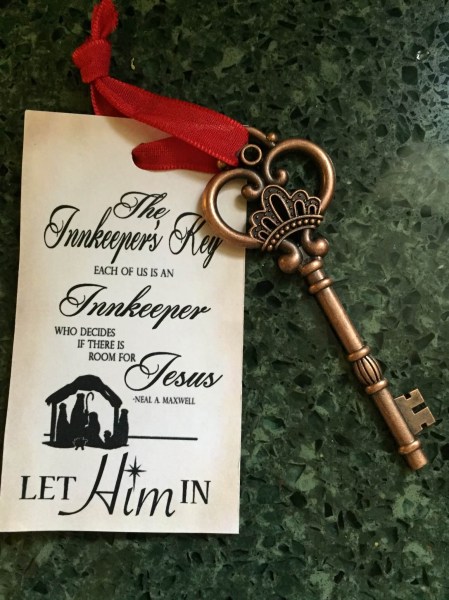 The InnKeepers Key Ornament: I absolutely love this ornament and since we're technically still in the Christmas season until Epiphany, January 6, my tree is still up and I'll be adding this to my collection of beloved Christmas ornaments.
 The Aromasoy Gift of the Magi Candle is to represent the gifts to Christ – the scent is Frankincense, Myrrh, and Gold.  I will be burning this candle on the Epiphany, the day we celebrate the 3 wise men visiting the Christ child. This scent was made exclusively for this box!
Christmas Pocket Verses: There's also the Christmas print and pocket verses – these are so pretty!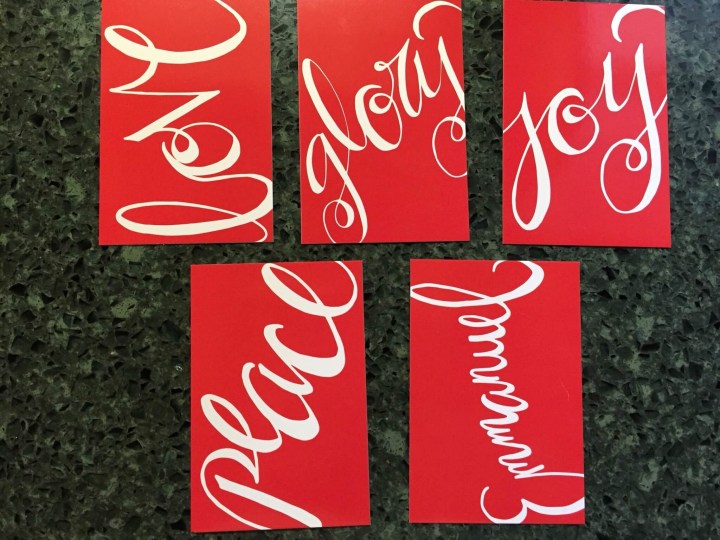 The cards read: love, glory, joy, peace, Emmanuel.  I'm going to let you in on a little secret way of evangelizing that I do.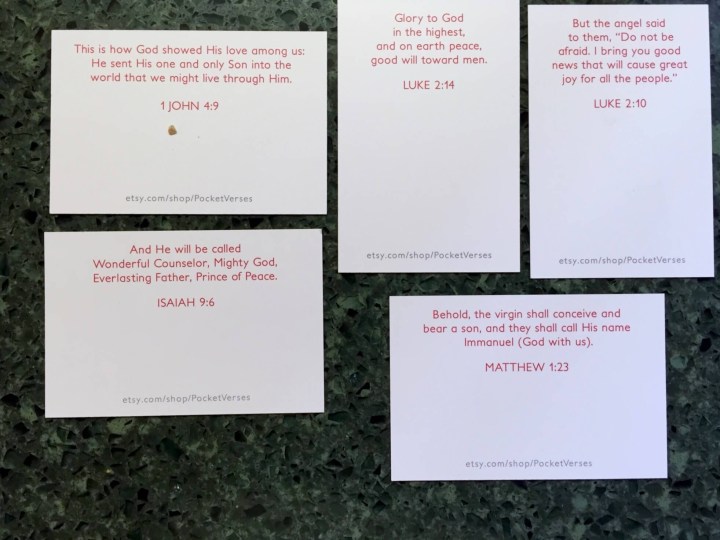 I will punch one hole in the pocket verses and then when I go to a rest room at a business and they have the hangers on the back of the door, I hang a pocket verse!  It's a gentle way to share God's love.
This was a great box to open, such fabulous meaningful items. Everything fit the theme perfectly and I love how the information card provides the inspiration for each item plus additional verses to look up and contemplate. Because most of the items were made just for this box, it's a bit hard to calculate a value, but it's certainly more than the cost of the box, and much of what's in here is priceless.
Visit The Believer's Box to subscribe or find out more! Save 10% on your first order. Use coupon code HELLOSUB10.
The Subscription
:
The Believer's Box
The Description
: The Believer's Box is a monthly subscription box for Christian women. Each box is designed to strengthen your Christian faith and contains Christian-inspired jewelry and accessories, as well as other handmade and handpicked items to celebrate your Christian lifestyle.
The Price
: $29.95 per month