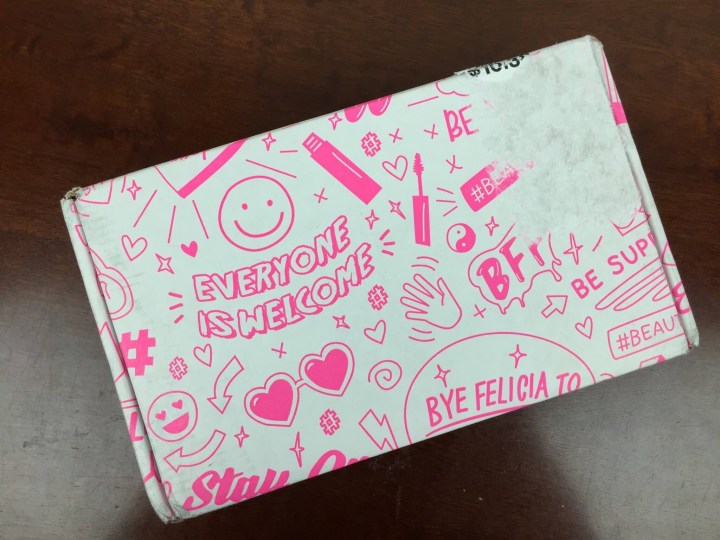 Beautycon BFF is a quarterly beauty and lifestyle subscription box that is definitely marketed to the teen and young adult market.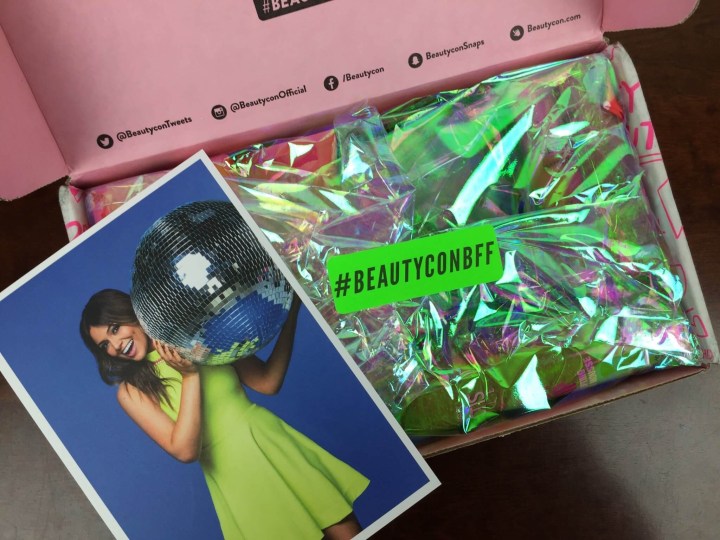 Each box features a different celebrity curator, and with Bethany Mota curating the winter box I couldn't resist picking one up.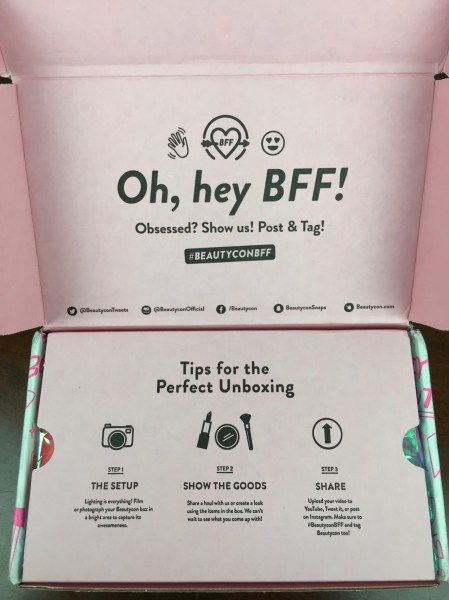 Lighting is indeed everything with an unboxing!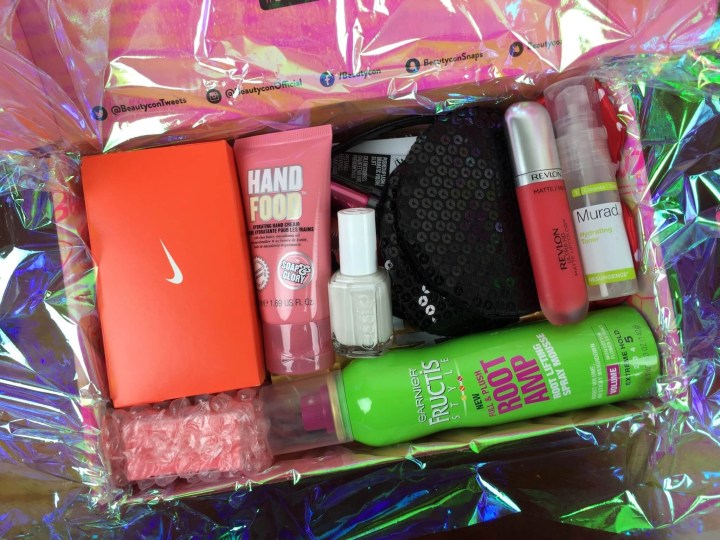 This box is packed full – Beautycon is a huge brand and definitely able to negotiate a box crammed with items.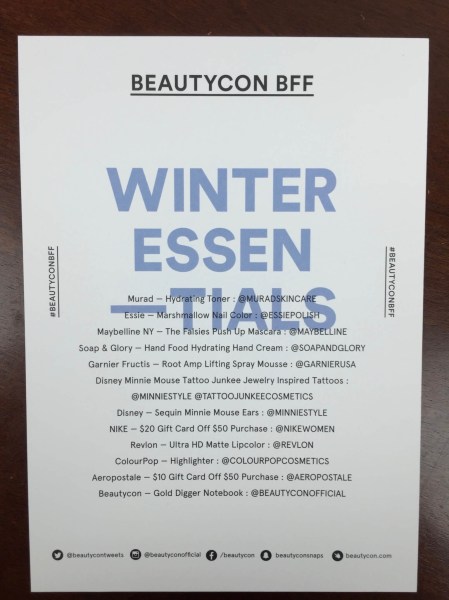 The information card provides a listing of the items. The theme is Winter Essentials!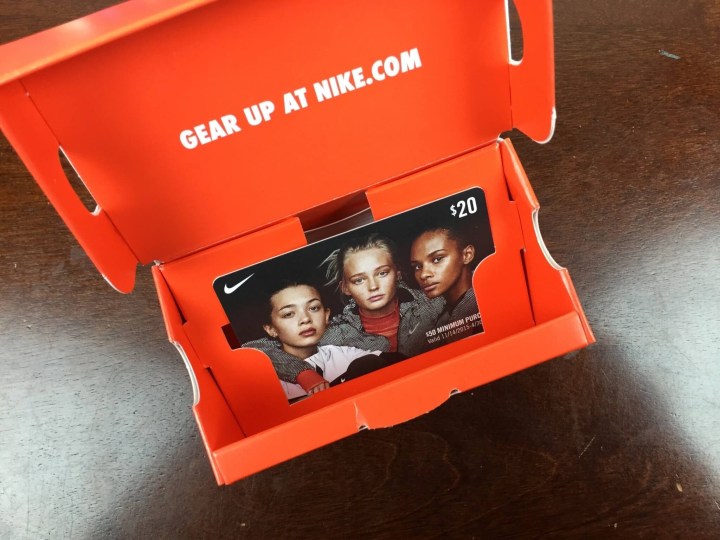 Nike $20 off $50 Coupon: I'll pass this along to a friend who is obsessed with Nike (I admit that I have a family member that works at Nike and I can get a F&F discount like this any day of the week – but I also know that this is pretty much as good as it gets for this brand).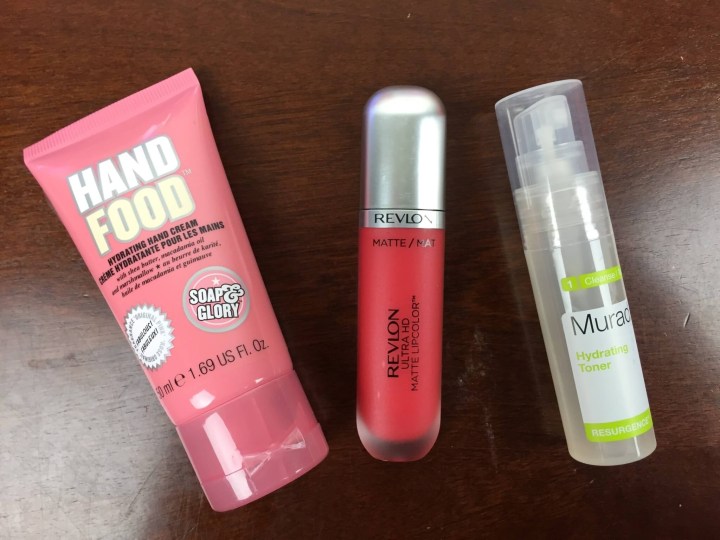 Soap & Glory Hand Food Hydrating Hand Cream ($3.20) A nice light formula from this popular UK brand. It smells a little soapy actually and has shea butter and grapeseed oil for softening and hydrating.
Revlon Ultra HD Matte Lipcolor ($8.99) I received the shade "Amour." This lip cream smells bizarrely enough of sunscreen – it must remind me of a sunscreen that uses the same scent (mango and vanilla). The color was a bit orangey for me but has had some nice staying power. It's not It's Whipped level, but it's good!
Murad Hydrating Toner ($2.33) I love a good toner and this one mists on and hydrates to prepare your skin for treatment. It's sort of an unusual product for this box because it's for drier/more mature skin, but a nice product for winter.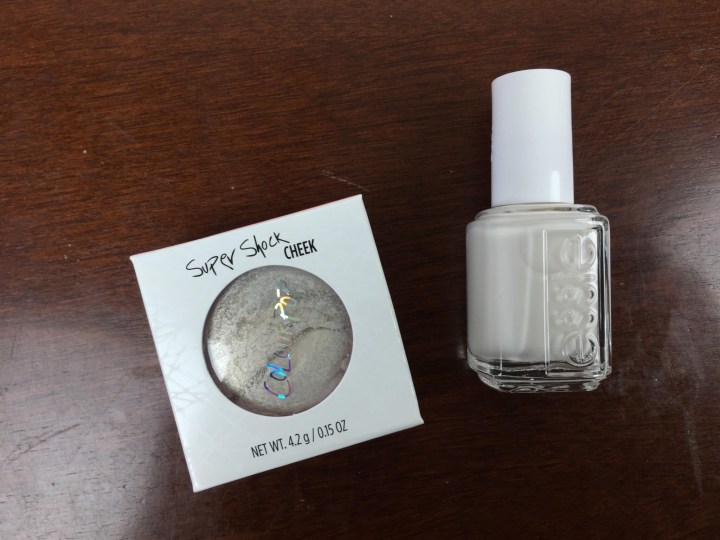 ColourPop Super Shock Cheek Pearlized Stole The Show Powder ($8) This is a *highly* pearlized powder that if you use the tiniest smidge will add some shimmer but you can really create a great wintry look with this pink/gold/silver powder. I swatched this but since ColourPop offers swatches with multiple skin colors, am using theirs!
Essie Marshmallow Nail Colour ($8.50) This one stated the color on the card, so I don't think there are any variations. Who doesn't love Essie, and who doesn't love sheer white polish in winter? You have to be careful with this one – it has a tendency to streak.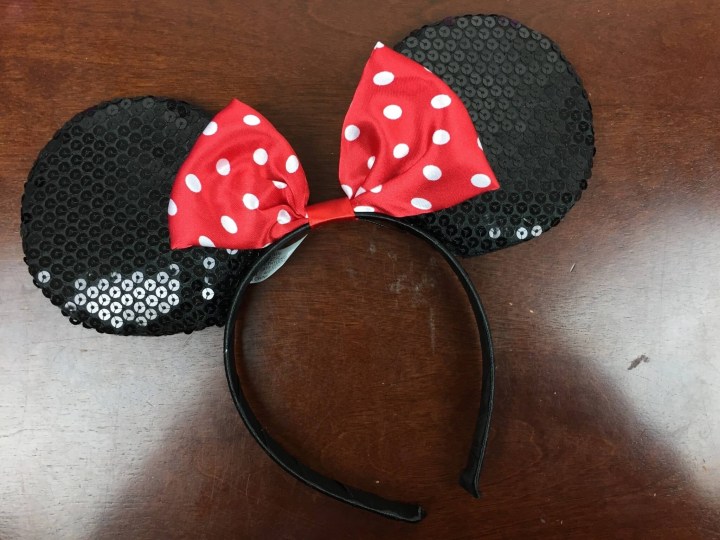 Disney Minnie Mouse Style Ears ($?) The card does say @minniestyle but these aren't the $22 ears from the Disney Store. I don't think these are knockoffs because there's another Disney item in the box (!) but I'm not sure where they came from. There's a Disney tag on the underside – they're definitely real, which is awesome.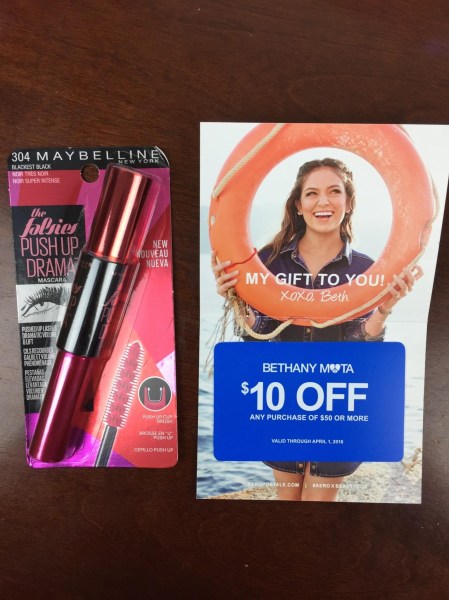 Maybelline The Falsies Push Up Drama in Blackest Black ($9.49) I am a huge fan of Maybelline mascaras but I kind of hated this one :/ The formula was so sticky that it was hard to get the base of my lashes and things got Tammy Faye really quickly. However, behind my glasses it looked fine.
Aeropostale $10 off $50 Coupon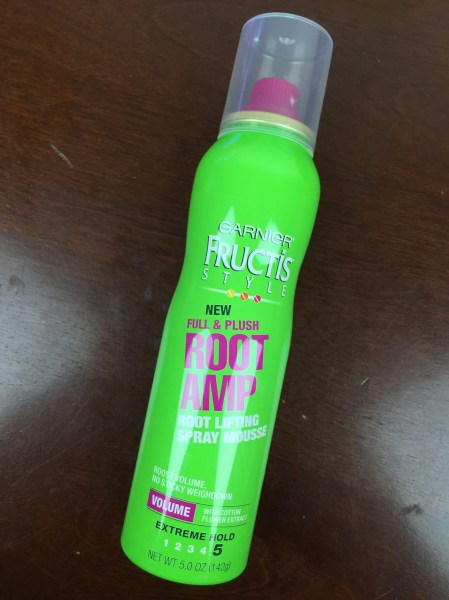 Garnier Fructis Full & Plush Root Amp Root Lifting Spray Mousse ($6.76) This says to spray into the roots of damp clean hair, so I applied it to my dry dirty hair and it works great. I'm totally a fan – it lifted my unliftable fine hair. Not everyone agrees with me on this product but that's ok!
I'm going to note here that I do have all these products on my body at once right now and I was impressed with the curation – because I toned, have on luminizer, mascara, nail polish, did my hair, have my lips all pretty, and have soft hands.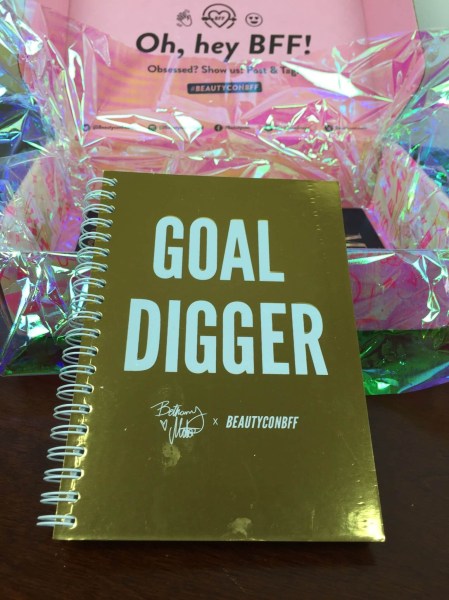 Goal Digger Bethany Mota x BeautyconBFF Notebook ($5) This is sort of a cheap notebook inside (nothing to write home about on paper quality but I totally love it.
Disney Minnie Mouse Jewelry Inspired Tattoos ($16) IMO 37 year old with 3 kids but acts like she's really about 19 year old opinion, BeautyconBFF just took the metallic tattoo trend and threw down with the fifty million subscription boxes (including POPSUGAR and FabFitFun) that have sent out metallic tattoos. I think they're adorable and fun! (But also, can we be done with them now, because I have like 50 packs).
The total value of this box was around $76 – not including the coupons.  There were only 2 items that weren't full size, and those were really nice travel sizes. Super happy with this one, and really fun, just like Bethany Mota (and Minnie!).
Visit Beautycon BFF to subscribe or find out more! Use code BFFBABE10 for 10% off!
The Subscription
:
Beautycon BFF
The Description
: Each season, you'll get a gift box curated by Beautycon and our community of influencers of our ultimate must-haves.
The Price
: $35.99 per quarter