Baklavva is a monthly subscription that delivers fresh, authentic Mediterranean treats directly to you.  Each month will have a different mix of varieties of baklava, each varying in filling, shape, composition, and adornment.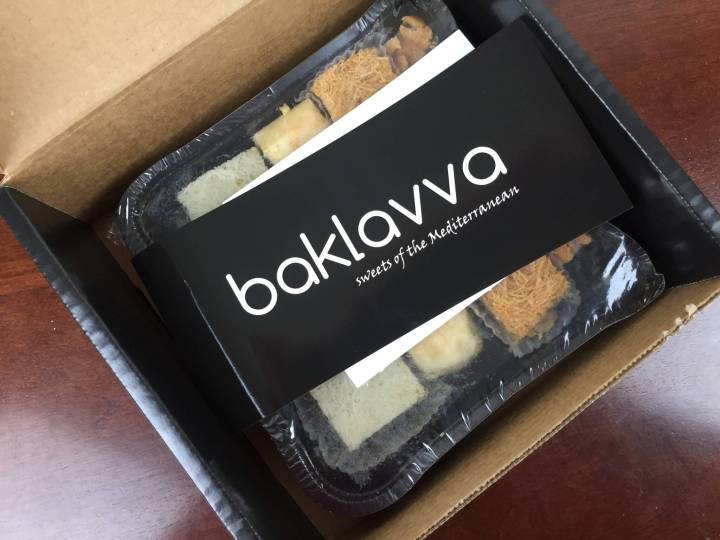 The outer box was wrapped in plastic to maintain the freshness, and the interior was also padded with bubbles.
The info card helps put a face to name, so to speak, but it doesn't list the particular composition of each treat.  This month's card went a little further than those of past months, as it listed the main filling ingredient of each item.
The nutrition card lists the possible contents of all the treats together and nutrition info for individual types of treat, but it is anyone's guess as to which nuts and seasonings go into each treat.  It didn't have the info for two of the types of pastry in this month's box, so it wasn't helpful with regard to those items.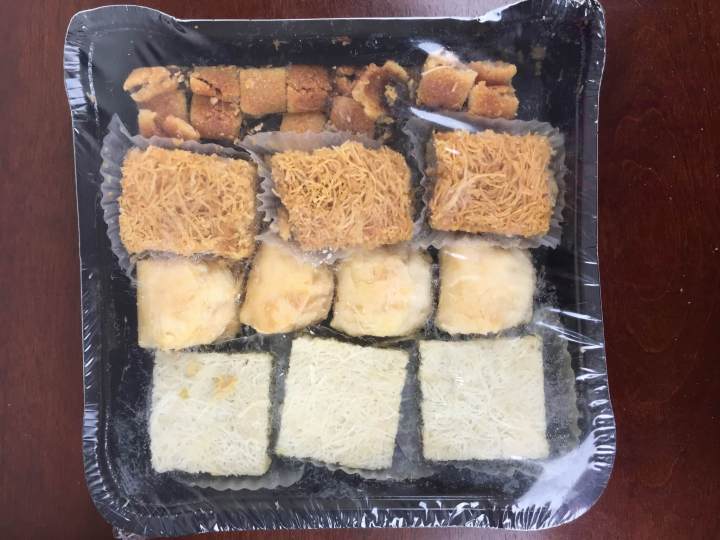 The inner pack was also hermetically wrapped, and the pastries were nestled together very tightly.  The items that appeared to be the most delicate survived shipping in superb condition!  The Mamoul crumbled a bit, but they look like they may come out of the pan a little rustic as a matter of course.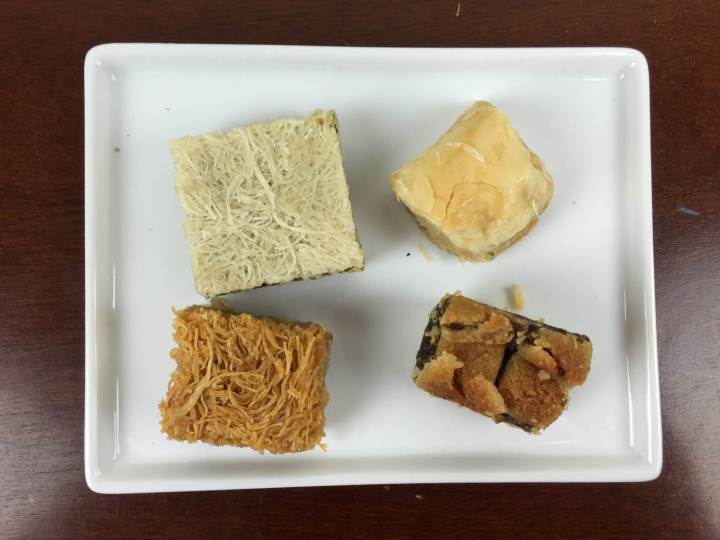 Clockwise, from top left:  Balouri, Mini Roses, Mamoul, and Ossmalleya.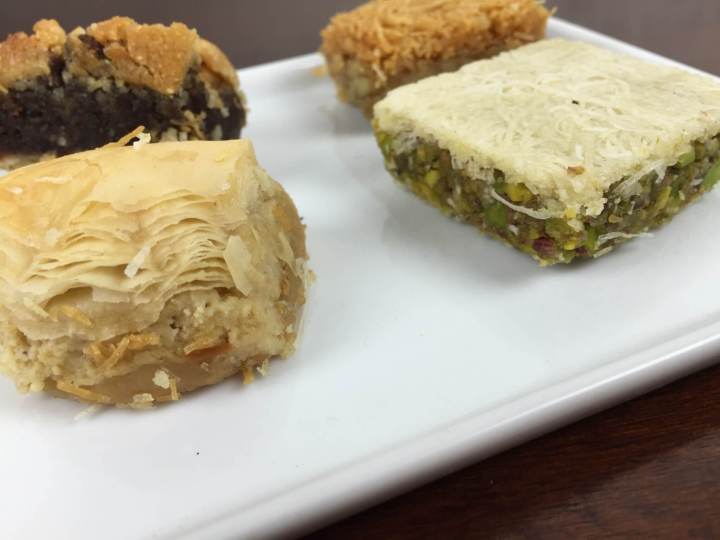 Mini Roses:  These are folded gently over a mashed filling and look like a little Pacman or lopsided taco.  These are the lightest and most delicate of the pastries, with a pale phyllo and a finely chopped cashew filling.  Based on the name, I believe this is flavored with rosewater, but the flavor is delicate and hard to positively identify against the sweet backdrop.  The mini roses this month were not as sweet as in the past — I think previous versions were steeped in excess syrup from the baklava.
Balouri:  A firmly-pressed and extremely pale phyllo tops a hearty and slightly tangy pistachio base.   These are crunchy and absolutely loaded with large pieces of pistachio.   The flavor of the nuts is intense — I'm used to eating pistachios a few at a time at most — they take on a unique and powerful flavor in such volume.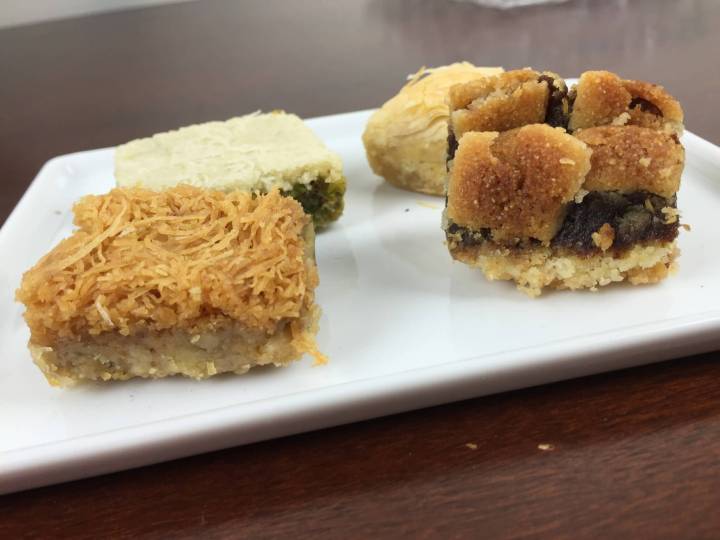 Ossmalleya:  The shredded topping is light and flaky on this pastry.  The filling is a sweetened walnut paste.  Good, but messy — the topping absolutely explodes when eaten.
Mamoul:  The date filling is thick and has a pleasant Fig Newton-type texture.   The date has a nice flavor and is surprisingly not overly sweet (I love dates, partly because they are crazy sweet).  The crust is unique from the others, as it doesn't seem to be a phyllo derivative.  It has a crunch and flavor similar to a mild graham cracker crust.
I got my wish from last month, as this assortment contained some ballourie.  I thought that was the last item I has to try, but two additional pastries not listed on the nutrition card were included — who knows how many there are to try!  I continue to be amused and delighted by the variety of flavors and textures that can be created using phyllo, nuts, and sugar.  This month had no straight baklavva, but it had some nice surprises, like the Mamoul date bars.
Visit Baklavva to subscribe or find out more! Save 50% on your first box with code MY50.
The Subscription
:
Baklavva
The Description
: Monthly subscription of authentic Mediterranean delicacies. Choose from one of three monthly plans: 1lbs box plan, 2lbs box plan, 3 lbs box plan. Baklavva mix will vary from one box to another. Each box will include a variety mix of baklavvas that may include Burma, Ballourie Mini Roses, Bassma, Baklavva, Bird Nest, Fingers and Ghourib.
The Price
: $24.00 per month
The Coupon
: Save 20% on your first box. Use coupon code
MY20
.