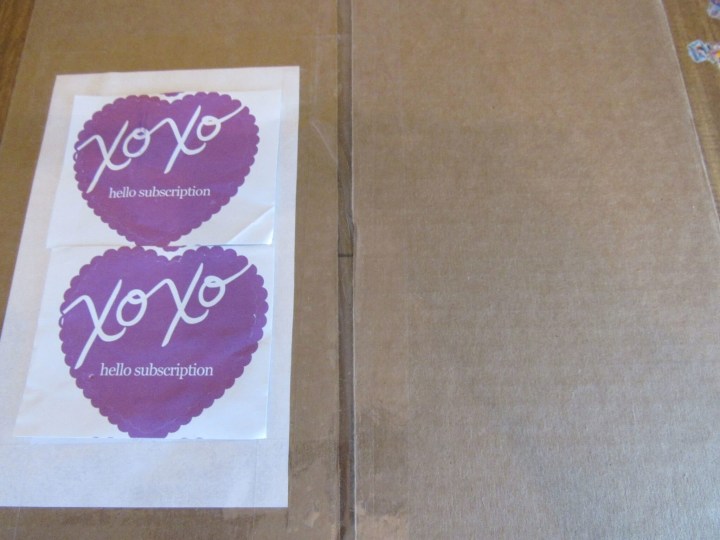 Artistry Gifts offers three different subscriptions – a bimonthly gift wrap box, a monthly themed box, and a themed box plus gift wrap subscription. My review is for the monthly themed box. The monthly themed subscription box consists of 4-5 wonderful giftable items that you can gift or keep for yourself! Items may be candles, spa items, home, jewelry, snacks, stationary and more!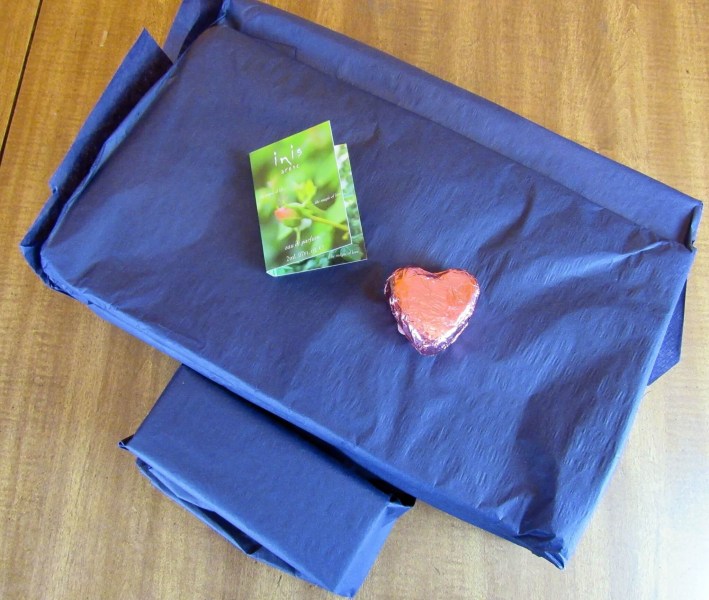 The shipping box size changes to accommodate that month's items. The items are wrapped in tissue paper making it fun to unwrapped. It also makes for an excellent presentation for gifting. My 7-year old and I usually take turns unwrapping the gifts. This time, I was able to unwrap them all by myself!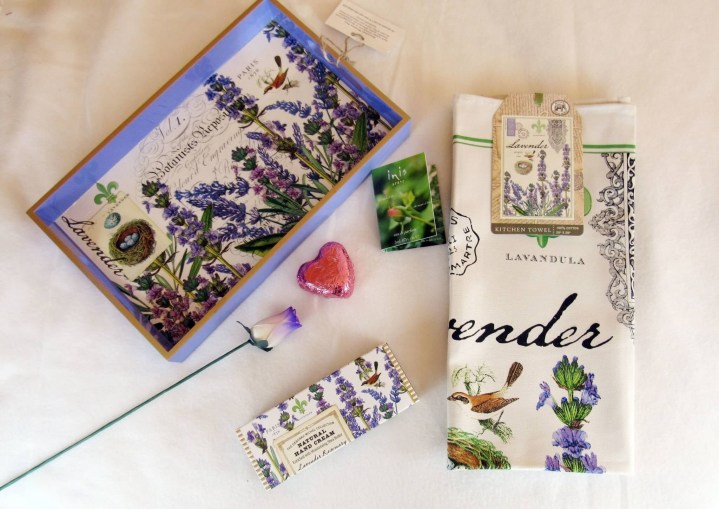 I love the January box! I was smiling the entire time I opened it.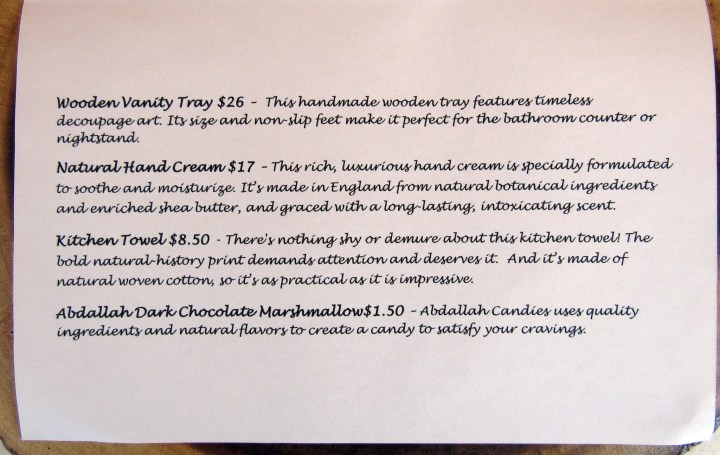 The information card describes the items in the box. Artistry Gifts is not a high value box. I love it because it makes my heart sing. I almost always use everything in the box. The few times I didn't, I gifted the items.

Artistry Gifts offers a choice most months. This month subscribers were able to select a wood tray. I had a hard time selecting between the Lemon Basil, Seashore, and Rosemary Lavender. I almost missed out on selecting my tray!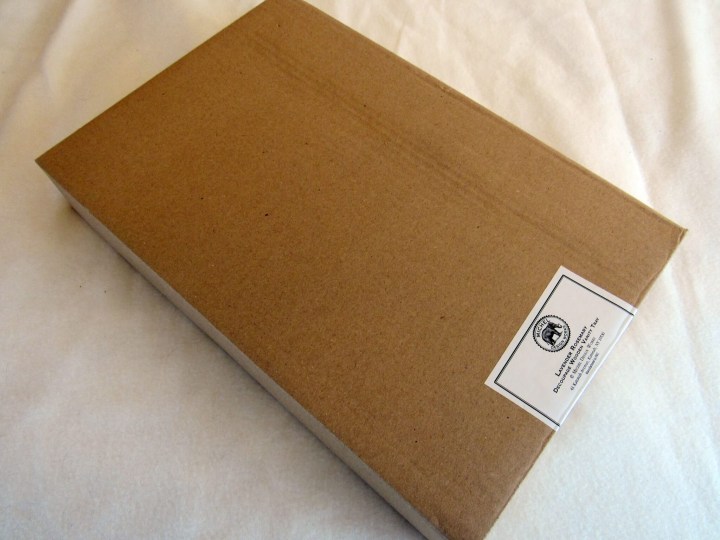 The Michel Design Works Lavender Rosemary Wooden Vanity Tray ($26)  was packaged in its original packaging including styrofoam on the corners and tissue wrapped around the tray. The tray is ready to gift or to keep for yourself.
I read the email concerning the January Spoiler and paid no attention to the size of the tray. I was pleasantly surprised by the size. It is 7.75″ x 12.25″ x 1.5″.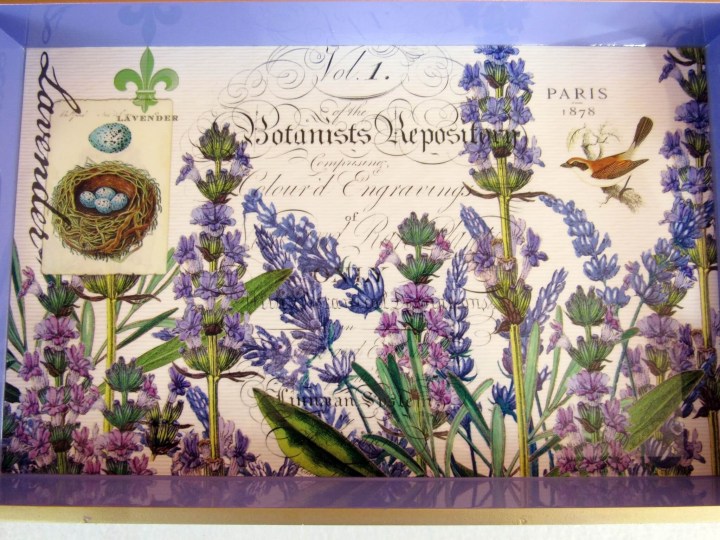 It is beautiful. I selected the Rosemary Lavender because my favorite color is lavender. I also love working with herbs and in my garden.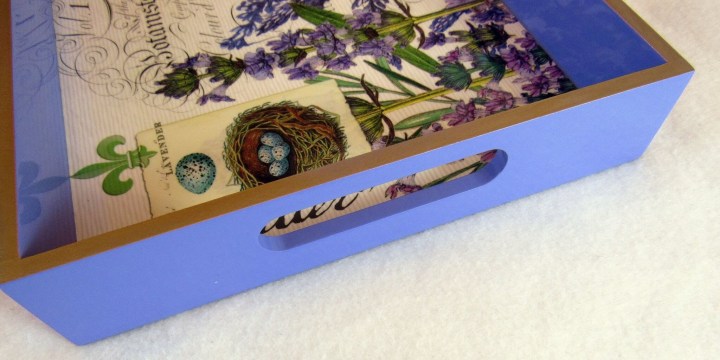 There is a handle on each side of the tray.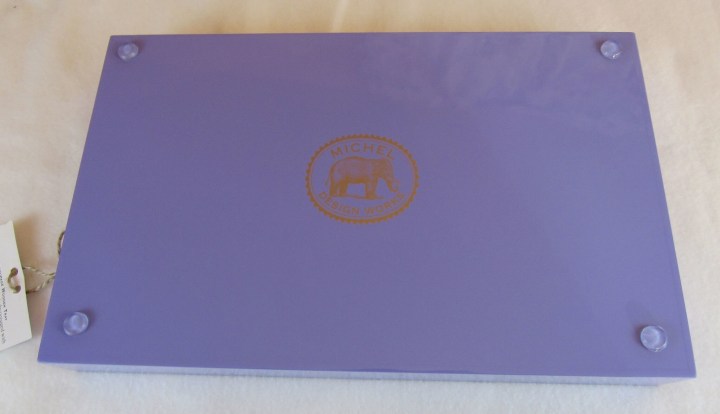 I will be placing the tray on my dresser. My dresser and corner are my little oasis of femininity in a house with two boys.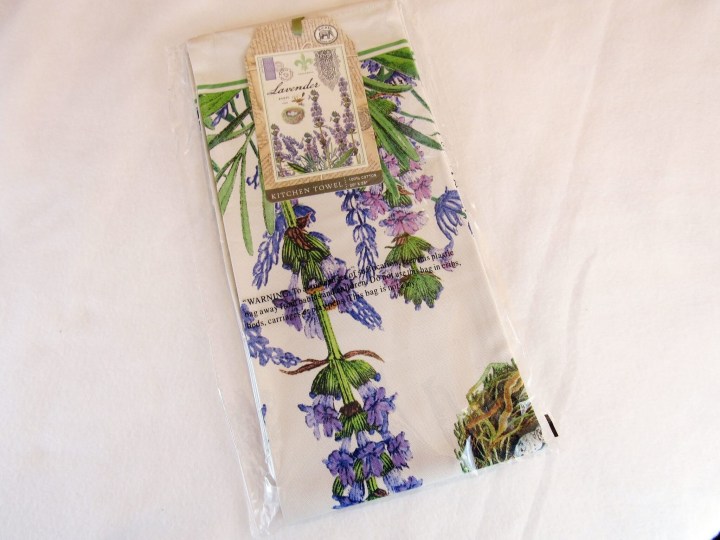 The beautiful oversized Michel Design Kitchen Towel ($8.50) is made out of 100% cotton. It was sent in its original packaging making it easy to gift or keep for yourself!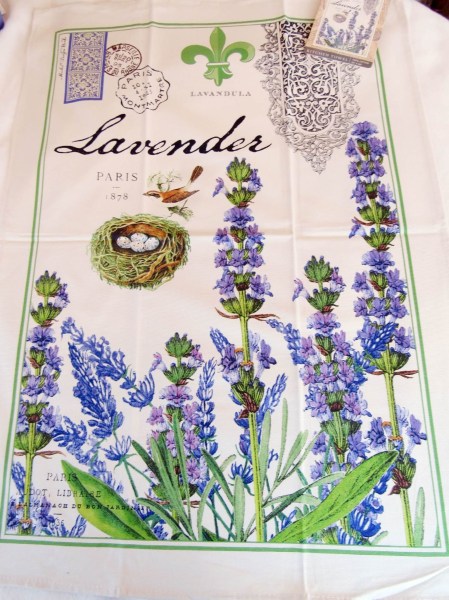 I had no clue what else was going to be in the box. I was ecstatic to see the towel matched the tray! The detailed design along with its durability makes it a great kitchen towel to display and use.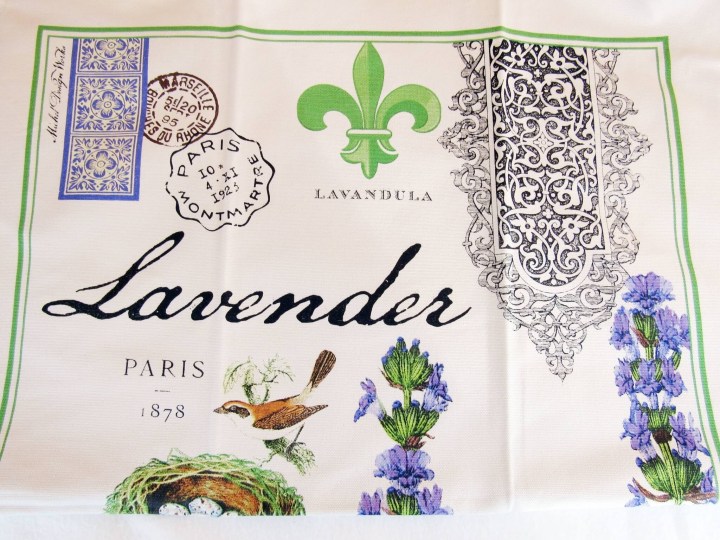 The towel measures 20″ x 28″. It's large enough to clean up spills.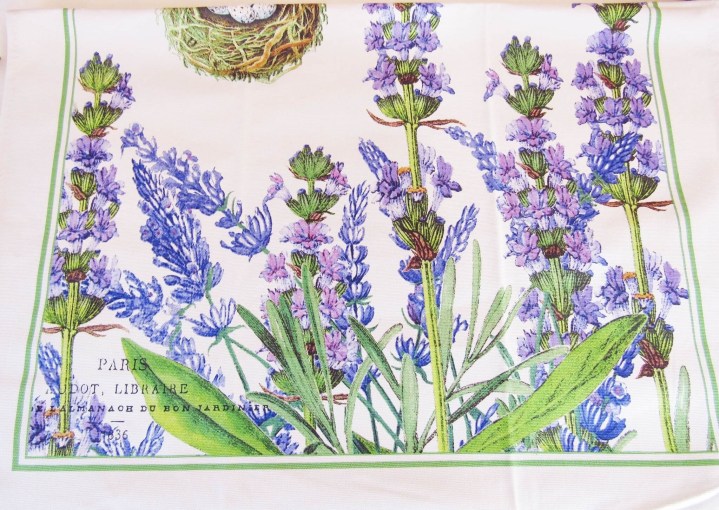 The kitchen towel will become softer and more absorbent with each washing. I'm very happy with the towel. I checked with Artistry Gifts, and there are variations.
The Made-in-England The Deborah Michel Collection Natural Hand Cream in Lavender Rosemary is beautifully packaged.  The detailed packaging makes the hand cream an excellent gift or an item for you to enjoy. I was thrilled that the hand cream not only matched the towel and tray but was lavender rosemary scented!
The hand cream is enriched with shea butter making it a rich, heavy cream. A little bit goes a long way! I can smell the lavender first which then blends into the rosemary making for a mysterious, intoxicating scent. I confirmed with Artistry Gifts that variations were sent out.
Yummy! The Abdallah Dark Chocolate Marshmallow Heart ($1.50) is perfect for satisfying your sweet tooth. The chocolate company is 4th generation owned and is in Minnesota, USA.  The second picture in the post shows it wrapped in a red foil wrapper. This is what the heart looks like after a 7-year-old touches it a few times.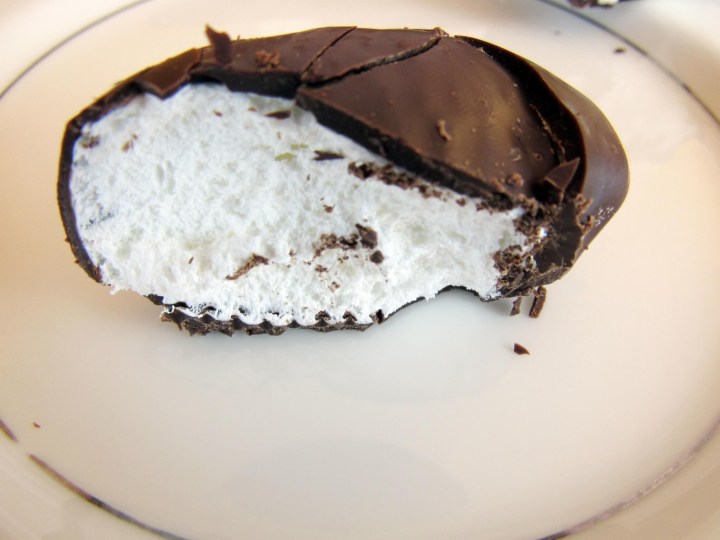 My family loves Artistry Gifts goodies, and all had to try a piece. The consensus was delicious!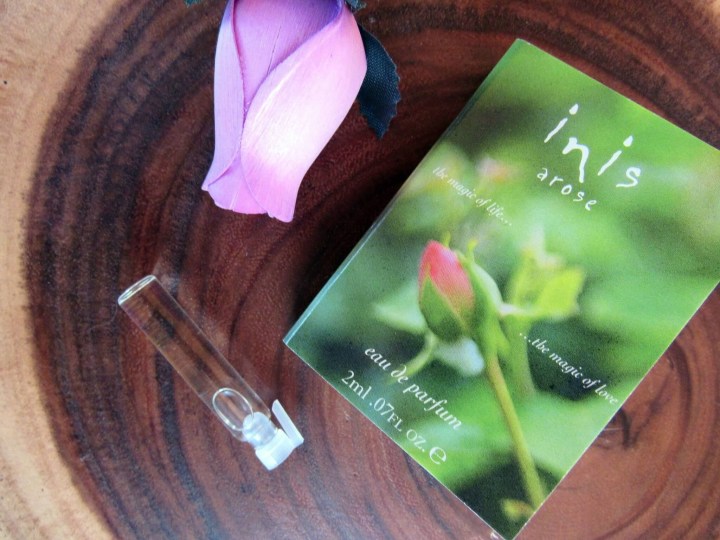 The Inis Arose eau de parfum ($2) did not disappoint. I was introduced to Inis by Artistry Gifts and enjoy their scents. The made in Irish eau de parfum is not a rose tonic perfume. It is a complex blend of scents that ultimately smells uplifting. Inis calls it "the magic of love." I like it and will wear it.
I am ecstatic over the January Artistry Gifts Box. It's a wonderfully curated box that brushes away the winter blahs. I love being able to select my tray and am happy that it worked out that everything matches. There are variations to the box. Everything is useful and enjoyable at the same time. I immediately purchased the Valentine's Day Special Edition Box as a Galentine Gift for my sister. Artistry Gifts is a box that I enjoy with my family and also a subscription box that I feel comfortable ordering as a gift.
Visit Artistry Gifts to subscribe or find out more!
The Subscription
:
Artistry Gifts
The Description
: The best in beauty, home, food, and more delivered to your door. Candles, jewelry, snacks, stationery, spa items, home, and occasional holiday items! Get 4-5 items with a $60+ value!
The Price
: $49.99 per month