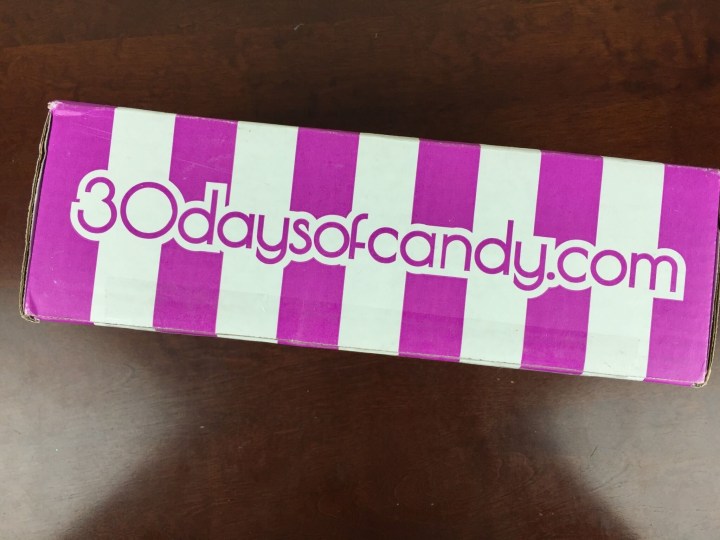 30 Days of Candy is a monthly candy subscription box. Every month you'll get 30 different candies from around the world, packed into individual servings. If you've seen this box before, 30 Days of Candy now has a new more compact box better for mailing. You can now also pick up 15 days of candy if your teeth are a bit less sweet. You can also get one time gift boxes of each amazing theme.
The overall look of the box is the same as it has been — the word for candy in many languages is printed on the interior of the lid, and the box is absolutely packed with candy!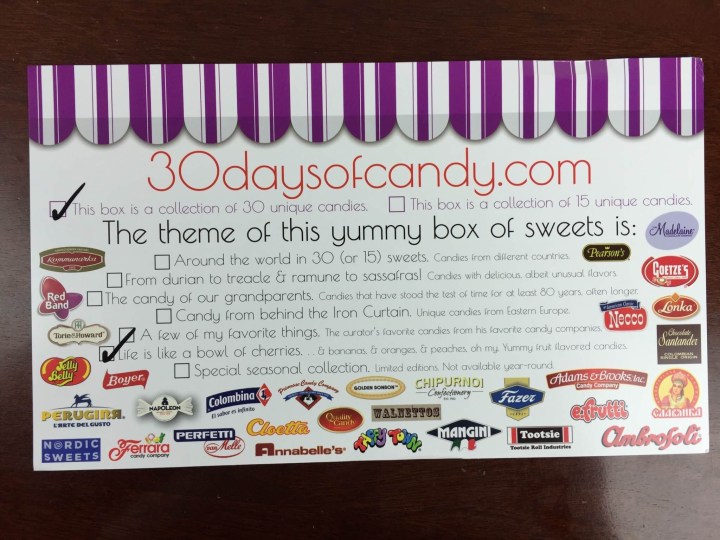 The theme for this month is "Life is like a bowl of cherries! – 30 delicious fruit-flavored candies." Currently when you subscribe you will always get the first 30 Days of Candy box, Around the World in 30 Sweets. Essentially you are subscribing to a candy narrative and as you go further, you will experience different parts of the story. This subscription's founders are candy experts and one of them is the owner of Powell's Sweet Shoppes in California. Their expertise shows in the packaging, quality, theming, and information provided with the sweets!
The redesign of the theme card, combining the various cards in to a single one, also meant there was room for a new graphic on the other side.  No, this is not a ransom note — this mount-worthy print has the Preamble to the U.S. Constitution written completely out of candy wrapper segments!
Past boxes have had trivia on now-extinct candies, and other fun stuff.  This month, each pack featured a fun guessing game, challenging you to identify a classic candy by solving a brainteaser.  30 Days of Candy has made each pack around 100 calories (perfect for a daily sweet treat!) but we also found that there's just enough to share for our family, too! We all enjoy tasting the candy and the kids adore reading all the facts. This would be perfect for a family (or maybe even a cool lunchbox snack??), a candy fiend, or of course, as a corporate gift.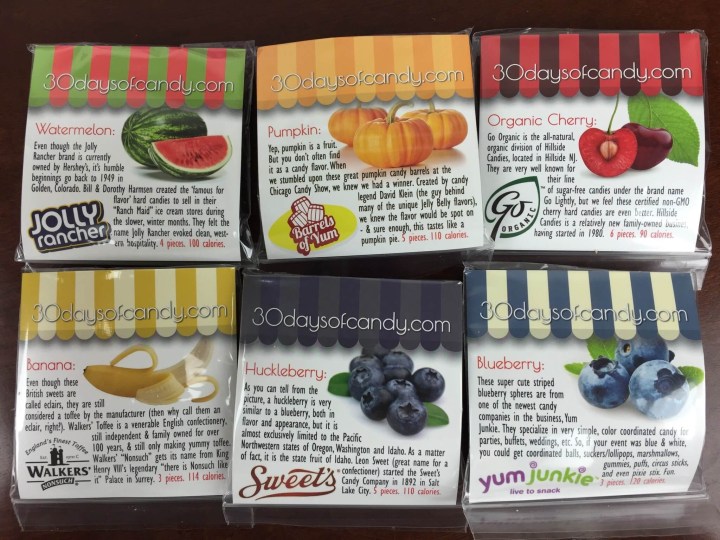 Watermelon Jolly Ranchers:  the classic hard candy, sweet and cloying.  Watermelon is probably the best flavor (along with green apple), so this was a great choice.
Pumpkin Barrels of Yum:  once only available in rootbeer flavor, the barrel now comes in every flavor imaginable.  This pumpkin version is not overly sweet and has a nice spiced pumpkin flavor.
Organic Cherry Go Organics:  a classic hard candy with a clean cherry flavor.
Banana Walker's Nonsuch Toffee:  This is a really interesting version of Walker's wonderful toffee.  The interior has the texture of a Circus Peanut and is banana flavored, of course.
Huckleberry Sweet's:  A soft taffee-style chew with the jammy flavor of huckleberry.
Blueberry Yum Junkie:  New to the candy world, Yum Junkie makes color-coordinated candies for events.  This blueberry version has a lovely spiraled coating.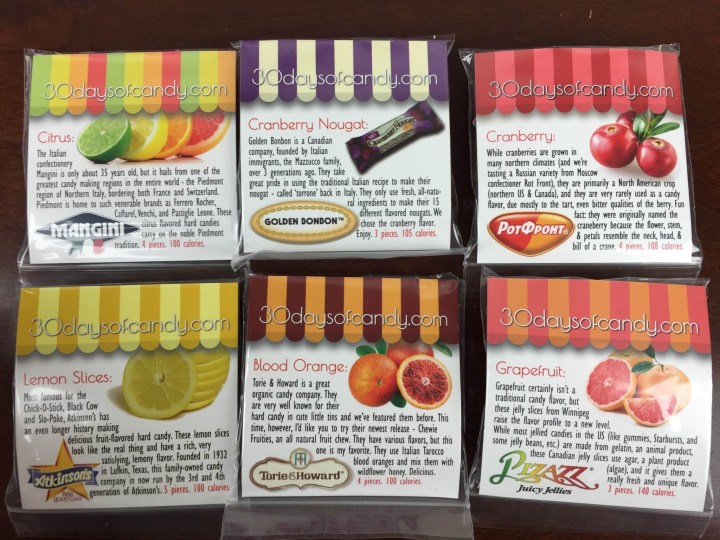 Citrus Mangini:  A clean and lovely citrus boiled candy from the famed Piedmont region of Italy.
Cranberry Nougat Golden BonBon:  A white, chewy nougat encases cranberry and almond bits.  Surprisingly soft for an Italian style nougat.
Cranberry Rot Front:  Similar to the Red Riding Hood candies made by Rot Front and other Eastern European confectioners — a hard candy coating encases a bit of cranberry jam.
Lemon Slices Atkinson's:  The realistic appearance makes these all the more appetizing.  A semi-crunchy candy with a pleasant lemon flavor.
Blood Orange Torie & Howard:  The not-so-tart flavor of blood orange and honey make this chew sweet and delicious.  A bit like a Starburst, but less waxy and with a much nicer and more natural flavor.
Grapefruit Pizazz Juicy Jellies:  A soft jelly fruit slice bursting with grapefruit flavor. One of Brandy's faves – and it turns out our daughter loves it too!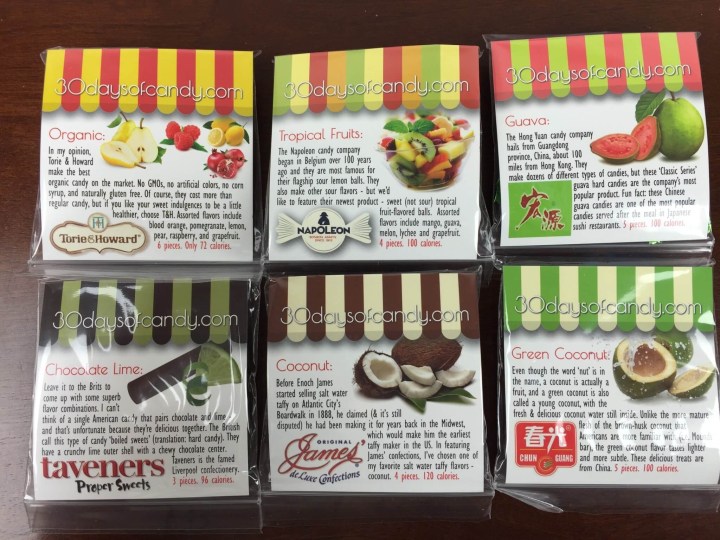 Organic Torie & Howard – Blood Orange, Pomegranate, Lemon, Pear, Raspberry, and Grapefruit:  Selected fruit hard candies, all made with organic ingredients.
Tropical Fruits Napolean Balls:  Tropical flavored sweet hard candies.
Guava Hong Yuan Candy Company:  A guava flavored hard candy from China and popular in Japan.
Chocolate Lime Taveners Proper Sweets:  A lime shell of hard candy encases a chocolate center.  The combination of flavors is seldom seen, but works well, as the lime is not overly tart.
Coconut James' deLuxe Confections:  Salt water taffy with a nice coconut flavor.
Green Coconut Chun Guang:  This candy is green coconut flavored, but it is also caramelized a bit, so it has a unique flavor that is both green and light, and also a bit dark.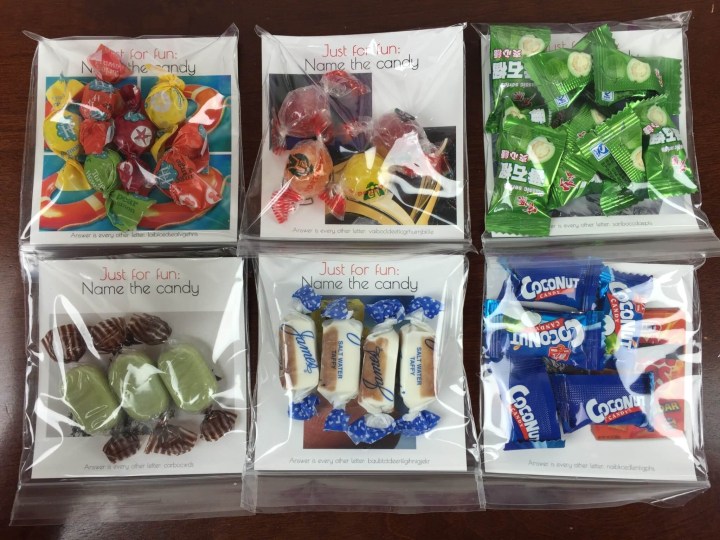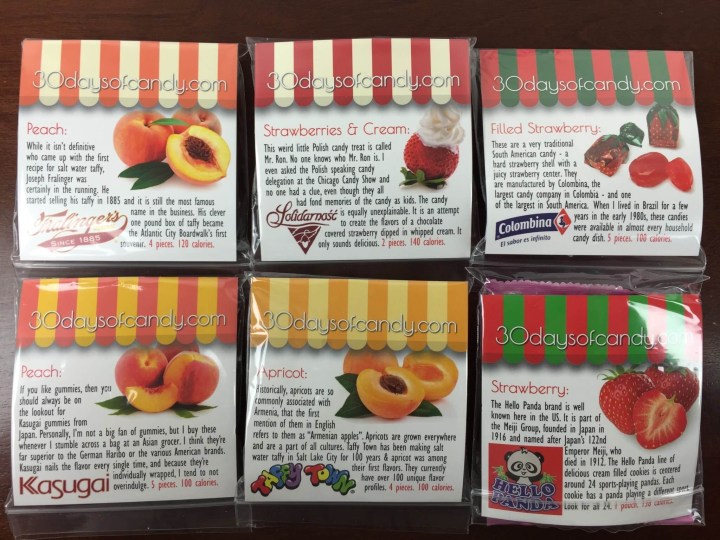 Peach Fralinger's:  A chewy peach taffy.
Strawberries & Cream Solidarnasc:  A white creme filling covered in chocolate.  Though good, the strawberry flavor is hard to detect as such — tastes like a chocolate coated buttercream.
Filled Strawberry Colombina:  A hard candy with a jammy strawberry center.
Peach Kasugai Gummies:  Silky smooth and delicate gummies from Japan.
Apricot Taffy Town:  A traditional, soft an sweet taffy.
Strawberry Hello Panda:  The famed Japanese filled biscuit — but with strawberry creme in place of chocolate.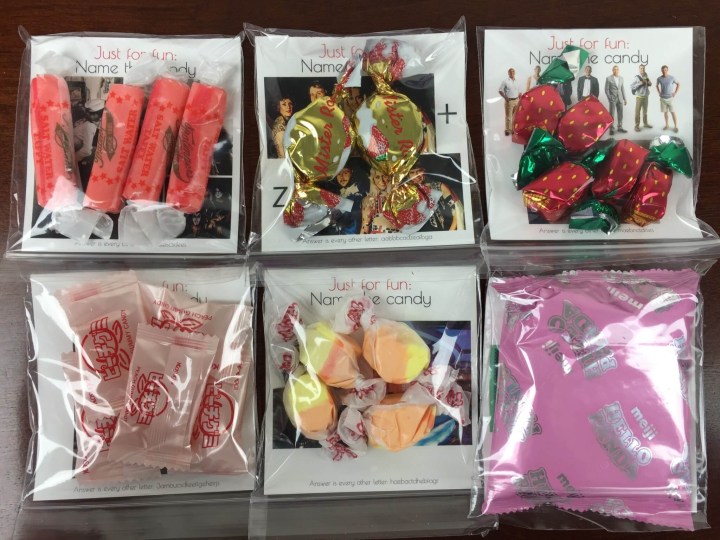 Sherbet Lemons Bassett's:  a fizzy-centered lemon drop.
Glitterati Chipurnoi Confectionery:  A tiny fruit hard candy in tropical flavors.
Mango Chile Beny:  Mango and chile are popular Mexican flavors — popular even for candy — and even together.  A spicy sweet boiled candy.
Malaysian Chews Wonder Foods:  Super-dense chews in guava, strawberry, pineapple, and mango flavors.
Fruitie Tooties Atkinson's:  classic hard candies with a lovely candy-cane stripe.
Strawberry Licorice Lonka:   A very soft licorice combining strawberry and licorice in a single chew.  The licorice is surprisingly mild, especially given the Northern European penchant for incredibly strong, salted licorice.  Very tasty.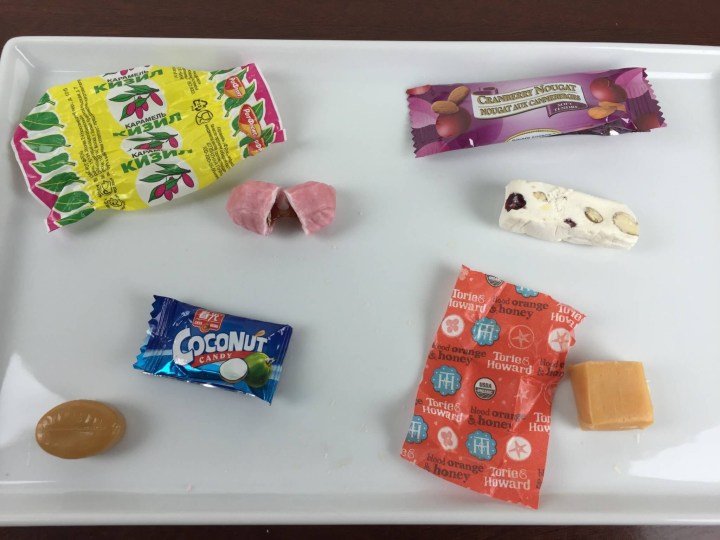 Clockwise, from top left:  Cranberry Rot Front, Cranberry Nougat Golden BonBon, Blood Orange Torie & Howard, and the Green Coconut Chun Guang.
Clockwise, from top left:  Banana Walker's Nonsuch Toffee, Chocolate Lime Taveners Proper Sweets, Strawberry Hello Panda, and Strawberries & Cream Solidarnasc.

As a bonus, we got a box of Grapehead candy.
We continue to enjoy this subscription every time we receive it —  the curator of this box is probably the top candy expert in the world — we think of him as a modern Willy Wonka — he finds both classics that seem to have disappeared from shelves and candies that you'll never see at a local store.  Every box is a lot of fun, as his expertise shows in the candy descriptions and the puzzles and games in every bag of candy!
Visit 30 Days of Candy to subscribe or find out more. Use coupon code 30%OFF to save 30% on your first box
The Subscription
:
30 Days of Candy
The Description
: Get 30 deliciously indulgent, individually packaged, expertly curated, portion controlled (about 100 calories per bag) and super fun candies from all over the world every month. You'll also receive little behind-the-scenes stories of each candy and fun little trivia tidbits that add to the joy of discovery.
The Price
: $29.95 + $5.95 shipping