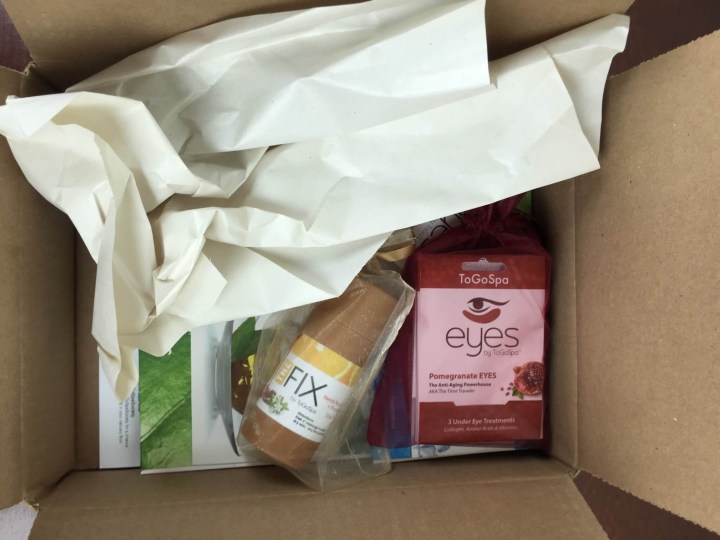 ToGoSpa Society is a monthly replenishment and surprise subscription by ToGoSpa.  With ToGoSpa Society you'll get either 6 ($25), 15 ($40), or 30 pairs ($64) of Eyes by ToGoSpa plus The Benefit, a monthly surprise from ToGoSpa or their selected brand. The Benefit is always valued at $20-$50 and is a high quality spa item.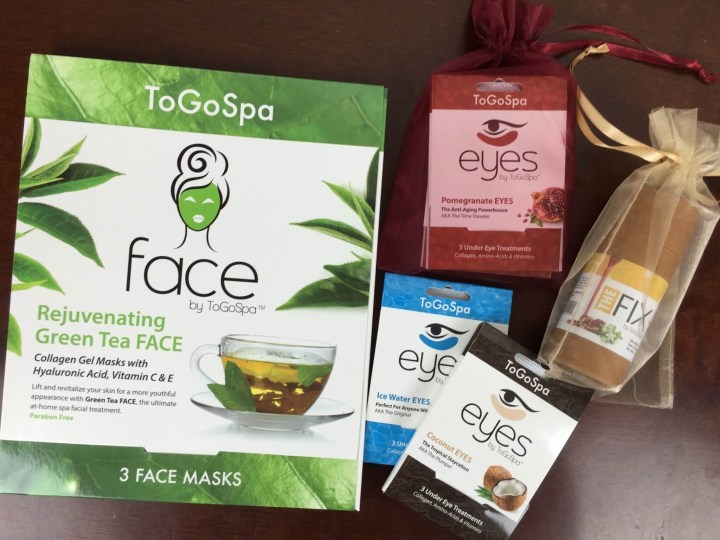 You can upgrade your box to add on Face by ToGoSpa as well!  ToGoSpa EYES and FACE are innovative, collagen-infused under-eye and full face mask treatments – and the newest "must do" for anyone in need of a quick, portable, spa-like pick-me-up for their tired, puffy, overworked or over-stressed eyes and skin.
They have recently made available the new smaller Mini Box, which is great for those of you that don't have a chance to use your EYES every day.  This is everything in the December Combo Box, which includes 2 packs of EYES and 1 pack of FACE ($50).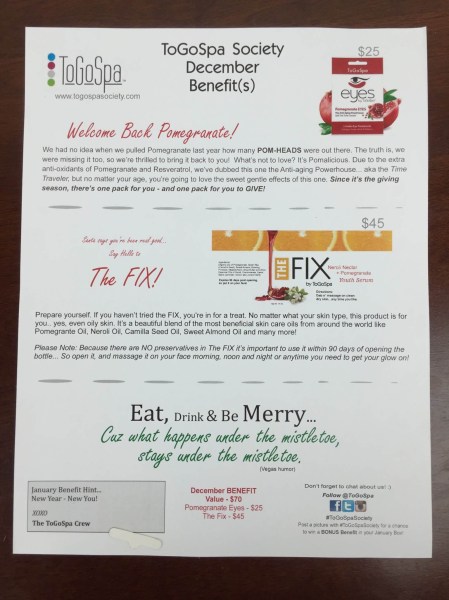 The information card details the Benefit item including its benefits and suggestions for use.
While the information card is typically very short this month's was extensive, detailing the return of Pom EYES, their new product The FIX, and even giving subscribers a recurring 20% off code for the life of their subscription!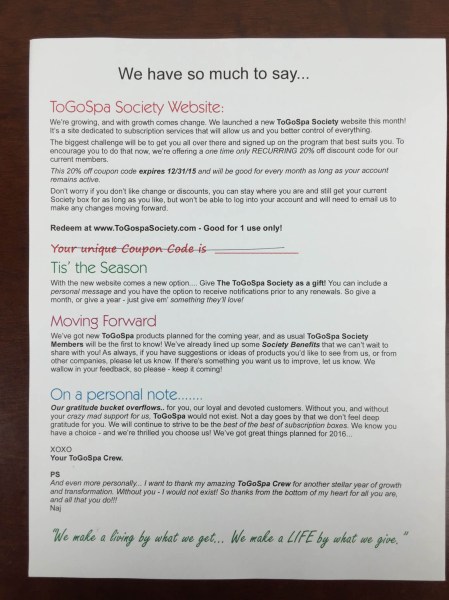 You did have so much to say!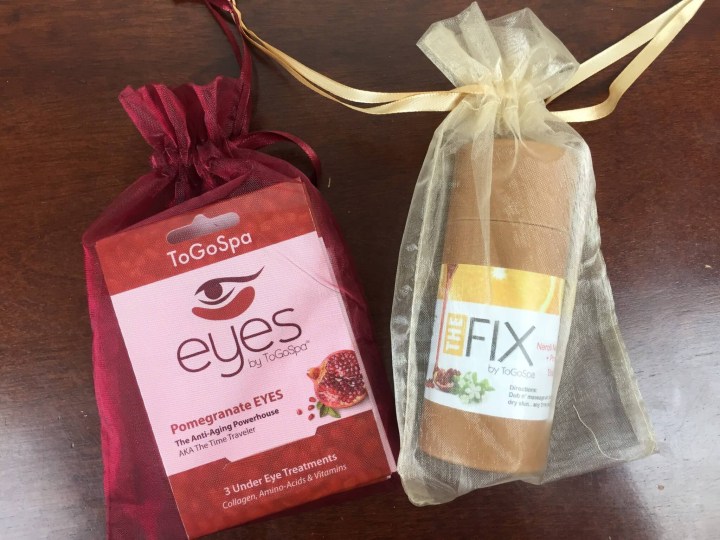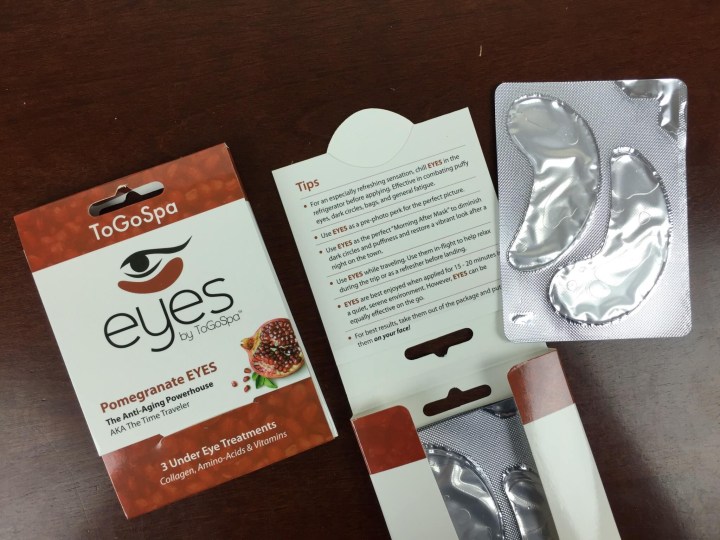 While Pomegranate EYES have the same cooling and hydrating properties as the rest of the varieties, these have the added benefit of containing antioxidants! There was a bonus pack and they came in an organza bag so you can gift one to a friend too! Love that. The tips on the back tell you how use them – definitely try putting them in the fridge!   The pom ones have a sweet fruity smell and rely on resveratrol to try to turn back time!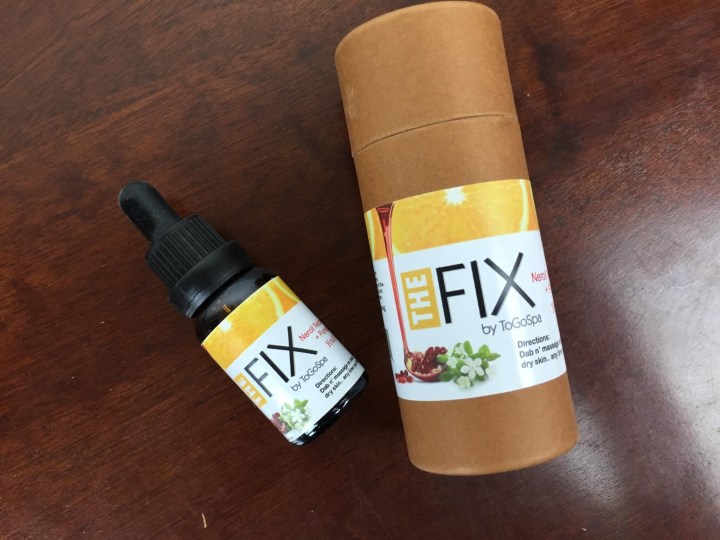 The FIX is a new product from ToGoSpa and is a healing oil blend that works to fix your face with pomegranate seed oil, camellia seed oil, evening primrose oil, meadowfoam seed oil, shea butter and olive oil plus neroli nectar and pomegranate. ToGoSpa suggested to use in within 90 days because it has no preservatives. No problem for me – I go through face oil like water because they really work to hydrate and condition my skin – I am looking forward to testing this out!
I received 2 different types of Eyes by ToGoSpa: one pack each of Refreshing Ice Water and Coconut.
These are super hydrating and are activated by your body temp! EYES are collagen gel pads with Hyaluronic Acid, Vitamins C & E, and nutrients. Each different type has a different composition to provide different benefits. Coconut restores and nourishes the under eye area. The Ice Water ones depuff and soothe, and the green tea ones help lift and rejuvenate with green tea extracts! The coconut is my favorite!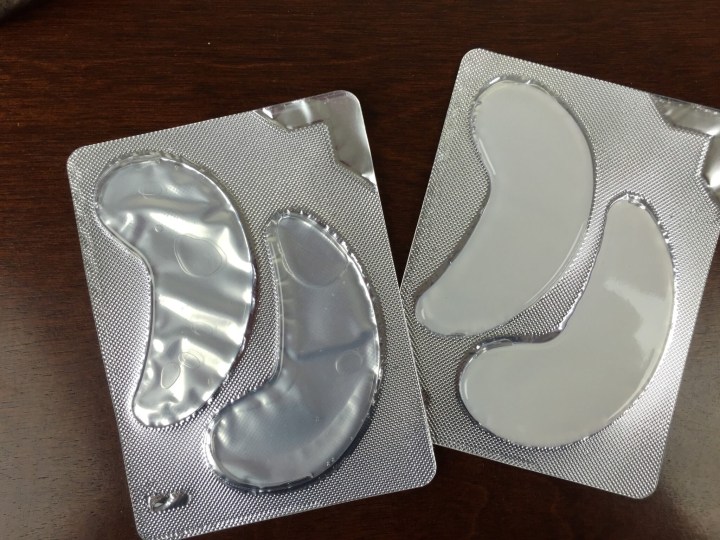 You can see there's a definite difference between the ice water and coconut!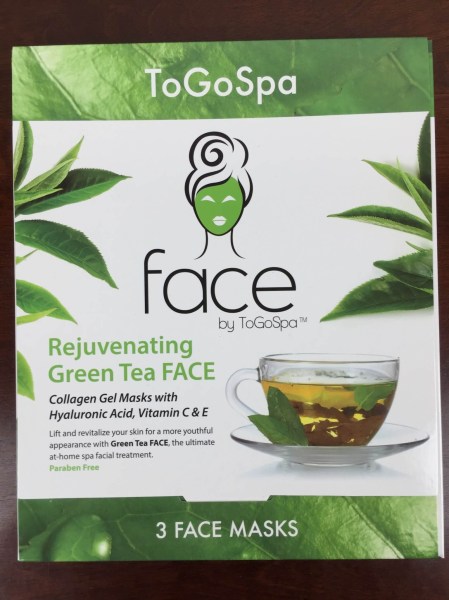 I also received the FACE product this month, and this is awesome! Mine was Green Tea, which pumps up the antioxidants as well as the collagen, on your entire face!
They look crazy! I think this is more of a traditional spa treatment than the eyes, which you might think of as a mini on the go treatment, and that you can totally use on the computer. For these I want 30 minutes (you really should leave it on for that long) relaxing and not really doing anything else. They are totally awesome and you look totally weird wearing it. I did not take a selfie. Jen tested one out too and sent me a selfie, but with the proviso that I was not allowed to use it!
I shared a few packs with my family members while I was home for Christmas, and they totally flipped out about how amazing they were! This is such a great little subscription that everyone loves, and the value is pretty great. Two packs of EYES are $25 and one pack of FACE is $35, and this month I received the bonus EYES ($25) and The FIX ($35), so the value of this box was $120!
Visit ToGoSpa Society to find out more or to subscribe! Save 15%! Use coupon code  hello15.
The Subscription
:
ToGoSpa Society
The Description
: The ToGoSpa Society membership offers huge discounts on Eyes and Face by ToGoSpa and in addition each month members receive The Benefit! The Benefit is a FULL size product we love and want to share free with our members.
The Price
: Mini: $25 for 6 EYES plus the benefit, Standard: $27.50 for 12 pair of EYES + The Benefit, Combo: $50 for 6 pair of EYES + 3 Face + The Benefit, High Society: $99 for 24 Eyes, 6 Face, and The Benefit