The Hippie Hobby is a new bi-monthly craft subscription box. In every box you'll receive a complete crafting kit, which incorporates recycled, upcycled, or natural elements (the "Hippie" part!). Every box also includes a surprise DIY craft project with an upcycled, recycled or natural twist!
The presentation of this box was really cute for a crafting subscription, and would make a nice gift!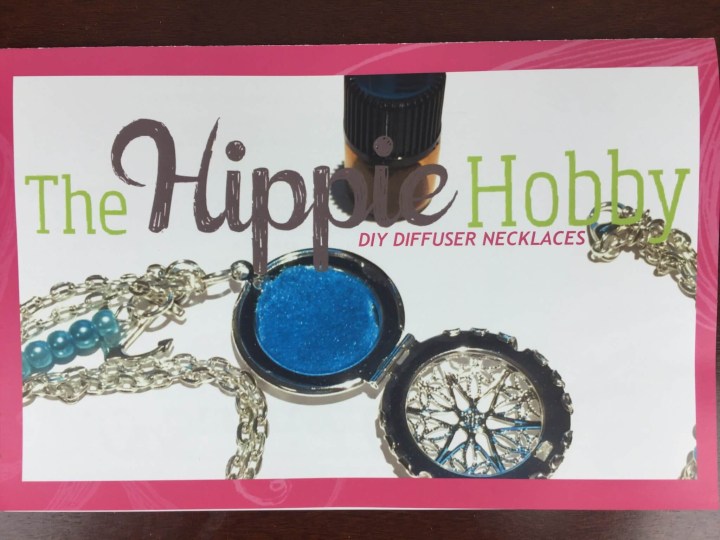 The craft for this box was a DIY Diffuser Necklace!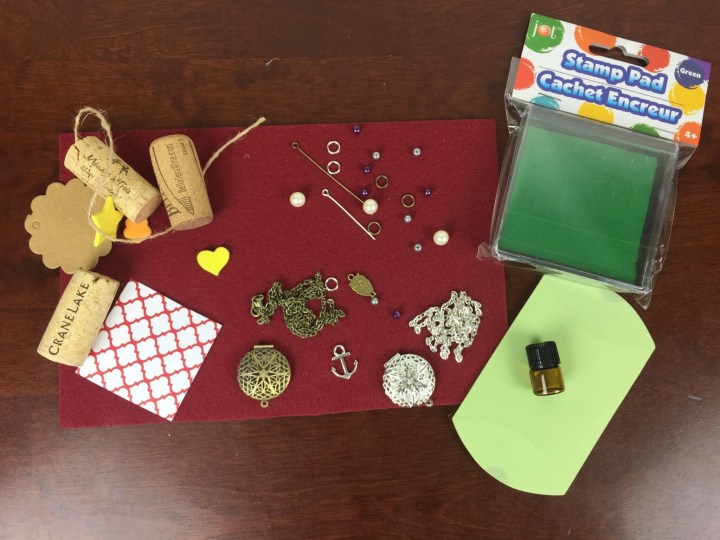 Everything in the box.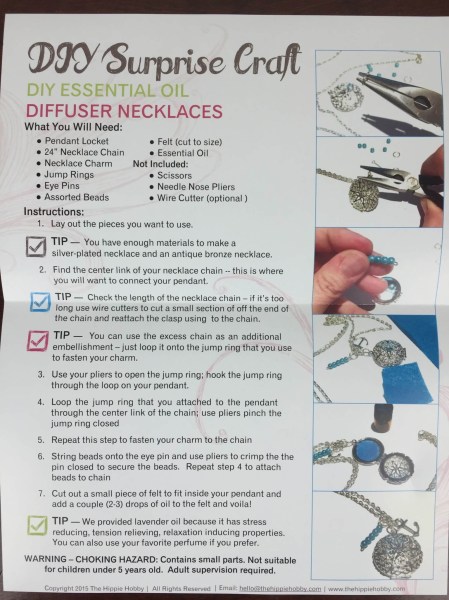 The information card provided the instructions for the craft and was full color with complete instructions. The printing on this is high quality.
There's also a bonus craft, see it below the main craft!
All the supplies for making two diffuser necklaces! I was excited by this because I receive a lot of essential oils in my subscription boxes.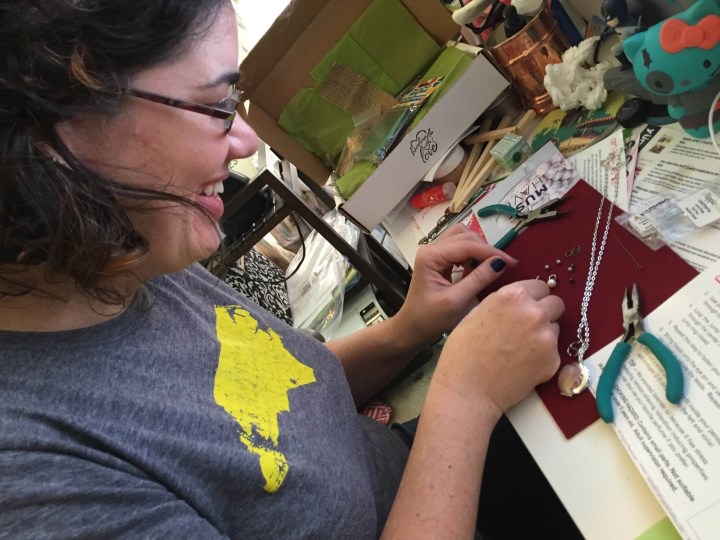 My best friend Jen happened to be visiting, and she happens to be pretty darned handy with some needlenose pliers, which were not included in the box, but necessary for the craft. Here's a link to an inexpensive set – which pretty much everyone should have!  This is Brandy writing the review, but Jen actually did it while I was taking photos. She noted that a beginner might need a bit more instruction on how to work the wires using needlenose pliers.
https://youtu.be/ZxuSRn_-Jvs&rel=0
Here's a tutorial if you need some assistance, though we think most subscribers to this box will probably know how to make the loop.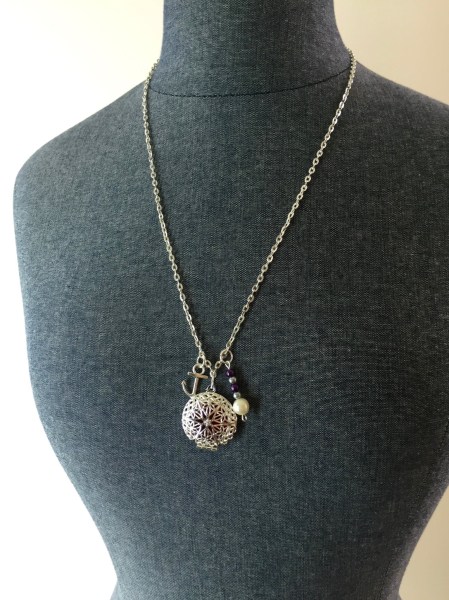 Jen made two beautiful necklaces. The instructions had you attach the charm and the beads (which you placed onto the pin) onto separate links in the necklace chain (above), and Jen showed an alternate look (below), simply stringing the jump rings onto the necklace.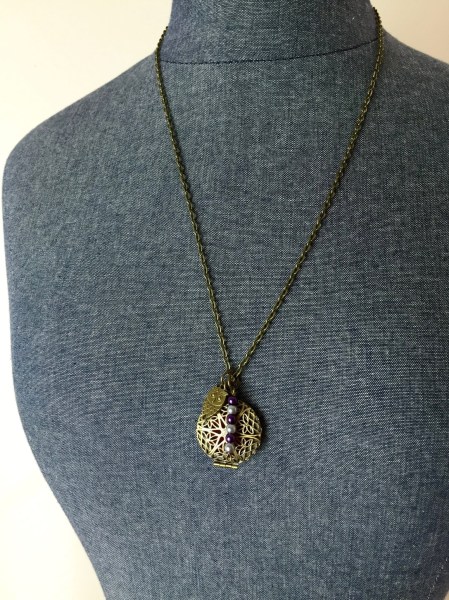 I like both of these looks! For the diffuser part, all you do was cut up some felt (lots was provided for all the different scents you might accumulate) and place a couple of drops of essential oil in the box. Lavender, a calming essential oil was included, and Jen made me wear both necklaces right away to cool off!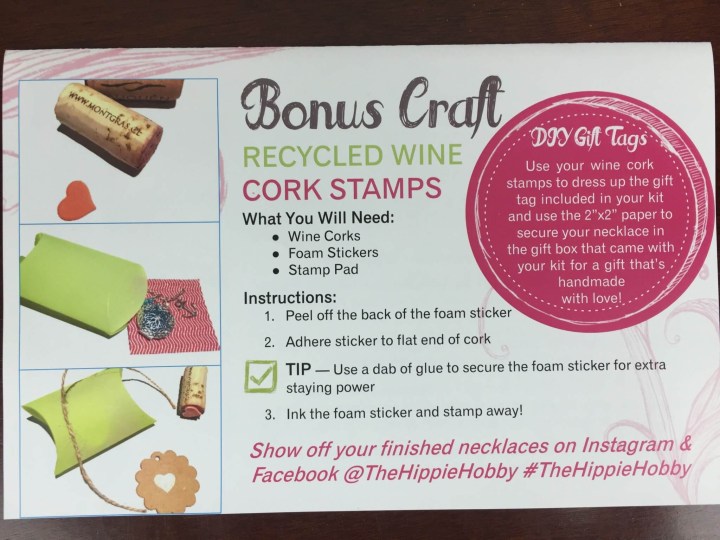 A bonus craft is always included. Jen was delighted that The Hippie Hobby upcycled some actual wine corks that were used in actual wine bottles instead of buying wine cork blanks!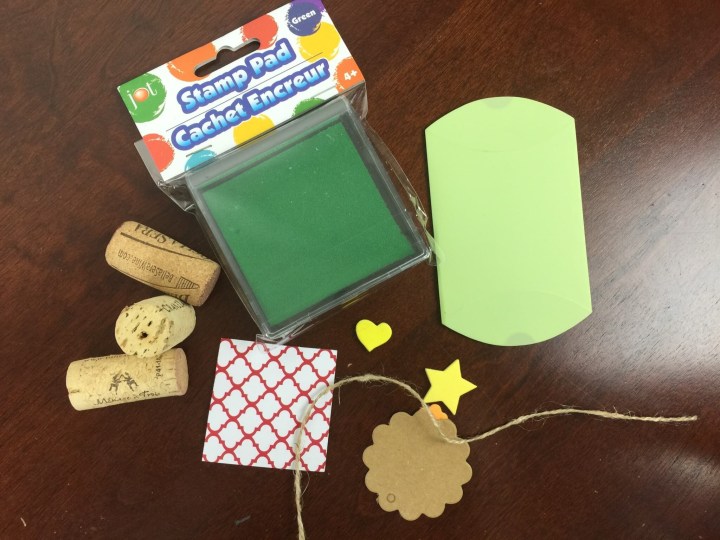 A stamping pad, some foam stickers, and two gift tags were included, along with some twine!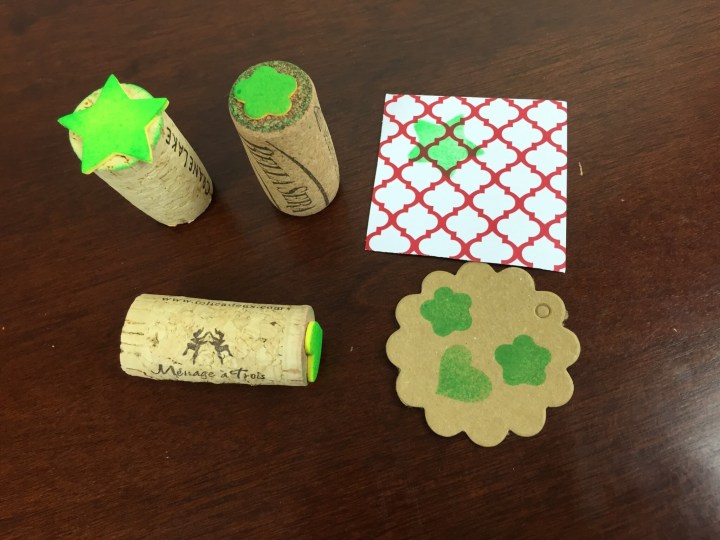 This craft was super simple – just affix the foam stickers to the end of the wine corks, but it gave me some great ideas – I have these foam stickers all over my house and we can make some awesome artwork using the supplies we already have!
I love how I was inspired to use existing craft supplies by this subscription, plus came away with two fabulous necklaces. Were I a normal person I would have actually sat down with my bestie and fought over who got to do what necklace and had a great time doing this craft. I have reviewed two of these boxes now and I noticed that there's been enough to share or gift each time, which is great. I understand that the economics of this box (it's pretty inexpensive) make it difficult to include the wirework supplies, so I think it would be nice to offer subscribers an upgraded welcome kit or even let them know what tools they'll need to complete the craft before it's received (sort of like my weekly email for Plated that tells me what kitchen items I will be using that week).  Besides that I loved the craft and was excited how useful and pretty it was!
Visit The Hippie Hobby to subscribe or find out more! You can save $7 on your first box with coupon code HELLO!
The Subscription
:
The Hippie Hobby
The Description
: When you sign up for The Hippie Hobby, every-other-month, you will receive a "hip" kit full of everything you need for your very own DIY crafting experience. We strive to incorporate recycled, upcycled, and natural elements in each kit. Get Hippie and get your Craft On!
The Price
: $23.95 every other month