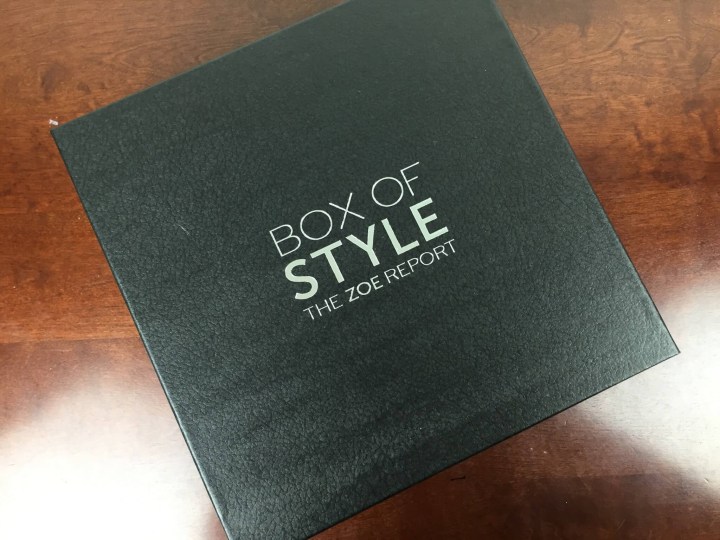 Box of Style by Rachel Zoe is a new fashion, beauty, and lifestyle quarterly subscription box from Rachel Zoe.  I love subscriptions like Popsugar and this is definitely a great one – every box is like a limited edition box from Popsugar, except with more of a focus on fashion.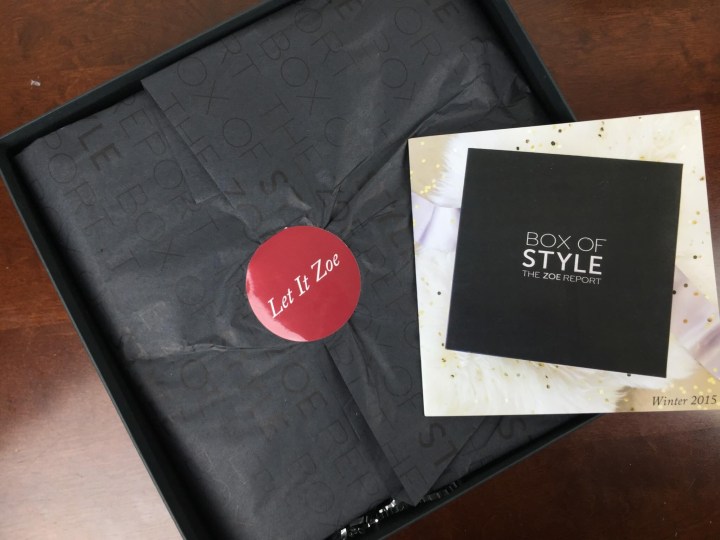 Let It Zoe! Haha! If you're unfamiliar with Ms. Zoe's last name, it's just zoe like toe.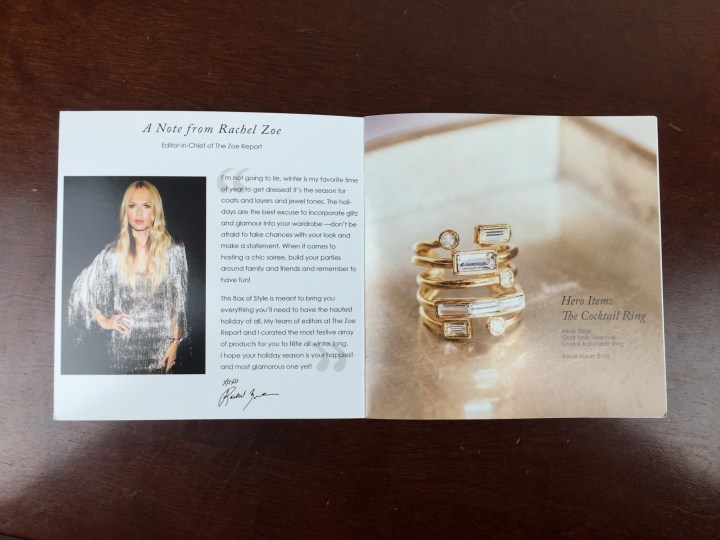 A note from Rachel Zoe:
I'm not going to lie, winter is my favorite time of year to get dressed! It's the season for coats and layers and jewel tones. The holidays are the best excuse to incorporate glitz and glamour into your wardrobe – don't be afraid to take chances with your look and make a statement. When it comes to hosting a chic soiree, build your parties around family and friends and remember to have fun!

This Box of Style is meant to bring you everything you'll need to have the hautest holiday of all. My team of editors at The Zoe Report and I curated the most festive array of products for you to fête all winter long. I hope your holiday season is your happiest and most glamorous one yet!
I definitely agree with her letter, and it's why I asked Stitch Fix for a bedazzling!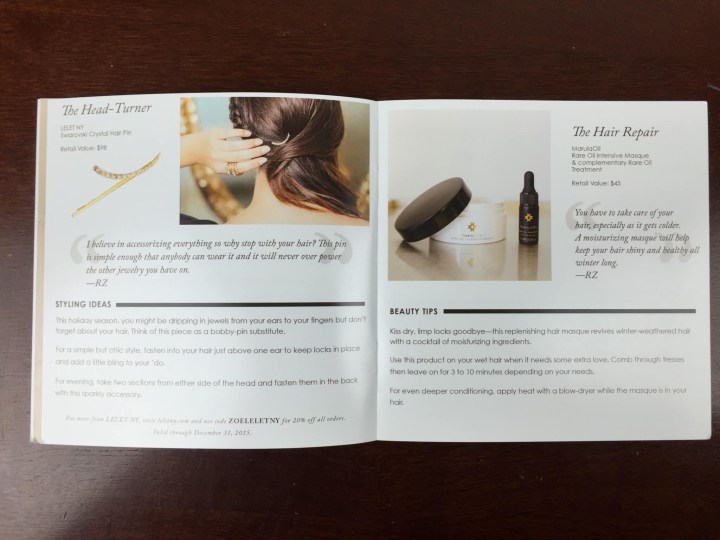 Every item has it's own page, a note from Rachel Zoe on why she loves it, and usually 3 styling tips. So helpful!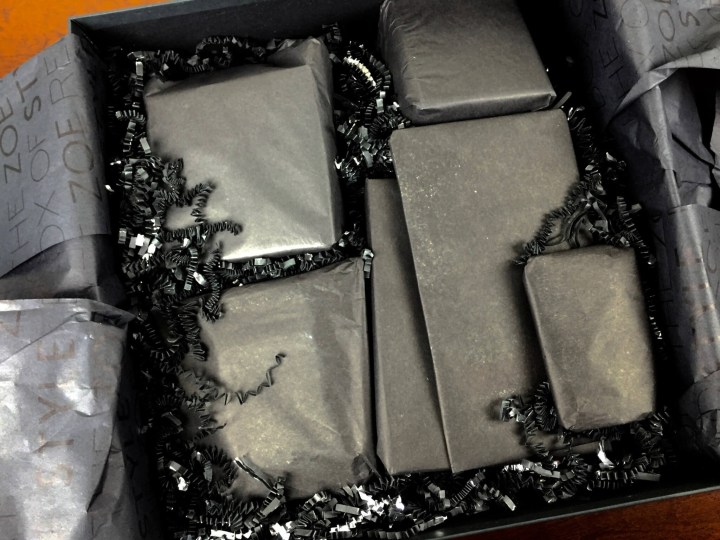 Everything is individually wrapped. It is so fun to open and so pretty!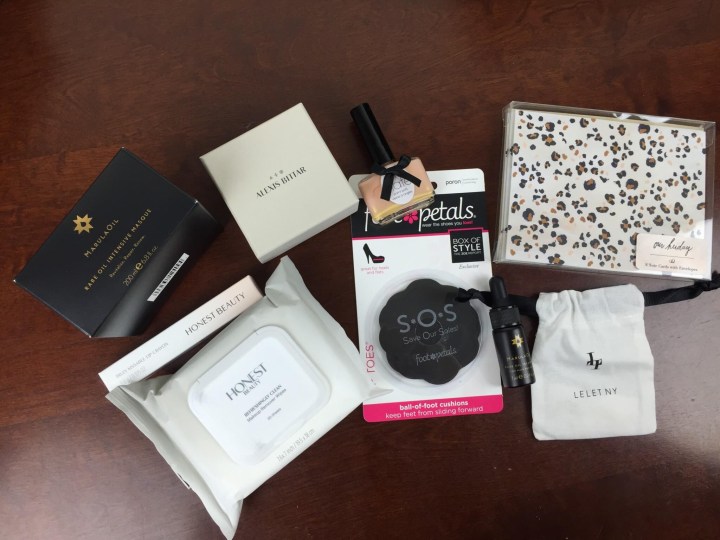 And here's everything in the box!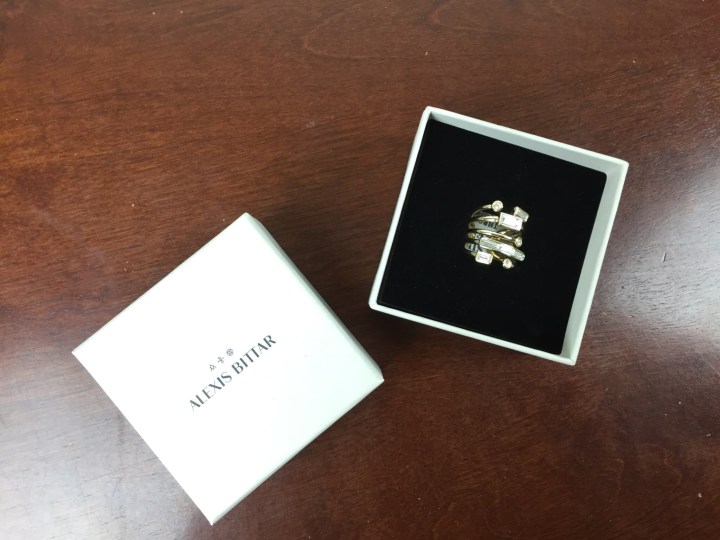 Alexis Bittar Gold Tone Swarovski Crystal Adjustable Ring ($198) This is a pretty and sparkly ring and gives the look of having stacked rings without having more than one ring to deal with, plus it's adjustable. It's pretty and I'd probably wear it to a holiday party, but it doesn't hold a candle to my Rachel Zoe Knot Ring (Fall 2013 PSMH Fall LE Box). It's the only ring I wear with any regularity (honest truth!). And no, I'm not in the habit of wearing my wedding band. That's why we got $30 ones, because I'd never wear it!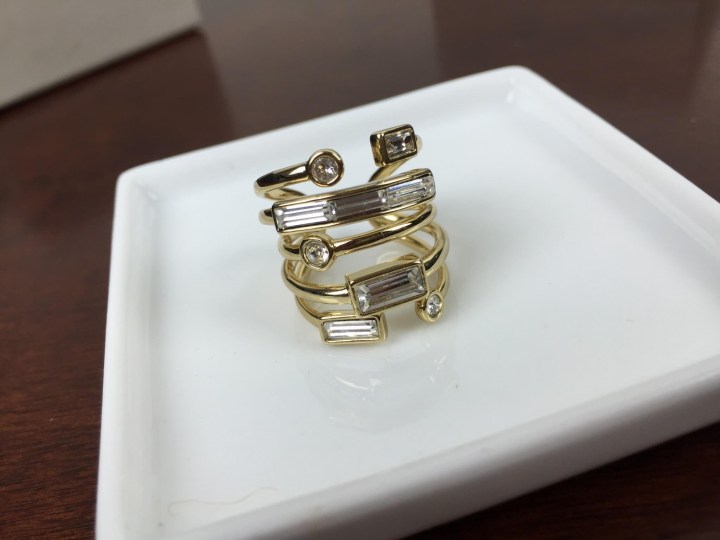 Definitely fun party style for me, but I will gift this to a friend who is in love with Alexis Bittar, especially since it had such nice packaging!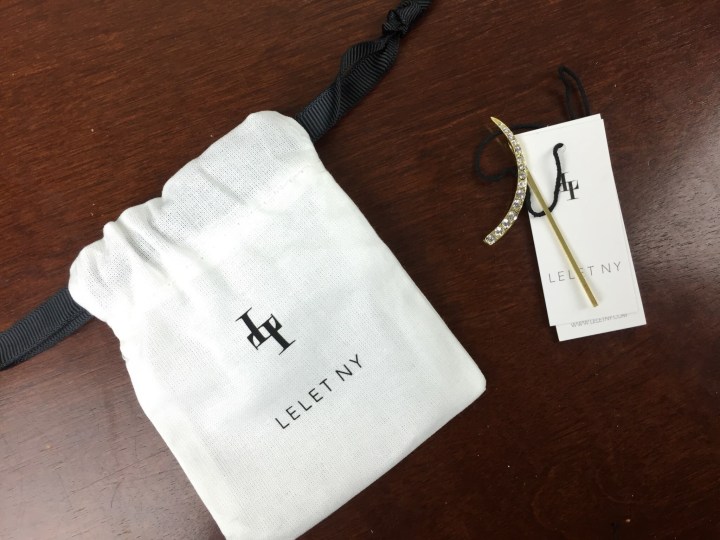 Lelet NY Swarovski Crystal Hair Pin ($98) This is so pretty and can be worn in a variety of ways. It was very reminiscent of the ear climbers from the last box too.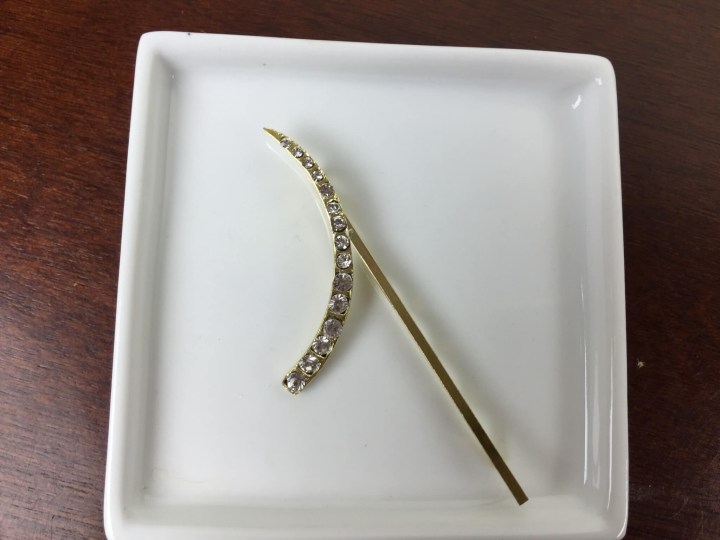 This is some serious hair adornment and quite sparkly, but still quite small, so it's perfect for adding a touch of glitz.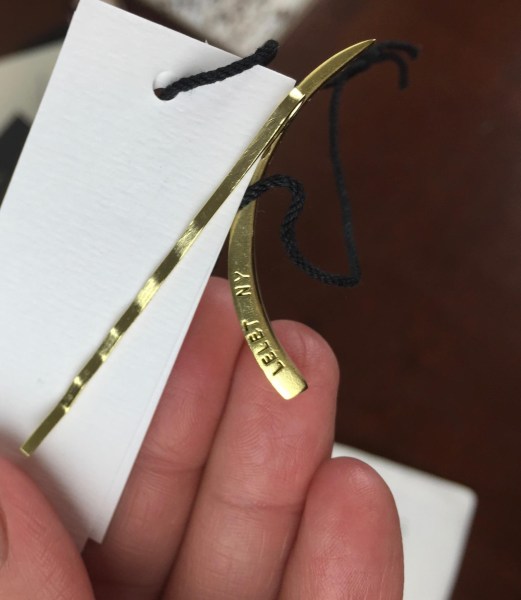 Ciaté Nail Polish – Ivory Queen ($15) This nail polish was extremely separated and I couldn't get it to come all back together even after several minutes of vigorous shaking. It's peach with a nice shimmer and should apply fine, but I wished they'd mixed the bottles up before packing.
Our Heiday Leopard Note Card Set ($20)  Some nice note cards for holiday thank yours or notes at any time of year.
Foot Petals ($8) Every box includes a sort of style tool/arsenal item, and this month had ball of foot cushions, which is really perfect for holiday party season.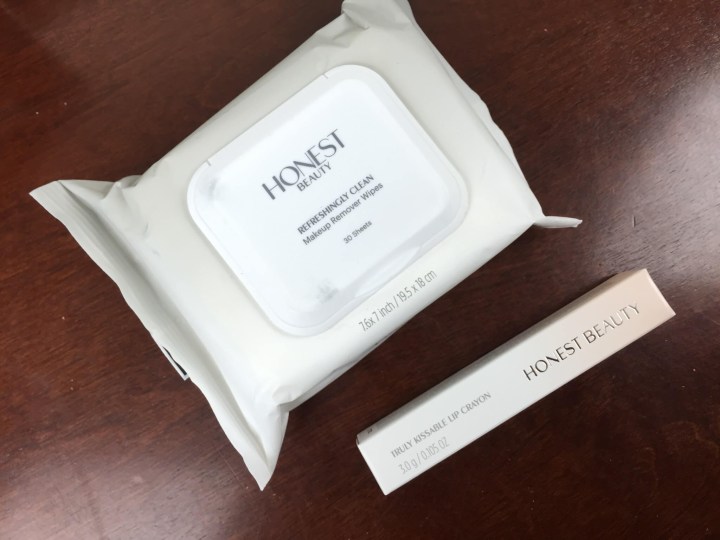 Honest Beauty Makeup Remover Wipes ($10) I think I may have a pack of these in an Honest Beauty bundle I have sitting around to review (I bought the palette! No I haven't opened it!) but I was glad to try them out – they are staying next to my review table. They work great and removed most of the lip crayon.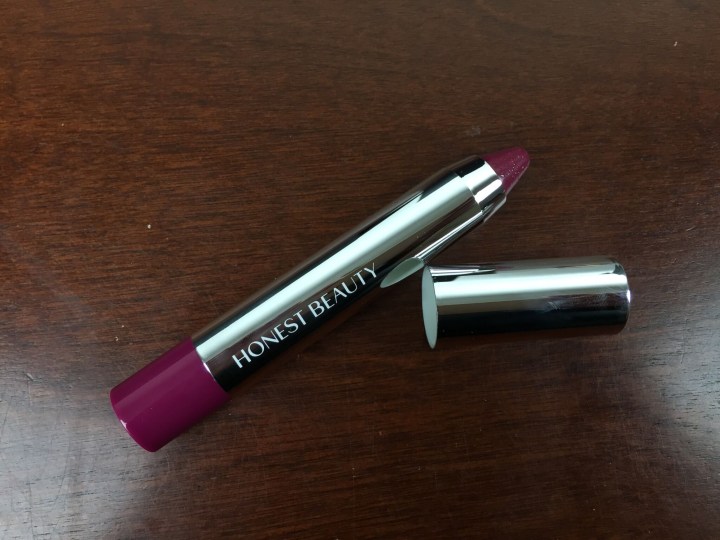 Honest Beauty Lip Crayon in Mulberry Kiss  ($18) So pretty, so smooth, and I never have to worry about what's in Honest products.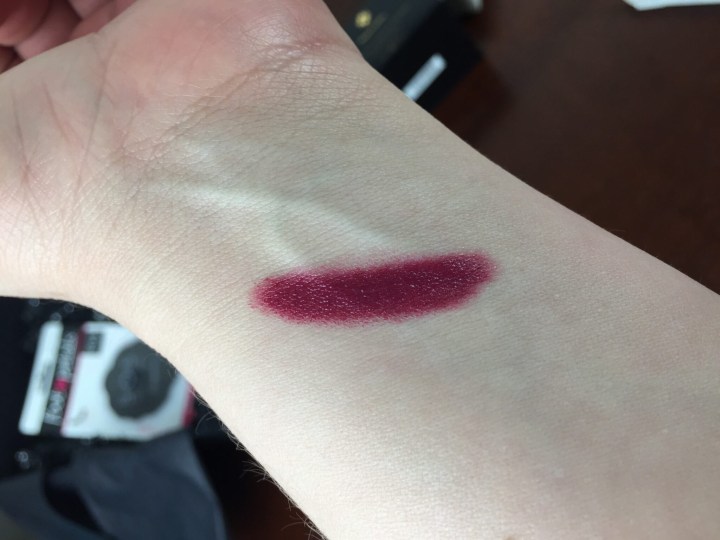 This color is great for the holidays and great for me.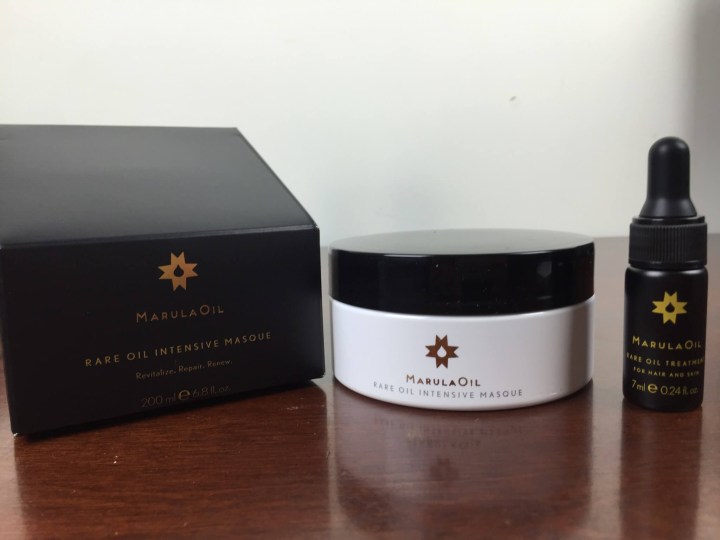 Marula Oil Rare Oil Intensive Masque ($38) My hair just about never needs this much love, so I didn't open it – I'm going to regift it for Christmas. I would have used it if it was a sample (all the products in this box are full size unless they're bonus items) but it felt wasteful to open it and test it out on my fine hair.
Marula Oil Rare Oil Treatment (Bonus $7) I noticed the bottle said for hair and skin so I did test this one out. It has a scent I didn't expect – like a sultry evening perfume, and I liked it! I wished that we'd gotten a full bottle of the oil instead of the mask but that's just my personal preference (we got oil in the summer box so it would have been poor curation).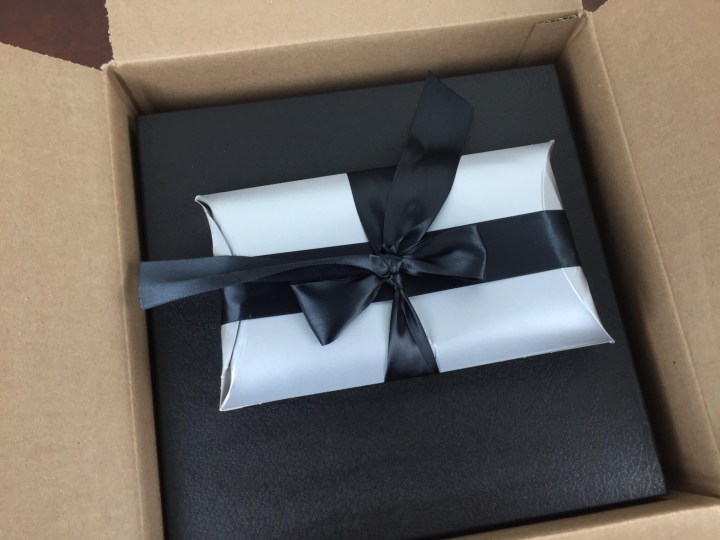 I also received a bonus item for being an annual subscriber. Or for being a still-subscribed inaugural subscriber.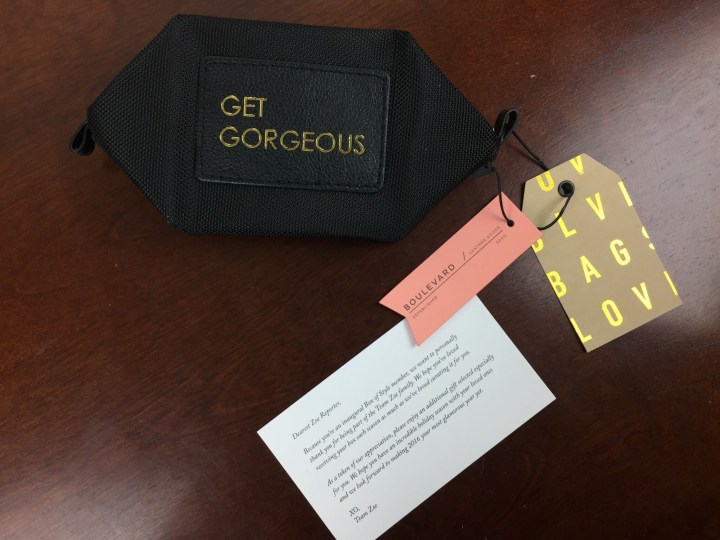 The pouch is quite nice!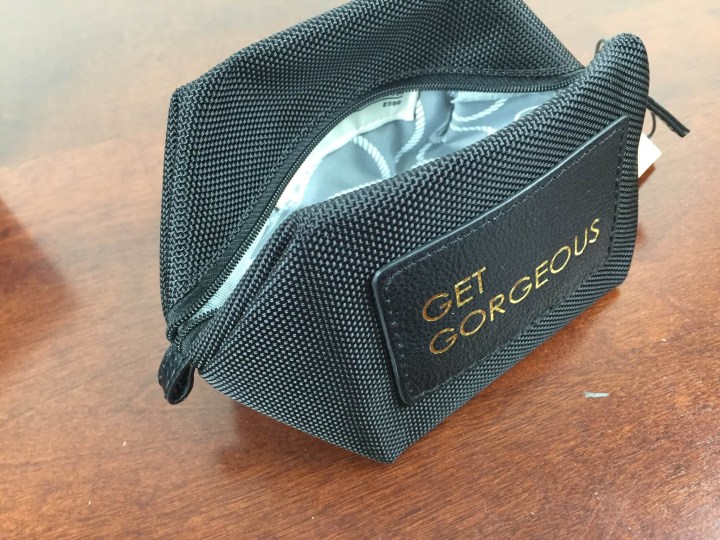 Boulevard Origami Pouch It's made of a really sturdy canvas sort of material with a zipper and has a fun origami style fold. The link is to a very similar pouch (different decoration on the label).
This box had an incredible value – around $410! I think a lot of the prices were pretty inflated or at least I wouldn't pay them, but for $100 it was pretty amazing. My favorite item in the box is the hair pin – it's so lovely.  I also love Rachel's letter. I don't care if she writes it or not – the sentiments are sincere and it makes me feel good.  I wasn't really personally in love with the hero item, though I reserved my judgment until I had it in my hands, but I'm excited to have a great Christmas present for one of my best friends that would be a little too extravagant otherwise (and I already know she loves Alexis Bittar – she raved about him in the holiday gift guide inspired by the TV show Scandal!).
Visit Box of Style by Rachel Zoe to subscribe or find out more! The Winter Box is totally sold out. Sign up here for the Spring Box of Style by Rachel Zoe and save $10 on your first box!
The Subscription
:
Box of Style by Rachel Zoe
The Description
: A curated assortment of the best fashion, beauty, and lifestyle items of the moment – and of course one styling tool to make sure you're looking your most glamorous all year-round. Every box has at least $300 in value and is curated by Rachel Zoe.
The Price
: $100 per quarter
The Coupon
:
Save $10 on your first box by using this link!