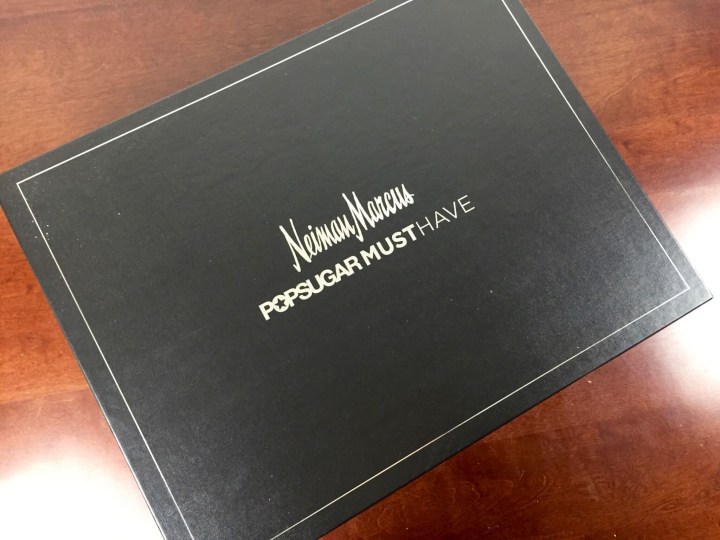 The Neiman Marcus POPSUGAR Special Edition Box is a one-time box offered by POPSUGAR and Neiman Marcus filled with an assortment of luxury goods (7 items) perfect for the holiday season! If you're unfamiliar with them, POPSUGAR Must Have Box is a monthly women's subscription box. You'll receive items from a mix of categories like beauty, home, accessories, jewelry, etc. It's one of the most popular subscription boxes around!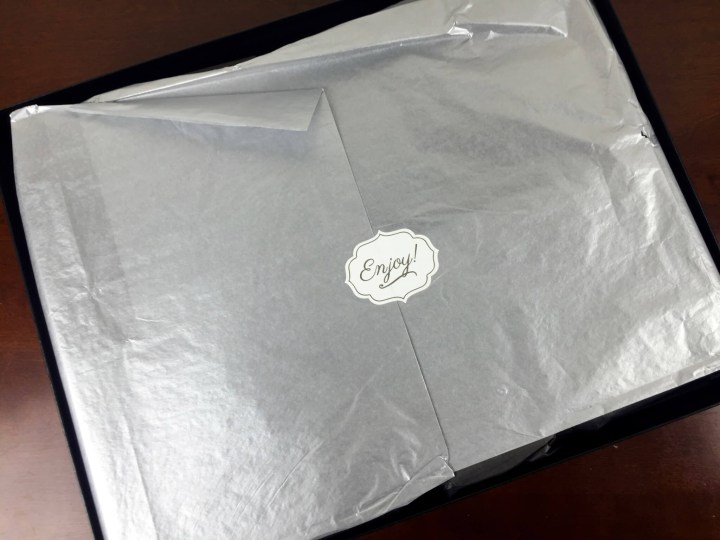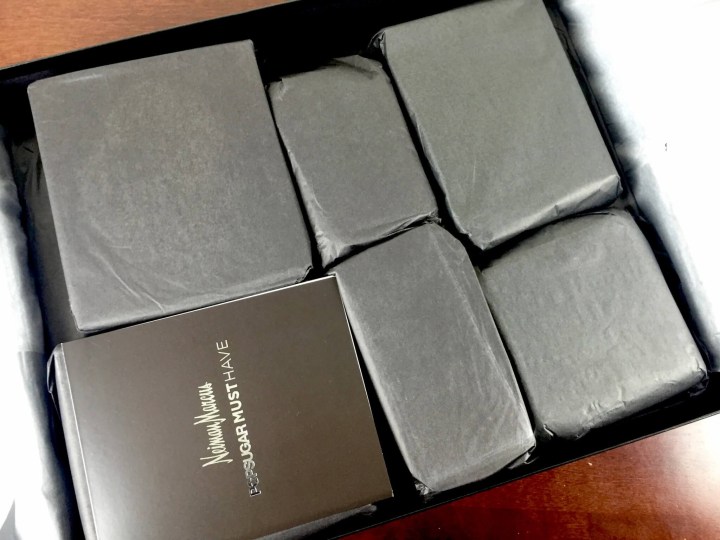 At the moment POPSUGAR Must Have Box is offering Holiday for Her ($100), Holiday for Him ($100), this box ($250), and a special Today Show Holiday collaboration ($75). I can't wait to get the other boxes – so exciting!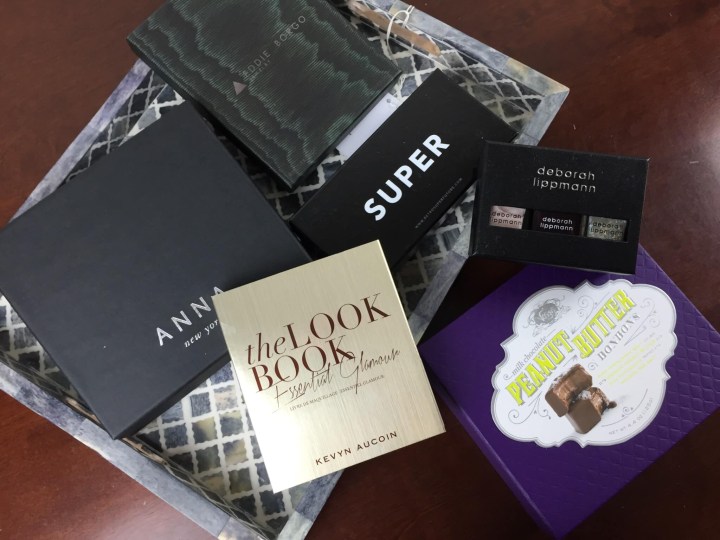 One of the things I love dearly about this box is that you can basically open it all, decide what to keep, and gift the rest. Everything is boxed in lovely gift boxes.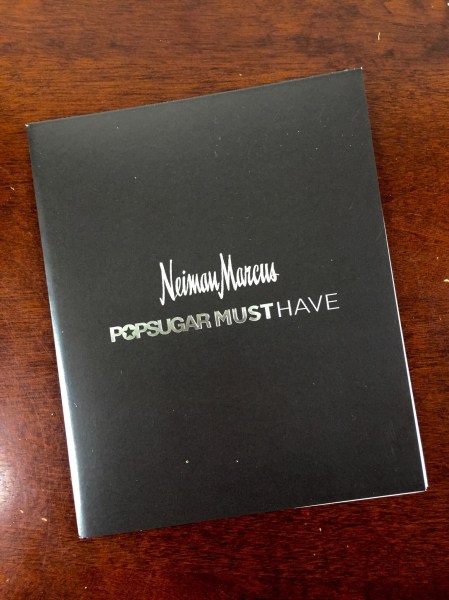 So much unwrapping and unboxing with these limited edition boxes!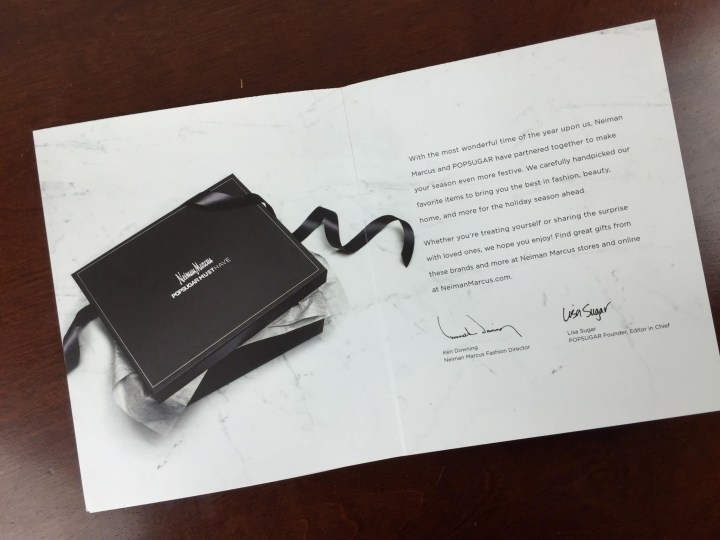 Even the card was fold-out.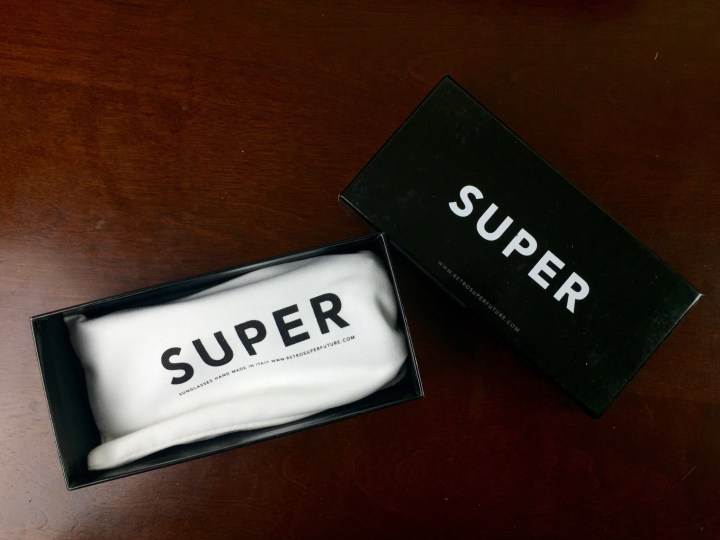 Super by RetroSuperFuture Sunglasses ($189) I'm getting LASIK next year, so these handmade in Italy sunglasses are going in my sunglasses hoard. They are actually quite similar to my prescription sunglasses, but much higher quality.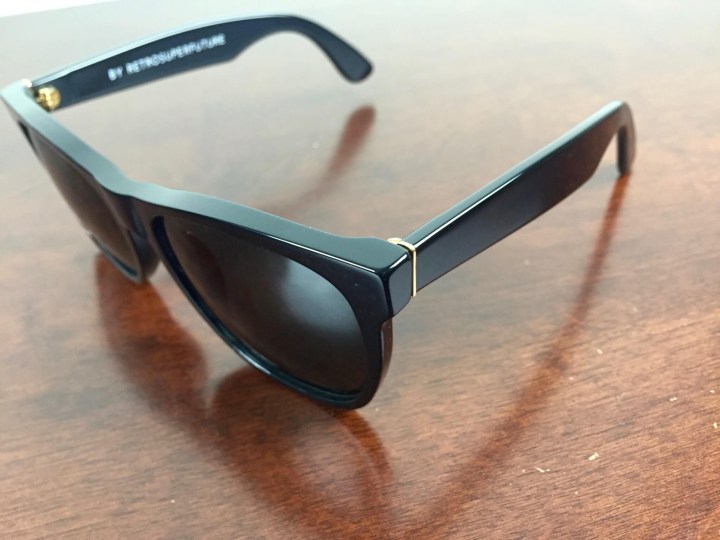 I'm super excited about them! So excited that I didn't take a front photo, but you can see them here. They fit well and don't jostle around and I love the finish on them.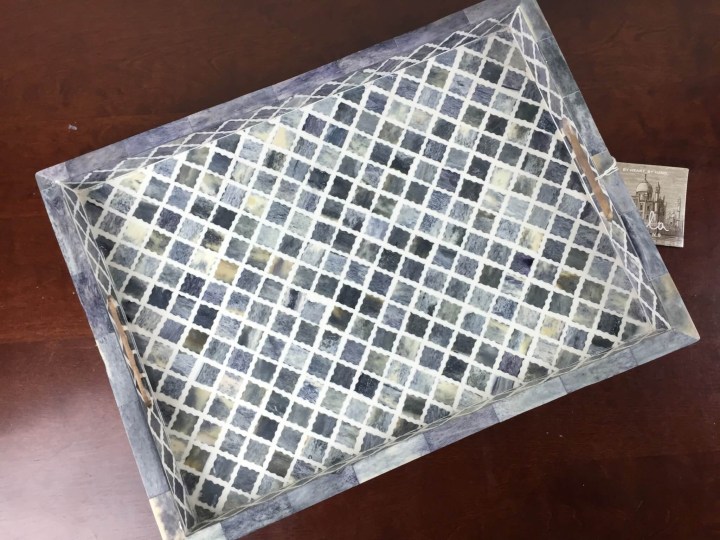 Decadent Mela Artisans Tray ($130) This is a gorgeous tray and matches my decor perfectly. This is a fair trade piece hand-crafted by waste horn and animal bone using traditional techniques.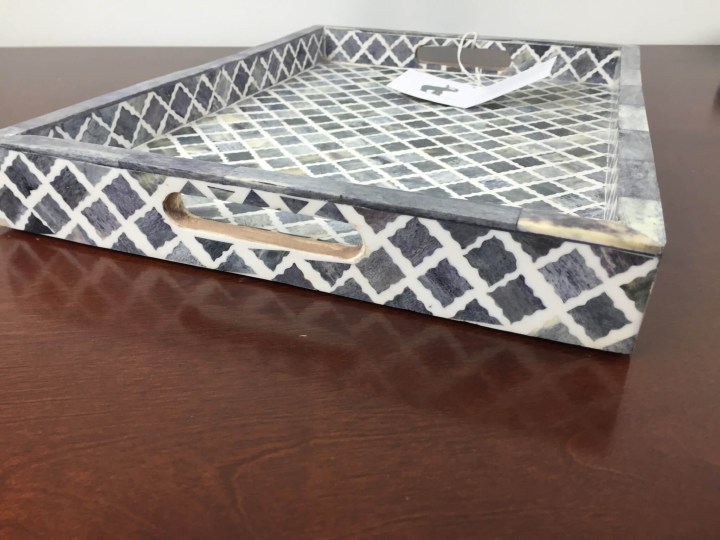 I haven't decided where this tray will go yet – we're still in the "toddler takes everything off tables" phase, but it's so pretty!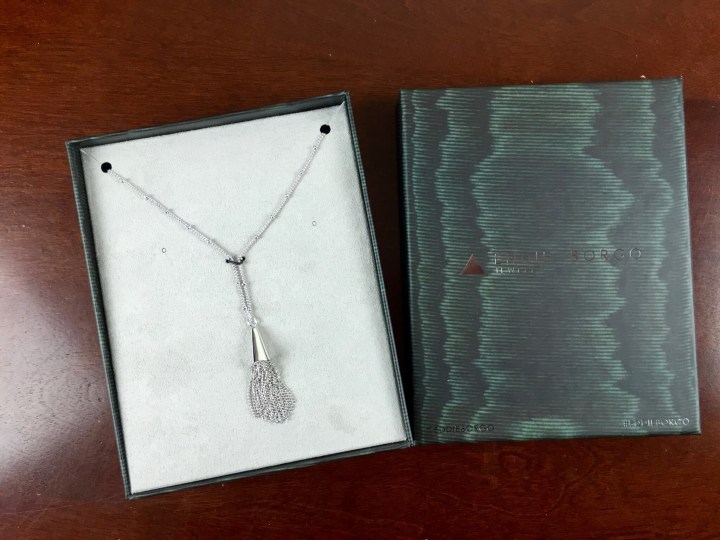 Eddie Borgo Small Chain Tassel Pendant Necklace ($125) I wasn't thrilled about this item from the spoiler, and honestly – this will probably gifted, as it's just not my style. The craftsmanship is very nice however and it's definitely a fancy piece.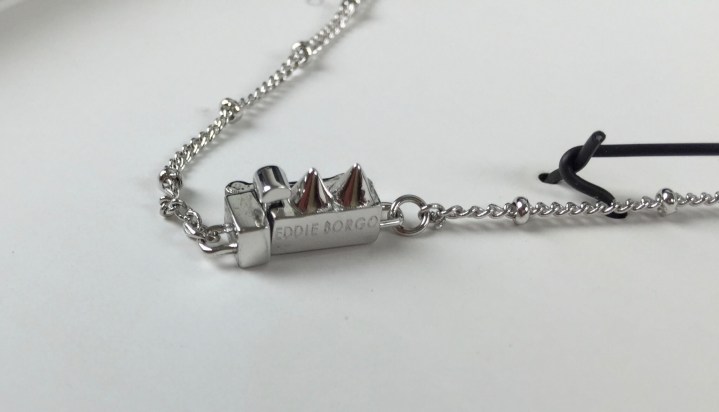 The clasp is unusual!
RabLabs Cele Clock ($120) I was frankly disappointed that my agate clock wasn't the bright cobalt (or some other beautiful color) in the information card. I like that the clock swaps out for a photo, because I can probably count on one hand that I actually looked at a clock for the time in the past year.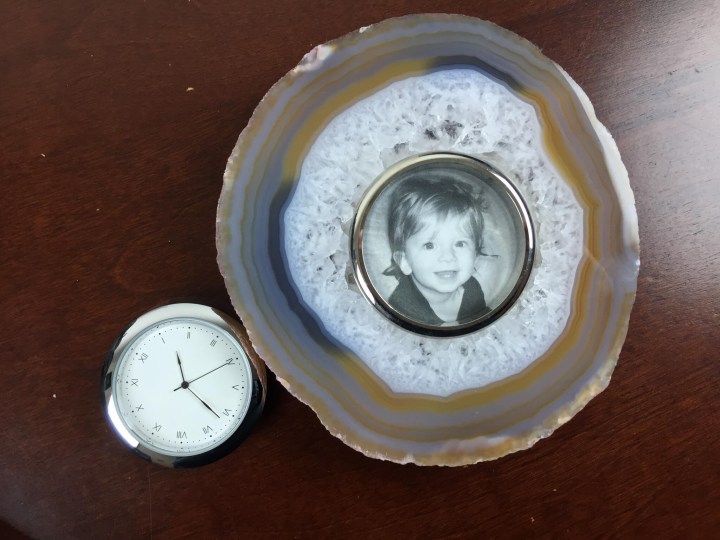 I just don't think the color is pretty and it doesn't match anything I have. It feels dull to me – I think someone with different color sensibilities than me (I'm all about cool tones) will appreciate it – the natural stone itself is very nice.
It stands up, of course!
 Deborah Lippmann Pop Life Nail Lacquer Set – A Fine Romance, Dark Side of the Moon & Stairway to Heaven ($44) I absolutely adore this brand of nail polish. These are full-sized bottles and the only sets that size I can find are $44 on HSN. These current season bottles are $18-20 apiece.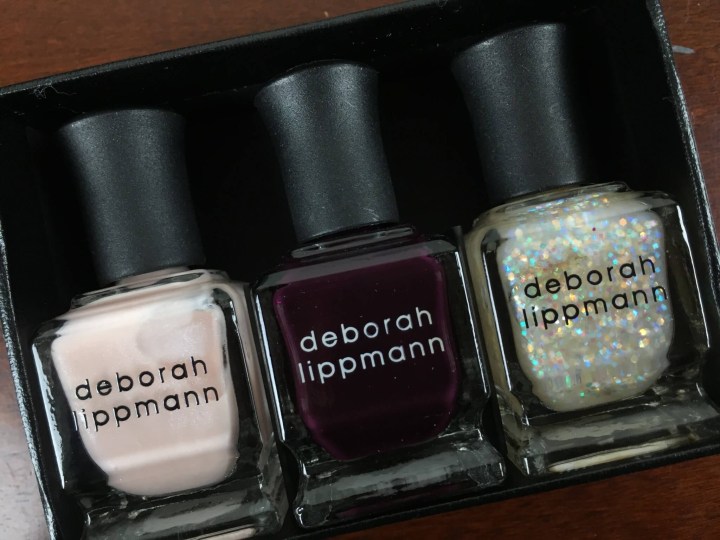 Each color is party perfect and I will use up each bottle! The pink is pearlescent, Dark Side of the Moon is a great aubergine crème polish, and Stairway to Heaven is bold and beautiful holo square glitter!
Kevyn Aucoin The Look Book – Essential Glamour ($45, exclusive to NM) I remember purchasing Kevyn Aucoin's book when I was a teenager.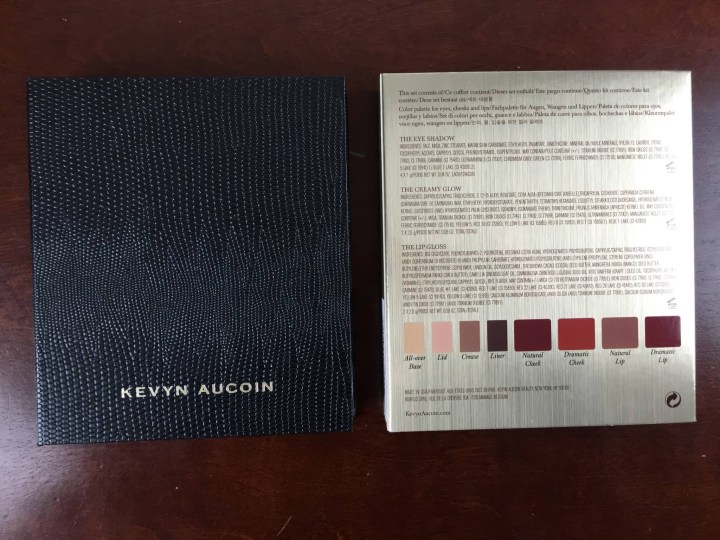 This is a gorgeous palette any time of year but particularly appropriate for holiday (and basically all holiday limited edition boxes must include a palette!).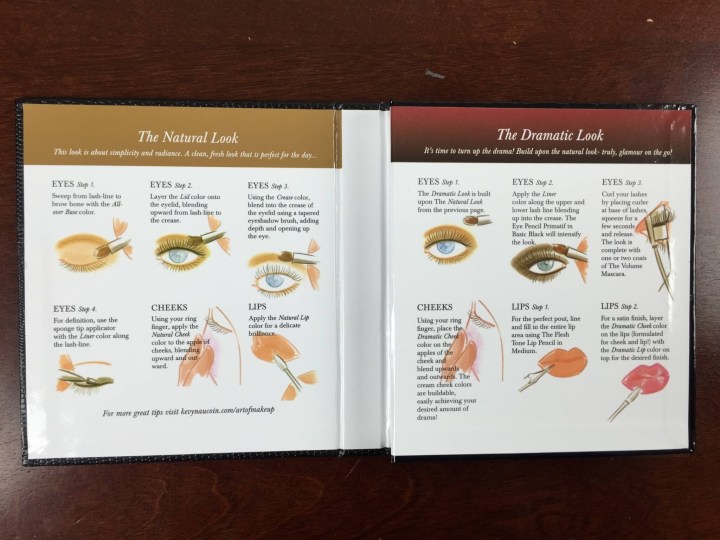 I was delighted to see illustrations for two looks that you can get from this palette. Kevyn Aucoin is a legend.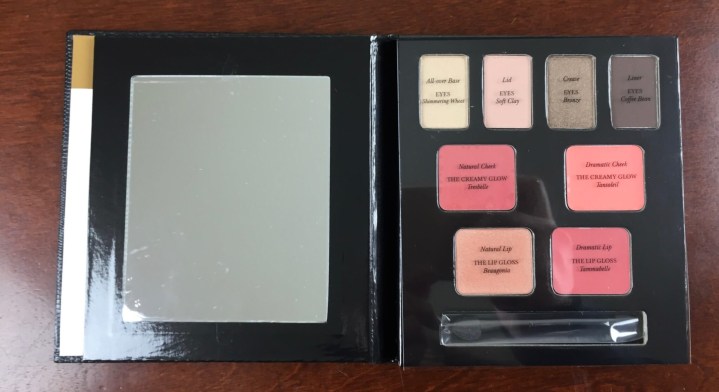 Super pretty and wearable for so many different tones. This one will be really delightful to play with!
 Vosges Organic Peanut Butter Bon Bons ($24)  These are delicious, made with 45% cacao milk chocolate, GMO-free peanut butter, and Maldon and Pink Himalayan salt. Usually I think salt on chocolate is actually terribly overdone, but these are beautiful! Fortunately I'm full because I've already stuffed two into my gaping maw! They're 85 calories apiece if you must know (I definitely had to after writing that sentence). They are certified organic, so that makes it 100% ok.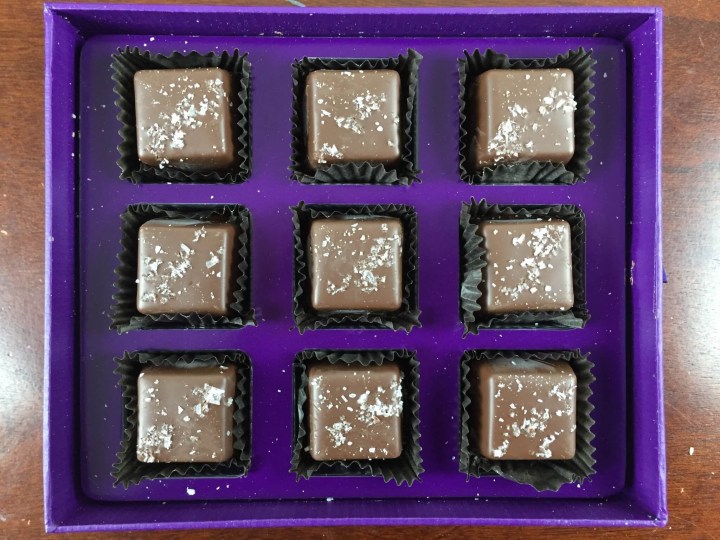 The value of the Neiman Marcus POPSUGAR Must Have 2015 Special Edition Box was about $677, which is an unbelievable amount.  Two of the items just weren't for me, but everything was luxe and beautiful in its own right – and as I mentioned – everything is giftable! I thought the variety in this box was really fabulous though I'm yearning for something fuzzy – maybe in the Special Edition Holiday for Her boxes? I really think the curation of all the limited edition boxes has improved dramatically over the past 6 months and this was a really superb box.
Visit POPSUGAR Must Have Box to pick up this box or any other special edition box. For the regular subscription:
DEAL: Save $20 on your first box with this link and coupon code MSA20

The Subscription
: 
POPSUGAR Must Have Box
The Description
: Seasonally themed must-haves selected by the POPSUGAR editors. Beauty, Home, Treats, Accessories, Jewelry, and Personal Care. Occasional luxury boxes for women, men, and home.
The Price
: $39.95 per month, less than $36 per box on a 1 year subscription.
The Coupon
:
DEAL
: Save $20 on your first box
with this link
and coupon code
MSA20