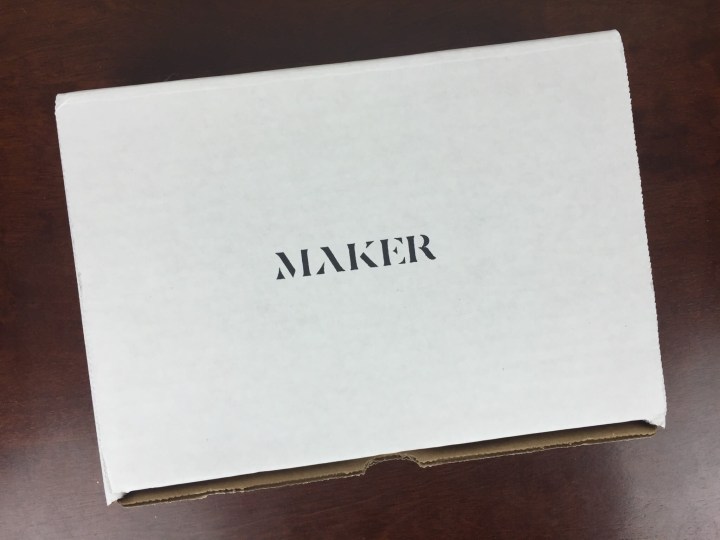 Maker Monthly is a monthly subscription box that provides deluxe and high-end stationary and journaling products with comfort of use and quality of output in mind.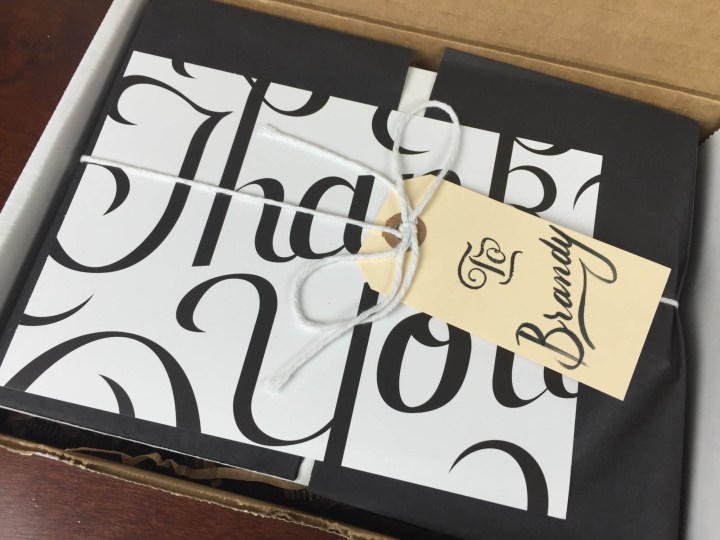 Everything comes securely bundled, and it even included a little custom tag!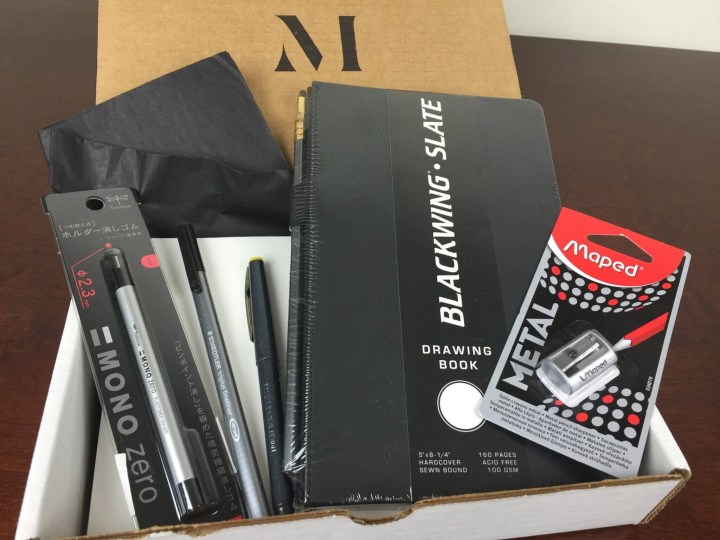 Everything in the box.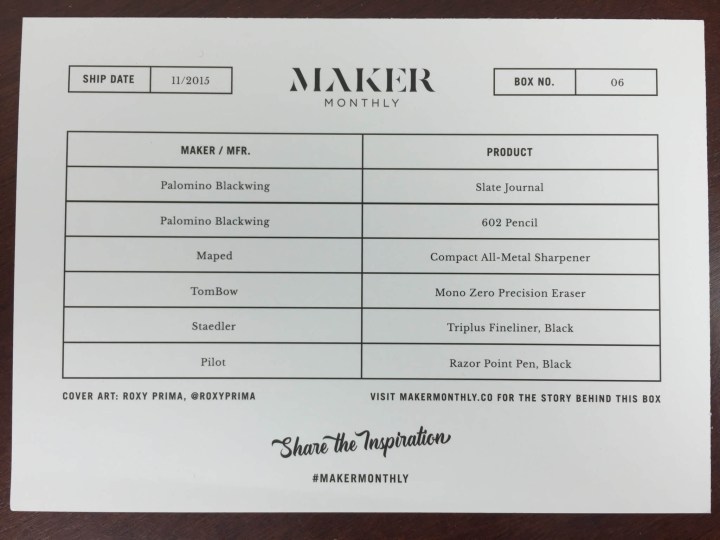 The handy card details the products and manufacturers included in this month's haul.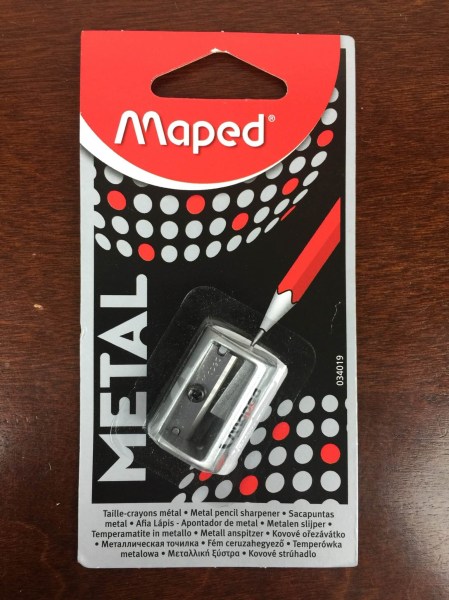 Maped All-Metal Sharpener:  This compact pencil sharpener is made from all-metal components, giving it a precision and durability unmatched by plastic versions.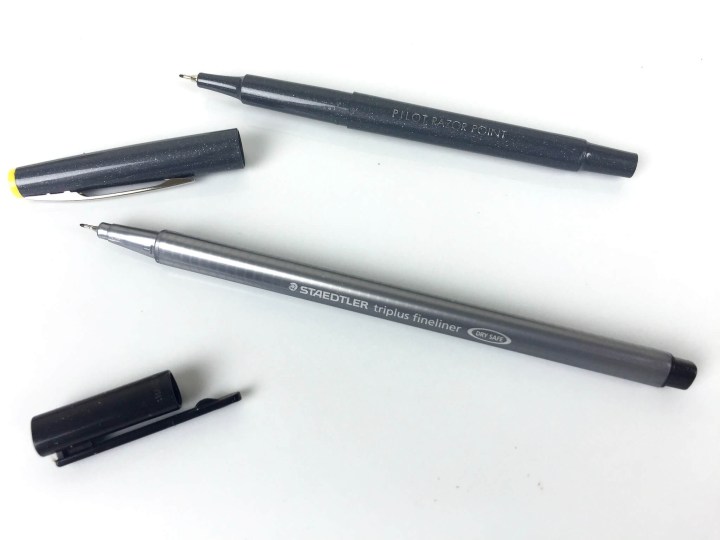 Pilot Razor Point:  A classic, easy-flowing felt tip in fine point.
Staedtler Triplus Fineliner:  Ultra thin head for fine detailing.  The Triangular shape of the shaft allows for more comfort and control.
:
Each is super-fine for fine detail and precision penmanship.   

Mono Zero Elastomer Eraser:  This eraser has a small footprint, enabling fine corrections.  The elastomer gobbles up stray marks  without requiring heavy friction, so your surrounding work and underlying surface remains undisturbed.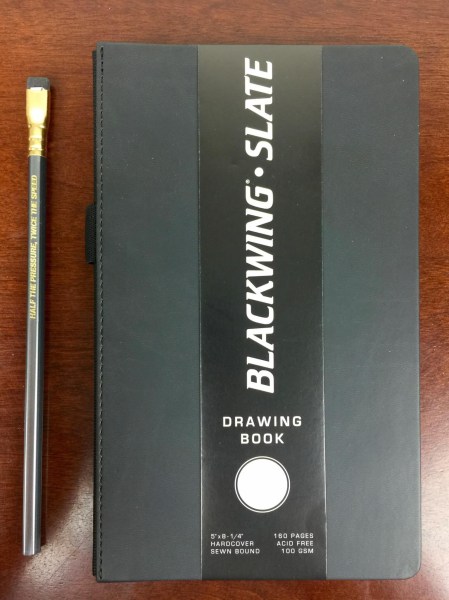 Blackwing Slate Drawing Book:  This classic book contains 180 pages of acid-free paper, perfect for writing or drawing with ink or pencil.   Included is the coveted 602 pencil.
A built-in satin bookmarking ribbon is included.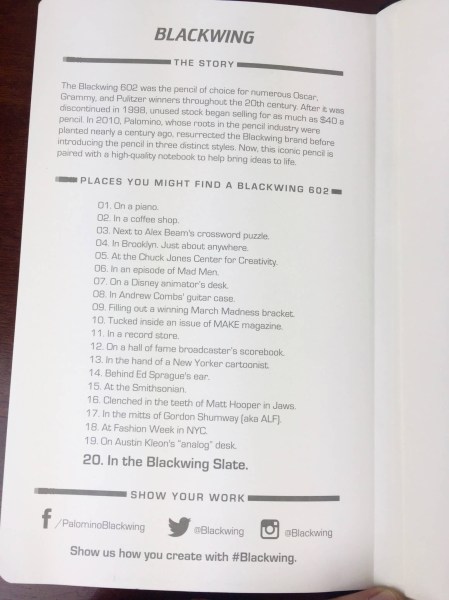 As is the legendary Blackwing 602.  I like the story surrounding this pencil — apparently it was retired, but outcry from the scriptwriting community forced its return to the market.
The density of the graphite allows for marking with lighter pressure, allowing greater writing speed.  An asymmetrical eraser sits attached to the pencil. 

Maker Monthly provides just the essentials — quality pens and paper, with a choice accessory or two.   The super high quality of the items reveals the expertise of the curator, as they have selected media of exceptional quality and reputation.
Visit Maker Monthly to subscribe or find out more!
The Subscription
:
Maker Monthly
The Description
: Maker Monthly selects the best journals, sketchbooks and planners on the market to provide you with premium stationery for your ideas. Refresh your everyday carry gear with new pens, pencils, art markers and accessories every month.
The Price
: $20.00 per month