Hole In Wall Box is a new bimonthly destination lifestyle subscription – every other month Hole in Wall Box will take you to a new travel destination, seeking out the best of locally produced items, avoiding all the tourist traps and delivering what makes a city truly special. In your box you'll receive unique goodies from mom and pop shops, delicacies from local farmers markets, and gourmet treats from hole-in-the-wall restaurants.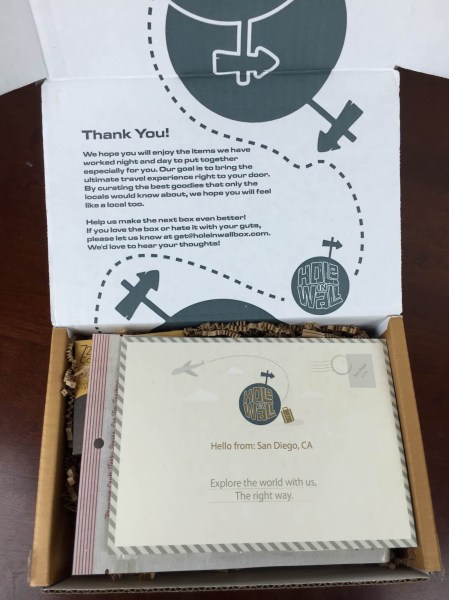 This month's destination is San Diego! I was excited to see this, because I visited earlier this year but was too busy for any tourist exploration.
Everything in the December box!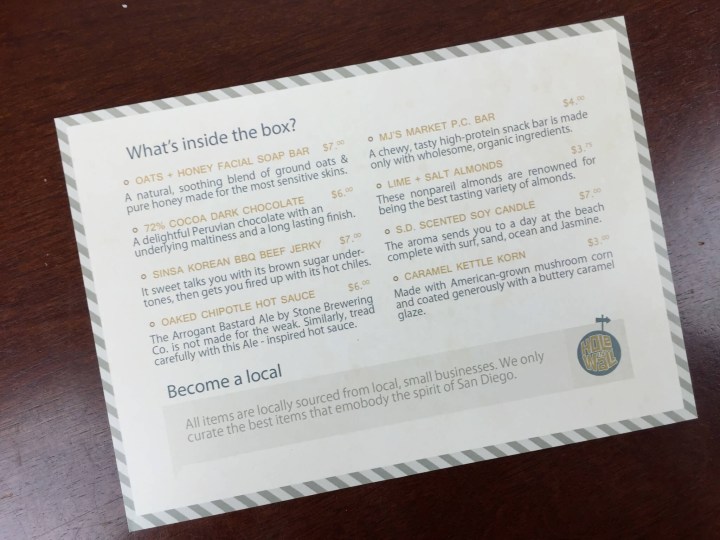 The information card provides the details on each item, all sourced from this month's destination.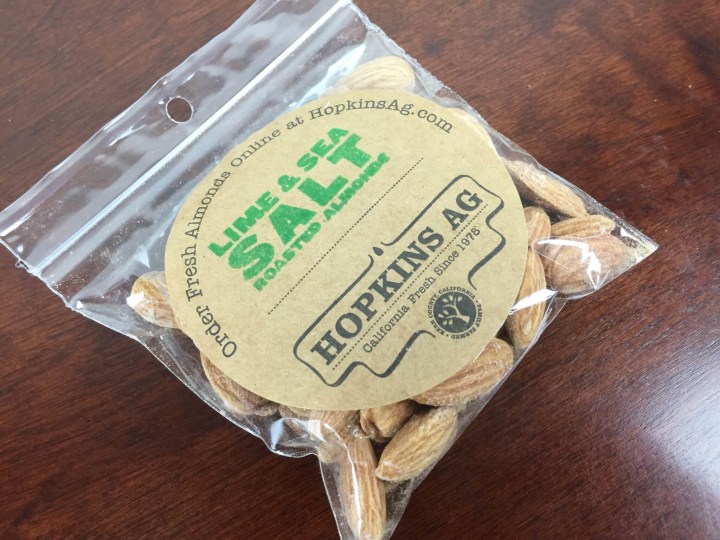 Hopkins AG Lime + Salt Almonds ($3.75) I love that California almonds were selected for this box, and to make it special, a flavored almond from a San Diego shop! I could probably snack on almonds in any flavor imaginable but I quite liked these like and salt flavored ones!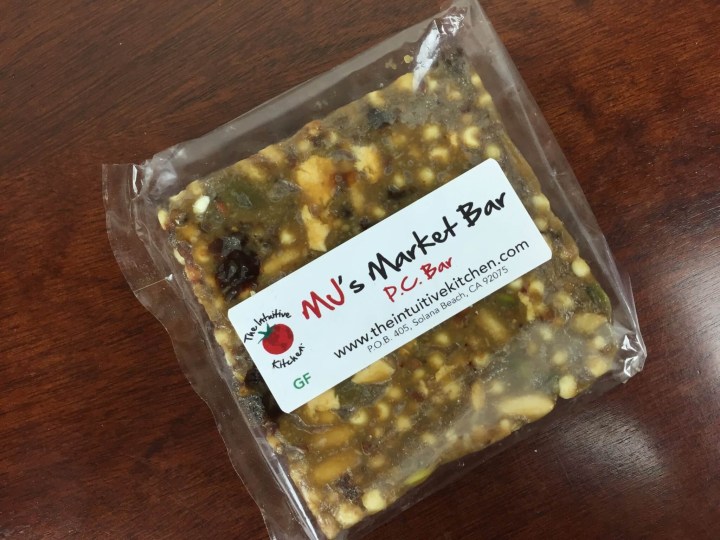 The Intuitive Kitchen MJ's Market PC Bar ($4) this bar makes a great and large snack and is ooey gooey without being loaded with sugar. There are three varieties and this PC bar is the puffed cereal kind, with puffed Miller and rice, sunflower butter, fruit, and flax seeds and pepitas.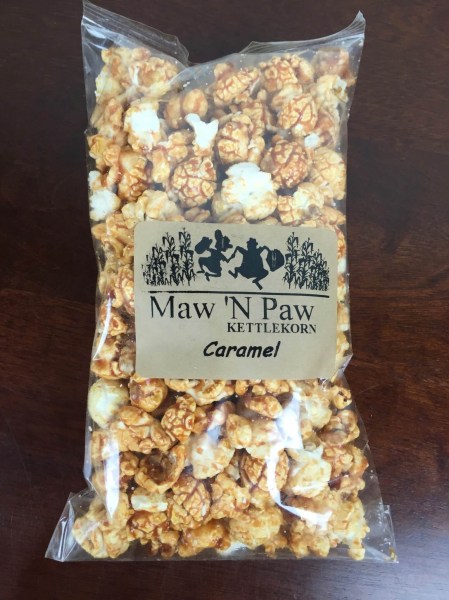 Maw N' Paw Caramel Kettle Korn ($3) This is a light and airy caramel corn that will not break your teeth (a huge plus in my book). Just the right amount of sweet to play off crispy corn.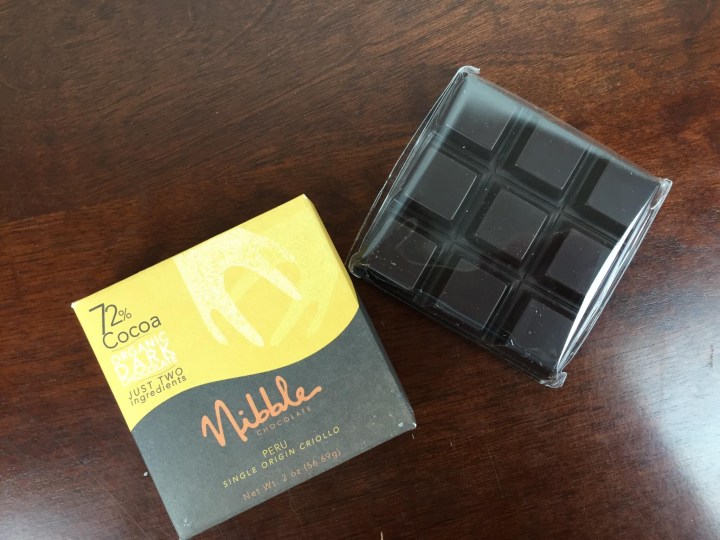 Nibble 72% Cocoa Dark Chocolate ($6) this is the aptly named Nine Nibbler- 9 bites of Peruvian single origin chocolate. This San Diego chocolatier mindfully sources the beans and prepares vegan single origin bars to enjoy the different varieties in all their complexitities.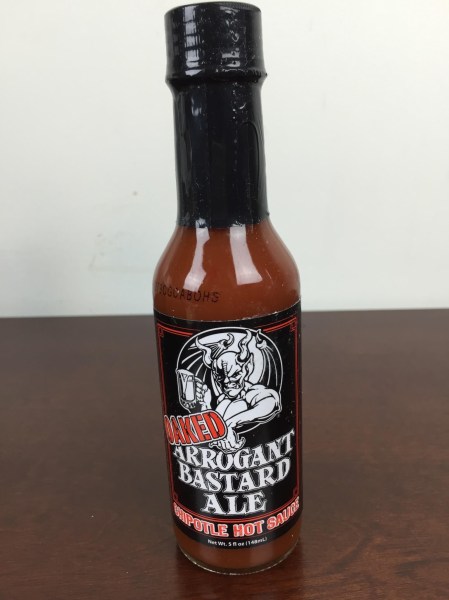 Stone Brewing Oaked Chipotle Hot Sauce ($9) This is neat because it's a local hot sauce made from local ale! Characteristic of chipotle it's more of s slow burn than in your face sauce, and not all that hot. I enjoy flavorful sauces and we'll have to cook up some nachos with this one!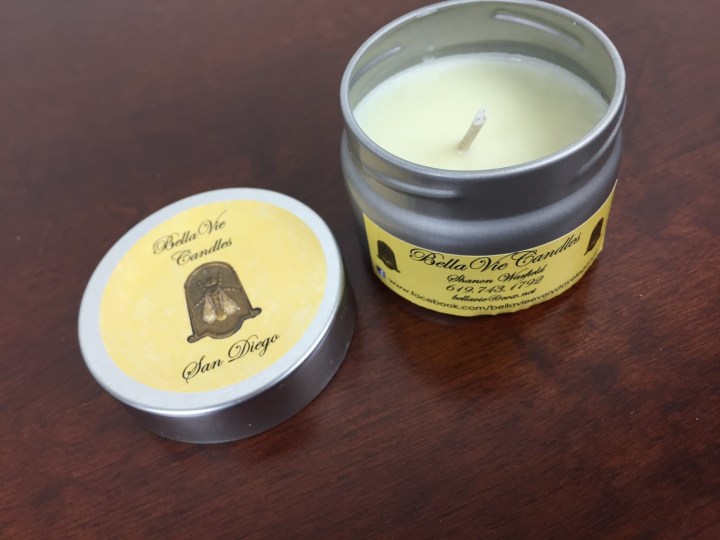 Bella Vie San Diego Scented Soy Candles ($7) A candle is absolutely perfect for an around the world box like this one. I just love the idea of a local candle with local scents – I hope this subscription continues this trend because I want to smell the smells of each place. This particular candle is scented "San Diego": A day at the beach complete with surf, sand, ocean and Jasmine.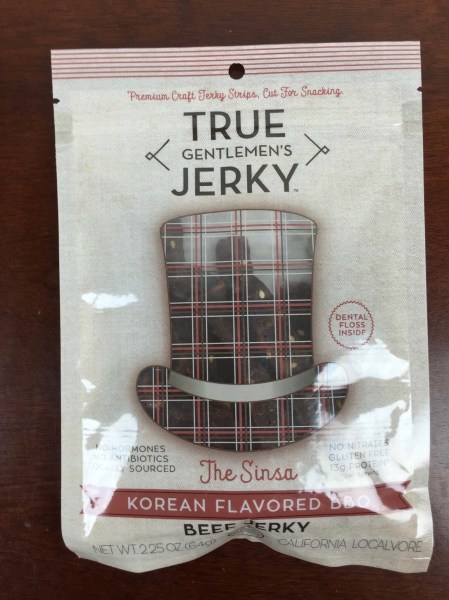 True Gentleman's Sinsa Korean BBQ Beef Jerky ($6.99) this was SO good and hot! I love jerky and this one had tender beef strips that were flavored with fiery Korean barbecue. I ate the whole bag in one sitting – I couldn't help myself! Made from a local herd too.
And it even came with a floss pick!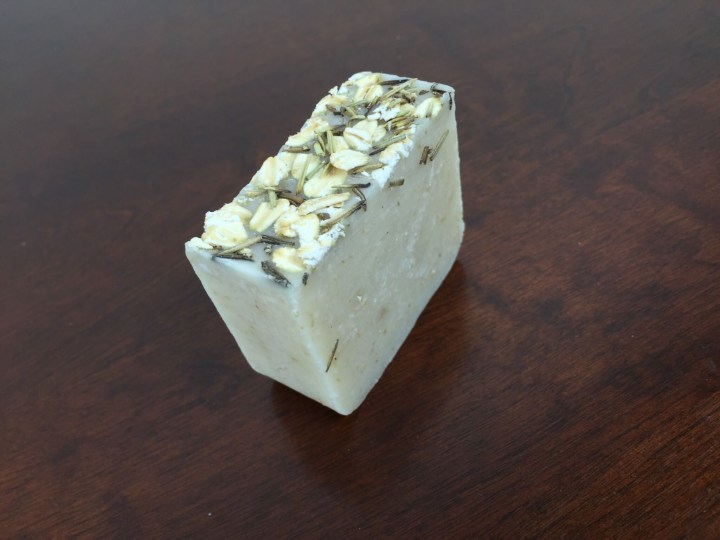 Pine Tree Road Oats + Honey Facial Soap Bar ($3.50) This bar came without packaging, and I really wish this beautiful bar had come in a bag with a tag! I guess it's totally California to totally eschew packaging!
This was a great box and I'm definitely interested to see how this subscription unfolds – where will they go? What items will be in the box? The total value of this box was about $43, which was pretty decent for this type of box. However, shipping to me is over $13, which is 1/3 of the total box price. This is ameliorated somewhat by the $5 savings per box on a 6 month (3 box) subscription. I think those on the West Coast will find this a good value and a fun box (shipping is only ~$5 there!).
Visit Hole In Wall Box to subscribe or find out more! Save 10% on any subscription purchase! Use coupon code HOLEINWALLHELLO.
The Subscription
:
Hole In Wall Box
The Description
: Hole In Wall Box is a subscription box that features the best local items in a different city every 2 months. We give our subscribers an unforgettable travel experience right from their own homes by introducing them to the best of the best in a city. Also, by only featuring items from mom&pop shops, our mission is to help promote local small businesses. Some of the items we feature in our box include: snacks, candies, condiments, soaps, candles, etc.
The Price
: $35 + shipping every other month