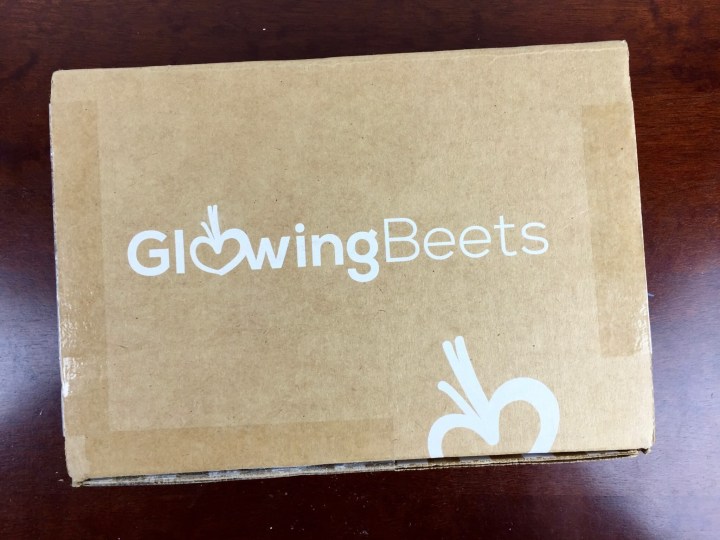 Glowing Beets isa  new monthly natural beauty subscription box. In each box you'll  3-4 deluxe-sized samples or full size beauty products made with natural or organic ingredients. Test out the scent, texture, and performance of natural and organic beauty products before committing to full size!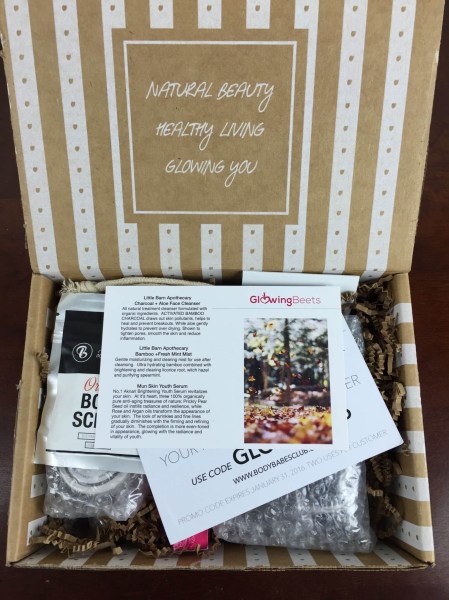 I wasn't sure what to expect at all, but it looked like a good box!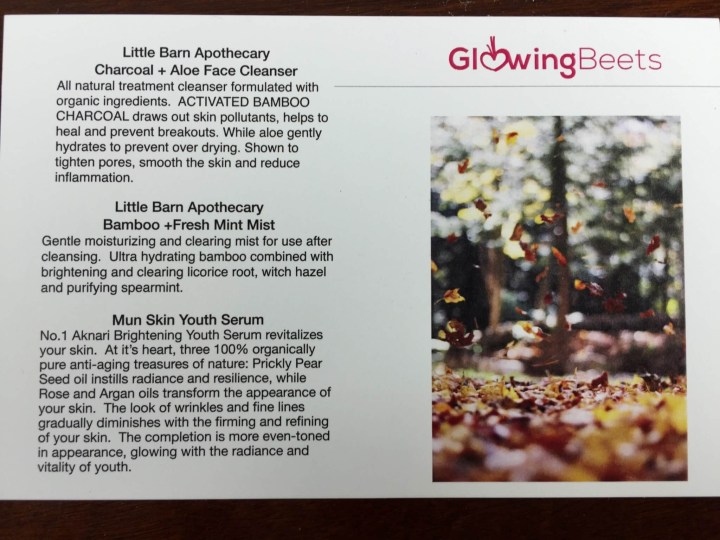 The inforamtion card provides the details, including the natural ingredients and what they'll do for your skin.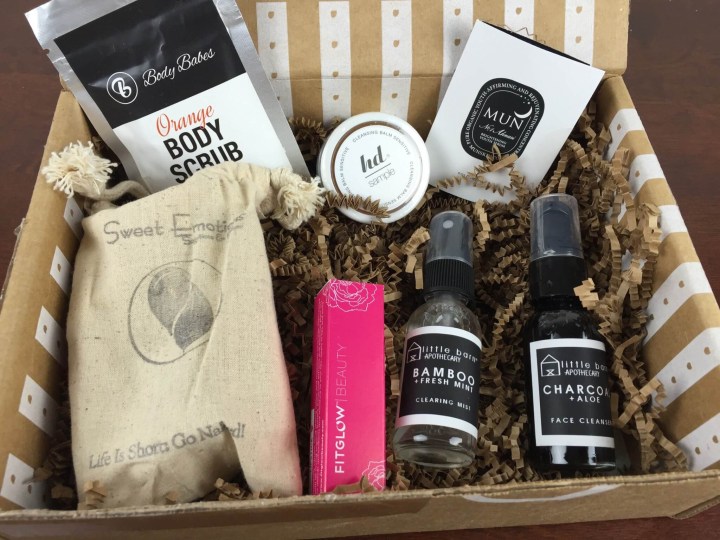 Everything in the box!
Mun Skin No. 1 Aknari Brightening Youth Serum ($4.75) The Mun Aknari is probably the most unique oil/serum I have ever used. The main oil is prickly pear seed oil plus argan and rose oil.  Because of the prickly pear, it's extremely thick and has almost a sticky quality to it, but it is extremely hydrating. I love this one.
Body Babes Orange Coffee Body Scrub ($4?) I weighed this and it was 24 grams, so I went with 20g of product. I don't care for coffee but my husband loves it – including coffee scrubs, so I told him to go test it out while he figures out his new Clarisonic Alpha Fit (because best results are when you leave it on your body for 5-10 minutes). This uses ground and roasted coffee beans for exfoliation, plus sweet almond oil, sea salt, brown sugar, and organic orange oil. I'm sure it will be invigorating!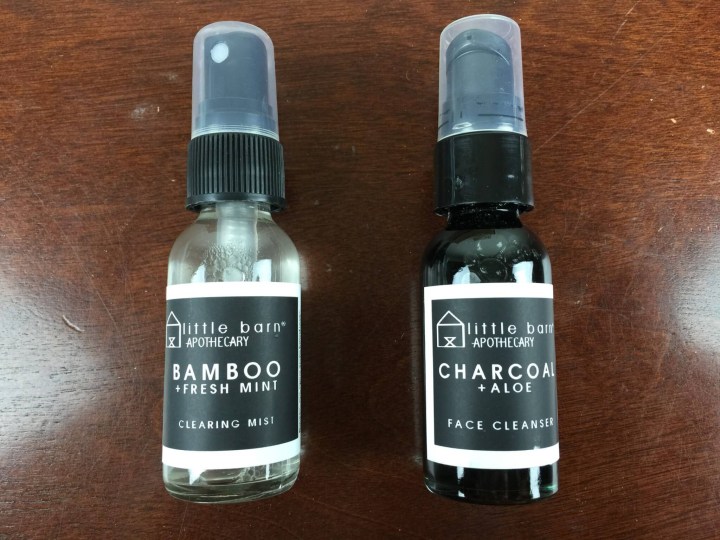 Little Barn Apothecary Charcoal Aloe Face Cleanser ($11.58) This uses an aloe base for hydrating cleansing and soothing skin along with activated charcoal bamboo to draw out impurities.
Little Barn Apothecary Bamboo +Fresh Mint Clearing Mist ($8.42) This was a super unique product with bamboo for hydration (it is a collagen generating ingredient), witch hazel and licorice root, which is a powerful antioxidant. The mint smells fantastic – spearmint – which I didn't expect but was very lovely.
This was a sweet set, and great for travel!
New Subscriber Gift – Hush + Dotti Travel Size Cleansing Balm – Sensitive ($15) I didn't expect this to be soft at all – so I spludged my finger right in it. I also don't read anything and didn't realize that it was a cleansing balm. It's a blend of oils and essential oils but I honestly don't see why I can't use it to moisturize, which is exactly what I did with it. I'll test it out for cleansing though too. I find that if I use an oil cleanser before I shower my skin stays in much better shape!
FitGlow Beauty Lipstick – one of three colors : Love, Craze and Adore ($26) This is prepared with a blend of organic butters and oils plus natural extracts that help heal your lips (like thyme, lavender, rosemary, and golden seal). I thought this was really a pretty color and it applied nicely! I found it to be lightweight, not cakey, and hydrating.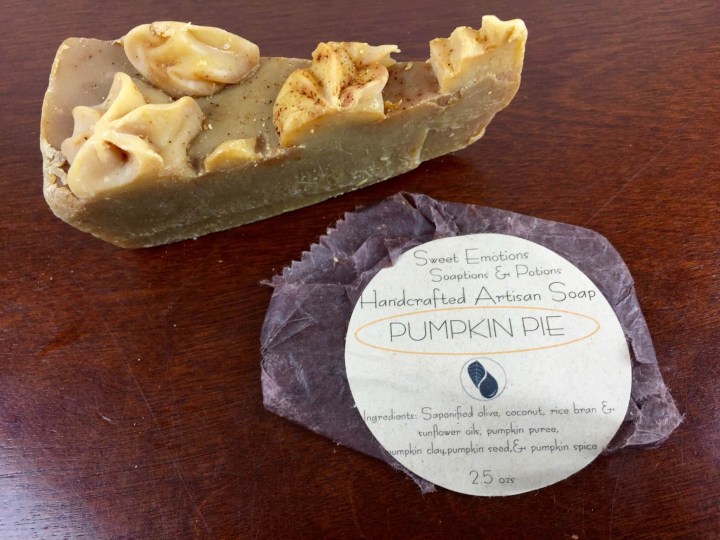 Sweet Emotions Soaptions Pumpkin Pie Soap (Special order for Glowing Beets $4?) This box smelled fantastic when we opened it, and it's because it included a slice of pie for Thanksgiving! The scent is strongly cinnamon and it will fill your bathroom with beautiful smells. It uses real pumpkin for natural AHAs and fruit enzymes and to help soften the skin. Loved this!
I thought this was a great box and it was absolutely loaded with value – by my estimates, around $59 – about twice as much as the cost of the box (I did not include the new subscriber gift in this total). I especially appreciated that nothing overlapped – everything had its own specific use. This box included a really fantastic variety of natural beauty products – all except one was new to me – and everything was very useful, natural, and included ingredients with natural actives to help improve your skin and body!
Visit Glowing Beets to subscribe or find out more!
The Subscription
:
Glowing Beets
The Description
: Receive a beauty box every month filled with amazing natural beauty products. No harsh chemicals, no toxic ingredients. Natural beauty – healthy living – glowing you
The Price
: $29.95 per month
The Coupon
: Save 10% off your first box with coupon code
10OFF
.