Garden Box is a monthly subscription box that makes it really easy to have fresh, nutrient-dense microgreens at hand year-round.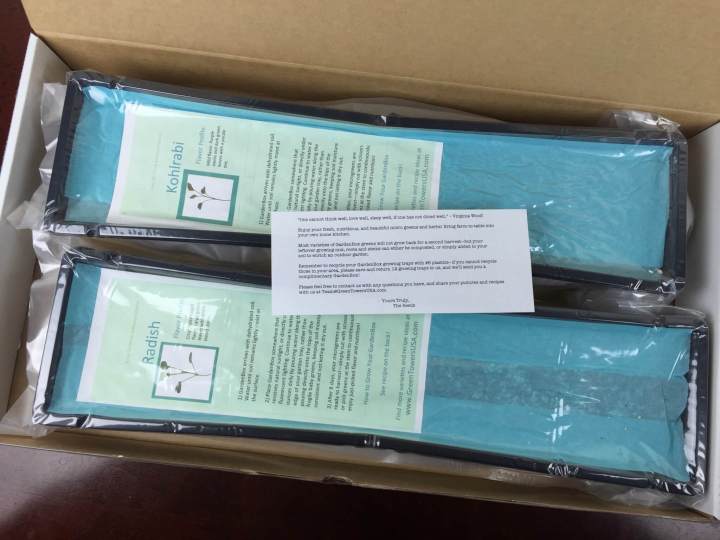 Each month, you receive two pre-seeded trays.  Each is dry and vacuum-wrapped in plastic.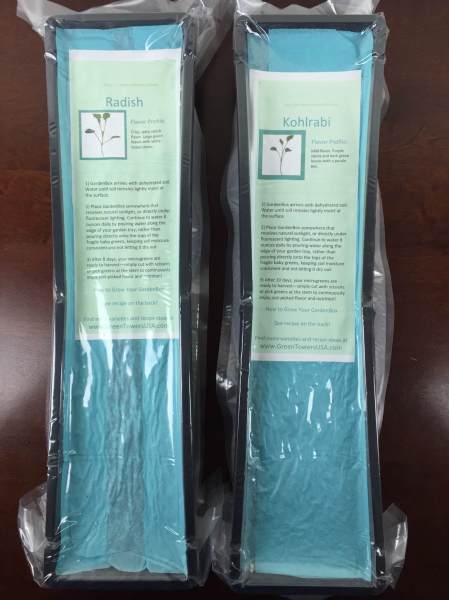 Our first two varieties were radish and kohlrabi.
The kohlrabi is mild and takes 10 days to reach maturity. Each tray comes with complete instructions for growing!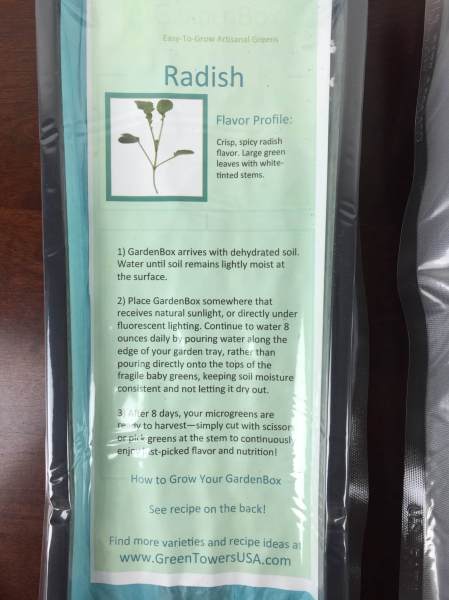 The super-peppery radish only takes 8 days to reach harvesting height.
The dry trays are studded with hundreds of seeds.  Nothing needs to be done with the soil, other than to unwrap it and keep it moist.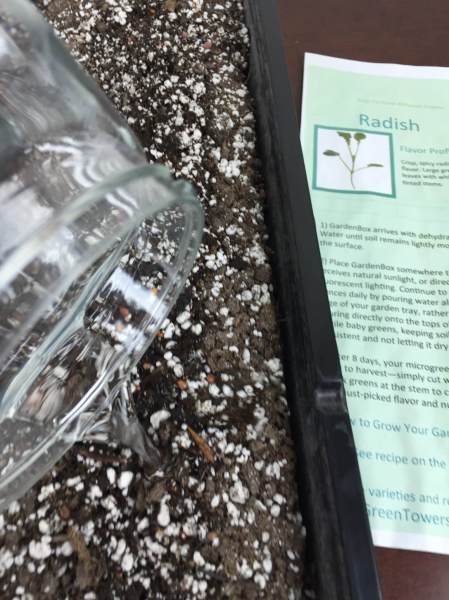 Several glasses of water were required to hydrate the soil.  After the initial watering, it is recommended that you water along the edges of the tray each day (to avoid disturbing the young shoots).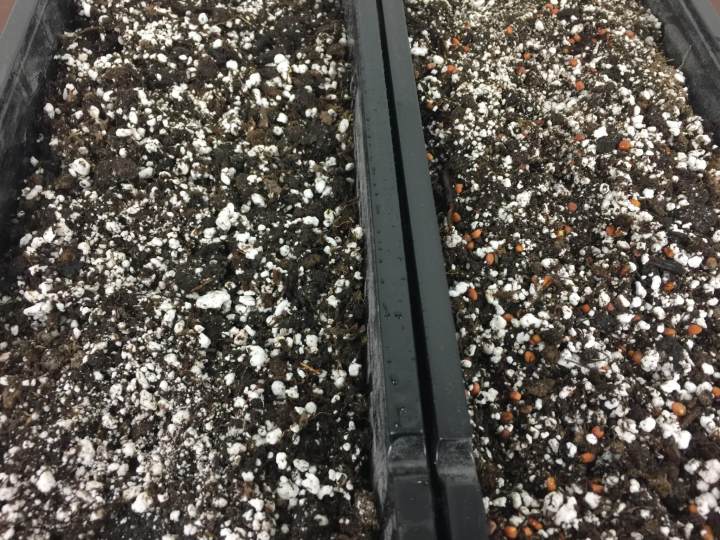 After a day, the seeds had germinated, but no growth was visible.
Within a few days, the sprouts had taken hold.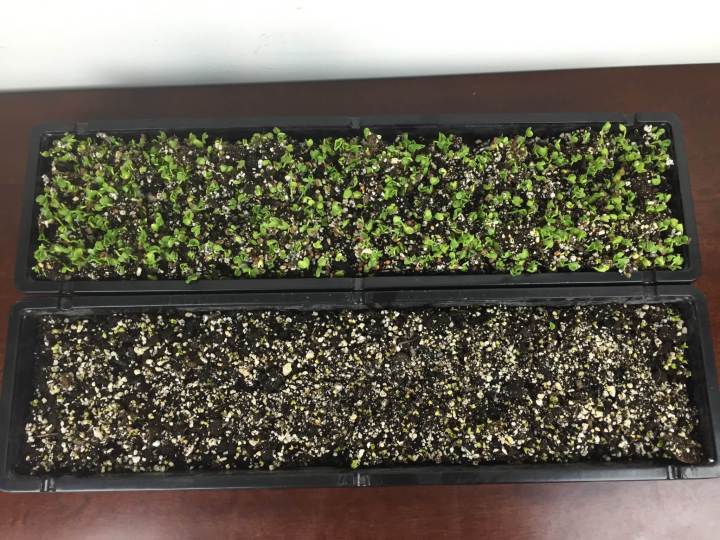 After the first few days, the plants really took off!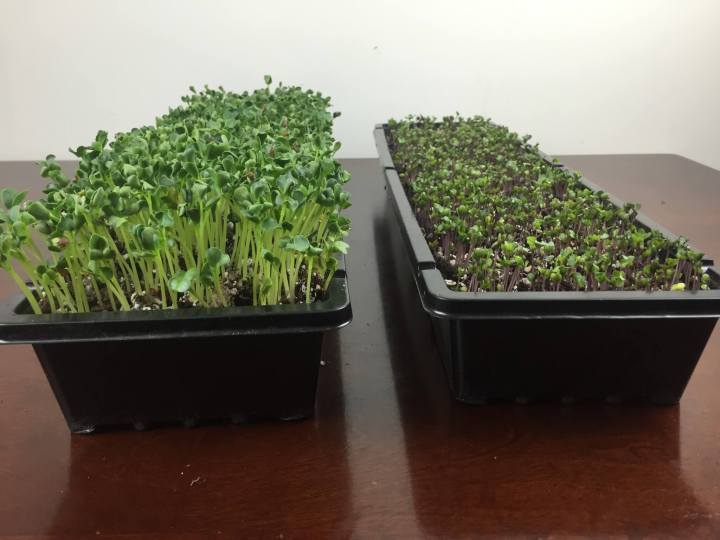 Less than a full week from first watering, we had greens that were suitable for harvesting.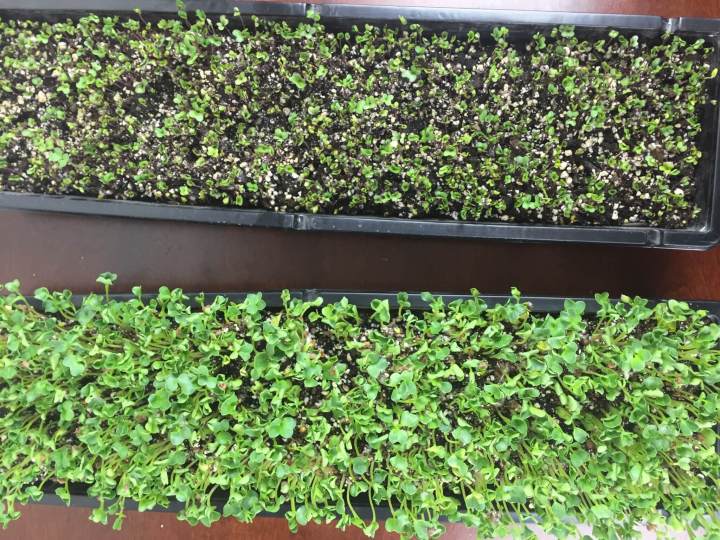 I was impressed at how evenly the trays were seeded — all available space produced a plant.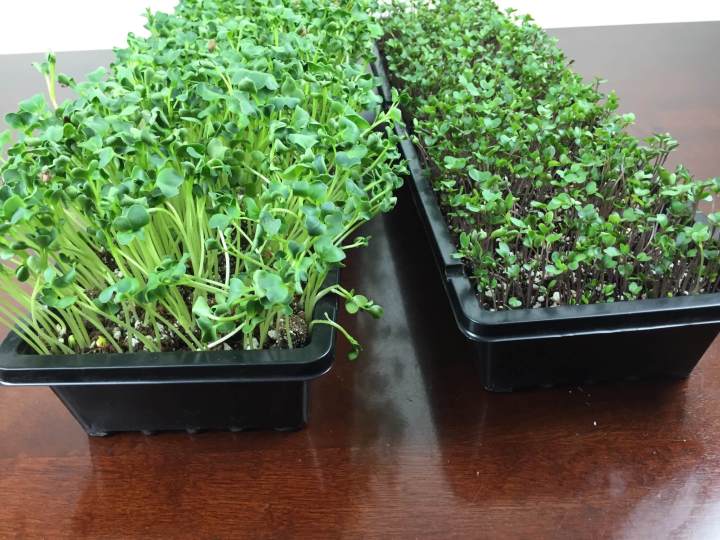 After a week, the plants were ready to eat.  The Radish was big and ready to cut.  The kohlrabi had a little room left to grow.  The greens were fine at this point, but they could get a little bigger without being overgrown.
After the one week mark, the plants started getting a little unruly.  You can harvest them over several days, but the window of peak maturity isn't indefinite.  I think the best thing to do is plan a harvest meal and clean out your garden after several days of small harvests.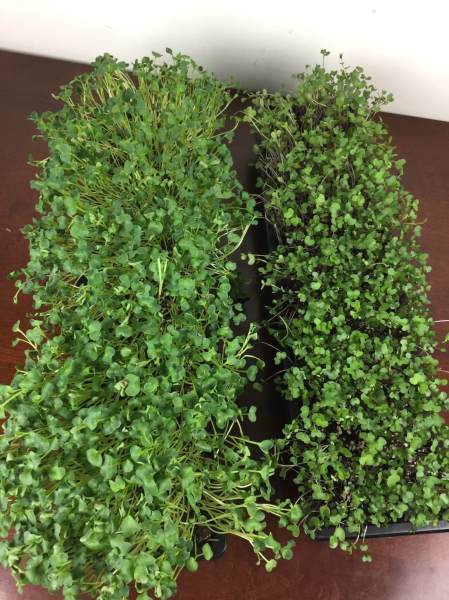 The yield from the trays was tremendous.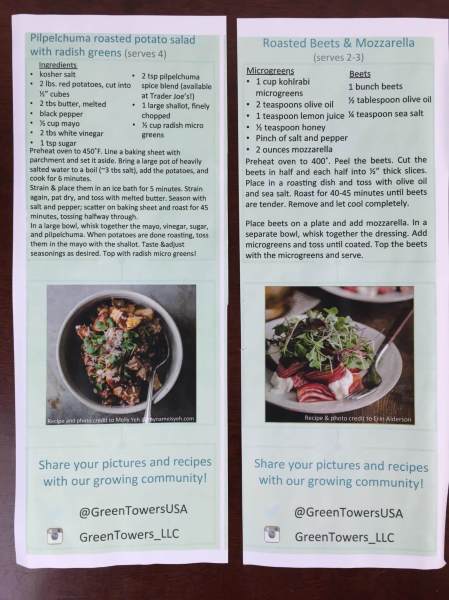 Each tray was a accompanied by a recipe using the green.  Aside from the provided recipes, these greens are great sprinkled on any main dish, whether a stew or a large cut of meat or fish.  Of course, they are great as a salad green.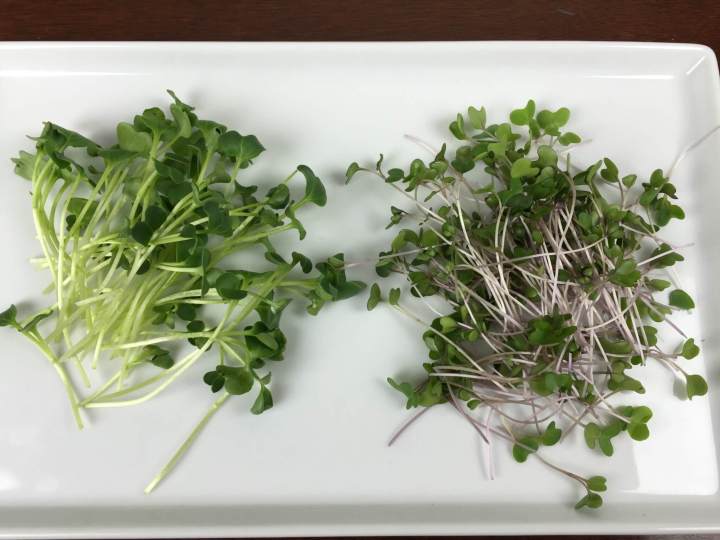 A couple small handfuls of the radish greens (left) and kohlrabi.  The radish was intensely peppery, and chewing a mouthful was a bit like biting down on a peppercorn.  A sweet and acidic dressing would go well with this green, rounding out the strong bite.  The kohlrabi was much milder, with a light, radishy taste, but no peppery fire.  This green would be great paired with even a mild dish.
We liked the idea of having fresh greens available for the picking.  The trays were incredibly simple to grow, and the production was really high.  In fact, the most difficult part of this box is eating all of the greens while they are at optimum maturity!
Visit GardenBox to subscribe or find out more!
The Subscription
:
GardenBox
The Description
: Bring farm-to-table freshness into your home kitchen with GardenBox. Each month, you will receive two pre-planted artisanal indoor gardens. With just a little watering, you will have fresh and nutritious micro greens and herbs ready to eat in less than two weeks. These delicious, tender, and beautiful greens can be used to add zesty flavor to salads, replace unhealthy condiments, and make any simple meal look and taste like fine dining. Baby microgreens are packed with nutrition, containing 4-6 times greater nutrient density than their fully-grown veggie counterparts. Includes recipes for culinary inspiration.
The Price
: $35.00 per month