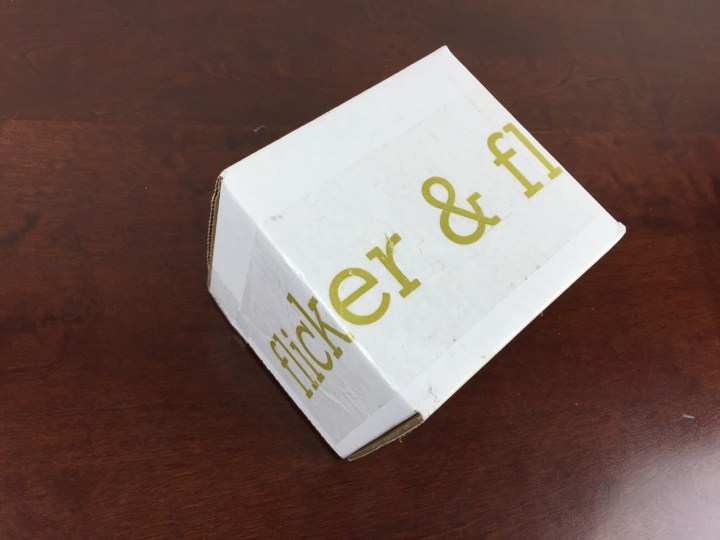 Flicker & Flame is a monthly candle subscription box. When you subscribe, every month you will receive a limited edition, custom scented, soy-blend candle based on your scent profile!  Each box includes one 10oz candle each month, with a burn time of over 40 hours.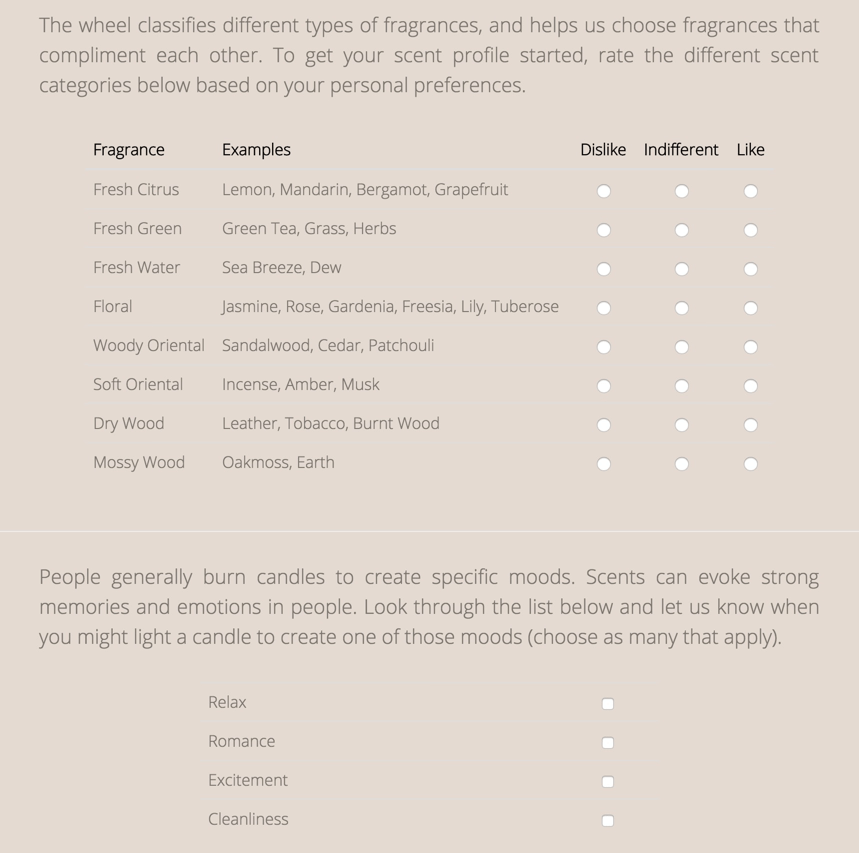 When you sign up, you'll fill out a somewhat extensive individual scent profile that will guide Flicker & Flame's scent concoctions for you. Scents are not only custom-tailored to the subscriber, they'll also change with the seasons. Most of their scents have been fresher and lighter through the summer. Once we get into fall, their scents will get warmer and spicier. I would personally add "mints" and "ices" to the list above!
The candle comes double boxed, poured in an attractive frosted glass jar. We were surprised that there were no matches included.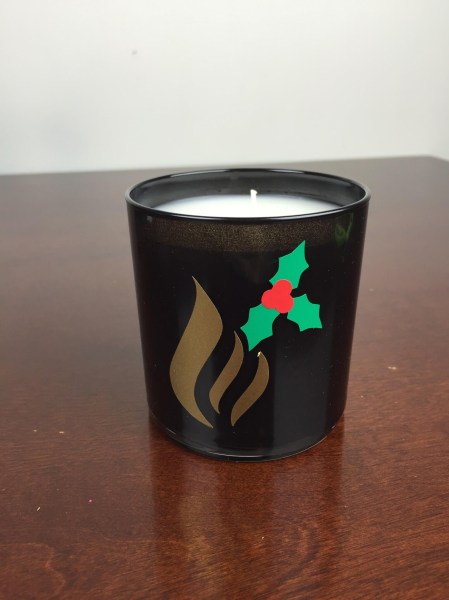 The scent is "Holiday Cookies." We received some notes from the artisan on this blend:
When we were coming up with December's base scent we wanted to evoke images of a bustling house with family visiting and…of course…holiday desserts in the oven! The scent has a strong butterscotch base, with the addition of vanilla and raisin, and top notes of cinnamon.

(And of course, we customize the candle for each subscriber. So for people who don't like spicy or musky scents, we dialed back the clove. For people who prefer florals we introduced more orange blossom to complement the butterscotch and make the scent lighter. And on and on!)
We liked the scent of the candle — it smells like sugar cookies and fruitcake!  I am curious to see how the fragrance editing plays out, and whether I enjoy the edited fragrances more or less than I would if they were complete, but with some components I didn't love.  With most preference-based subscriptions, they leave out items that conflict with your preferences.   Flicker and Flame leaves out specific ingredients, tailoring the scent of each candle — I'm not sure if I prefer this strategy of editing fragrances (eg:  would I want a severely edited "baked desserts" candle if my profile said I hated vanilla, warm sugar, and cinnamon?), or if I would rather just receive an alternate selection. We're not sure what everyone received – perhaps some subscribers received icy wintry scents.
The candle seems to burn fairly slowly, which is great because it will last  quite some time.  We thought $25 was a bit pricey for one candle but the scent will be customized to your own preferences. We hadn't realized at all until receiving the email that the candles are personalized to that level.   When we compared with Illume one of their $20 10.9 ounce candles shipped is almost $33! (Illume candles are also soy blends and I think they are very similar to these candles). FYI – for every annual subscription, Flicker & Flame donates a solar lamp to villagers in Africa through a partnership with SolarAid.
Save $10 on your first box! Use coupon code SmellGreat.
The Subscription
:
Flicker and Flame
The Description
: Get a hand made, curated scented candle each month. On subscription, each customer fills out a short survey to start creating their scent profile. Based on this profile, and feedback we collect each month, we create scent combinations that each particular customer is more likely to enjoy. It's a great low-risk way to try new scents!
The Price
: $25.00 per month