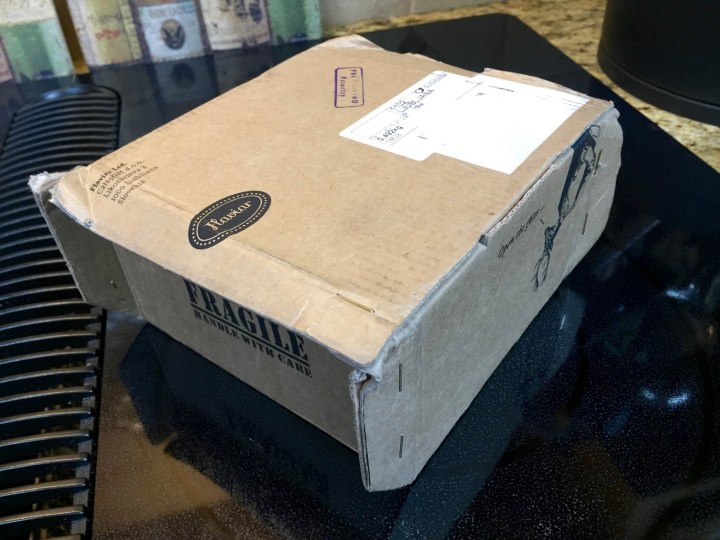 Flaviar brings the selection-of-the-month concept to the world of fine spirits.  The concept is great for spirits, since the best out there can be quite expensive — a big investment for an item that cannot be truly understood without tasting for yourself.  The Flaviar sample gives you the chance to sample before shelling out for a full size, or if you and your buddies want to go in on a full-size subscription, you are assured your selections will be prescreened for noteworthiness and drinking pleasure.
The Liquid Gold sampler box features five selections from around the world – from Italy to France, Scotland, Kentucky, and Guyana. Every month you can skip or swap out the pack for a different selection.  The spirits are varied, so there is always something interesting available that may suit your tastes.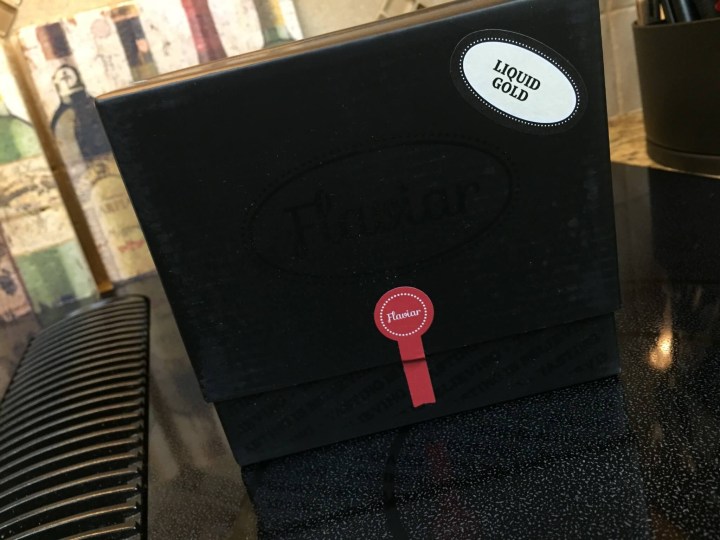 Within the shipping box is a handsome interior box, within which are nestled your five new guilty pleasures.
The kit is well-designed.  Not only is it like a hybrid of opening a watch box and playing with a test-tube stand, but it keeps your bottles from rolling all over and lets you admire them while contemplating the complexity of the featured liquors.
Included are some hints on conducting an effective tasting, as well as some key info on the samples, including flavors to watch for. The notes include some interesting background on the distilleries and the unique balance of flavors to look for in each spirit.  The tasting notes go beyond my above big picture observations, tracing the whole "Flavour Spiral" of the liquor and the eight to ten flavor notes and impressions to which you are treated with each potable.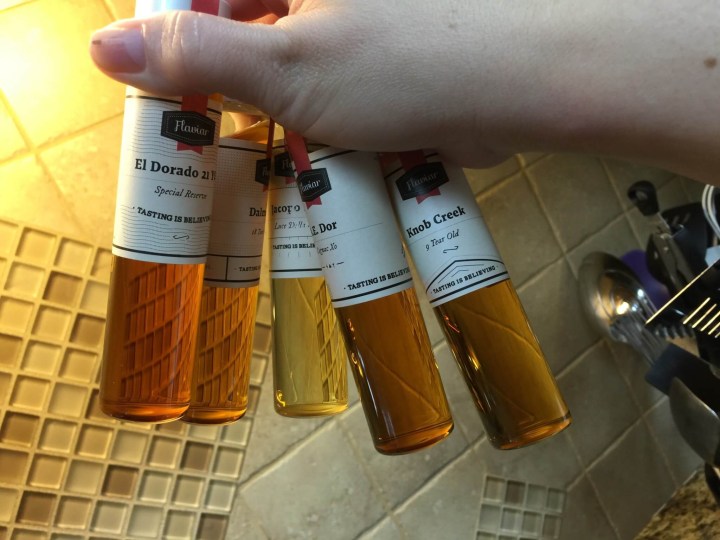 The five samples comprised whiskey and bourbon, frequent participants at tastings, but also a rum, cognac, and even a grappa :
El Dorado 21 YO Special Reserve:  This deeply-colored gold rum has a wonderful molasses flavor that starts light and caramely and turns toward blackstrap as the sip lingers.  Notes of spice — nutmeg, allspice, and clove — play heavily mid-tasting.  This spirit has a great, almost cloying sweetness and mouthfeel.  I felt this was the stand-out amongst the selections.
A.E. Dor Cognac Xo – Our guest taster thought this had the feel of a regular brandy more than it did a cognac.  It has a nicely developed, deep amber color, but the viscosity is very low.  There is no near-syrupy mouthfeel, and the sweetness is light.  The wood from the brief aging contributes a significant presence with a touch of bitter.
Dalmore 18 Year Old:  An orange and candy nose leads a avery smooth body and dry finish.  The comforting flavor of yeasty, hot bread permeates the middle of the sip and lingers.  This displays and interesting flavor trajectory, beginning nearly like a cordial, a bit malty and bready in the middle, and ending quite dry and slightly tannic, but fairly clean.  Faint caramel reasserts itself at the end of the long tail.
Knob Creek 9 Year Old:  Cinnamon, clove, and licorice complement the caramelly tones.  The grains assert lots of character, imparting a rye-like accent.  Dry wood dominates the long tail.
Jacopo Poli Luce Della Vite:  a bit of bright grassy nose greets the tongue, followed by a light sweet body and lots of heat.  Slightly medicinal at the finish, with some vermouth-like notes.
This collection was a little odd, in that it featured five distinct types of spirits.  This made comparison slightly futile.  It was, however, a nice way to taste five best-in-class offerings.  I imagine this pack will need some reimagining with the shift to a three sample format.  Perhaps they could offer a cordials and apertifs collection to further explore the grappa and cognac (whisky, bourbon, and rum are quite well represented in the Flaviar collections).
Note that this is the last month that Flaviar has featured 5 spirits – they have moved to a 3 spirit sampling model with an attendant decrease in price to $24.99! The box shown above had a $39.99 purchase price
Visit Flaviar to subscribe or find out more! You will receive your first tasting pack for $18.99 when you use this link.
The Subscription
:
Flaviar
The Description
: Subscribe, get a tasting pack and enjoy the carefully curated top-shelf spirits delivered every month. Taste fine spirits, build your home bar. Choose between tasting packs or full-size bottles.
The Price
: $24.99 per month