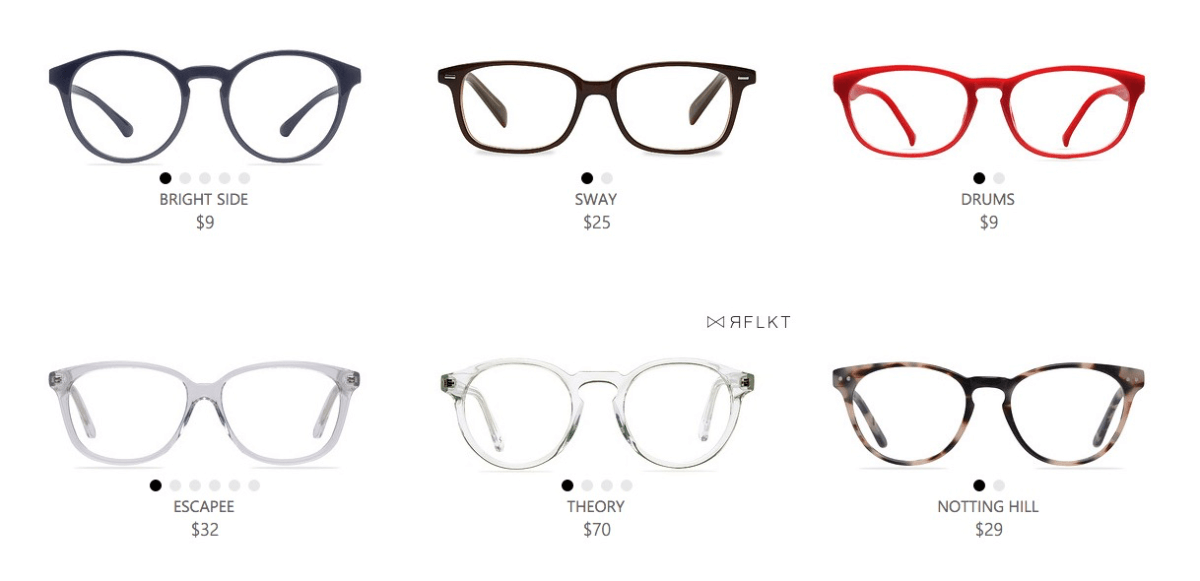 We recently discovered that our precious pumpkin (our 7 year old daughter) needed glasses. We've used Eye Buy Direct before and after poking around at a few other online glasses websites with kids/youth glasses, we decided to stick with them! We didn't love the extremely pricey selections in our local stores for kids' glasses (that we will probably go through like water, as they break and/or her vision changes) and although we randomly found an awesome pair of Hello Kitty frames at Walmart, the salesclerk wasn't helpful (we were ready to buy them, they wanted us to come back, so we just went home and bought some online!).
DEAL: Get 20% Off SITEWIDE with code EBD20 at EyeBuyDirect.com!
Buying glasses online isn't rocket science. You need your prescription, as well as your PD – pupillary distance – in order to have your glasses made. EyeBuyDirect didn't confirm the prescriptions with the doctor, but they did call to confirm that we ordered glasses for two different people in the same order.
Then you go and select your frames. It's super helpful to know the size of the glasses you prefer, because you can filter the available options based on your specs. We used this feature for my husband's frames.
We uploaded our daughter's prescription, including her PD, to our account, and set out to find the best glasses ever. I had pre-selected a few pairs and she ended up picking what I thought she might like. For kids the selection process was probably a bit easier because there are far fewer frames, and they are marked by size. XS was too small, Small seemed right for her.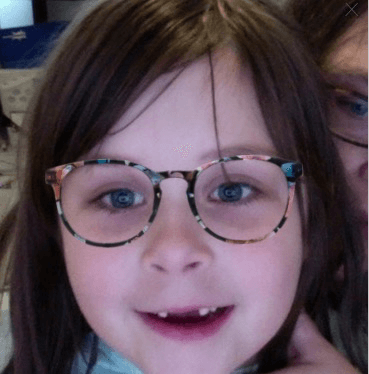 My daughter fell in love with the blue floral "Little Muse" frames. I think they're super cute!
She loved virtually trying on all the frames! You can upload a photo and set your PD and mark the center of your eyes, and Eye Buy Direct will show you an approximation of what they look like.
We ended up ordering 3 pairs – 2 sets for her, a pair of sunglasses, and a pair of glasses for my husband. Although my husband likes glasses ordered online, I haven't had a lot of luck the last few times I tried it – Warby Parker explained to me it's because my face is so small and they could do the glasses right if I went to an optician and had my eyes marked ON the glasses. That was too much hassle for me. So it works for some people and doesn't for others. When it didn't work for me in the past, Eye Buy Direct totally refunded my money, which is one of the reasons that I went back to them!
We spent $185.75 on 4 pairs of glasses, including $115.90 on my husband's ultra high index pair. EyeBuyDirect has frequent coupons and discounts right on their home page, so instead of including one that will become quickly outdated, just take a peek what they have. We used a BOGO frames discount code.
Yes, we spent less than $200 on four pairs instead of what would have probably run $500+ for the necessary two pairs!
I upgraded my husband's pair to include the premium packaging – you can see the difference in the boxes. It was just a few bucks!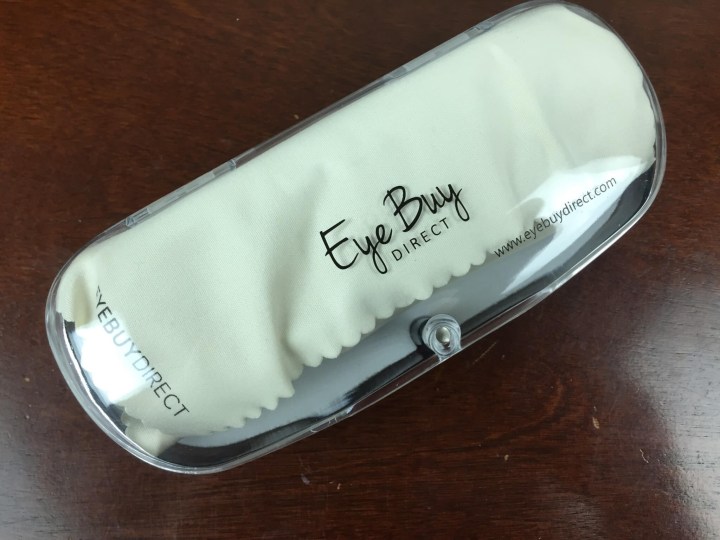 The regular pairs come in a plastic case with a microfiber cloth. My daughter filthified her glasses within just a couple of hours, so we were super happy to have 3 cloths just for her – although we're looking for one on a bungee that she can attach to the inside of her backpack!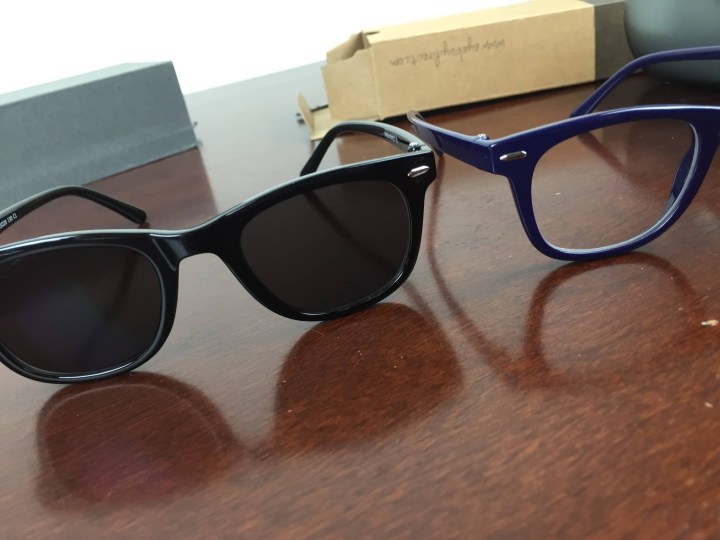 I couldn't get enough of these Wayfarer-style shades for my little one! The frames were $15 each, and the glasses cost about $35 each before any discounts. We ordered polycarbonate lenses (a must for children), plus anti-reflective and UV coating. This was less than half of the coveted Hello Kitty frames plus lenses (which didn't include any coatings).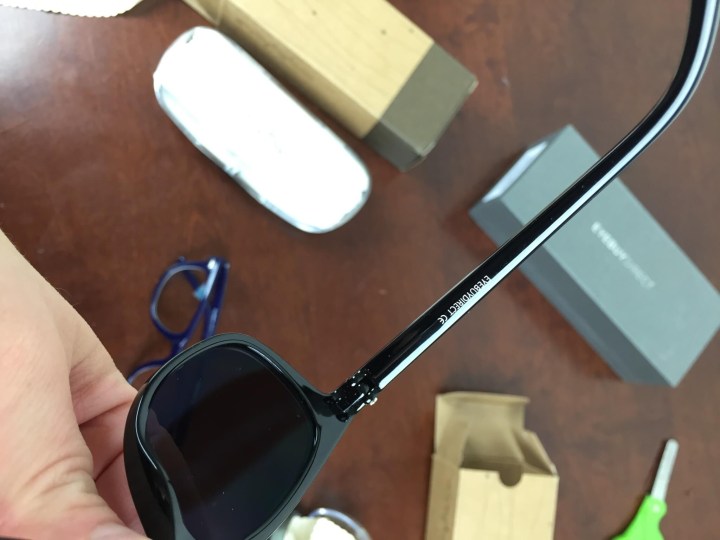 She's as pleased as punch! They're a little large for her face but in general for kids we like the really large field of vision (my husband's too-narrow lenses were what prompted him to get a new pair!).
We probably "tried on" all the youth glasses available. They came in about 2 weeks time, not too bad, but long enough that we were really relieved they came in!
She was thrilled with the way they looked and that she can see! I got to relive my childhood "OMG YOU CAN SEE INDIVIDUAL LEAVES ON THE TREES!" moments. The glasses actually came in the day before we left on a 2 day roadtrip, and we were regaled for hours with all the things she could see. These are my faves, but she's in love with the floral frames.
The upgraded packaging has a nicer box, plus a nice case for your glasses, and an eyeglasses screwdriver (plus of course, a microfiber cloth).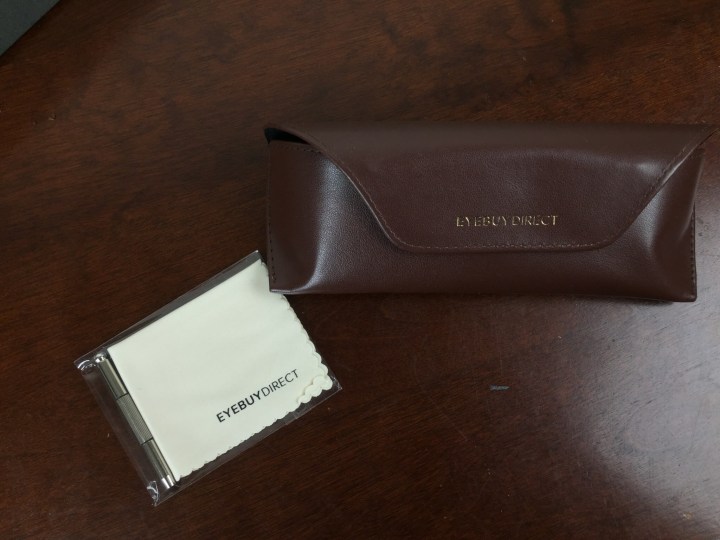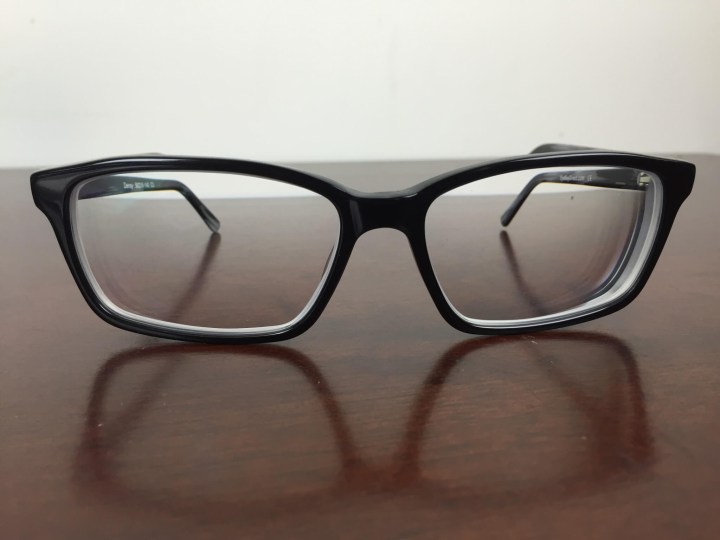 My husband selected the "Denny" frames. They were about $116 total – and $15 for the frames. He tried on a bunch virtually as well and eventually settled on these, using his frame size as a guide.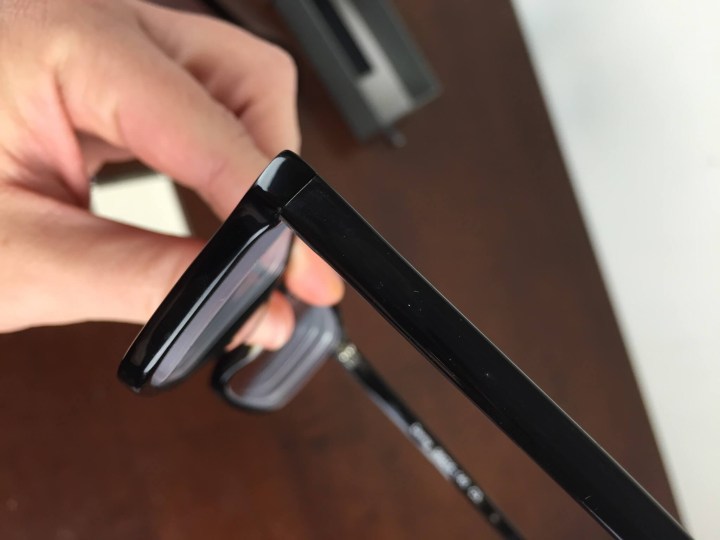 The rest of the money is in those big fat lenses! (I joke – my husband and I have the exact same rx – except I also have an astigmatism. Note that instead of trying out glasses online again I'm getting lasik in 2016.). He's THRILLED with these glasses, especially for driving, because they are taller and he can see more. These are 1.74 index lenses with UV-protective, anti-scratch, anti-reflective, and water repellent coatings. For the budget minded or those with less severe correction requirements, we could have saved $55 on the lenses by going for the 1.67 lenses. My husband would be happy with those for sunglasses, but not for his every-day pair.
We were really happy with our EyeBuyDirect experience, especially for our child! The glasses were economical and easy to order, and arrived in a reasonable amount of time. They aren't a good choice for an emergency pair, so we suggest you order them to have a backup pair and/or try out, before the need arises (it's also a great way to spend your FSA dollars, which are use or lose at year end!). My husband will absolutely be ordering a second pair, perhaps for computer use (they will cut the lenses for different uses), as well as a pair of prescription sunglasses. We have our daughter set up with a backup pair already, so as we need to, we'll just replace them as we go along.
If you're looking for a new pair, you can visit EyeBuyDirect and check out all their selections. Let me know if you've ever bought glasses online and if they worked for you in the comments!
Hello Happies is where we review things that aren't in subscriptions, or otherwise make us happy!