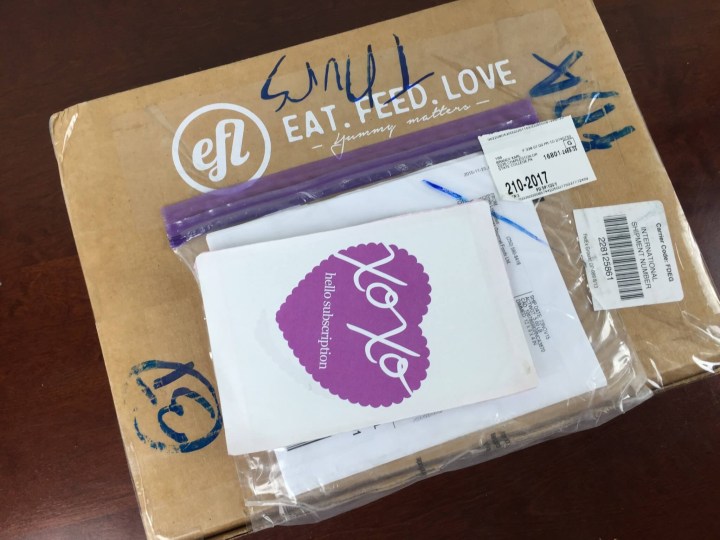 Eat Feed Love Taste Club is a monthly gourmet food and cooking box from Canada.  Every box will contain a spread of artisan food themed together to make a feast, or to use individually, along with all the recipes you need to make it happen. I love their tagline – Yummy Matters! Because the box does ship from Canada it may be covered in all sorts of marks like mine!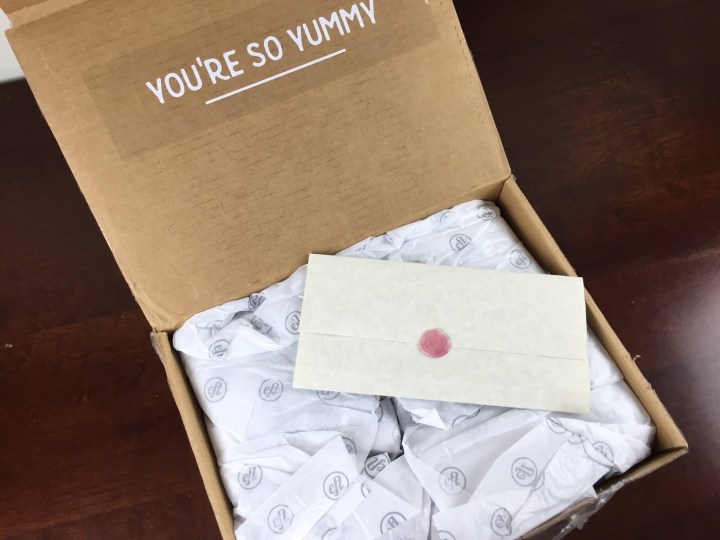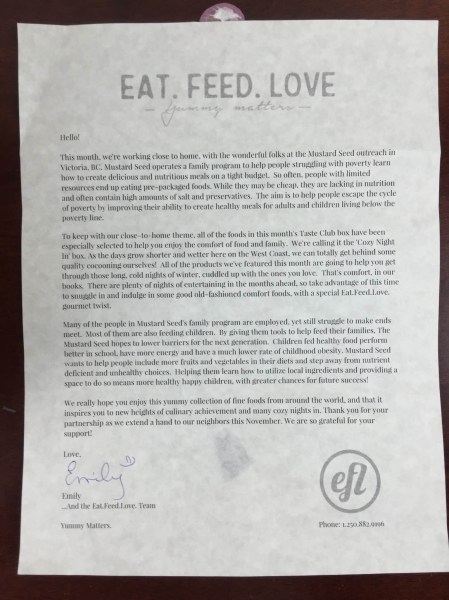 Every box comes with a curator's letter about the theme – Close to Home for November – and the monthly charity, Mustard Seed, which works to fight poverty and hunger in Victoria.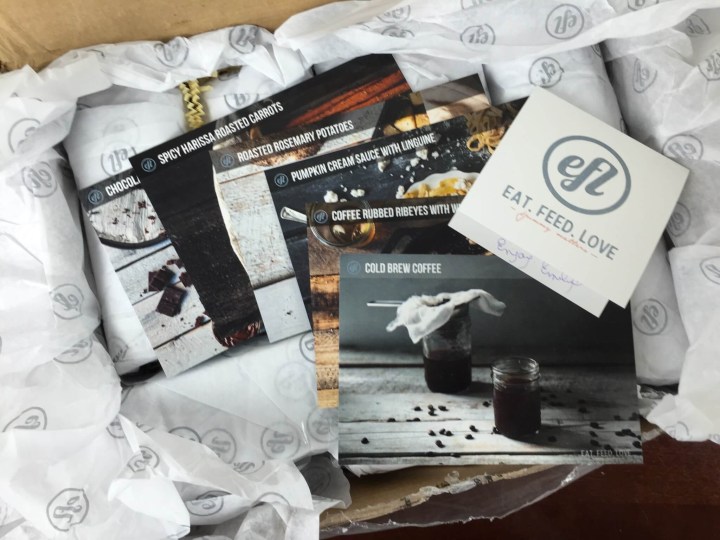 This box is gorgeous when you open it. I found 6 beautiful full-color recipe cards.
And I was really excited by those harissa carrots! The theme of the recipes is "Cozy Night In" and it looks like a really fabulous night in to me.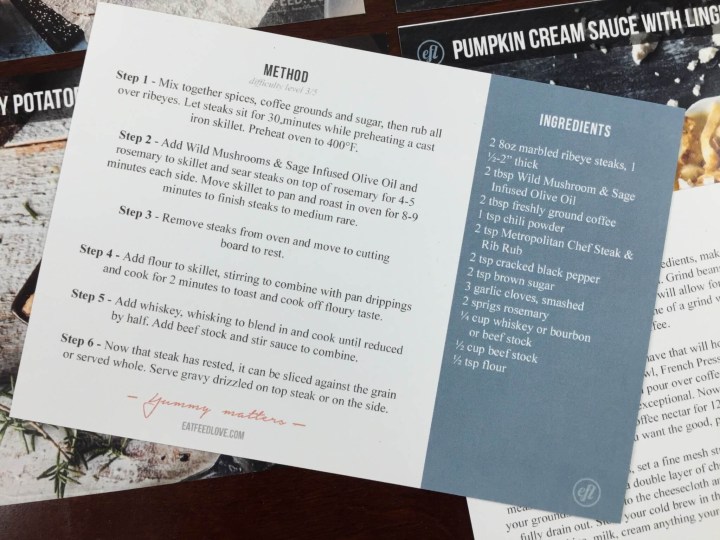 The recipes include step-by-step instructions!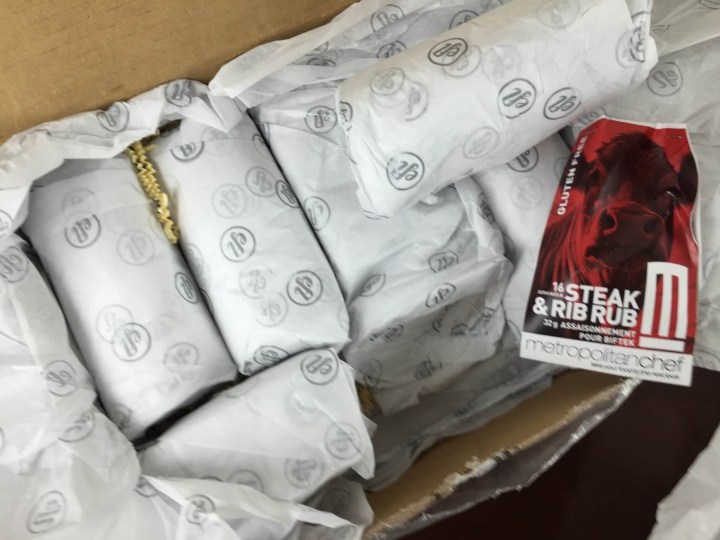 I was so impressed with this packaging I had to take another photo while I was unboxing (which took quite some time – every single item is wrapped and all the glass items are bubble-wrapped inside. That steak rub was wrapped up, and I thought it was packaging, but no, it was an item. Every single cubic centimeter of this box was filled with product.
Everything in the box! FYI this box does have variations. Also, all unlinked food items may be found in the Eat Feed Love Taste Club Shop!
Olive the Senses Black Cherry Dark Balsamic Vinegar ($5)
Olive the Senses Harissa Infused Olive Oil ($5)
Olive the Senses Mushroom & Sage Infused Olive Oil ($5)
This is a really lovely trio of oils and vinegar! The black cherry was totally scrumptious (I'm dreaming of ways I can use this and just lapping on a spoonful here) and I think the harissa olive oil is a totally fabulous way of infusing that flavor quickly and easily into veggies and roasts. I'm not wild about mushrooms but the mushroom & sage will add terrific depth to a meal.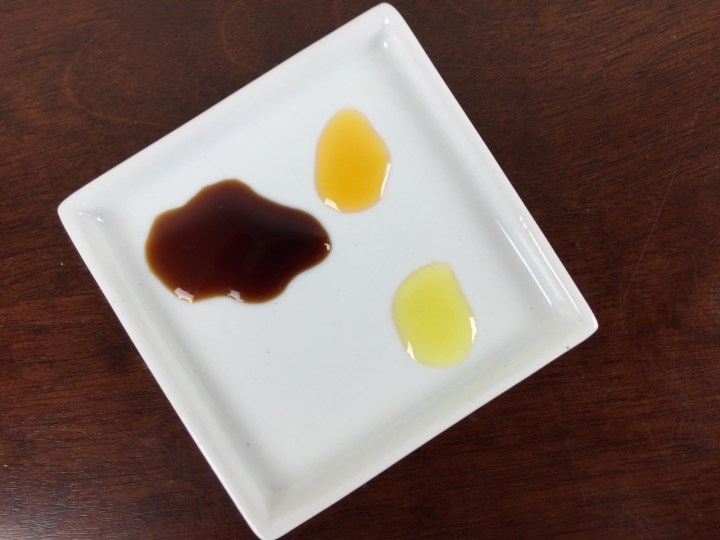 Black Cherry (left), then clockwise the harissa and mushroom.
Amola Garlic & Rosemary Salt ($10) This is the most gorgeous food packaging ever. I pretty much had to show all sides of the box!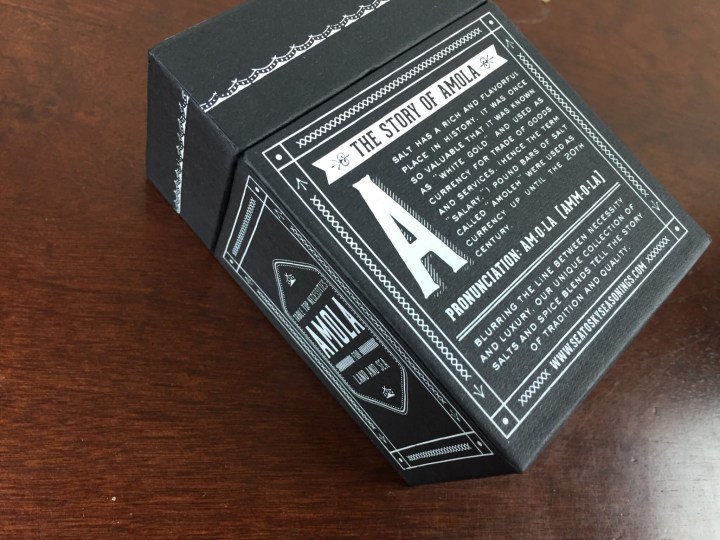 It's like the hippest salt to have ever existed.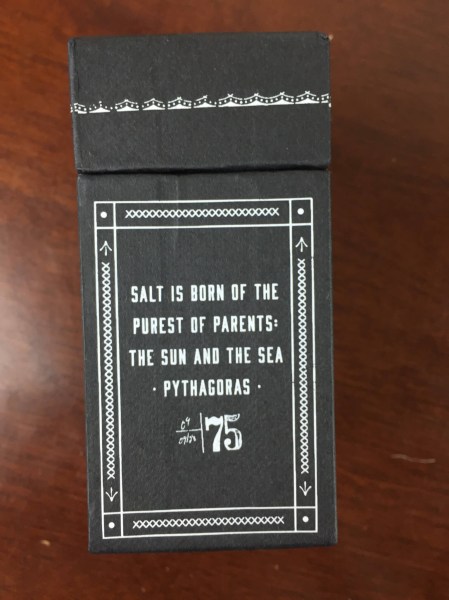 Look at the details on that box!
The salt itself was divine – still slightly moist and infused with rosemary and garlic. This is an awesome every day salt and I totally need to try their bacon salt now. And the molé salt too! I hope they put more variations in future boxes!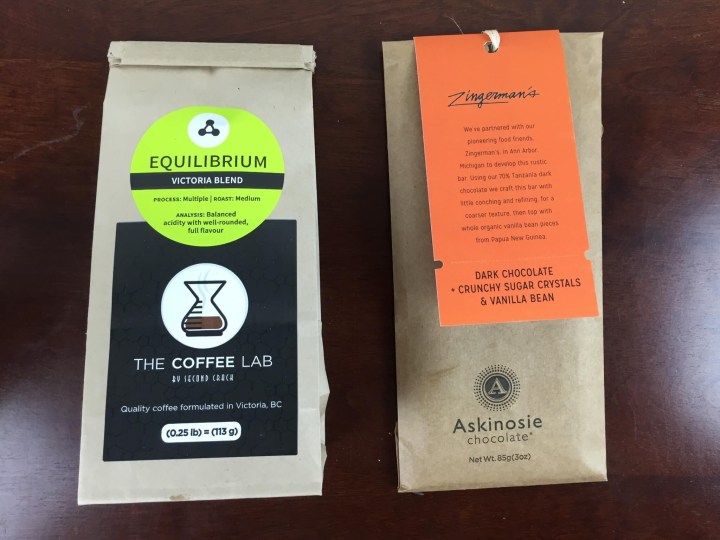 The Coffee Lab Equilibrium Victoria Blend ($4) A nice every day roast: "this medium roast coffee has balanced acidity and a well rounded and balanced full-bodied flavor."
Askinoskie x Zingerman's Dark Chocolate + Crunchy Sugar Crystals & Vanilla Bean Chocolate Bar ($9) I about died when I saw this!
We handcraft this single origin 70% dark chocolate with cocoa beans we source directly from farmers in Mababu, Tanzania plus 30% organic cane sugar. Pieces of whole, organic vanilla bean (from Papua New Guinea) sprinkled on the back of the bar add a heady aroma and texture to our fruity Tanzania dark chocolate. In tribute to traditional Mexican-style chocolate, we've done no conching and very little refining, so the bar's texture is coarser and more rustic than most.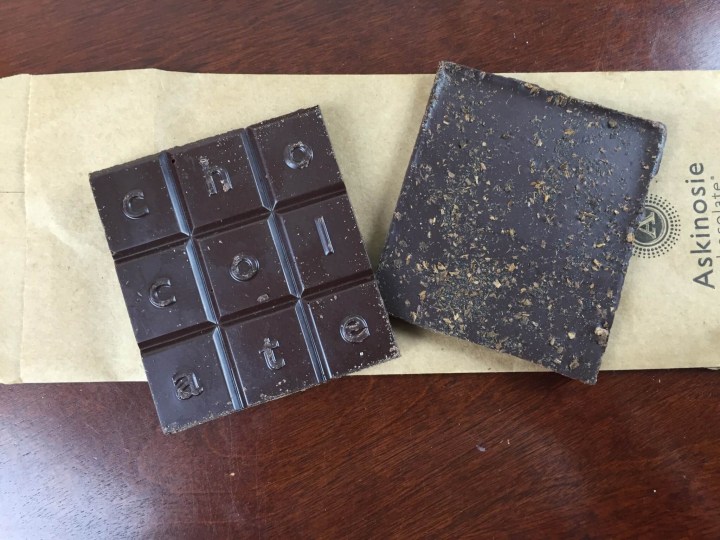 I'm actually totally unclear what Zingerman's has to do with the bar, but it was delightful and those sugar crystals were to die for. I love crystally-any-food – it really activates your taste buds (ever tried aged gouda?). The vanilla flavor in this is pure and natural and unprocessed.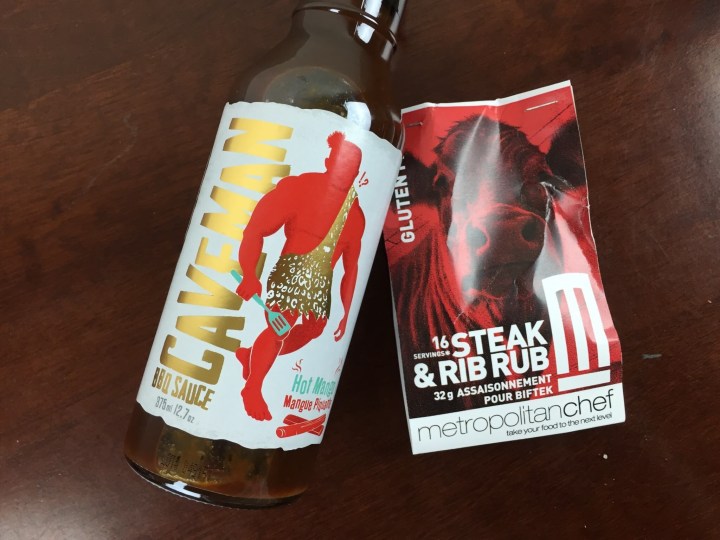 Caveman BBQ Sauce – Hot Mango ($7) This was a delicious not too thick barbecue sauce that is really flavorful but not too hot – the mangos mediate the spiciness and just provide a great tropical taste. The tamarind in this sauce enhances it further.
Metropolitan Chef Steak & Rib Rub ($4) This is a smokey and flavorful rub and I totally hear ribs calling my name with this combo!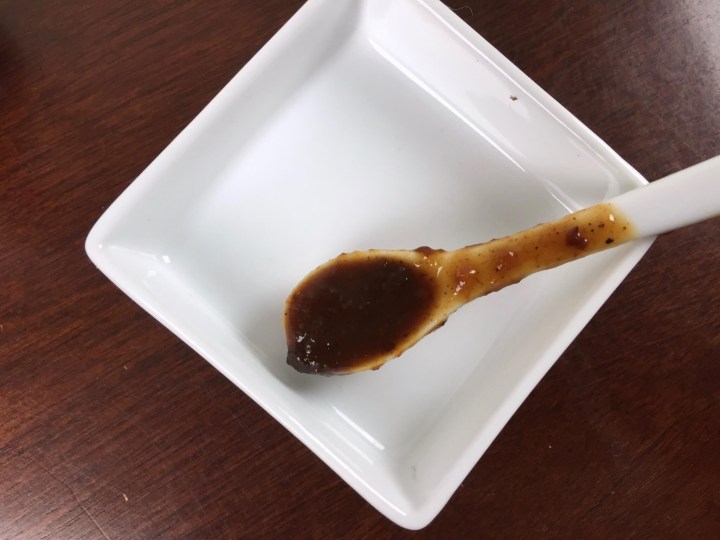 For an artisan food box this subscription packs in incredible value – $49 (USD!) worth of gourmet products into a $40 box (this is very very good for a food subscription). I was totally impressed and loved every single item. I've been browsing their shop and saying to myself I want that (chocolate balsamic) and that (Pommery fig mustard) and that (ALL the artisan chocolate in their store). I can't wait to see the next box!
Visit Eat Feed Love Taste Club to subscribe or find out more!  Save 50% on your first box! Use coupon code  HelloSubscription. Good only on month to month plan.
The Subscription
:
Eat Feed Love Taste Club
The Description
: Get a delicious box of goodies delivered to your doorstep every month! Each box is packed full of hand selected artisan products from all over the world, assembled by our genius kitchen team. Every month we feature a different theme and include carefully crafted recipes to help inspire your inner cook. Join the club to help spice up your home cuisine or host the perfect dinner parties with all your new foodie discoveries. Your sample delivery will include a variety of spreads, condiments, jams, honeys, syrups, cooking sauces, oils, vinegars, salts, spices, seasonings, chocolate and cocktail mixers. Not only is every box filled with delicious goodies, its also a great way to give back! Every month we team up with a different organization or cause that we feel is doing important work and allow them to share in the proceeds.
The Price
: $39.95 per month