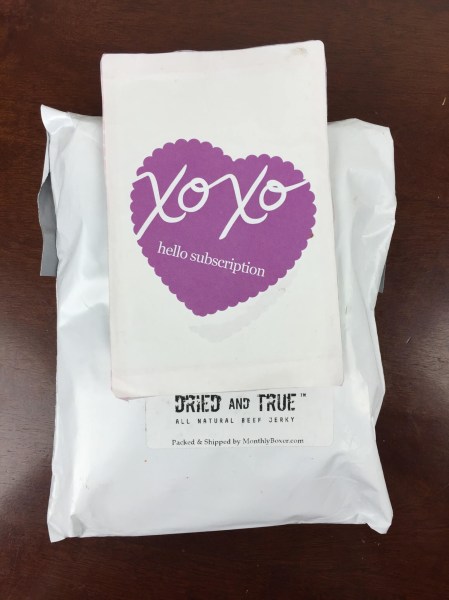 Dried and True Beef Jerky is a monthly beef jerky subscription. Every month you'll receive all-natural hand crafted beef jerky made from locally raised beef in California. All the jerky is free of chemical preservatives, artificial ingredients, and nitrates/nitrites.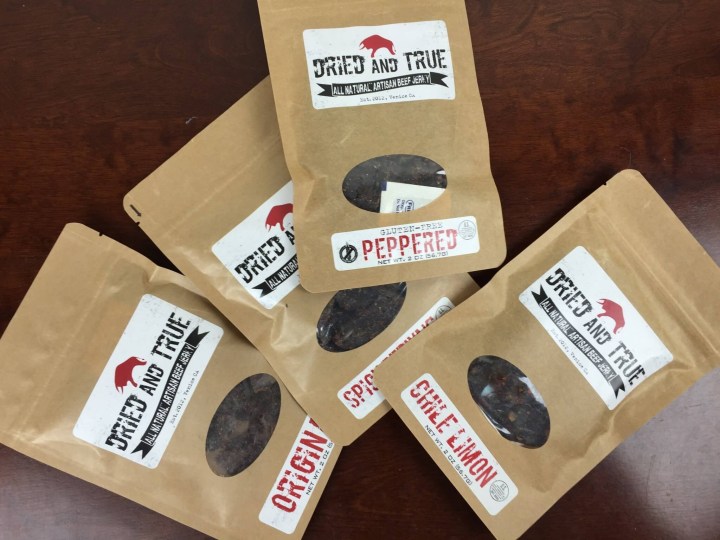 All the jerkies are packaged in artisan-style resealable bags. We received one bag of every flavor they make. After getting your first box (or for your first box even) you can customize the flavors you receive.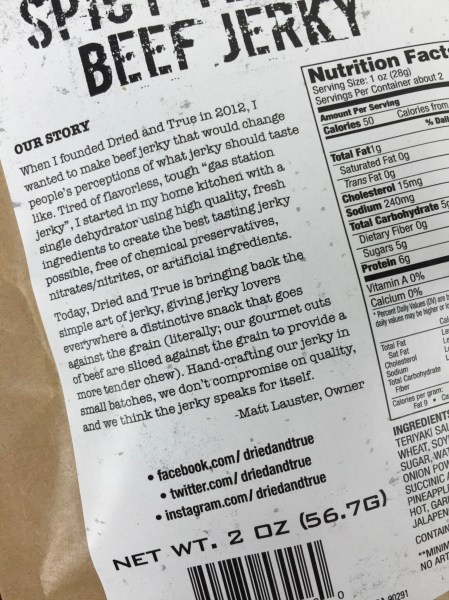 Matt Lauster owns Dried & True and the back of the bag notes that his inspiration was basically to be the complete opposite of gas station jerky!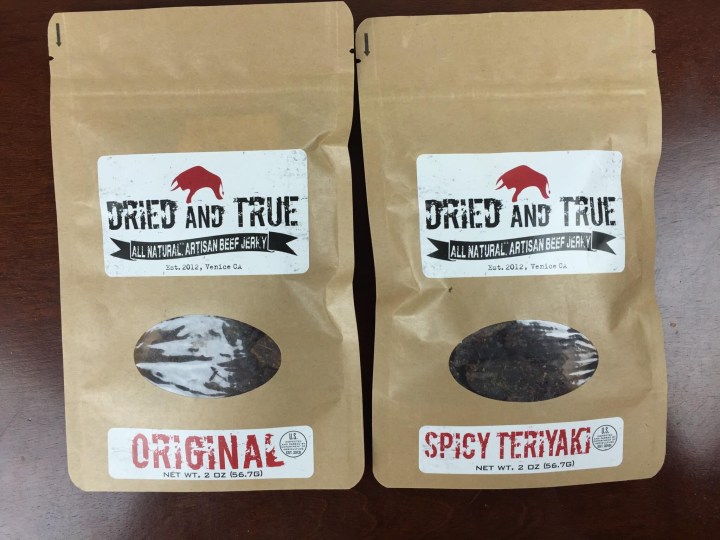 Original: Really tender and sweet – not spicy at all. You can taste the soy a bit, it's a good all around marinade!
Spicy Teriyaki: This one was chewier than the others, with a slowly developing heat paired with the sweetness of teriyaki.
Peppered: This one was quite peppery! It turned my 79 year old grandma off a bit but… she kept on going back to it! She was totally surprised that she ended up loving it!
Chile Limon:  Slightly spicy and peppery, the teriyaki comes through more than the lemon, but it's in there – sort of like ponzu! I had a couple pieces of this one that were actually a bit fiery!
We loved the best by date far into the future – this jerky was fresh!
We were totally impressed by the flavors and textures of these jerky. They all have a nice chew, and were never dry or stringy. Enough moistness to keep it from dry but not too moist.  We loved the flavoring and agreed that this was top-notch artisanal jerky!
Visit Dried and True Beef Jerky to subscribe or find out more!
The Subscription
:
Dried and True Beef Jerky
The Description
: Receive a minimum of 4 bags of jerky a month delivered right to your door. Customize your flavors or even try a trial box with all 4 flavors!
The Price
: $39.00 per month