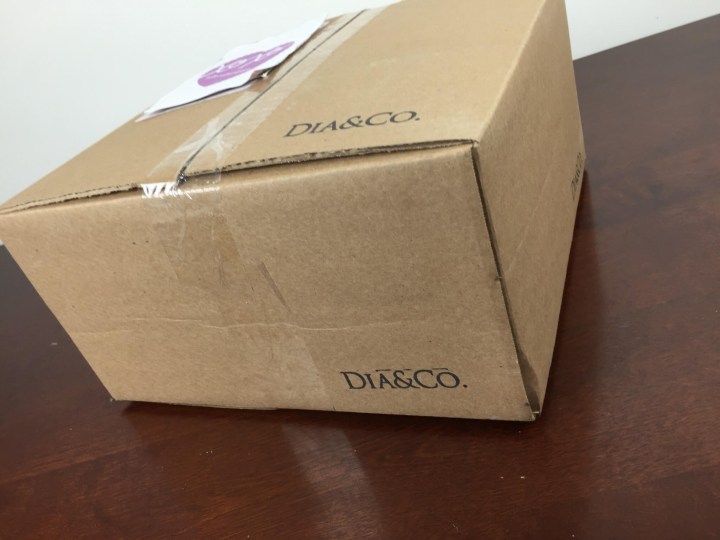 Dia & Co is a monthly personal styling subscription for plus-sized women. It's pretty much just like Stitch Fix for plus sizes – Fill out your profile and sizing information, pay a $20 styling fee (refundable against anything you choose to keep), and have 5 items selected by a stylist sent straight to your home to try on. Dia & Co includes free shipping each way. If you keep all 5 items from your box, you'll receive a 20% discount.
The box itself came packaged very neatly.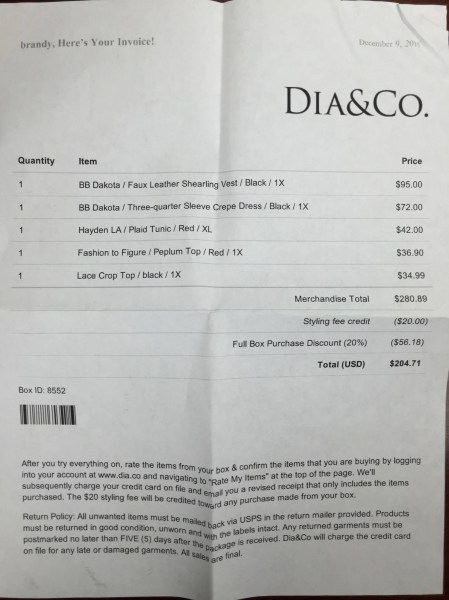 It included an invoice showing the price of each item plus my potential discount.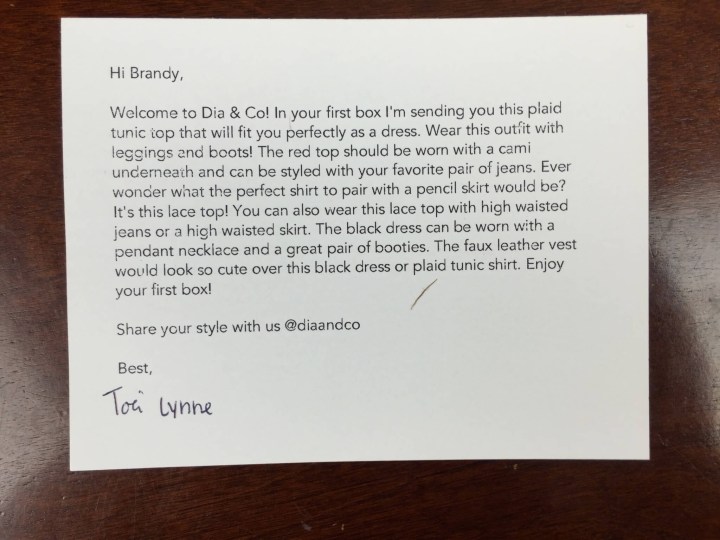 A stylist's letter was included too.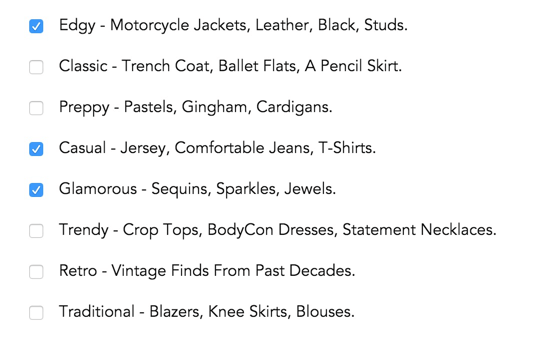 When I signed up, these were the styles I selected. I also wrote that "I love ponchos, capes, etc." and noted that I like critter prints. I should also say that I'm an avid Stitch Fix subscriber and live in the land where I can use both services (I generally wear a large or XL). I'm apple shaped so oftentimes plus size clothes fit me better, but often they don't.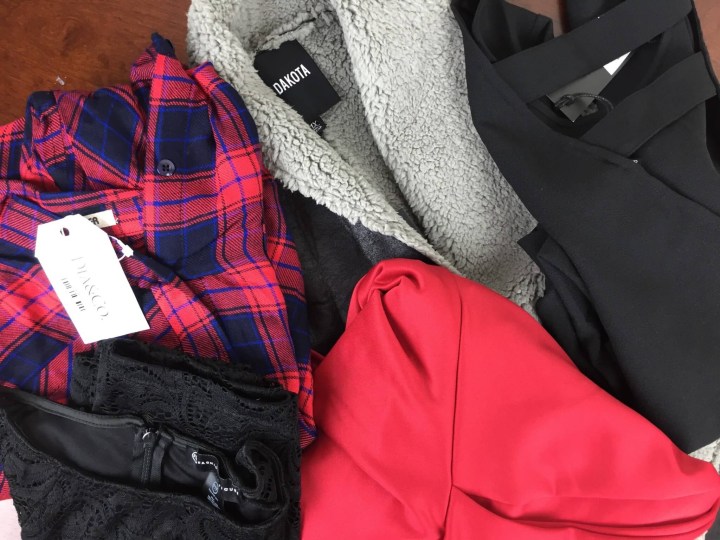 Everything in my box!
Lace Crop Top – $34.99: I honestly could never see myself wearing this piece! It was somewhat obscenely short and the sleeves were out of control! I questioned why they would send this to someone who indicated they were apple-shaped!
Fashion to Figure – Peplum Top – $36.90: I loved the idea of this top (and the price!). The color was great and the top part looked good on me (note that we stuck it on top of the lace shirt for this photo – you have to wear something underneath it, unless it's Valentine's Day and, well, you know).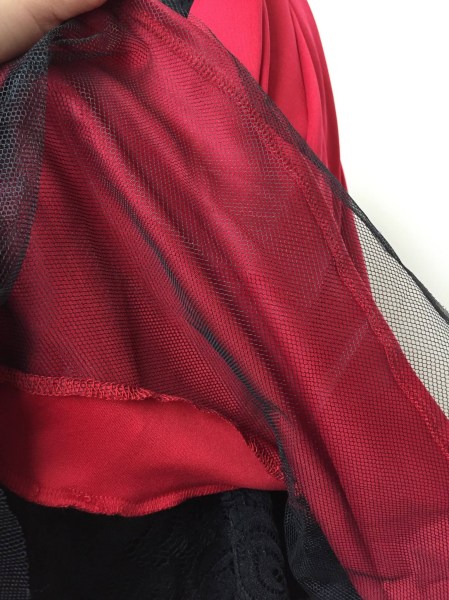 The bottom peplum didn't work for me (again, why send this to someone with my body shape? I just didn't get it!).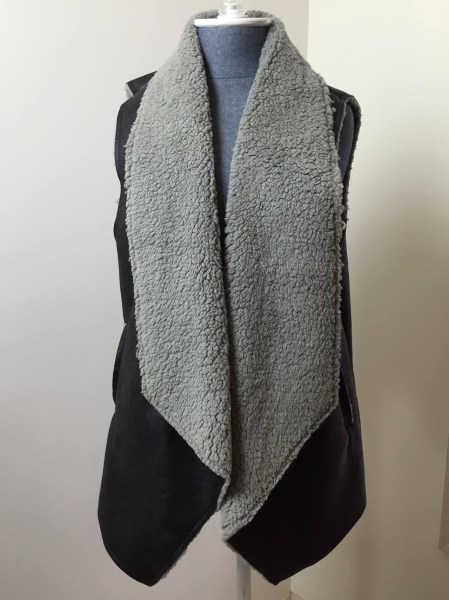 BB Dakota – Faux Leather Shearling Vest – $95.00: This was a pretty big no for me. I don't think vests are flattering at all on me, although at least this one is lengthening.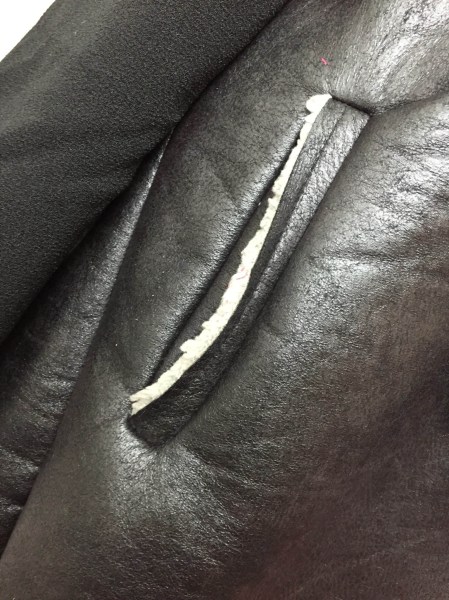 It had nice pockets and is from a respected brand.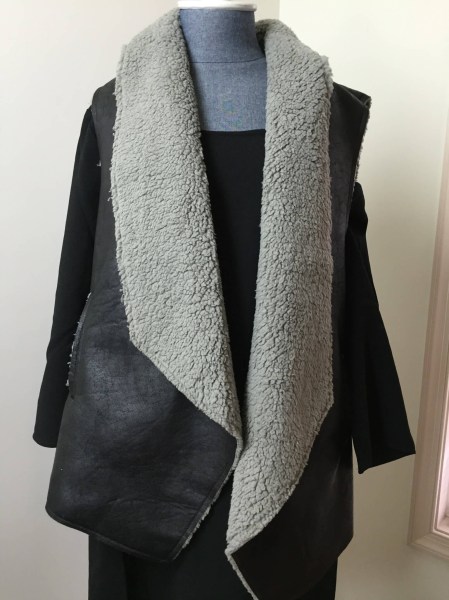 The stylist suggested wearing it with the dress below.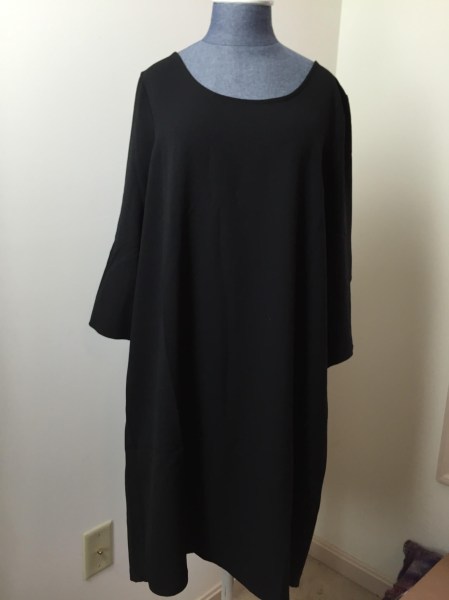 BB Dakota – Three-quarter Sleeve Crepe Dress – $72.00: I gave this dress the benefit of the doubt, but it looked like a bag when I was wearing it too. It may look great on someone else, but I prefer a shaped cut.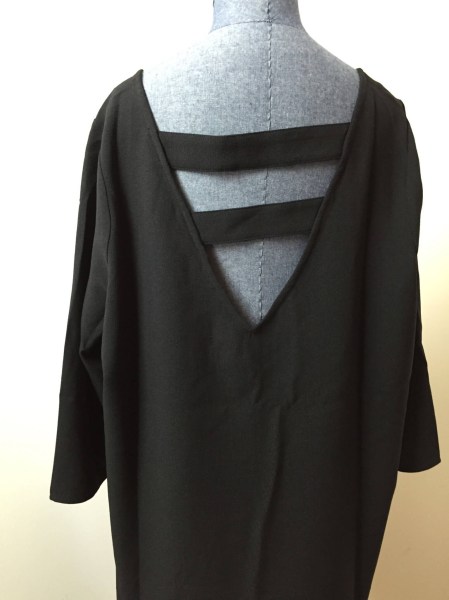 Surprisingly I could wear this dress with a bra!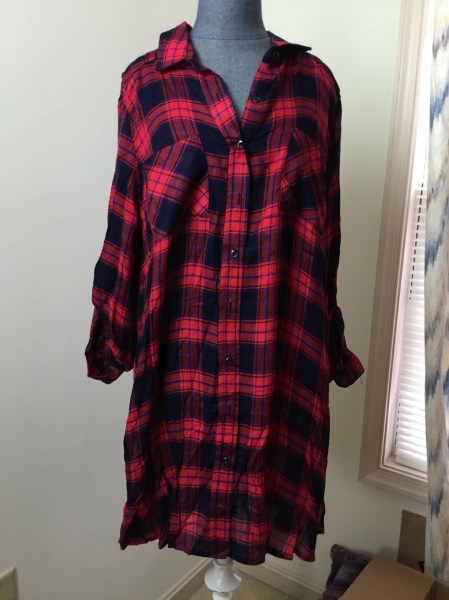 Hayden LA – Plaid Tunic – $42.00: This one was actually a bit tight on my chest, although the stylist did take note of my height and said I could wear it as a dress (she was right).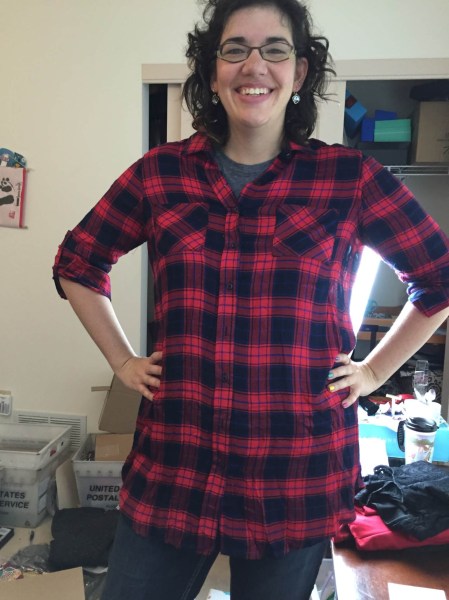 Jen was in town that day so I made her wear it. She thought it was too big on the bottom, and she's an entire foot taller than me (and the best best friend ever. Also, she's going to make me put photography signs on my front door…).
I had quite a mixed experience with my first box and didn't keep any items. I left my criticisms (whyyyyyy lace top whyyyy) for the stylists and honestly have been a little surprised they didn't reach out to me as a customer and refund my styling fee. I thought the first two choices were total misses. I generally enjoyed the style of the items but I felt the specific things I mentioned were ignored and that the stylists didn't take into account the whimsical sense of clothing I have (hello critter prints!!) when selecting the items. I'm hoping for a better box next month. Have you tried Dia & Co?
Visit Dia & Co to subscribe or find out more!
The Subscription
:
Dia & Co
The Description
: Dia & Co specializes is sizes 14-32. Complete your online style profile. Tell us about your unique style & shape. Keep what fits, return what doesn't. Only pay for what you love. Like Stitch Fix for plus-size.
The Price
: $20.00 per month