BattlBox is a monthly tactical and survival gear subscription box. Every month you'll be shipped a selection of gear all themed around a monthly mission or survival/tactical scenario. BattlBox does have three levels of subscription, we received the "Pro Plus " Box to review.  I want to be very clear that, although the monthly theme is fun and playful, this box contains REAL knives and other tactical gear — it does not contain toys and is not appropriate for children.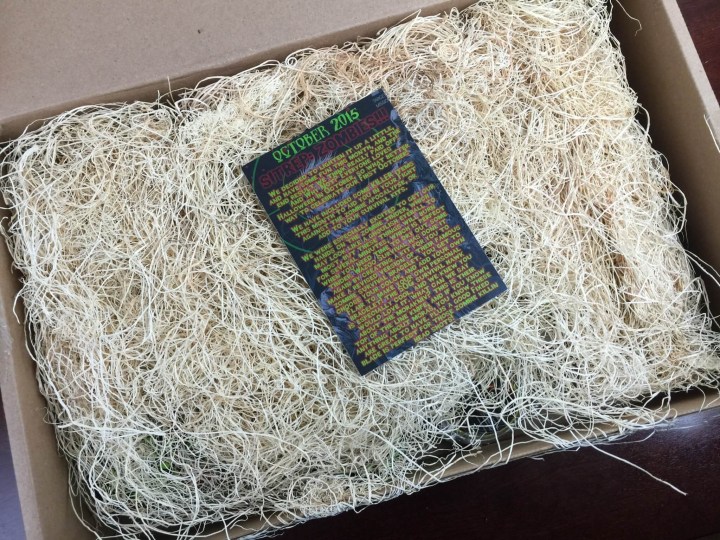 Due to a shipping error (not BattlBox's fault), we just received the October Box. And it was awesome!
We have to agree – Zombie was an awesome theme for October.  It fit right in with Halloween, and it was a great way to work in some cool items from the burgeoning zombie-themed survival gear market.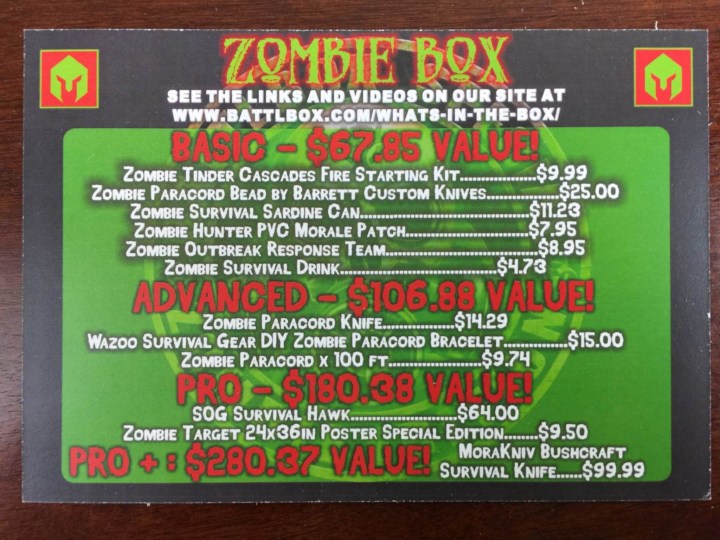 The information card lists the items and the values of each one. The Basic BattlBox runs $24.99 per month + $5 shipping, Advanced is $49.99 per month + $5 shipping, and the Pro is $99.99 per month (free shipping). There's also the Pro + — for an additional $50 per month you'll receive the "KOTM" – The Knife of the Month (aka the Kickass Blade of the Month).  The box shown in this review is the Pro +, a $280.37 value for $149.99!

Zombie Paracord x 100′ ($10.99):  550 paracord in a bright green and black houndstooth.  There is no shortage of uses for this stuff.
Zombie Paracord Bead ($25):  A cool zombie head.  Use it to count pace or decorate your gear.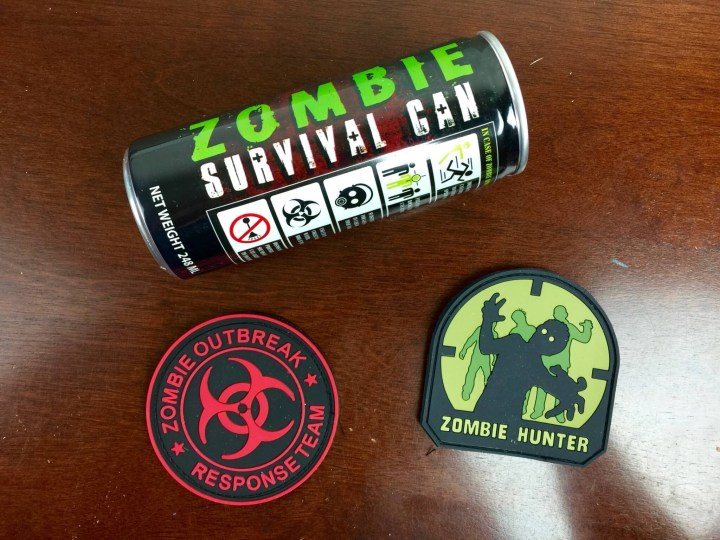 Zombie Survival Can Energy Drink ($5):  A high-caffeine beverage to keep you moving.  The back of the can has some fun suggested uses to get the most out of the can in a survival situation.
Zombie Outbreak Response Team PVC morale patch ($7.99):  Made of strong PVC, this patch is durable and light.  The back is covered with velcro to allow easy sticking and removal.
Zombie Hunter PVC morale patch ($4.95):  Similar construction as the previous PVC patch, with a zombie in the cross hairs design.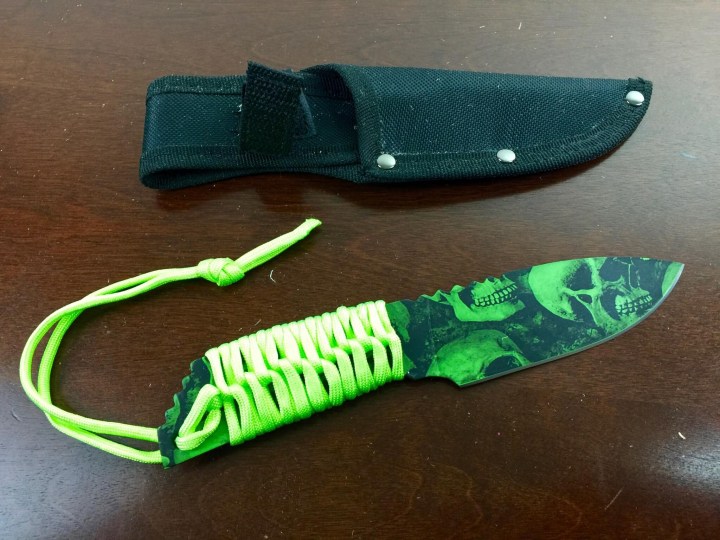 Wartech Biohazard Paracord Wrapped Zombie Knife ($14.29):  When wrapped, the paracord makes a comfortable handle and pull loop.  It can be removed if needed for other uses.   Comes with a  heavy-duty nylon sheath.
The knife itself is single-sided with thick spine and handle.  A flat-edged (thick, unsharpened) sawtooth design in on the base of the spine and the butt.  Both side of the knife are decorated with a green skulls pattern.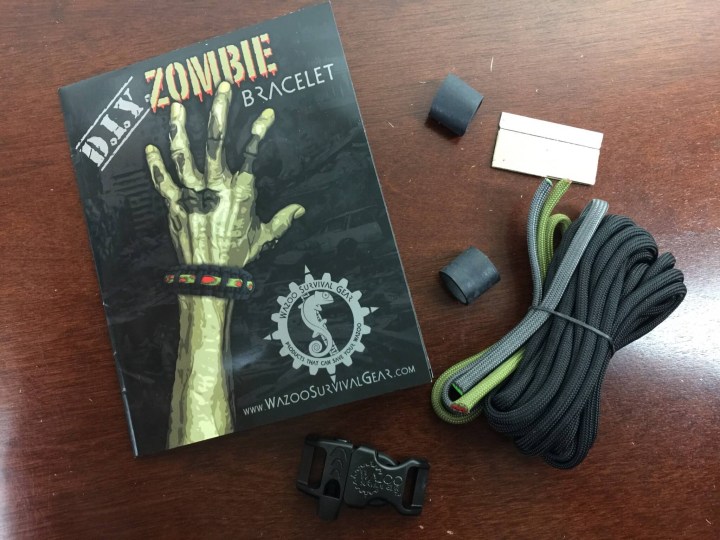 Wazoo Survival Gear DIY Zombie Paracord Bracelet ($15):  This is a fun DIY/craft item!  The finished bracelet holds a length of paracord for emergency use, as well as ceramic-bladed flint starter lodged in the buckle.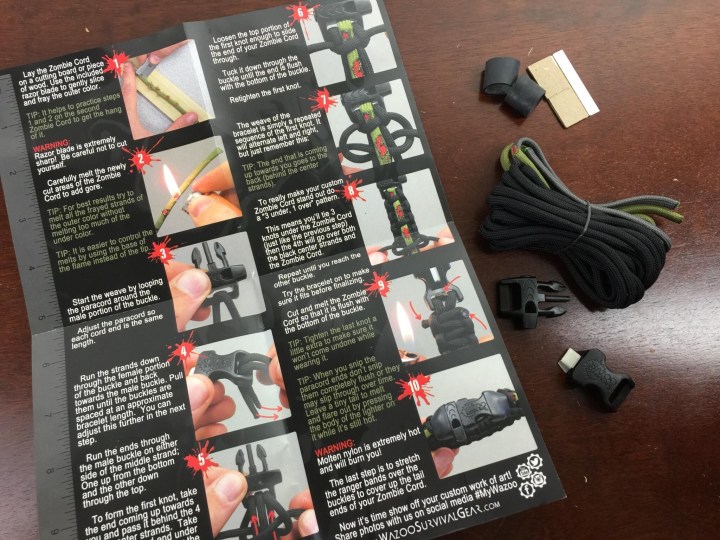 The enclosed razor blade can be used in conjunction with a lighter to make cut-aways in the outer sheath of the cord, creating a cool rotting flesh pattern.  Two styles of dual-colored cord are included.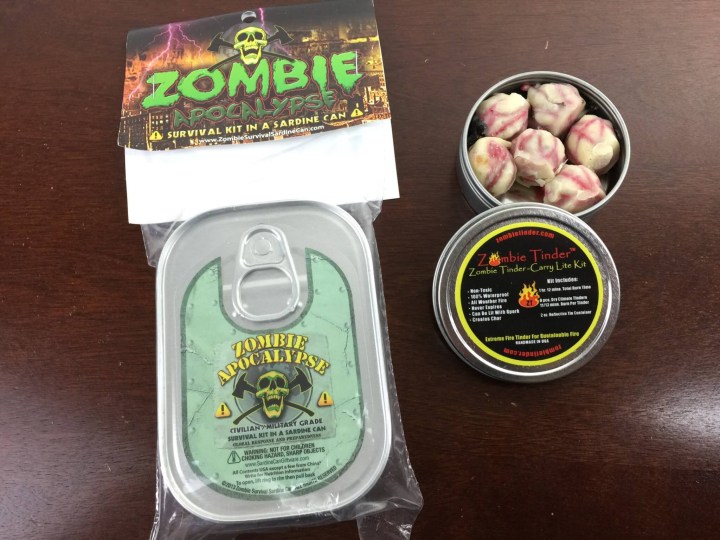 Zombie Survival Sardine Can ($16.50):  This waterproof tin is super-light and compact, keeping over a dozen useful survival items dry and safe until needed.  The can itself can also be used as a heatable, waterproof (except for the big opening) container.
Zombie Tinder ($8.95):  These wax bulbs have a wick and burn for over 10 minutes each, allowing you to ignite less-than-perfect tinder.  And the box packing material is great tinder!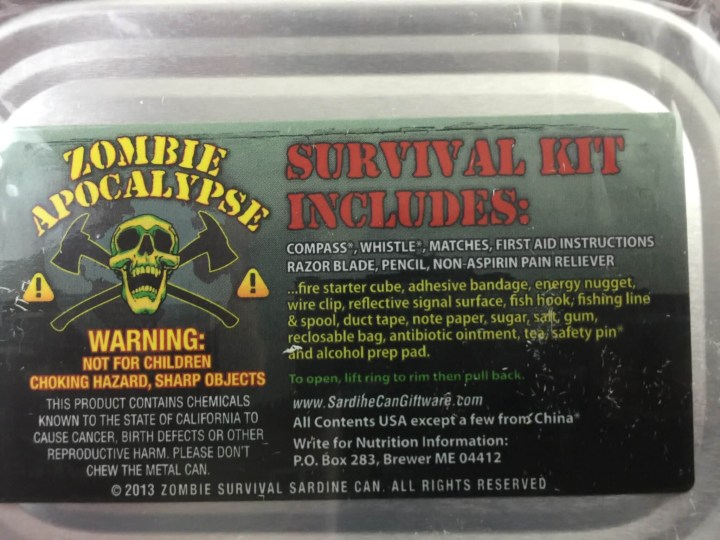 The can contains primarily USA-made survival items ranging from first aid to food and orientation essentials.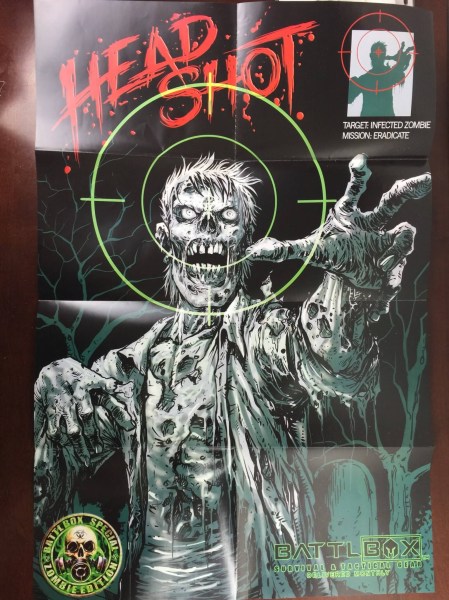 Zombie Target Poster ($9.50)  A big poster target featuring an undead.  Only headshots count, of course.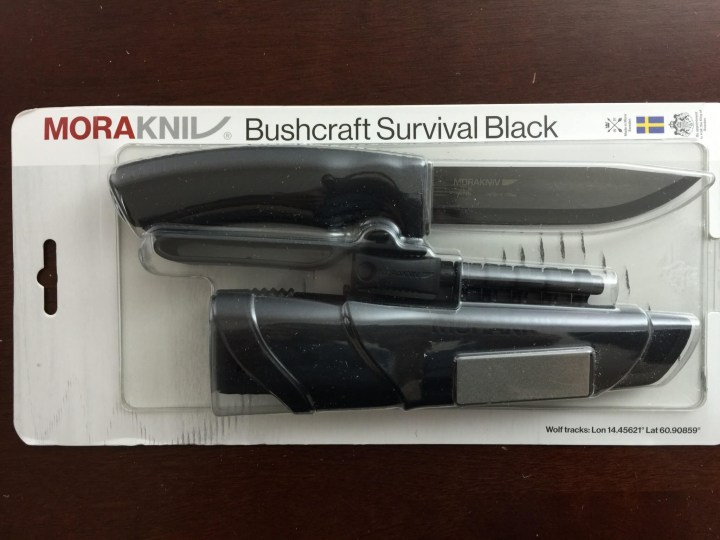 Morakniv Bushcraft Survival Carbon Steel Fixed Blade ($62.94):  This carbon steel blade is awesome.  It is coated in corrosive resistant black, and has rubberized contour handle for sure grip.  The durable sheath has a firestarter "flint" kit that is good for 7000 strikes and throws 3000 degree sparks.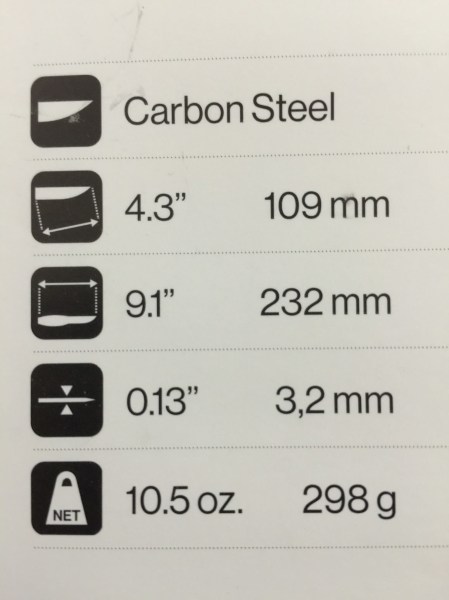 Some essential info on the Morakniv.
SOG Survival Hawk Tomahawk ($32.99):  This tomahawk is pretty badass.  It features a 3″ blade with pointed, dual-edge striking tip.  The tail has a wire puller/breaker.  The handle houses the full tang construction and is wrapped in glass-reinforced nylon paracord for comfort and grip.  The base of the handle also holds a ferrocerrium firestarter.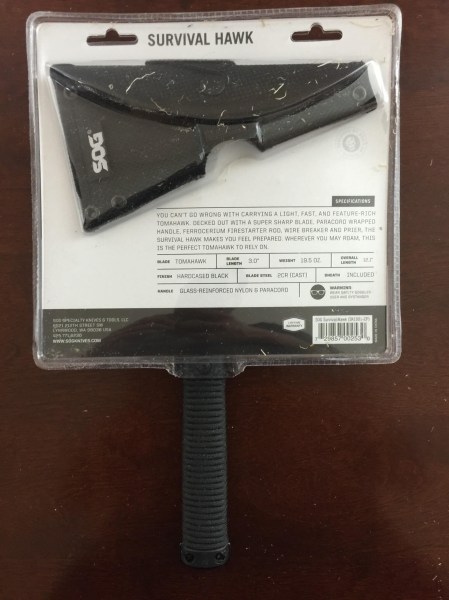 Included is a hard case to protect the blade and yourself.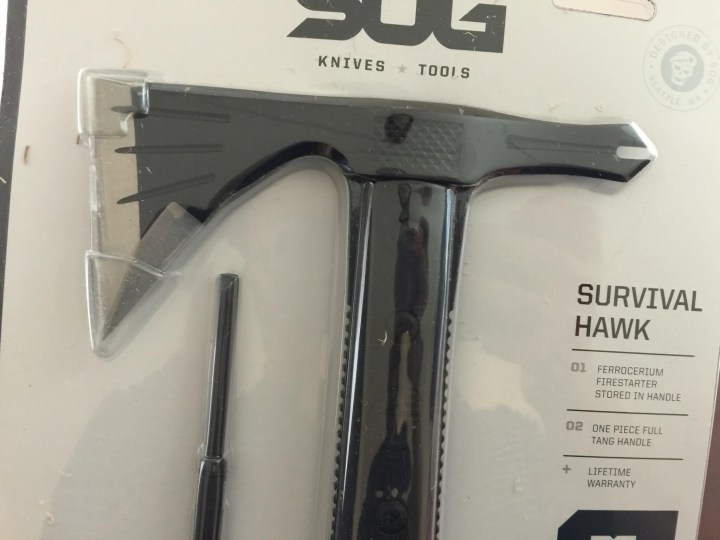 The Survival Hawk has a lifetime warranty, and it doesn't say anything about zombies voiding it, so we're good to go.
This box was really awesome and had lots of fun items with great usefulness.  I was completely surprised to see the Survival Hawk and MoraKniv in the box — what incredible pieces of hardware!  Too cool.
We think any survivalist or tactical gear aficionado would be happy with any one of the BattlBox levels, but the Pro+ is pretty awesome!
Visit BattlBox to subscribe or find out more! Save 10% on any subscription. Use coupon code CJMRKTPLC10.
The Subscription
:
BattlBox
The Description
: Be prepared with BattlBox. We deliver survival and tactical gear monthly.
The Price
: $29.99 per month