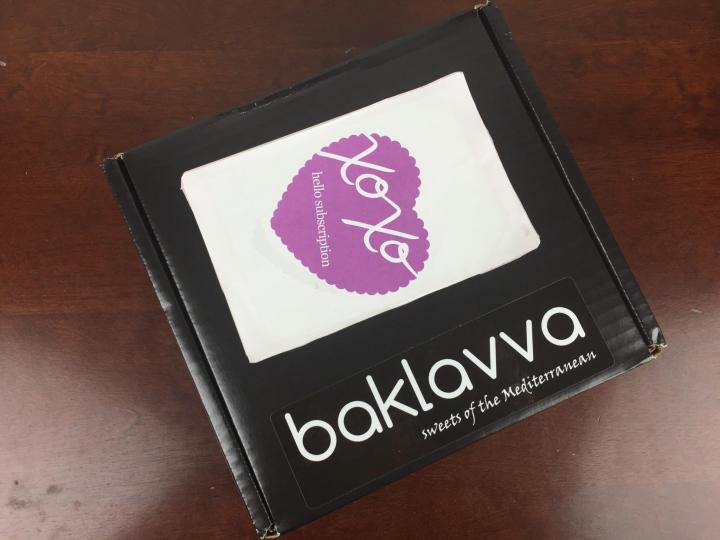 Baklavva is a monthly subscription that delivers fresh, authentic Mediterranean treats directly to you.  Each month will have a different mix of varieties of baklava, each varying in filling, shape, composition, and adornment.
The outer box was wrapped in plastic to maintain the freshness, and the interior was also padded with bubbles.
The info card helps put a face to name, so to speak, but it doesn't list the particular composition of each treat.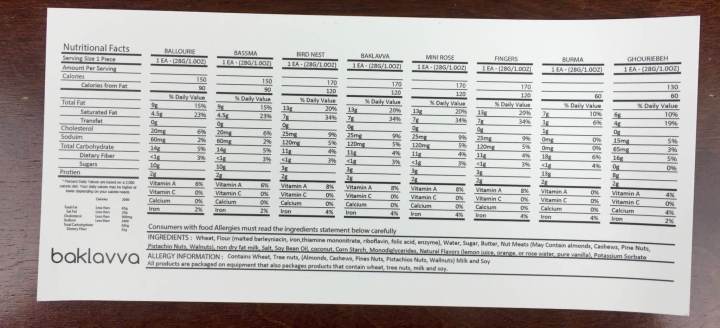 Similarly, the nutrition card lists the possible contents of all the treats together and nutrition info for the individual types of treat, but it is anyone's guess as to which nuts and seasonings go into each treat.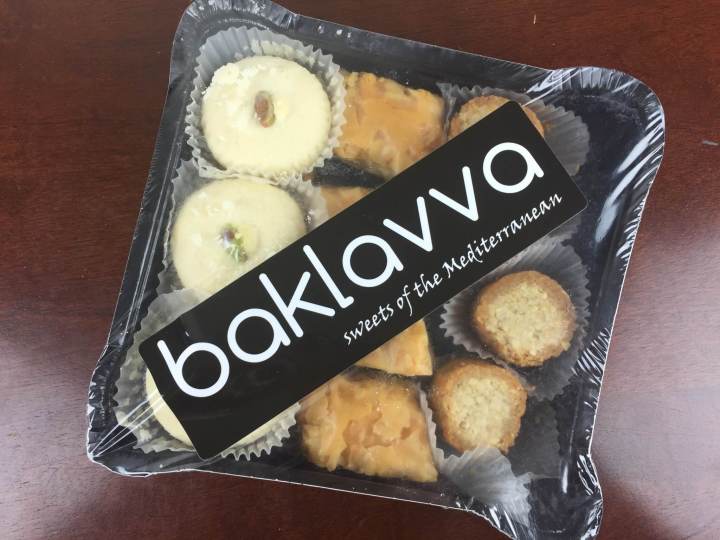 The inner pack was also hermetically wrapped, and the baklava were nestled together very tightly.  The result was that the flaky pastries survived shipping in superb condition!
Left to right–
Ghouribeh (3 pcs):  This is a tender and almost creamy butter cookie with a delicate flavor.  This was Brandy's favorite from the box
Basma (3 pcs):  The center layer is full of pistachios, with a dense layer on either side textured similar to a chewy graham cracker crust.  The chewiest and heartiest of this selection.
Walnut Baklava (4 pcs):  The classic.  Firm, yet delicate, simultaneously showcasing the slight bitter of the walnuts and the intense sweetness of the syrup.  This was less gooey and sticky than our last box, possibly due to cooler temperatures and prompter consumption.
Burma (4 pcs):  The center is a big disk of crushed and sweetened cashews, with a creamy and rich texture.  The pastry on the exterior is twisted or braided, giving it a firmer and harder texture.  The contrast is very enjoyable.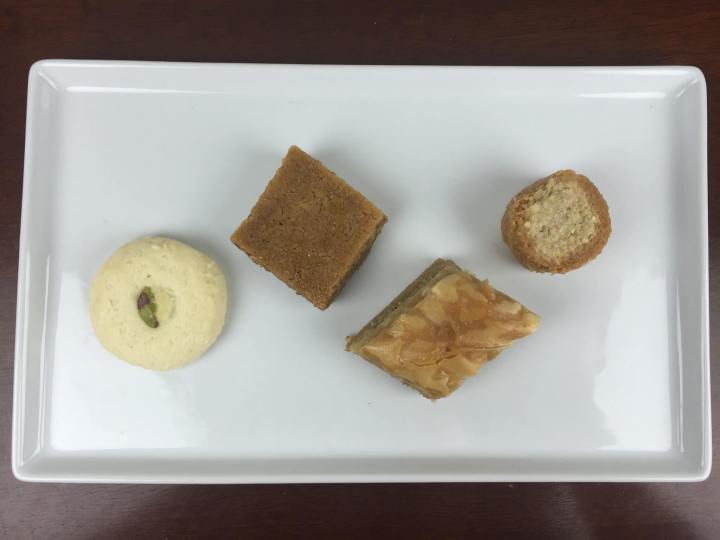 I loved this selection, and I enjoyed the way the degree to which the non-baklava items different from the baklava.  I also thought the contrast was well served by the use of different nuts in the different style pastries, one with walnuts, some with pistachio, and another with cashews.  There is no honey in any of these; they rely on sugar for their sweetness.  This batch did not sweat like the last batch, and it was neater and firmer.  I very much enjoyed the firmer texture of the baklava, a characteristic shared by the burma and basra.
Here is hoping next month contains the Ballourie, as we have not yet tried the Baklavva version of this treat!
Visit Baklavva to subscribe or find out more! Through 11/30 save 50% on your first box with code MY50.
The Subscription
:
Baklavva
The Description
: Monthly subscription of authentic Mediterranean delicacies. Choose from one of three monthly plans: 1lbs box plan, 2lbs box plan, 3 lbs box plan. Baklavva mix will vary from one box to another. Each box will include a variety mix of baklavvas that may include Burma, Ballourie Mini Roses, Bassma, Baklavva, Bird Nest, Fingers and Ghourib.
The Price
: $24.00 per month
The Coupon
: Save 20% on your first box. Use coupon code
MY20
.