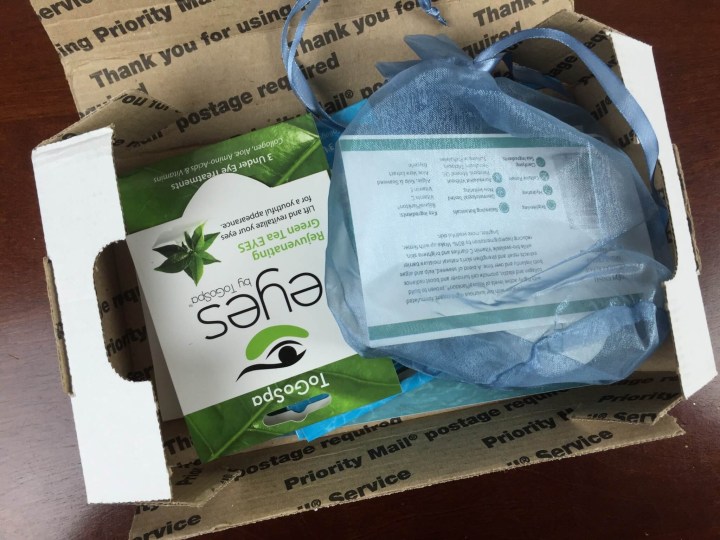 ToGoSpa Society is a monthly replenishment and surprise subscription by ToGoSpa.  With ToGoSpa Society you'll get either 6 ($25), 15 ($40), or 30 pairs ($64) of Eyes by ToGoSpa plus The Benefit, a monthly surprise from ToGoSpa or their selected brand. The Benefit is always valued at $20-$50 and is a high quality spa item.
You can upgrade your box to add on Face by ToGoSpa as well!  ToGoSpa EYES and FACE are innovative, collagen-infused under-eye and full face mask treatments – and the newest "must do" for anyone in need of a quick, portable, spa-like pick-me-up for their tired, puffy, overworked or over-stressed eyes and skin.
They have recently made available the new smaller size, which is great for those of you that don't have a chance to use your EYES every day.  This is everything in the November Mini Box!
The information card details the Benefit item including its benefits and suggestions for use.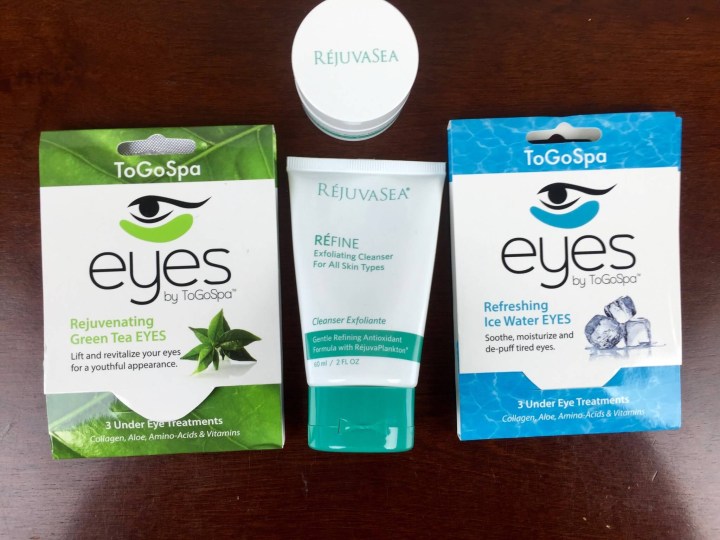 Everything in the November Mini Box!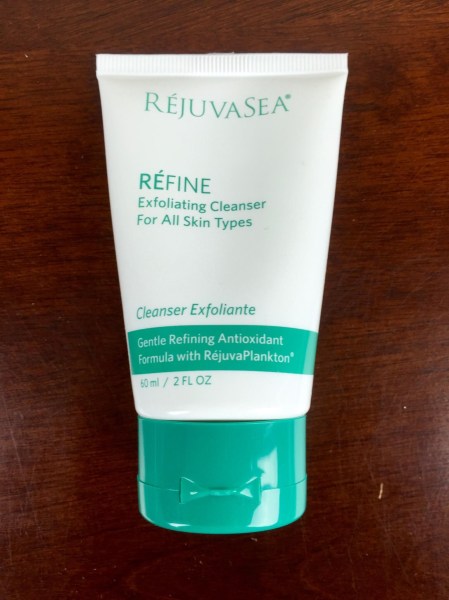 Rejuvasea RÉFINE Exfoliating Cleanser For All Skin Types ($26) I wanted to love this product but it has microbeads. I didn't think the inclusion of them meshed with the mission of this company at all.
We use breakthrough science to innovate exclusive ingredients that naturally promote cellular renewal, protect against environmental damage and improve overall skin health.

As pioneers in marine-based research and development, We are committed to sustainable practices without the use of harmful ingredients.

Our commitment to the preservation of Veta la Palma, one of the world's last unspoiled sanctuaries, led to the design of sustainable harvesting and extraction methods that protect the natural resources of this special ecosystem.
FYI – the best way to get rid of microbeads is to throw the sealed product in the trash. They aren't banned yet in most places and the California ban doesn't go into effect for a while, but I didn't feel comfortable using it.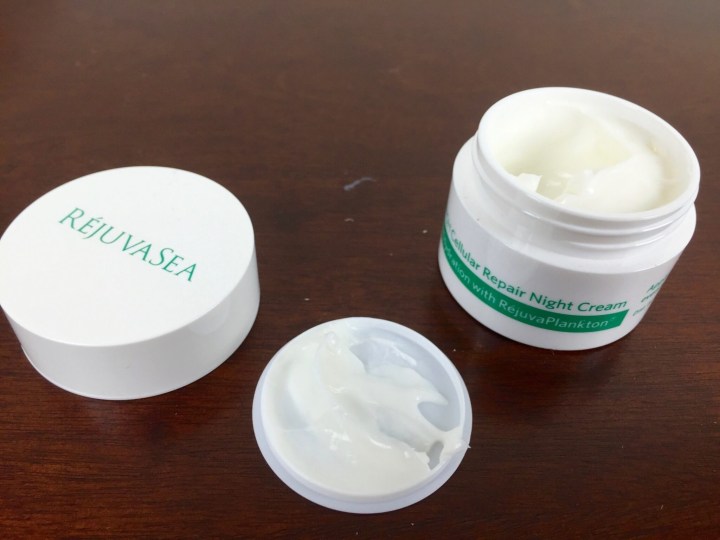 Rejuvasea REPLENISH Cellular Repair Night Cream ($10) I did love the night cream! It has a thick mousse-like texture and the company claims that their RéjuvaPlankton helps stimulate collagen production and boost cellular energy. I have it on right now – it really made my skin super soft and very moisturized, and it has a pleasant marine-ish scent.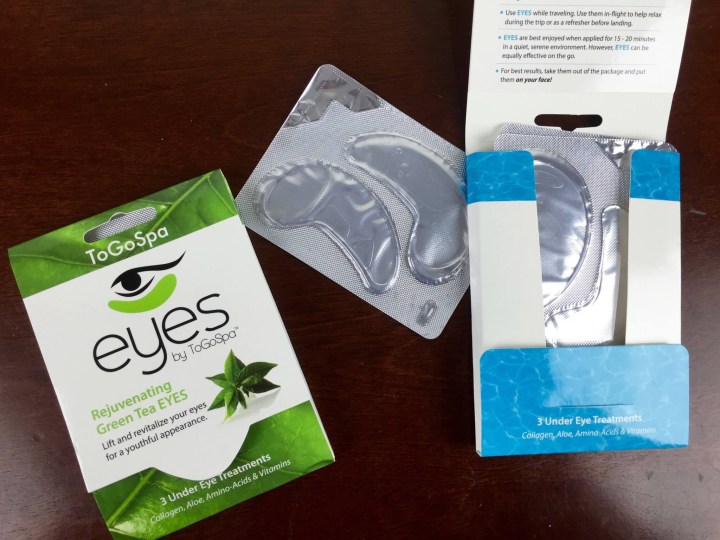 I received 2 different types of Eyes by ToGoSpa: one pack each of Rejuvenating Green Tea and Refreshing Ice Water.
These are super hydrating and are activated by your body temp! EYES are collagen gel pads with Hyaluronic Acid, Vitamins C & E, and nutrients. Each different type has a different composition to provide different benefits. Coconut restores and nourishes the under eye area. The Ice Water ones depuff and soothe, and the green tea ones help lift and rejuvenate with green tea extracts!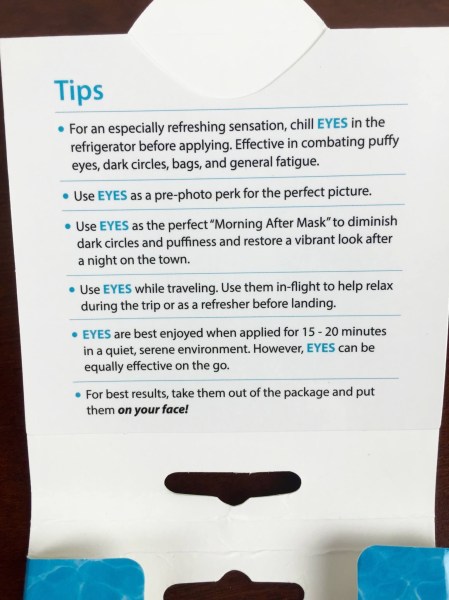 The tips on the back tell you how use them – definitely try putting them in the fridge!  The value of the 2 packs of eyes together is $25, so the Benefit items are just a bonus, and I still got an extra $10 value this month. The other product was an uncharacteristic miss and I don't expect to see microbeads in this subscription again.
Visit ToGoSpa Society to find out more or to subscribe! Use coupon code MommySplurge5 for $5 off the first month of any ToGoSpa Society box or code MommySplurge10 to save $10 off the first month any ToGoSpa Society box with Face!
The Subscription
:
ToGoSpa Society
The Description
: The ToGoSpa Society membership offers huge discounts on Eyes and Face by ToGoSpa and in addition each month members receive The Benefit! The Benefit is a FULL size product we love and want to share free with our members.
The Price
: $40 per month for 15 EYES + Benefit or $64 for 30 EYES + Benefit add 3 FACE for $25 or 6 for $50. NEW: $25 for 6 EYES plus the benefit!
The Coupon
: Use coupon code
MommySplurge5
for $5 off the first month of any ToGoSpa Society box or code
MommySplurge10
to save $10 off the first month any ToGoSpa Society box with Face!