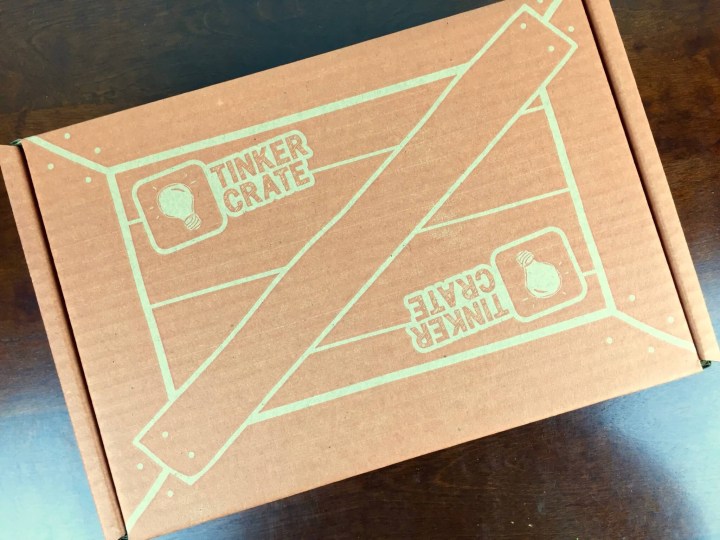 Tinker Crate is getting into the Holiday spirit this month with a seasonal tinkering kit!  Tinker Crate is a subscription box that inspires kids to explore and learn about science, engineering, and technology, plus have tons of fun. Every month, you'll get a new crate to help kids develop a tinkering mindset and creative problem solving skills. It is STEM (Science, Technology, Engineering and Math) focused and designed to help kids build their problem solving skills and to gain the confidence and curiosity to tackle problems where there's no one right answer. They also offer a variety of single crates without subscription, plus awesome holiday crafts.
See all the KiwiCo Family holiday gift subscriptions and holiday shop items here!
Tinker Crate Cyber Monday & Black Friday Deals – Live NOW!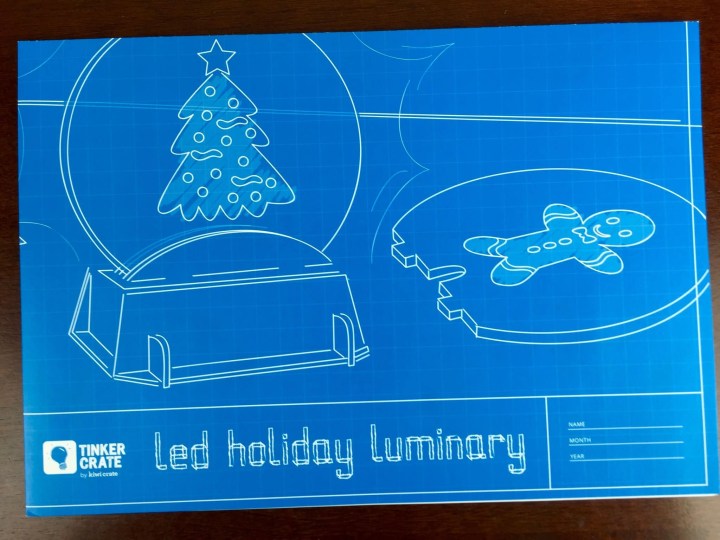 This month's project is an adorable Led Holiday Luminary.  Tinker Crate always has a cool blue print sheet for each project.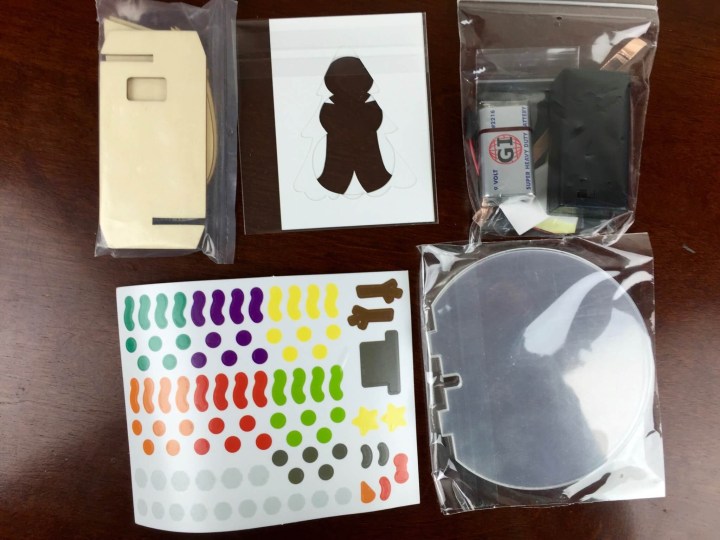 Everything in the Crate.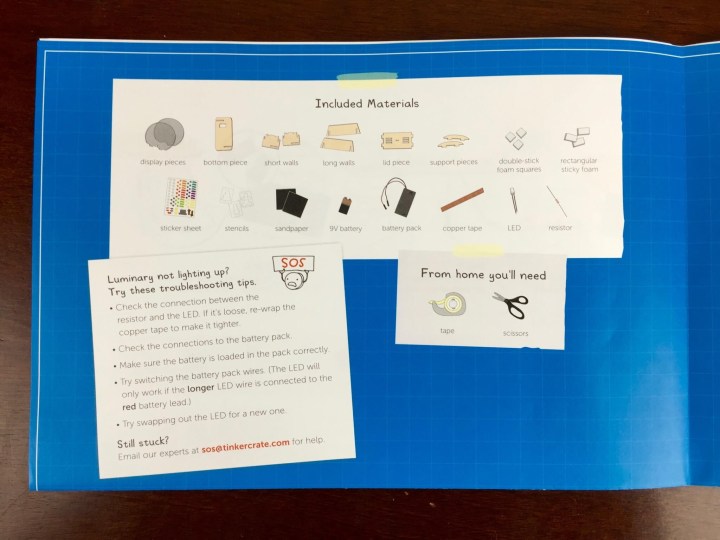 The Crate includes nearly everything you'll need to complete the project — for this craft you'll only need to have some scissors and clear tape handy.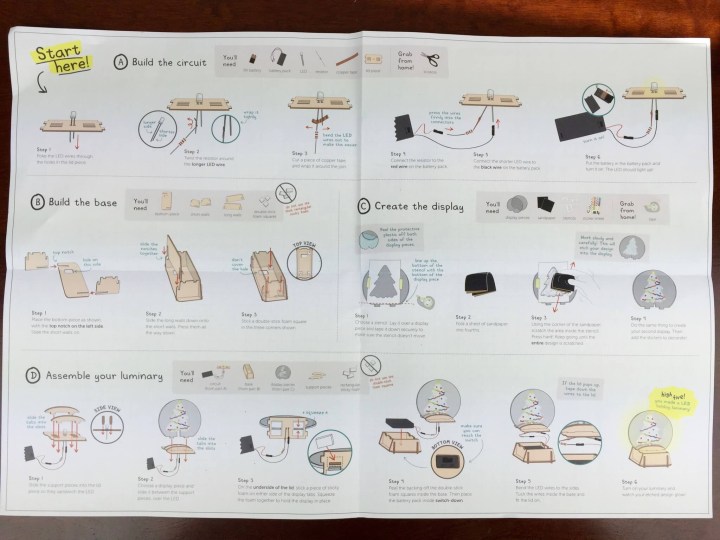 The instructions are really detailed, which makes them easy to follow.  We love the little comments and notations placed throughout — they are great for pointing out potential wrong turns and keeping  you on track.
After assembling the main casing, we connected a simple circuit between the LED and the power supply.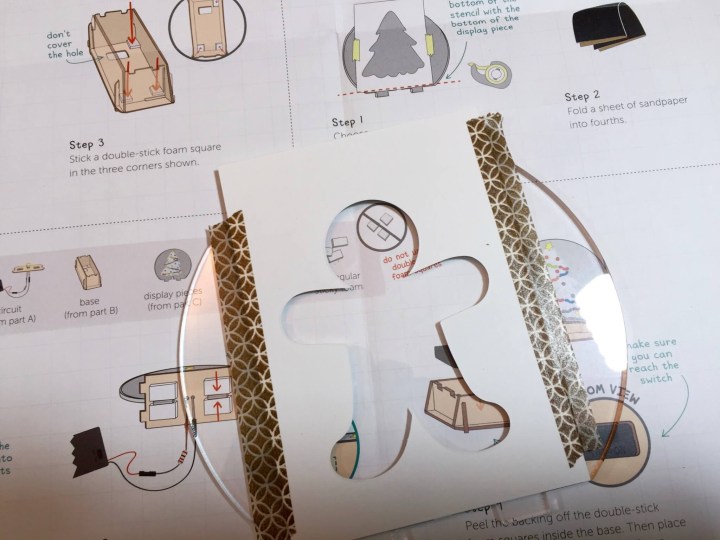 Patterned stencils were included for the etching plates, but you could construct patterns of your own to create any manner of design.  We chose the gingerbread person and the Christmas tree for our two plates.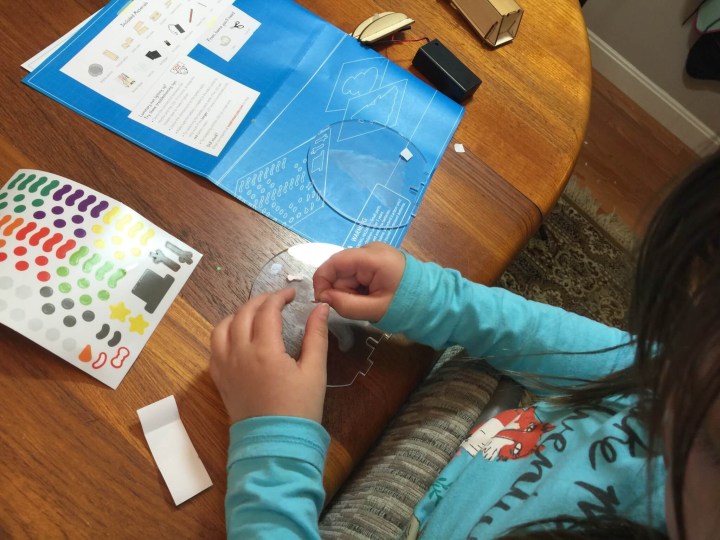 After scuffing the surface with sandpaper to etch in the design, we decorated our designs with the luminescent stickers provided.
The completed gingerbread girl.  I was a little surprised at how well the stickers illuminated under the light of the LED.  This picture was taken under fairly bright lights, and the figure and adornments still were quite visible.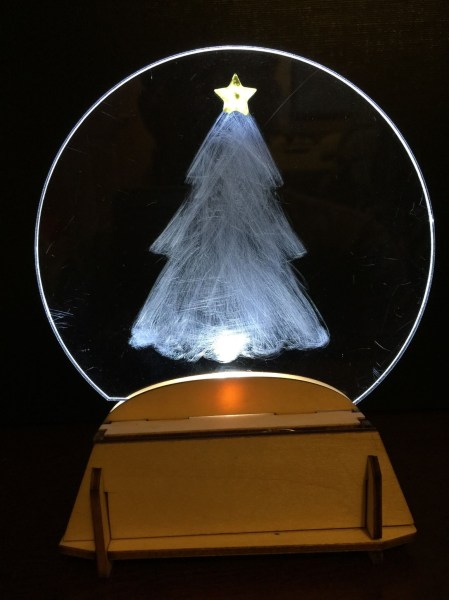 With the room lights out, the tree is really bright.  I love the way the light seems to focus on the star atop the tree.
This was a fun craft that made a very pretty ornament with swappable designs.  The only issues we had were with the stability of the casing — the plate is heavy relative to the base, so some glue would have helped make it more stable and allow the plate to remain centered over the light more easily.  We also had to be very cautious with the plates — they don't break, but they do scratch easily.  The quality that makes them great for this craft also makes them easy to mark up with rough handling.  All-in-all, we think the craft is very cute, and we are going to have this on our mantle all Winter!
We love the entire Kiwi family of crates — Koala is perfect for our four year, both kids enjoy Kiwi, and Mom and Dad love to help with Doodle and Tinker Crates.
Tinker Crate Cyber Monday & Black Friday Deals – Live NOW!
You can currently get an entire box (not a trial box) free of Tinker Crate (or Kiwi Crate and Kiwi family subscriptions Doodle Crate and Koala Crate). Use this link for the deal – just pay $4.95 shipping (you can get one box of each line per household).
The Subscription
:
Tinker Crate
The Description
: Tinker Crate help kids gain crucial STEM (Science, Technology, Engineering and Math) skills through hands-on activities that are also seriously fun. Every crate includes all the materials and inspiration for a super-cool project. Ages 9 to 14+
The Price
: $19.95 per month
The Coupon:
Save $10 off your first box with coupon code
HELLO50
!