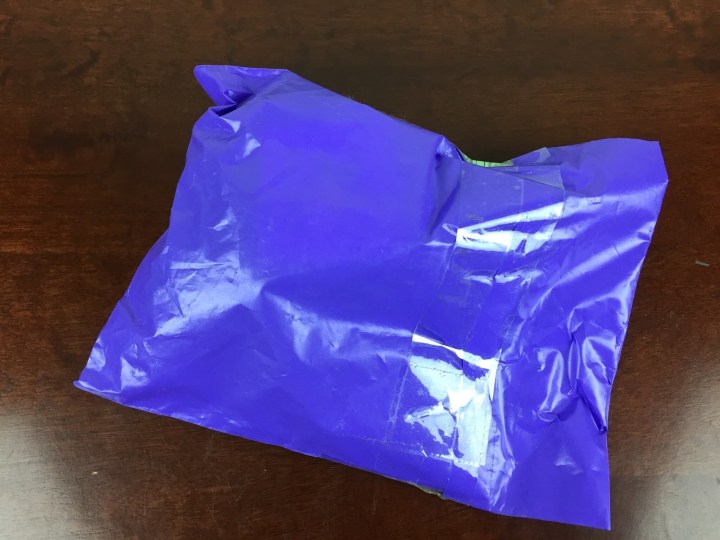 Sockflow is a monthly subscription that sends 2-3 pair (you choose which number you prefer) of beautiful South Korean socks to you every month.  They ship free of charge anywhere in the world! You can choose socks for men/women, kids/baby, wool socks, or premium men's dress socks.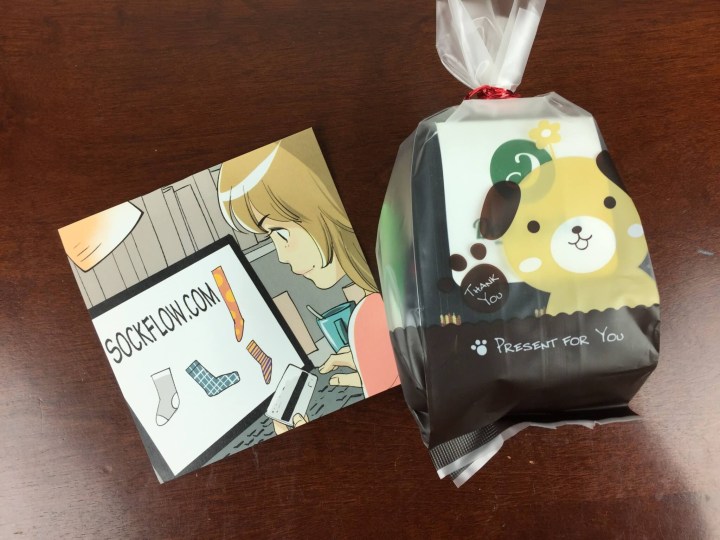 This is an interesting subscription, combining the practicality of a sock replenishment subscription with the fun and flavor or a culturally-centered box (most of which are snack boxes).  The packaging has the cute cartoonish style popular in Korean packaging.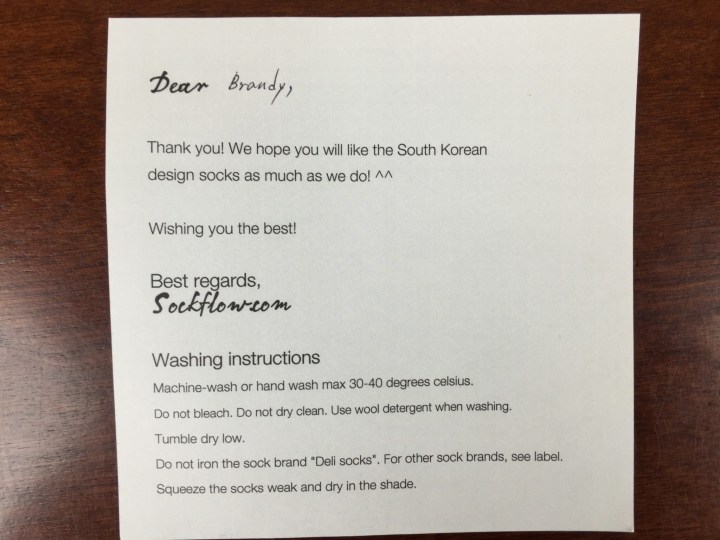 Care instructions are provided for the socks, even containing some brand-specific instructions.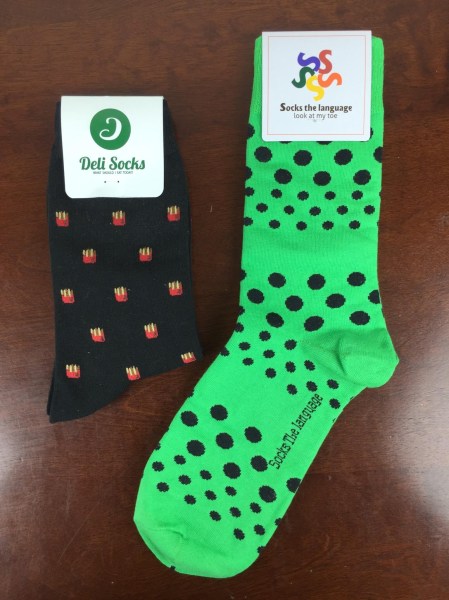 Our two-sock order had a pair of Deli Socks and a pair of Socks the Language socks.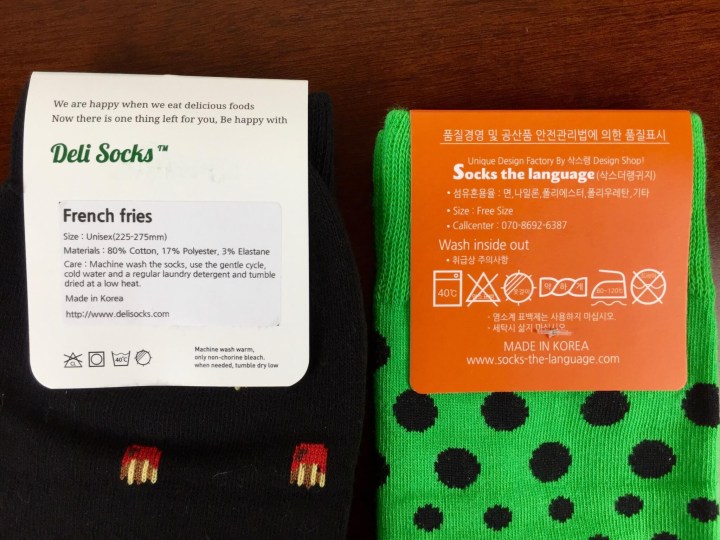 The labels have the usual info, plus links to the manufacturer if you really need to know more.  The Deli socks are sized Unisex, and the StL socks are "Free Size."  I'm unsure if this means one-size-fits-all or unisex.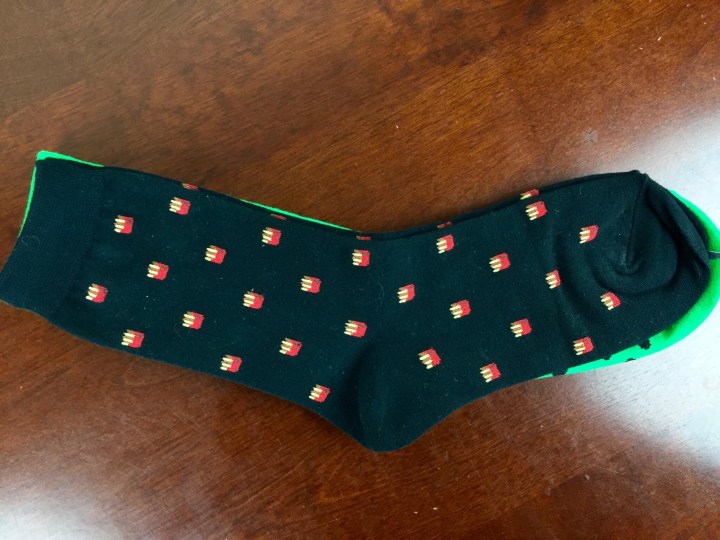 The Deli socks are slightly smaller when put side-by-side, but they stretch to a similar size when worn.

The Deli socks are adorned with little french fry containers — red in the style that McDonalds used for so long (I confess, I have no idea if they still use it, since I haven't gotten a large fries at McDonald's in forever).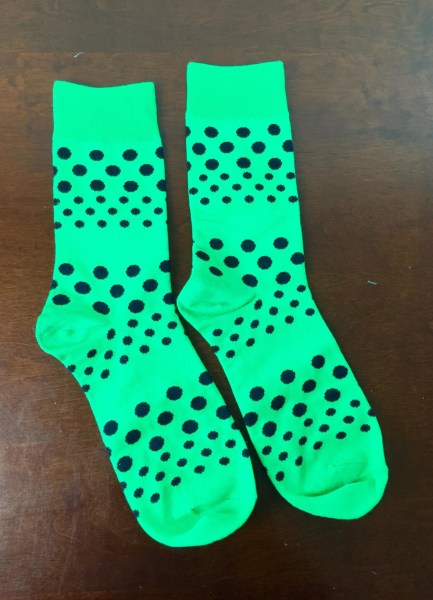 The Socks the Language socks are a bright green with mixed navy dots.
Both pairs of socks have similar constructions and sizing.  They are pretty small, extending unstretched only about 2/3 the length of my modestly-sized foot.  I can wear them comfortably, but I stretch them about as far as you would want.  You can designate gender on the site, but the sizing appears to be the same.  These socks are great for most women and for men with small to medium feet.  I don't think they would work well for people with large feet (over size 11).
Visit Sockflow to subscribe or find out more!
The Subscription
:
Sockflow
The Description
: Get beautiful, high quality men's socks, women's socks, children's socks and baby socks to your mail every month. Every month SockFlow handpicks unique, colorful and quality South Korean brand socks for you. We offer premium dress socks perfect for work or stylish colorful socks for the whole family! We also offer K-pop style socks! You can choose between 2 pair of socks each month or 3 pair of socks each month! Worldwide free shipping.
The Price
: $20.00 per month
The Coupon
: Save 10% on your first month! Use coupon code
OPENINGOFFER
.