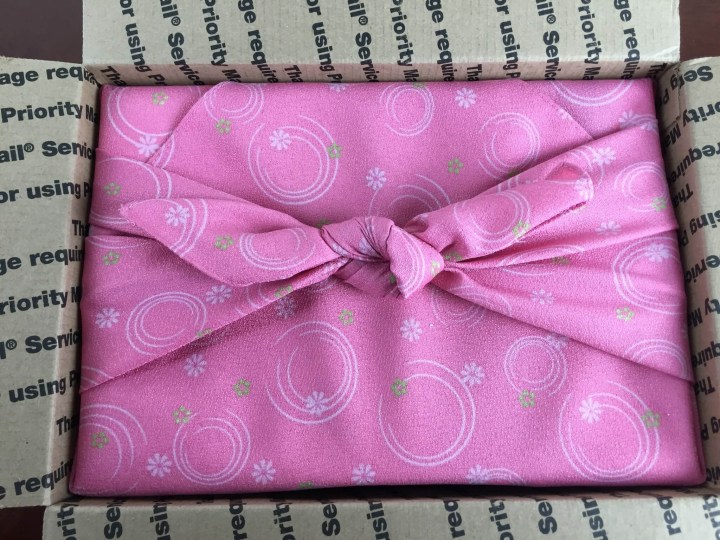 Snakku is a monthly authentic Japanese snack subscription box. It's quite different than all the rest of the candy and snack boxes from Japan that we've reviewed – that is evident when you open the box to find a sweetly wrapped parcel covered in soft muted tones. Snacks in Snakku boxes are both savory and sweet from local Japanese snack makers. Every box includes a featured snack from a local artisan using local products and recipes that have sometimes been used for hundreds of years. Every box contains about 10-15 snacks total. Snakku has a brand new mini version available now, too!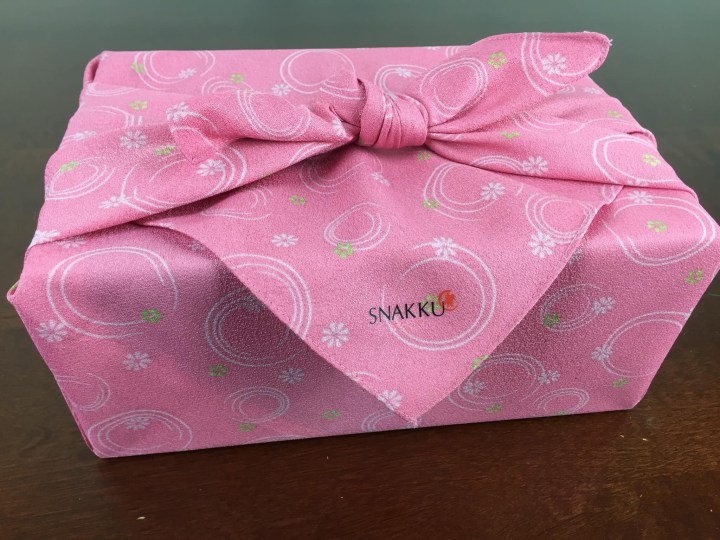 This wrapping is the traditional Furoshiki, which is just a wrapping cloth, but used to wrap absolutely everything. Subscribers on a 3 month plan will receive an actual cloth furoshiki in their first box (get 2 with a 6 month subscription!), monthly subscribers receive their box in a paper one.  I think this is a nice bonus for prepaid subscribers!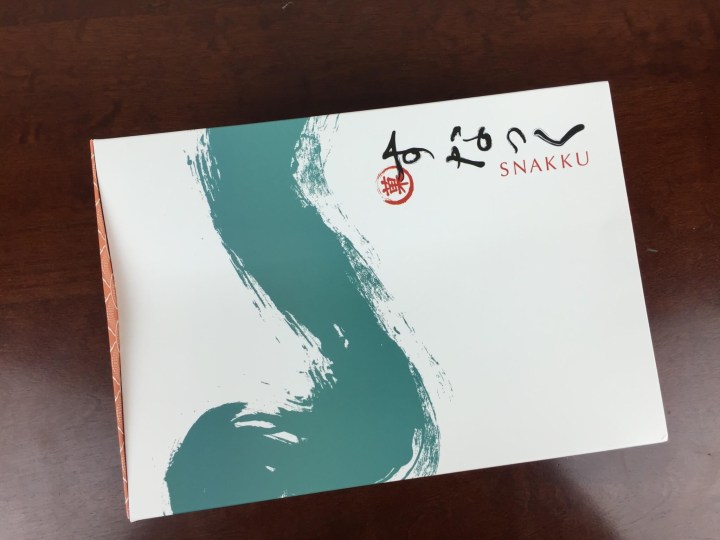 This looks like a card – it's actually the inner box.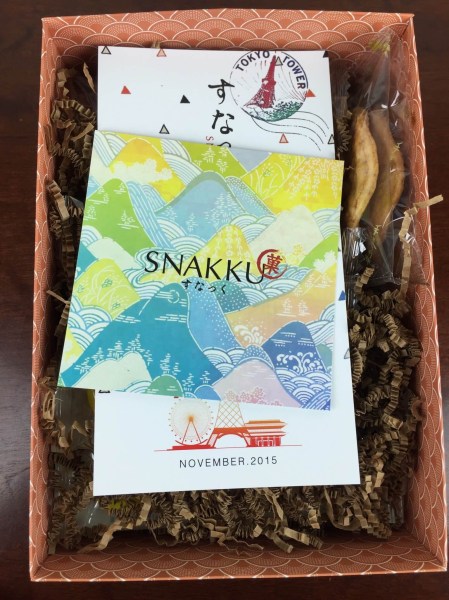 The cards are gorgeous. There are few Japanese snack cards that we'd consider hanging on our wall, but this is so attractive.  Novembers card celebrates the Tokyo Tower, part of the downtown Tokyo skyline.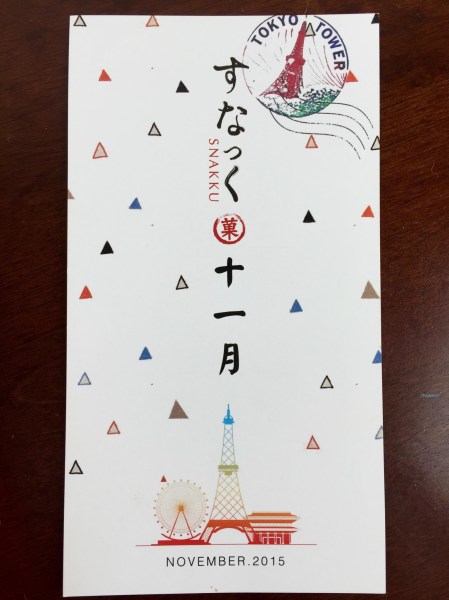 The card.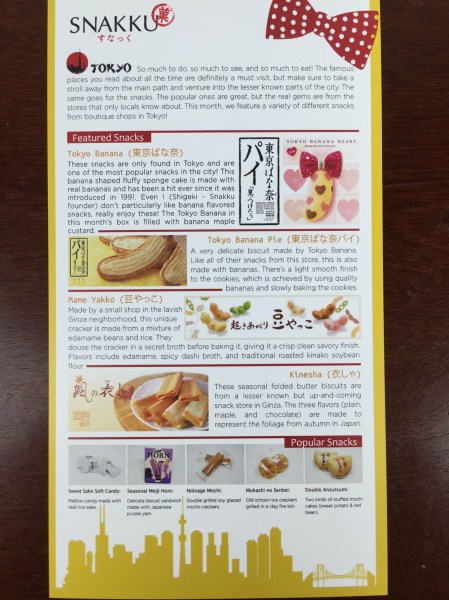 The included card is replete with information on the featured snacks and other popular snacks. The theme for November was Hidden Gems — boutique snacks from small, downtown shops — those great finds only locals know about.
Everything in the box.  Snakku feels more upscale than other Japanese snack boxes.   This month's box was even classier than usual.  Because the focus was on boutique shops,  the cornerstone-style items, with their youthful, cartoonish packaging, were absent.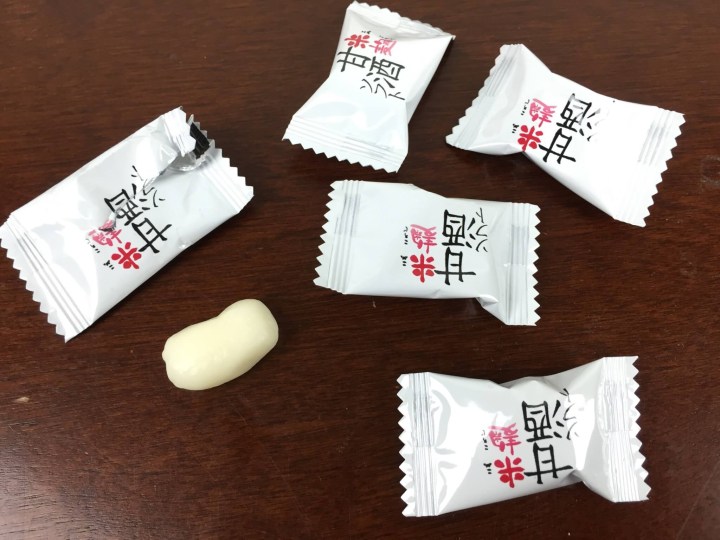 Sweet Sake Soft Candy:  Real sake accents these chewy candies.  They are soft and smooth, less gelatinous than a gummy, and softer than a HiChew-style candy.  The flavor is quite lovely.
Mame Yakko:  This edamame and rice flour cracker has a great, light texture and crunch.  Bathed in a special broth prior to baking, they have a wonderful, slightly caramelized surface.  They come in three savory flavors (left to right):  Roasted Kinako Soybean, edamame, and spicy dashi broth.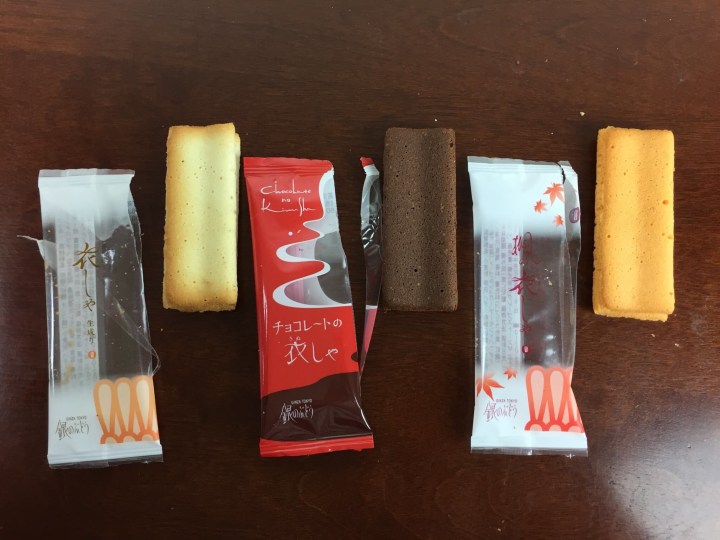 Kinesha:  Extremely delicate folded butter cookies, crisp yet tender (like a more luxurious crepe dentelle), in plain, chocolate, and maple.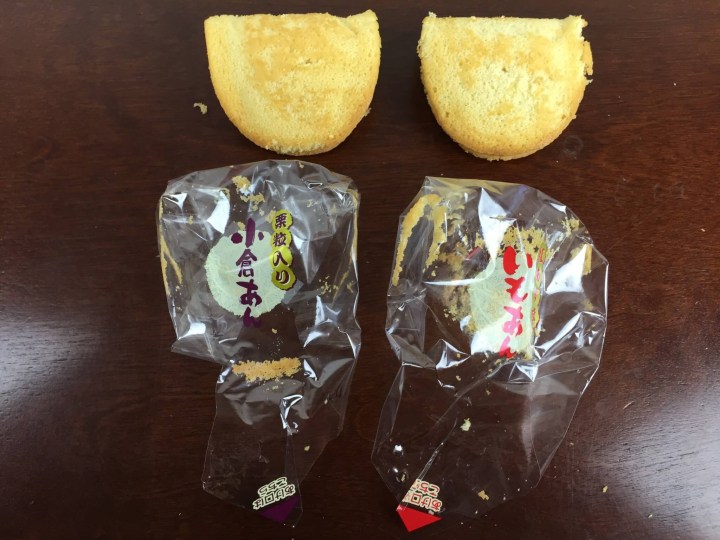 Double Anzutsumi:  Stuffed mocha cakes.  Fluffy cake encapsulates the thick, sweet filling.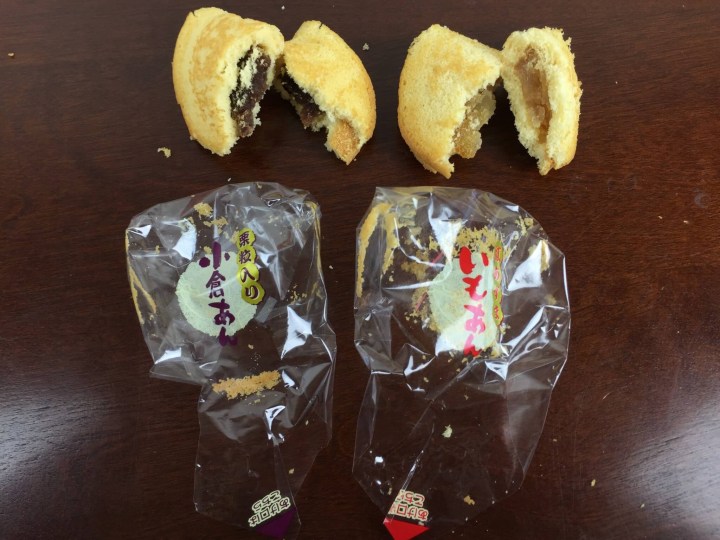 The red bean (left) is my favorite of the two, but the sweet potato has a nice flavor, as well.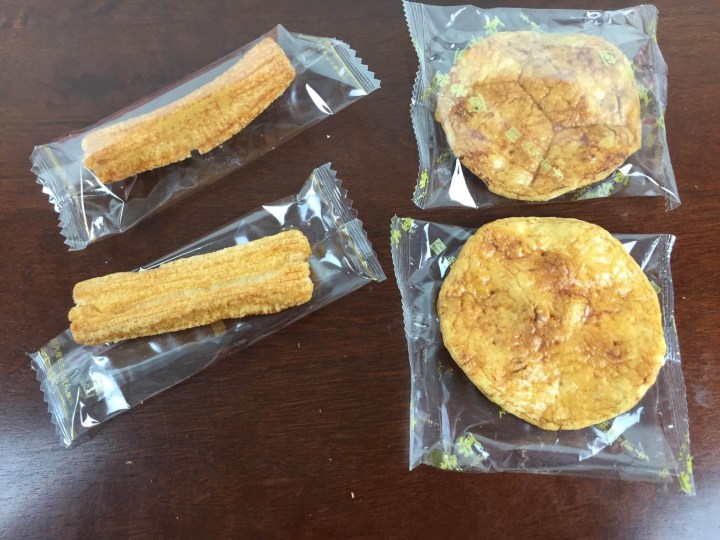 Nidoage Mochi:  soy-glazed like traditional senbei, these churro shaped sticks are double-baked, making them extremely crunchy.
Mukashi no Senbei:  Heavily-glazed and very crunchy, these are far from delicate, but very delicious.  Grilled in a clay oven.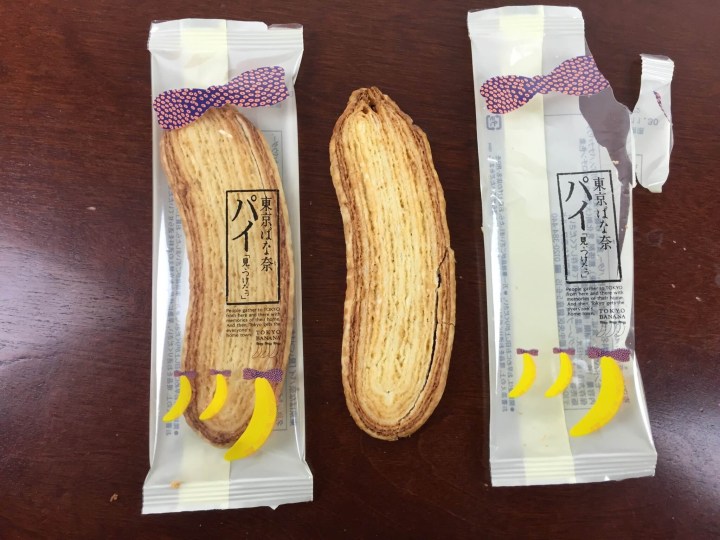 Tokyo Banana Pie:  like a palmier, but brimming with real banana flavor.  Everything by Tokyo Banana incorporates real banana.
Tokyo Banana Heart:  This delicate sponge cake surrounds a banana maple custard.  Beautiful pink and brown hearts are stenciled onto the sponge.
The custard is creamy and has a great natural banana flavor.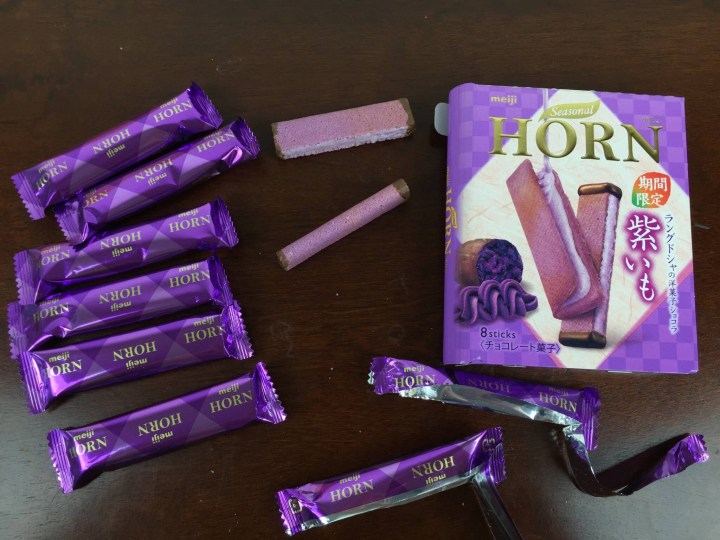 Meiji Seasonal Horn:  The most commercial of the items in the box, these are quite classy for a product by a large producer.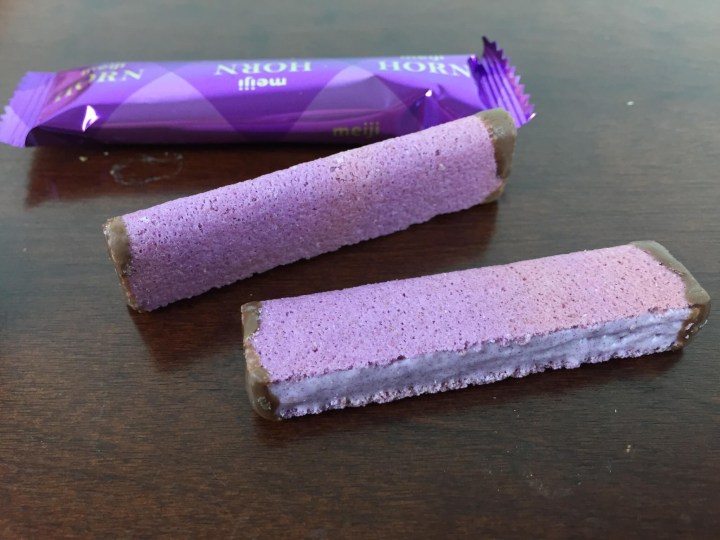 Purple sweet potato permeates the cookie and the "jam" filling, which is like a semi-soft icing.  Chocolate seals the ends of the delicately folded butter cookie sleeves.  Light and crisp, with an intriguing sweet taste, I really enjoyed theses elegant fingers.
Snakku continues to impress us.  From the Furoshiki wrap, to the quality of the contents, the entire box conveys elegance.  The snacks were delicious, and they were chosen carefully to represent Japanese food culture as well as tastes — this box highlights the treats found hidden on Tokyo side streets.  The more commercialized products were very beautiful and had a classy presentation.  Many subscriptions offer a wonderful selection of popular and unique Japanese snacks, but Snakku has distinguished itself as a curator of the most elegant selection.
Visit Snakku to subscribe or find out more!
The Subscription
:
Snakku
The Description
: Get a collection of hand-picked snacks that you can only find in Japan, along with a selection of familiar & delicious Japanese snacks delivered every month
The Price: $38.95 per month
The Coupon: Use coupon code HELLO10 for 10% off!