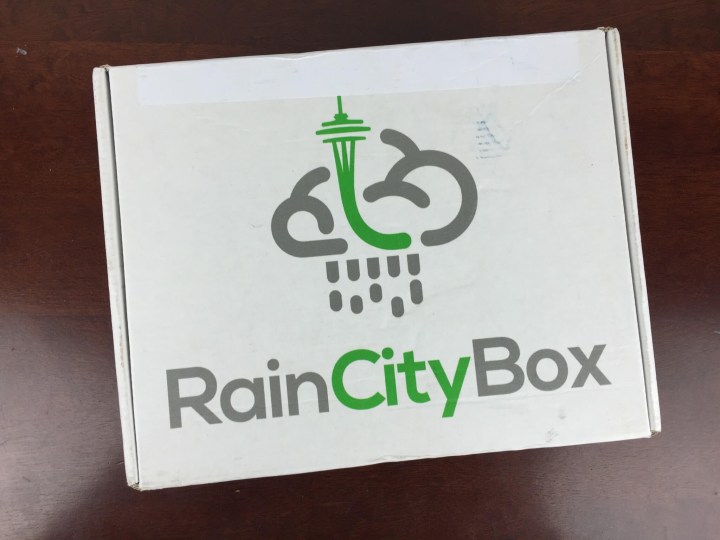 Rain City Box is a monthly subscription box bringing the best of the Pacific Northwest to fans of the region, wherever they may reside.  Every monthly box revolves around a theme and you'll get a carefully curated assortment of Pacific Northwest items celebrating that theme.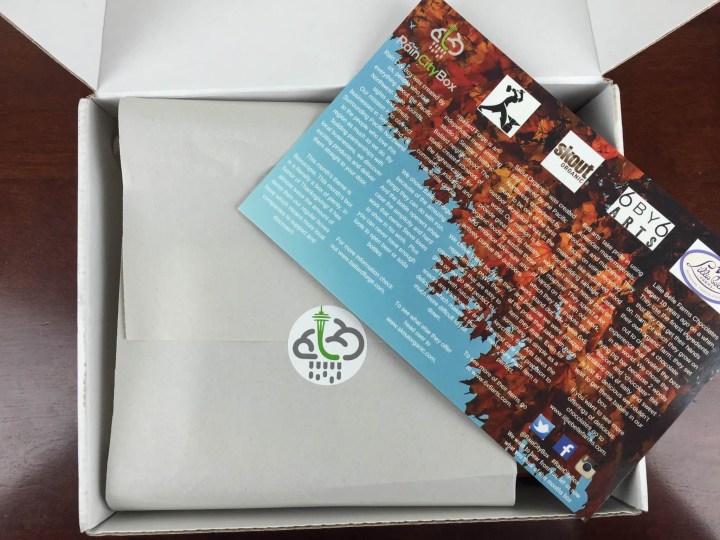 Their logo perfectly evokes Rain City (aka Seattle)!
The full color information card provides the details on each item.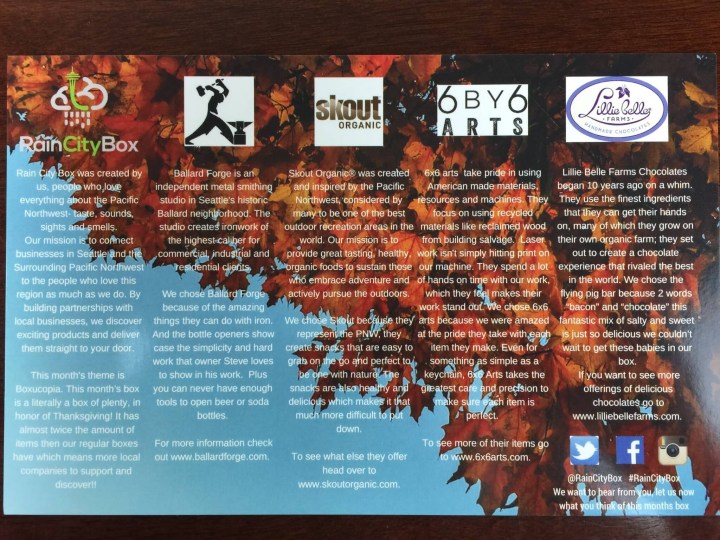 The theme for November was Boxucopia – a box of plenty in honor of Thanksgiving, with twice the amount of items in their normal boxes!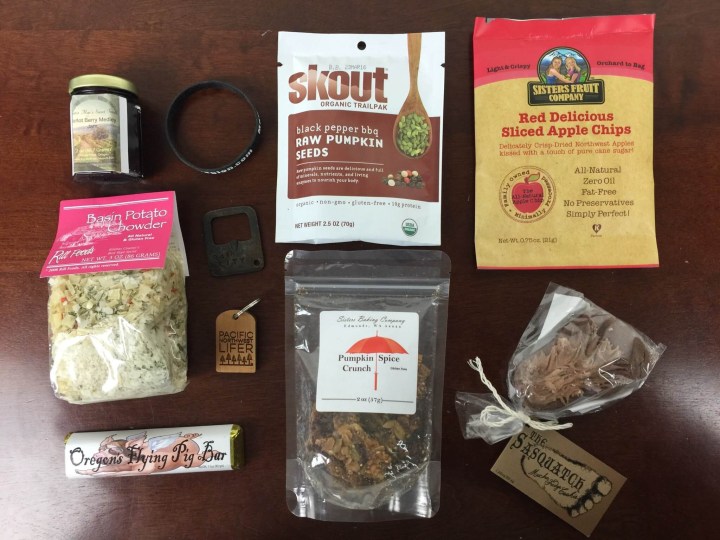 Everything in the box!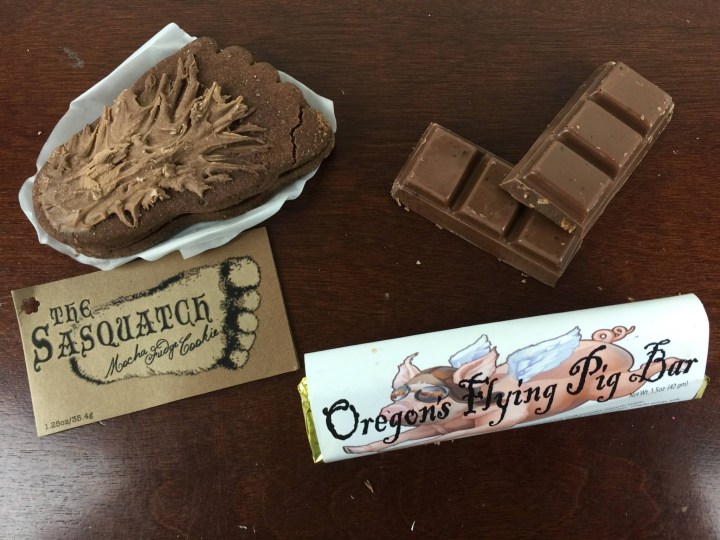 The Sasquatch Mocha Fudge Cookie ($4.50):  The coffee kick brings a rich darkness that is over the top good.  This fun sandwich cookie is really a perfect indulgence for chocolate lovers who don't mind a little joe.
Lille Belle Farms Oregon's Flying Pig Bar ($3):  Bits of real bacon add a distinctive twist to the wonderful milk chocolate.  The bacon is mild and complementary, making for a delicious bar, not an oddity.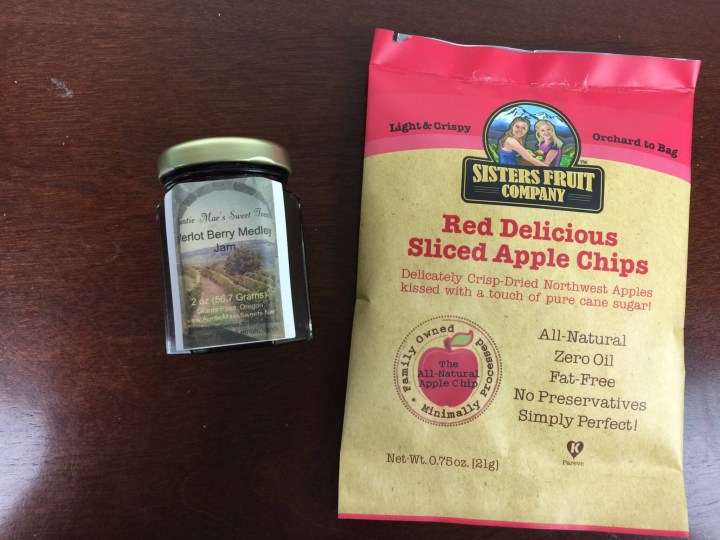 Auntie Mae's Sweet Treats Merlot Berry Medley Jam:  Wine improves just about any dish — the same is certainly true for jam.  The natural raspberry notes of Merlot are a perfect pairing for jam.
Sisters Fruit Company Red Delicious Sliced Apple Chips:  Only apples and cane sugar go into making these all-natural chips.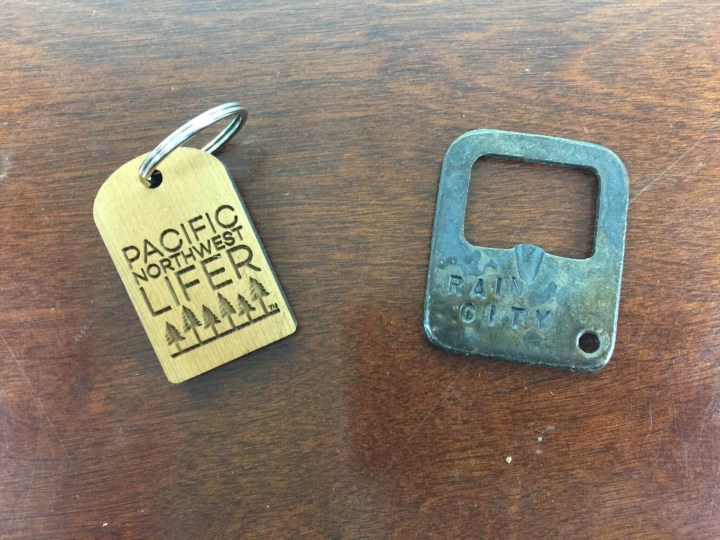 6×6 Arts Pacific Northwest Lifer Keychain: Lasercut from reclaimed wood!  Light, but solid, this lets folks know that you are a local — at least in spirit, anyway.
Ballard Forge Rain City Bottle Opener:  This super heavy-duty opener is handy and good looking.  The glaze looks flame burnished and has a cool patina.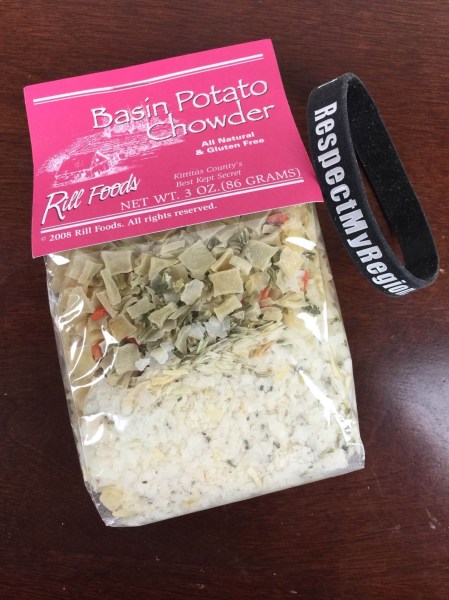 Rill Foods Basin Potato Chowder:  Great to have in your pantry, this hearty local dish needs only a can of evaporated milk to turn into a meal in short order.
Respect My Region Wristband:  Visitors are hereby warned to leave the place the same way they found it — show our regional pride with this band.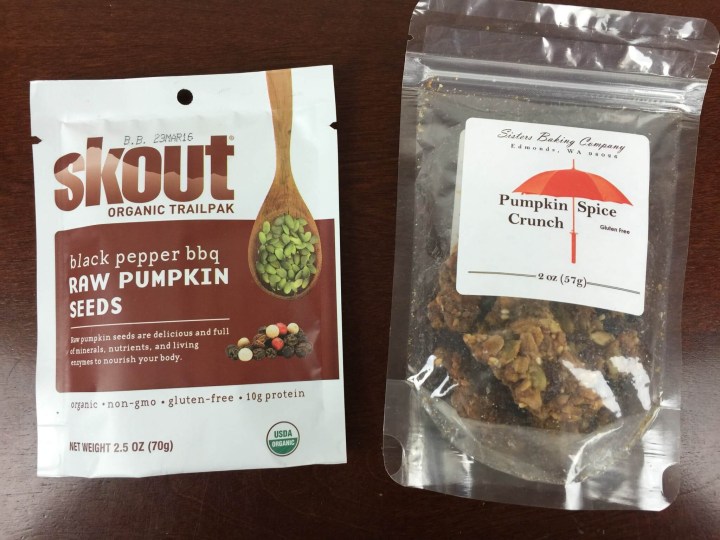 Skout Black Pepper BBQ Raw Pumpkin Seeds ($3.99) I tried these out recently and they're not very strongly flavored – which may be a good thing! They are super high in protein.
Sisters Baking Company Pumpkin Spice Crunch: From the bakery that produces the signature Rain City Crunch comes a great seasonal offering!
This box was really great.  I loved the slight lean toward food products from the region instead of focusing mainly on crafts.  We like the way Rain City Box has the persistent theme of Pacific Northwest locality, but also mixes it up each month with subthemes that still focus on the region.
Visit Rain City Box to subscribe or find out more! Use code HELLORCB10 to save 10% on any monthly box or anything in the shop!
The Subscription
:
Rain City Box
The Description
: Rain City Box provides you with a monthly box of the hippest, most buzzworthy products from Seattle and the surrounding Pacific Northwest!
The Price
: $34.99 per month plus $6 shipping
The Coupon
: Save 10% off your first box or anything in the shop! Use coupon code
HELLORCB10
. Expires 1-01-2016