Oui Please is a French luxury subscription – every parcel contains an assortment of full-size products from France.
OuiPlease Vol. 1.5: Escape to the Loire valley resurrects the gold-trimmed luxury experience of the pre0modern Loire Valley.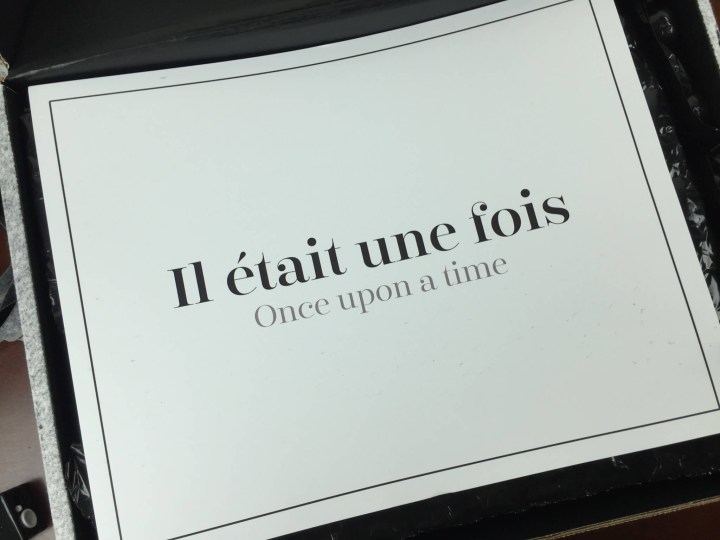 A giant card on the top says Il était une fois. I didn't have to translate this month.
The Oui Please box is gorgeous and high quality. I will miss the box. That is, the inner box.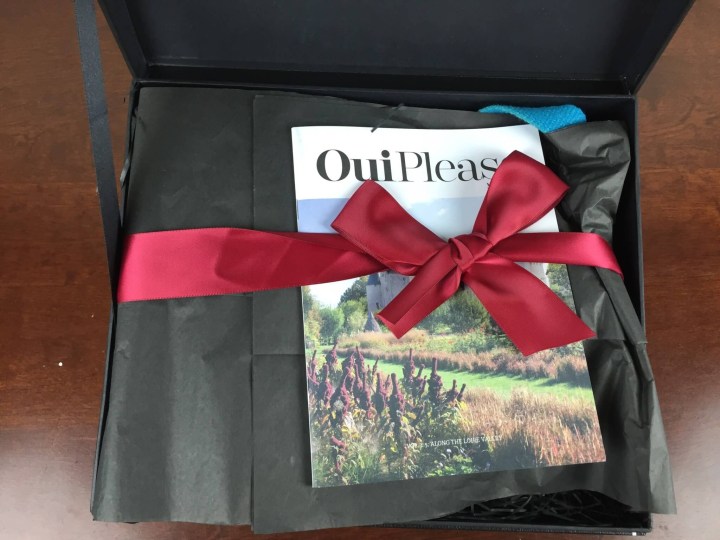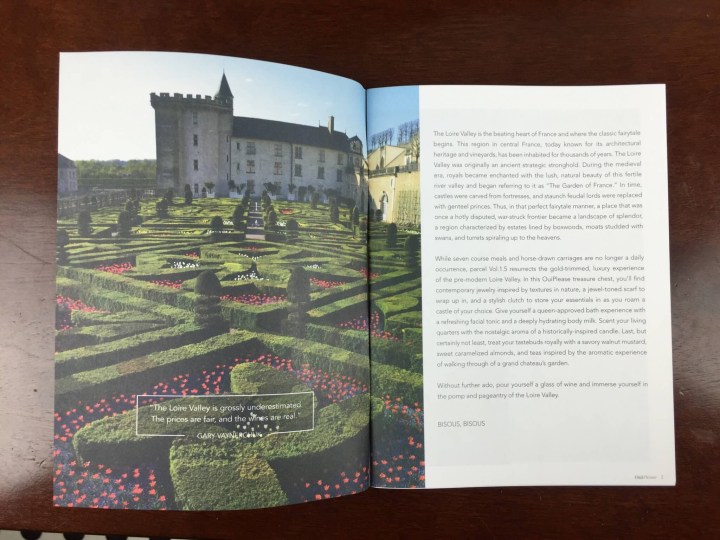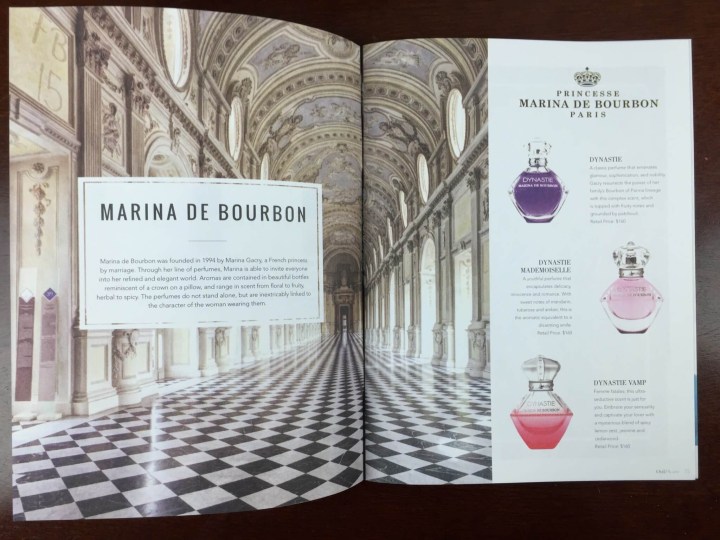 A mini-mag comes with the box – it details all the item variations (subscribers don't all receive the same box) and makers. Values vary accordingly.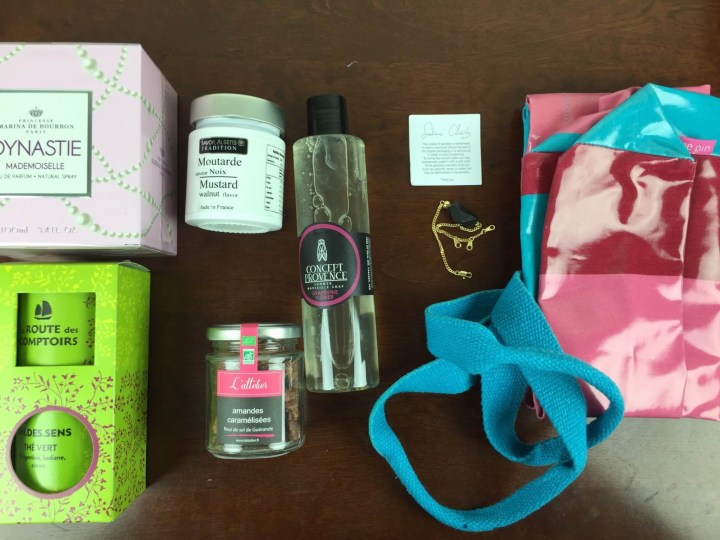 Everything in my vol 1.5 box. Note this subscription has a tendency to misprice so I show their price and my calculated price.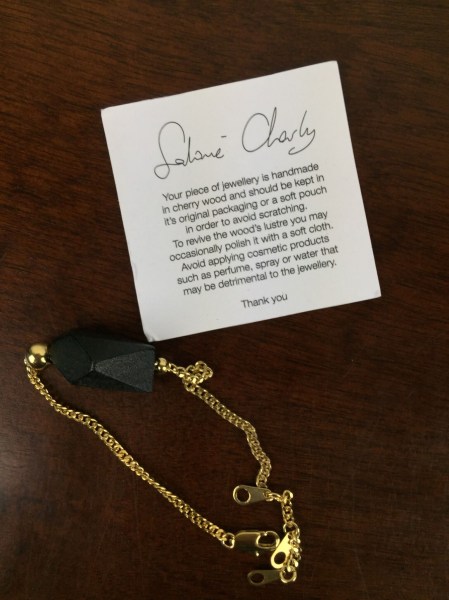 Salomé Charly Trie Bracelet ($50/$39.45) Fortunately I have lots of jewelry bags – the card said to store in its original packaging, which was coated with body wash. This is a pretty and modern piece.
Princess Marina de Bourbon Paris Dynastie Mademoiselle ($160/$33.26) I can't place what this smells like. It's light, fruity/citrusy, and floral. It's a gigantic bottle.
Fragrance Notes: mandarin orange, black currant, pear, african orange flower, tuberose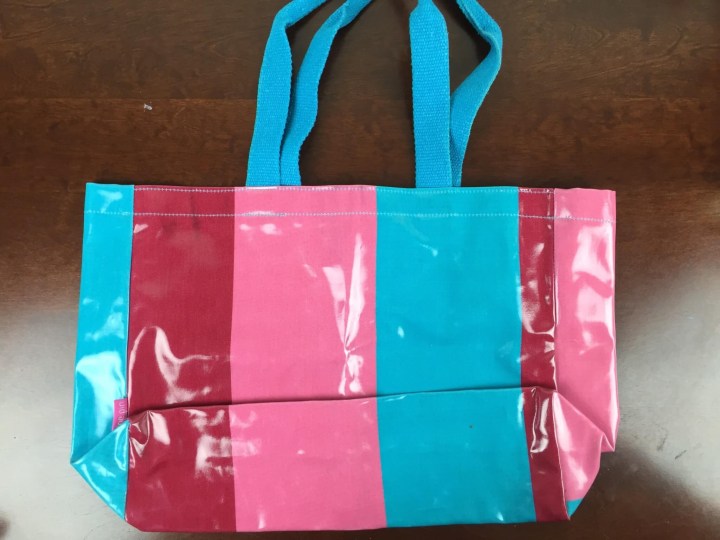 Pauline Pin Polochon (Claimed $100 – bags were received with pricetags of 38 Eur with sale prices of 18 Eur – $19.72) This is a coated fabric bag. Other subscribers received personalized scarves, etc. I was puzzled how this designer's accessories "honor the french leather artisanal tradition" or some such claimed in the booklet.
Savor & Sens Moutarde Saveur Noix – Walnut Flavor Mustard ($15/~$6) This is a strong dijon, without really a hint of walnut. I'm not sure if it's really supposed to be flavored. It contains walnut pieces but no walnut oil. I couldn't taste that there were nuts in it. I liked this product though.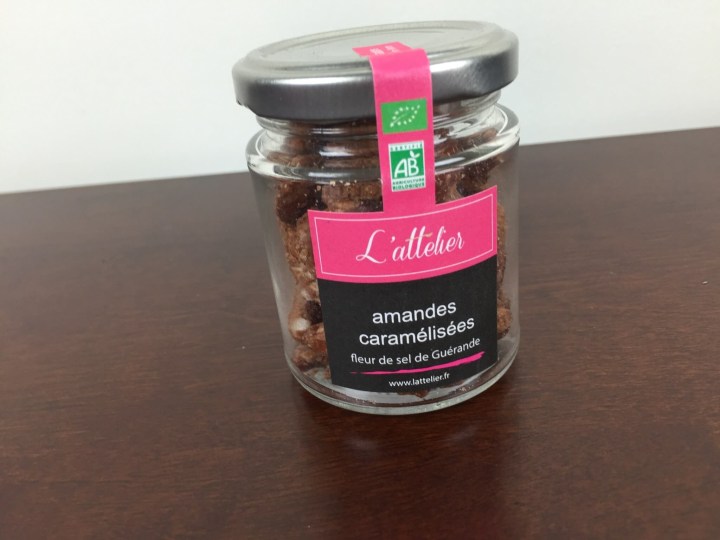 L'attelier de Clisson Amandes Caramélisées fleur de sel de Guérande – Caramelized Almonds with South Brittany Sea Salt ($15/$6) I wanted to like these a lot more. They were quite dark/caramelized and salty. After I ate half the jar they were delicious.
La Route des Comptoirs Un.Des.Sen Thé vert – Gingembre, badiane, citron – ($30/$10.40) Green tea with lemon, star anise, and ginger. I don't drink tea, so I'll gift this to a friend!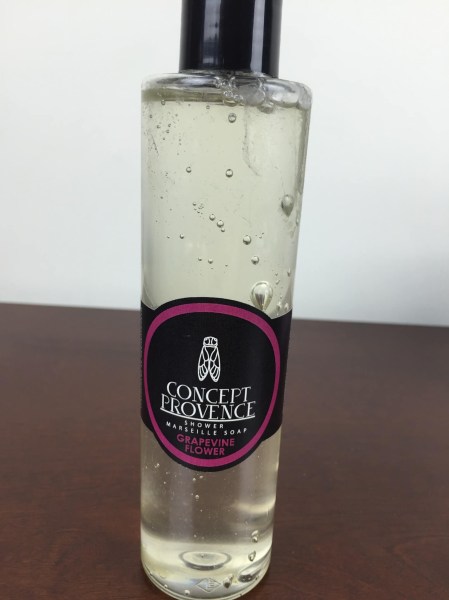 Concept Provence Shower Marseille Soap in Grapevine Flower ($20/$8.21) This item leaked – the cap was barely screwed on. Fortunately it didn't damage anything else in the box. I couldn't really detect any sort of big scent with this one. If you like lightly scented products, you would enjoy this one.
Manufactured by traditional methods, with olive oil and coconut oil.

⁃ Enriched in glycerine, gently cares of the skin, leaves amazing scent of grapevine flower
⁃ Biodegradable 98%
⁃ Without EDTA, BHT, PEG and paraben
This box didn't even have $150 in value – around $123. I purchased this box on a yearly subscription with a coupon, so I paid around $90. My feeling that boxes should be the same quality and value as other subscribers', even if using a coupon. Even if you added 30% to cover import and shipping, we're still at $140 – and that's even bumping up prices like the Amazon price for the perfume! When I signed up I was promised $400 in value in each box.. I won't be continuing this subscription – the only thing that I have used consistently is the inner box itself! This box was also a month late (which may be good for the wallet if you're looking to subscribe).
Visit Oui Please to subscribe or find out more!
The Subscription
:
Oui Please
The Description
: Full size French luxuries in every parcel including apparel, beauty, jewelry, home/decor, and epicurean delights.
The Price
: $150.00 every other month