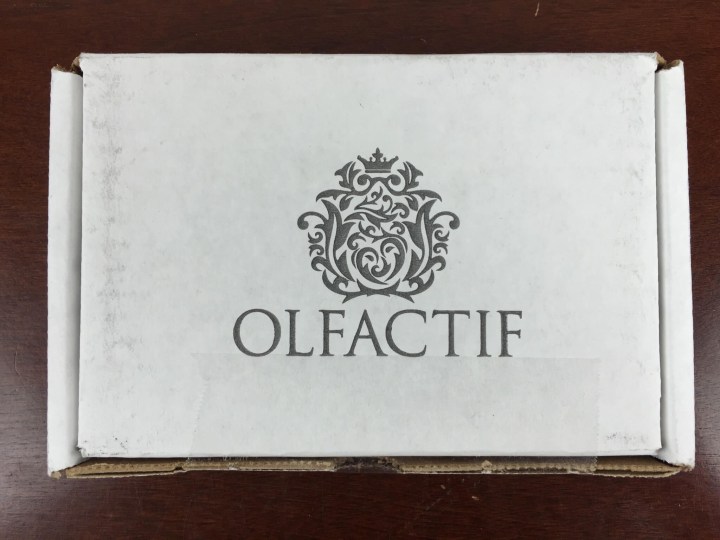 Olfactif has delivered yet another men's fragrance collection with a boutique feel and distinctly masculine character.  Olfactif  is a monthly unisex fragrance discovery subscription box. You'll get 3 samples in your box, each containing 15-20 "wears" of an independently designed perfume. With every box, your account will be credited with an $18 voucher to use on fragrances from the store. Olfactif's focus is on niche fragrance, so you'll see different & unique scents, higher quality and hard-to-find ingredients.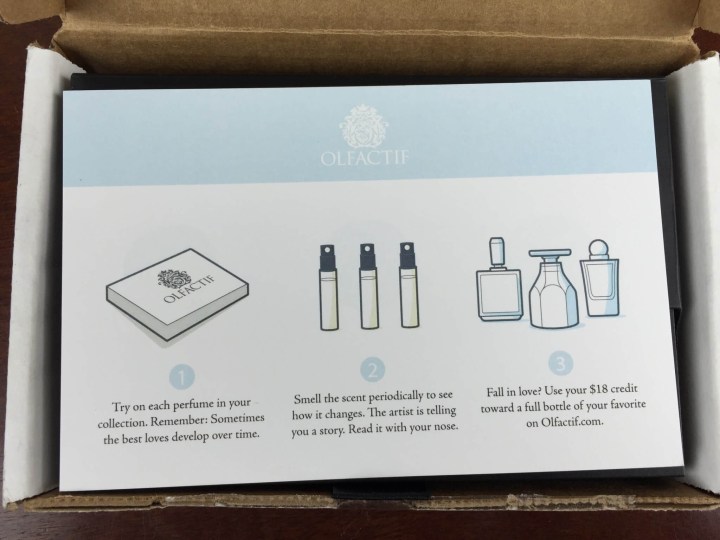 The regular Olfactif box is unisex meant to be worn by women and men who enjoy niche fragrances.  Because it features fragrances intended to be wearable by both sexes, it only occasionally indulges in the heartier scents typically associated with Men's fragrance.  The Men's box is centered around traditionally masculine fragrances, all from the niche world.  You will still see the same creative spirit and defiance of convention, but the focus will be on the yang.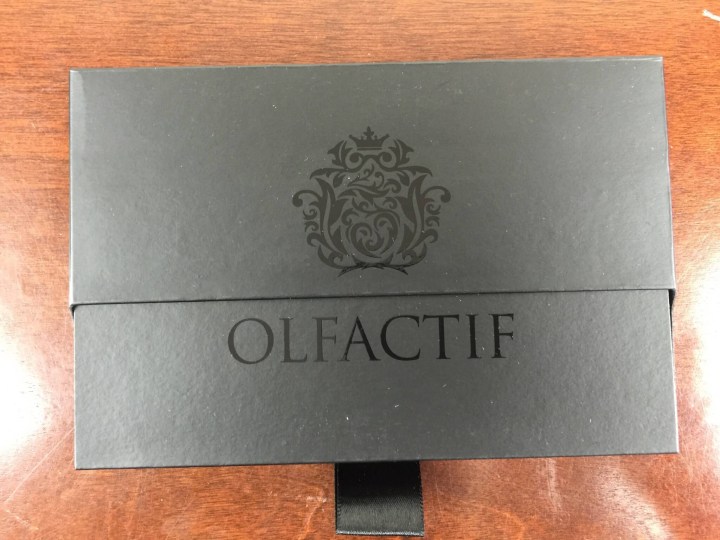 Olfactif Men's comes in the same cool packaging as their flagship subscription.  It is attractive and the flap retracts within the box when you pull the ribbon.  The information card for the fragrances is tucked inside.
The magic of scent is its ability to transport to a different time and place. A single scent can instantly pull you back into your grandmother's kitchen, a lazy summer afternoon, or the first moment you met someone.

The bigger magic, though, is how scents can transport you to times and places you've never been, inserting you into experiences you've never had. These three scents do that marvelously. They offer vivid settings as a launchpad for your imagination—just place and time, you provide the rest of the story. Spray them and go there. What happens next?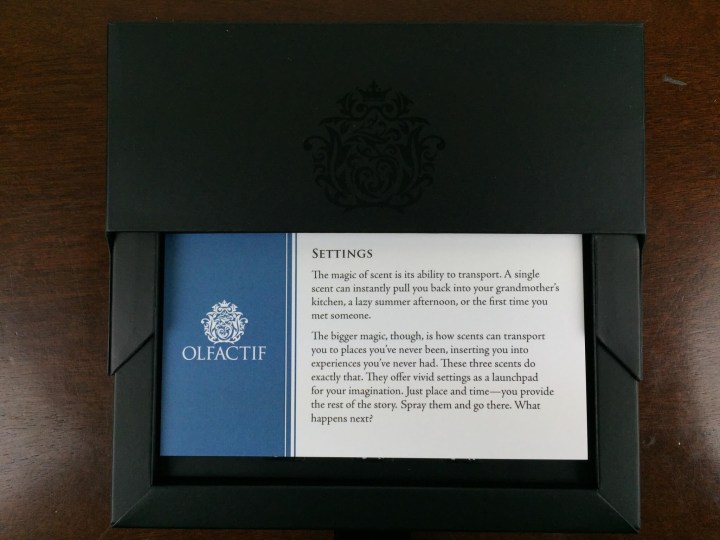 The theme for this ensemble of men's fragrances is "Settings."  They are meant to evoke a sense of time and place.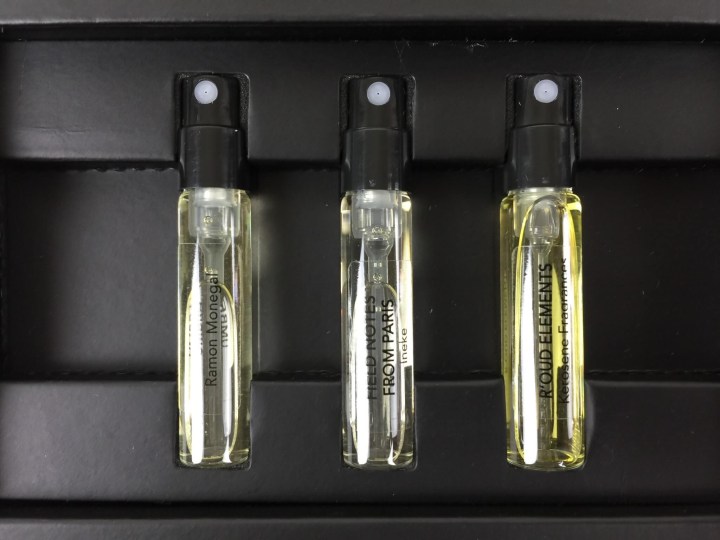 The three fragrances come tucked neatly within the very cool case.  The bottles are testers, but they have enough spritzes to last quite a long time, so they are perfect for keeping around for a change of pace well into the future (but make sure to take advantage of the subscription credit toward purchase, and pick up a full size of your favorites!).
The fragrance notes give detail on the composition of the fragrances, but the prominence of each element changes as the scent ages on your body.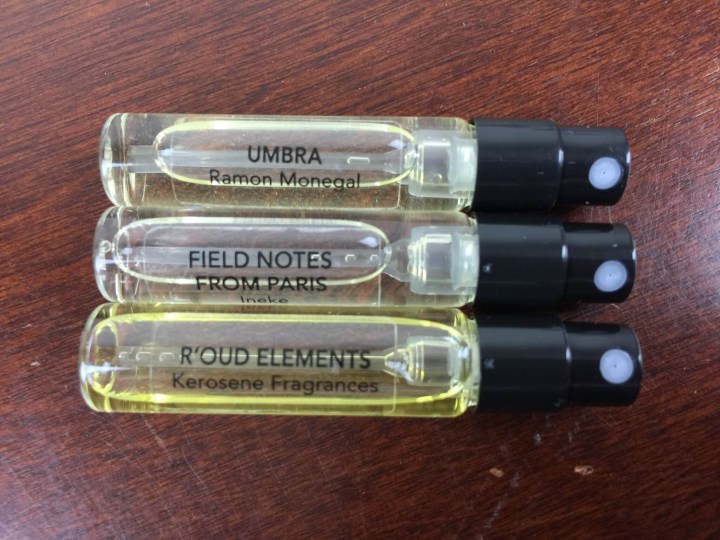 The November Theme is Settings:
Umbra by Ramon Monegal:  This scent is supposed to evoke an early morning walk in a cool forest.  It is sweet and a bit spicy, relying heavily on the vetiver.  However, it does stray dangerously close to soapiness.
Field Notes from Paris by Ineke:  I really enjoyed this scent.  The coriander, beeswax, and vanilla evoke a bakery-type environ, while the tobacco leaf and bergamot have the scent of a well-trodden study.  It is at once very intriguing and comforting.
R'oud Elements by Kerosene Fragrances:  This wood-heavy fragrance has great, intense cedar and sandalwood notes.  It gets smoky over time.
This group of fragrances was fun to sample.  Each had a really strong vibe, but it was the product of the confluence of multiple scents, so the intensity really created a sense of place rather than thing.
Visit Olfactif to subscribe to the Men's box or find out more. Use the code 4MEN to receive 15% off a 3, 6, or 12 month subscription, or 15% off the first month of a recurring subscription. Works on either box.
The Subscription
:
Olfactif
The Description
: Get 3 niche, unique fragrances curated around a theme. Purchase a full bottle that month and credit your box price against the cost of the fragrance.
The Price
: $18 per month
The Coupon
: Use the code
4MEN
to receive 15% off a 3, 6, or 12 month subscription, or 15% off the first month of a recurring subscription. Works on either box.