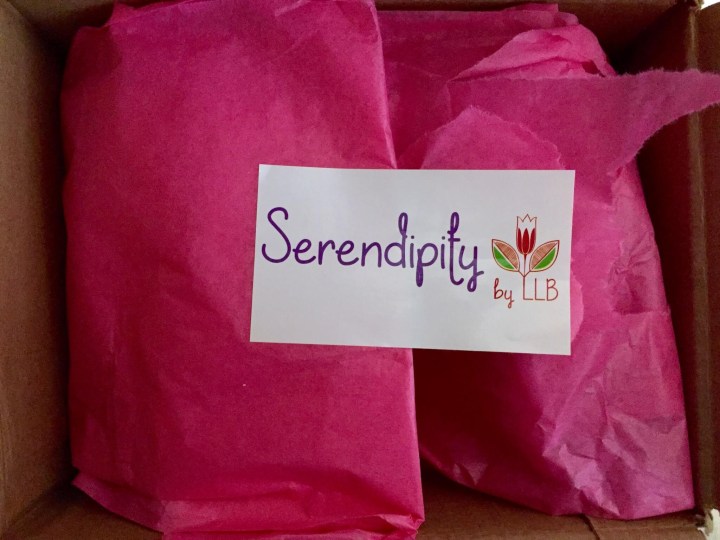 Serendipity by LLB is a bi-monthly subscription that provides a little something extra in between the regular Little Lace Boxes, as well as a fun way to deliver serendipitous discoveries right to your door. It's only $10 every other month – so it's a bit difficult to resist this small indulgence!  The November package was Serendipity's second month as a standalone subscription.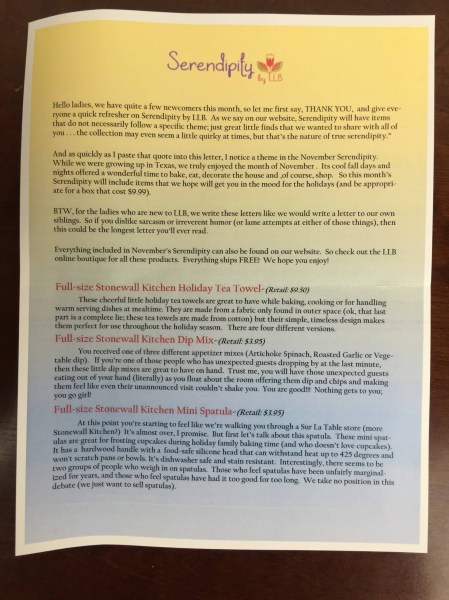 The information sheet gives quite a substantial amount of information for an inexpensive subscription, which is nice! This subscription isn't meant to have a theme, but it totally ended up with one for November, and it was perfect!

 Everything in the November Serendipity by LLB!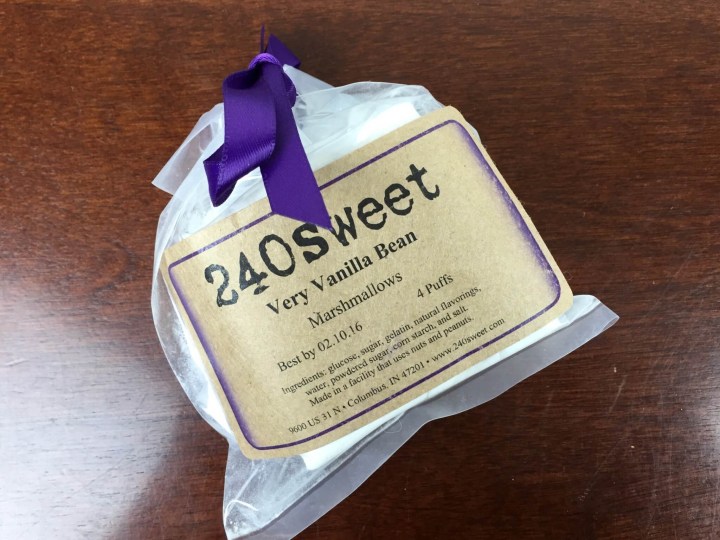 240 Sweet Very Vanilla Bean Gourmet Marshmallows ($4) Yum! Handmade marshmallows! There were four large handmade and handcut marshmallows, and they were quite tasty! The box came with a code for $10 off $20 at the marshmallow store (LittleLace)!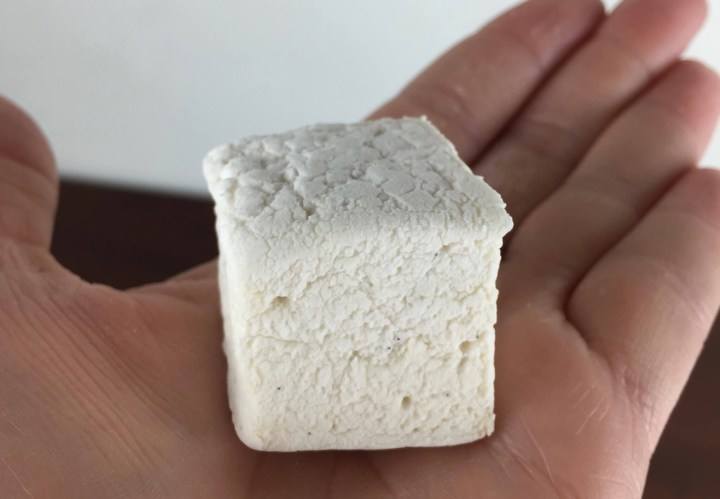 You can see the nice flecks of real vanilla.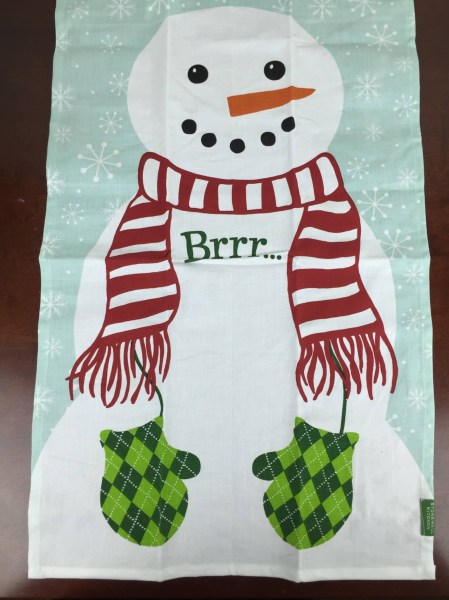 Stonewall Kitchen Brr Tea Towel ($7.95)I totally squealed when I pulled this out, because I love winter/holiday decorations and get super excited when they're in my subscriptions!  I think this is adorable and I'm super excited about it. It's 100% cotton and the colors are bright and cheerful. Four different versions were sent to subscribers!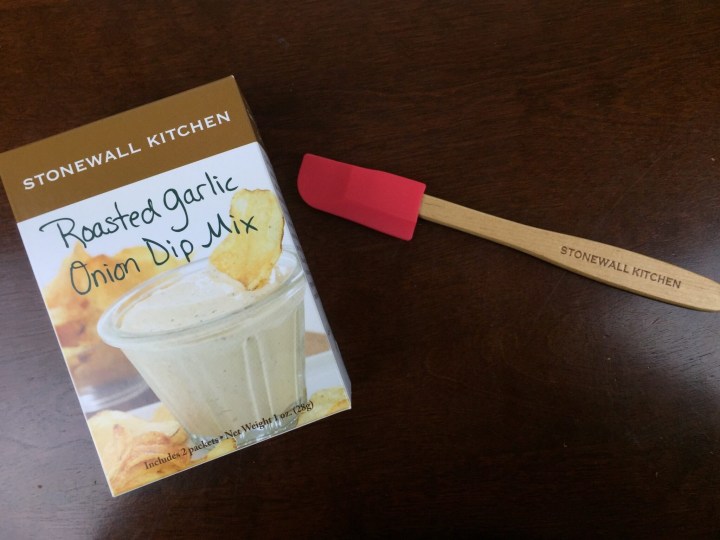 Stonewall Kitchen Red Spatula ($3.95)
Stonewall Kitchen Artichoke Spinach Dip Mix ($3.95)
Yum! I love easy to mix dips and having one in the pantry means that its super easy to say yes to someone coming over on short notice. Except after getting multiple dips yesterday I made my husband make me a dip so I could stuff my face with it.  Time for more dip! Little Lace Box also has all the products in their shop. You can get them directly from Stonewall Kitchen, but you have to pay shipping there. And the spatula is perfect for scraping the very last bit of dip out when you're not allowed to use your finger.



Mixbook Free Holiday Cards! ($26.80)  You can use coupon code LLBCARD to get 10 premium cards free! Exp 11/30.
I said last review that "I'm hoping that it will have something holiday-perfect in there!" And Serendipity totally delivered! TOTALLY! Despite the low cost this was one of the most delightful packages I've opened this month! There were about $21.50 in items, and another $27 in value for those fancy holiday cards. The only thing I was disappointed about was that they didn't clean up the information letter like the October 2015 Little Lace Box (and also ladies the yellow and blue looks terrible in photos, just saying). I'm crossing my fingers for a design update in January!
They also mentioned some Black Friday sales, and I'm super excited about that because they have such nice things in their shop. I went poking around yesterday and found some must have items!  Get all the information on our Black Friday subscription box sales event (which basically means I sit in my pajamas and blog for 24 hours) and sign up for the email newsletter there too so you get the notice of the Little Lace Box & Serendipity sales!
Visit Serendipity by LLB to find out more or to subscribe!