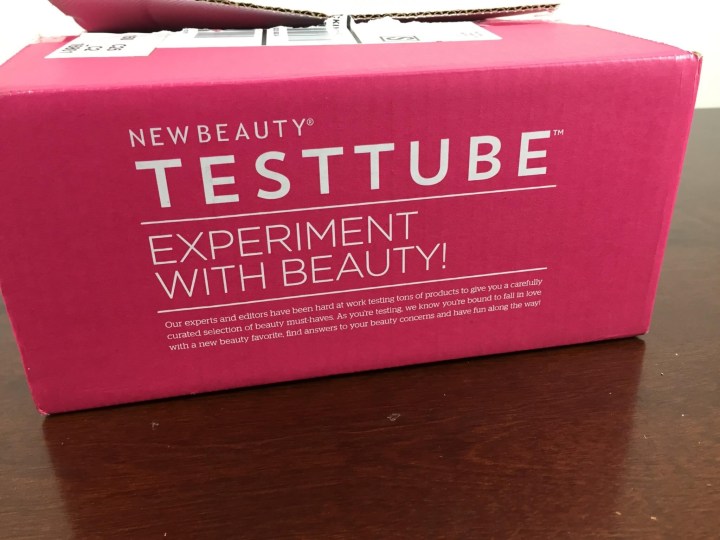 I have to say, I think the November NBTT is a bit of an odd duck! New Beauty Test Tube is a beauty subscription box filled with deluxe and full-size products. When you subscribe you will also receive a subscription to NewBeauty magazine, delivered quarterly.
Not everything would fit in the box!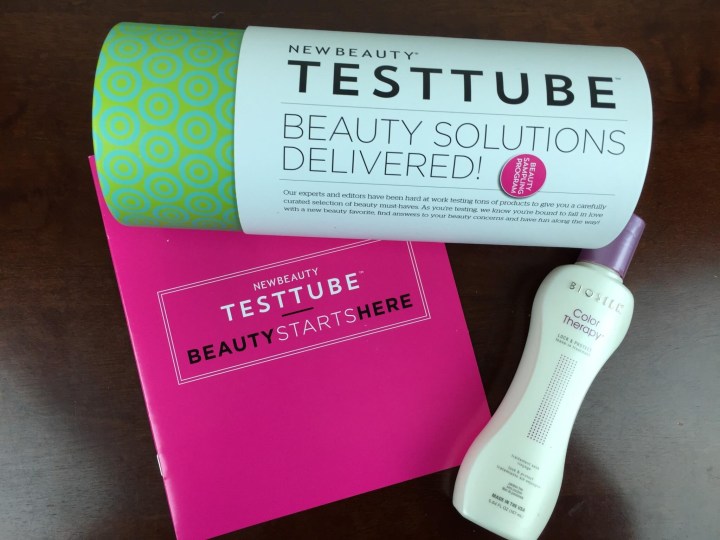 Inside the box is the tube and information booklet, and all the items are in the tube, except for the Biosilk – no room!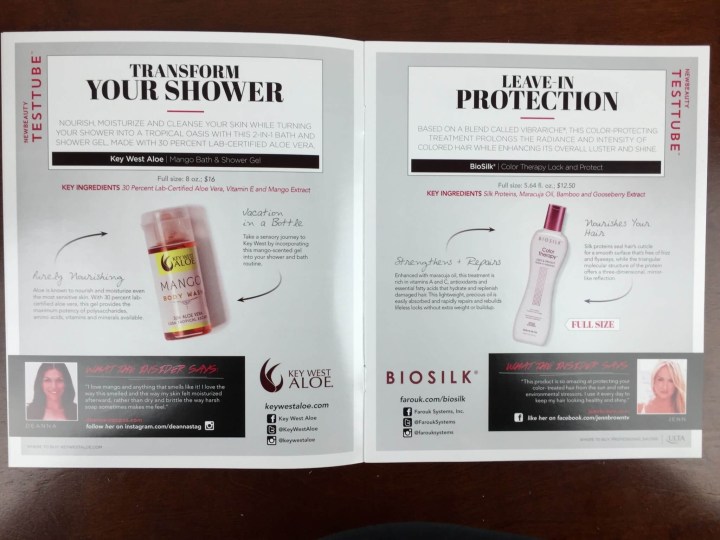 The information booklet has details on each item – and it's had a great refresh and redesign! Each Test Tube Insider has reasons why they love the product on the page.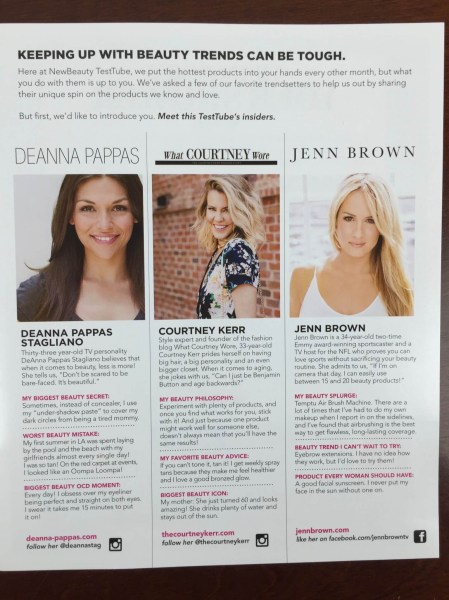 This month the TestTube Insiders are a bit younger than the last box.. I definitely think of this box as targeted to more mature women although everyone should care about skincare!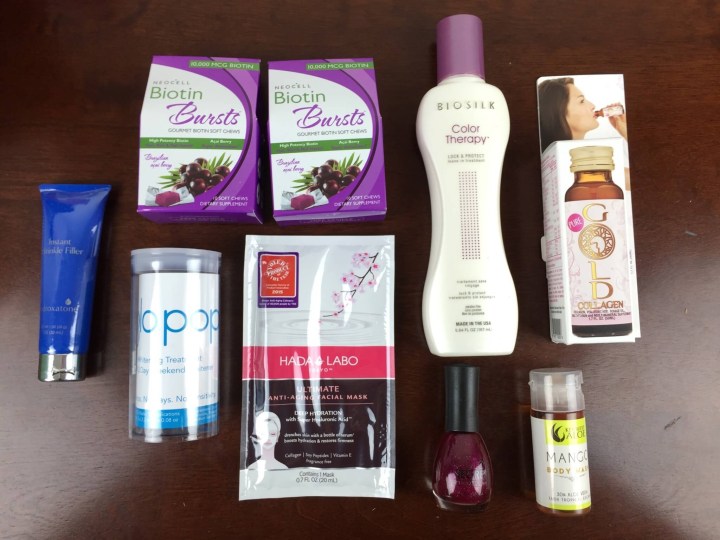 Everything in the box!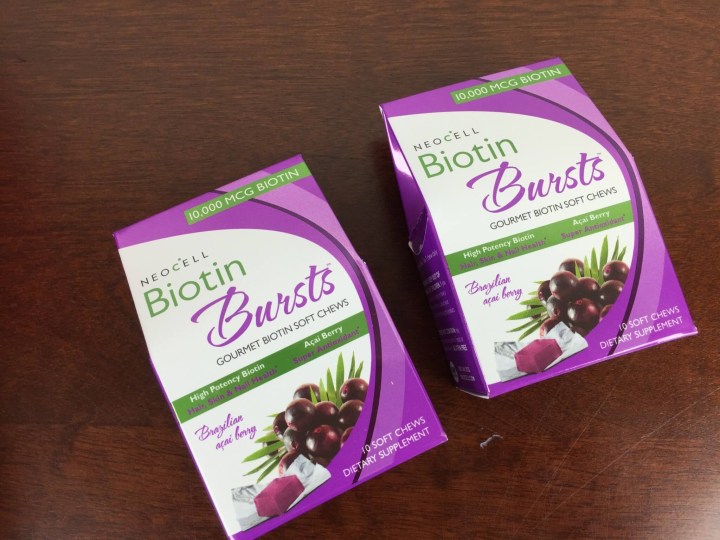 NeoCell Biotin Bursts High Potency Biotin Soft Chews ($8.83) I have had these before and they are tasty – and definitely beauty focused – biotin can help strengthen hair and nails.
BioSilk Color Therapy Lock and Protect ($12.50) I have used this product before (and received it in this box – after a while the products seem to repeat but I don't think the average subscriber notices too much). It helps protect your hair and lock in color by blocking UV rays.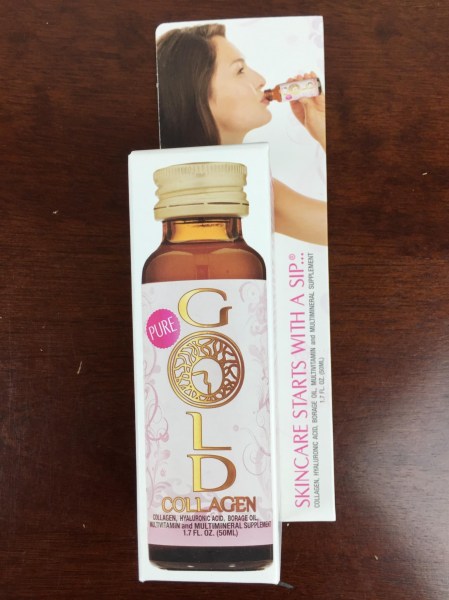 Pure Gold Collagen Liquid Beauty Supplement ($4.99) I just couldn't bring myself to try this. Can you give me a pill instead? Drinking collagen gives me the willies. And also I am not sure that it would have any efficacy digested. It's the same thing as eating bone broth, which sounds much better.
Hydroxatone Instant Wrinkle Filler ($69) This is a crazy expensive product. Although I have often received line filler samples I don't know if I have ever received an entire tube! I am not sure how to layer this with my existing products. Under primer? Can you use with primer?
Hada Labo Tokyo Ultimate Anti-Aging Facial Mask ($3.75) I have enjoyed all the products I have tried from this brand. This sheet mask is infused with super hyaluronic acid, which draws moisture into your skin.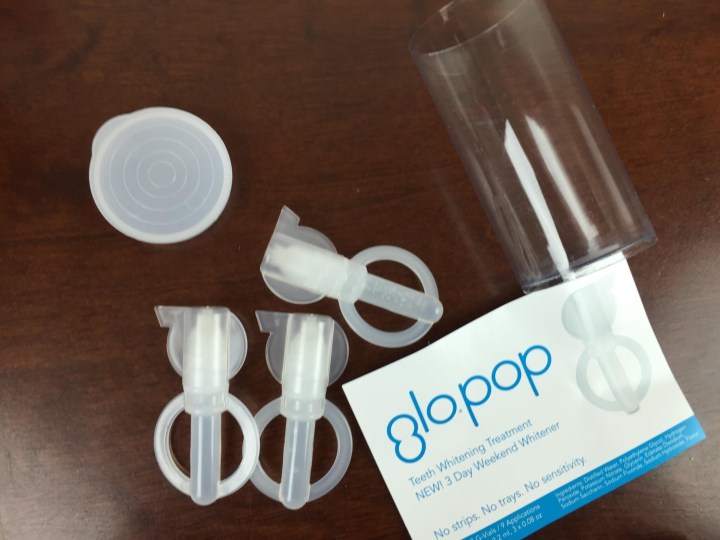 GLO pop Teeth Whitening Treatment ($26.70) 3 ampoules of a weekend teeth whitening treatment that promises to work without sensitivity, strips, or trays! The full treatment is 10 days, so this is a pretty good way to try it out – I think most of the magic happens in the first couple days anyways!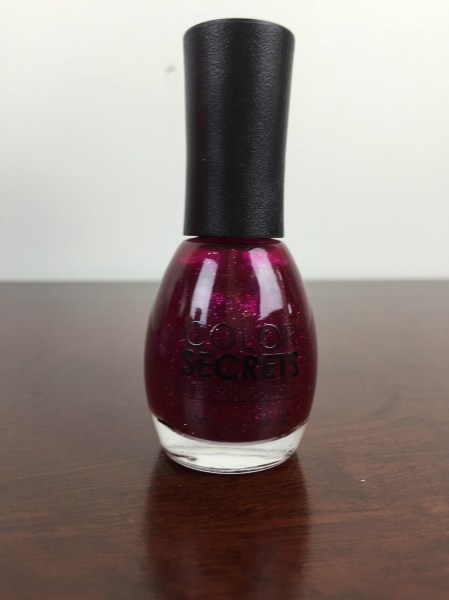 Color Secrets Nail Lacquer ($5.99) When I first looked at this nail polish I didn't think much of it. Then I realized that it's a really beautiful holiday party color!
Key West Aloe Mango Bath & Shower Gel ($5) Aloe Vera really works and I have enjoyed everything I have ever used from Key West Aloe. In this body wash had a great mango scent and of course – the hydrating properties of aloe.
Most of the value of this box – a whopping $137! – was in the wrinkle filler, but even if it wasn't your thing there was enough value in the November Test Tube to keep everyone happy. I do have a box to give away
Visit New Beauty TestTube to find out more and to subscribe. Save 30% on your first box with this link – no code necessary!
The Subscription
:
New Beauty TestTube
The Description
: Six times a year receive a TestTube filled with deluxe and full-size beauty products – top brands, time-tested formulas and targeted innovations. Subscribers receive a subscription to NewBeauty magazine, delivered quarterly.
The Price
: $38 bimonthly