My Ireland Box is a monthly subscription box from Ireland filled with the best of Irish-made craft (artisan goods). You can expect to receive Irish made jewellery, homeware, craft and beauty products. They ship to the US, Canada, EU & Australia (anywhere with a significant proportion of people with Irish last names live!). This box ships from Ireland!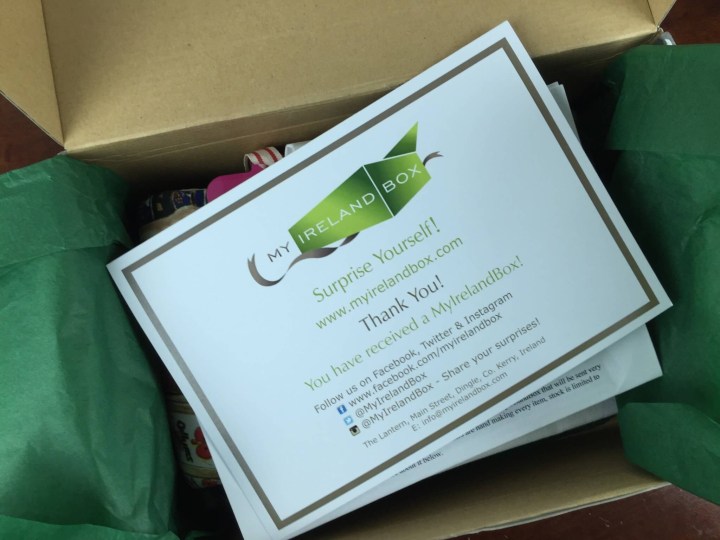 This would make a fun gift for anyone of Irish heritage or that loves the beautiful artisan products from Ireland.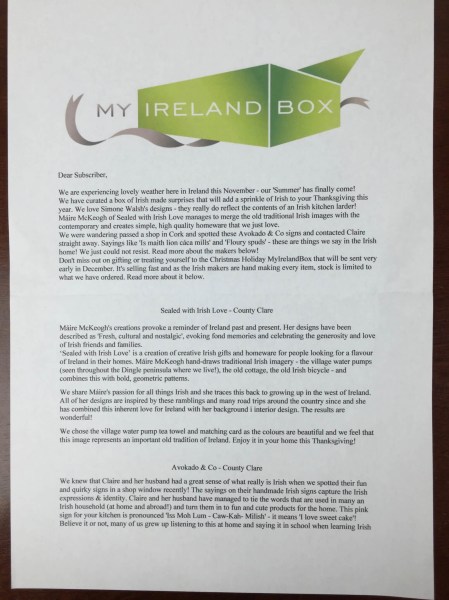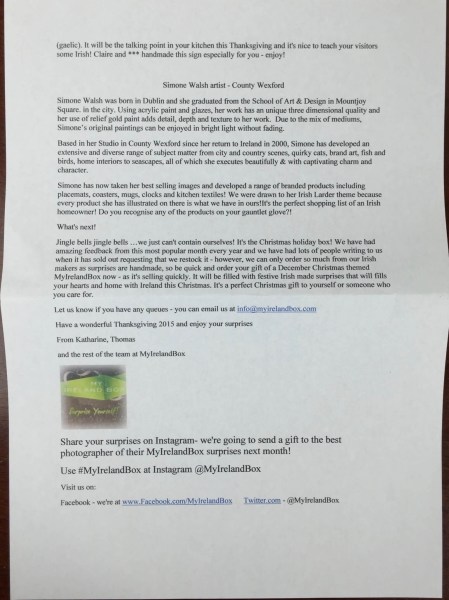 Extensive information about each product and its maker/designer comes with the box. We really liked their information sheet because it gave each item a real sense of place and we got to learn about the influences of each item, the inspirations of the designer, and more!
Everything in my November MyIrelandBox!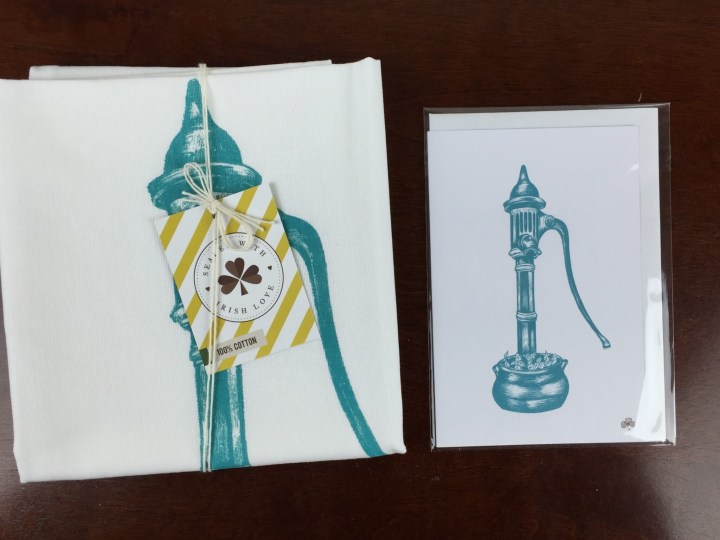 A matching set! Along with the tea towel below was a matching blank card illustrated with the Village Water Pump drawing.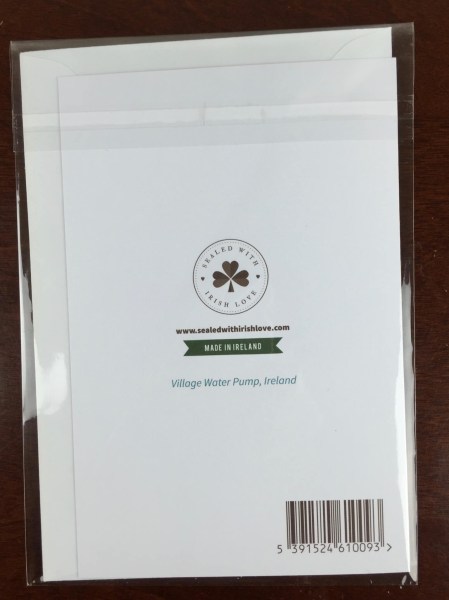 Around the shamrock it says "Sealed with Irish Love."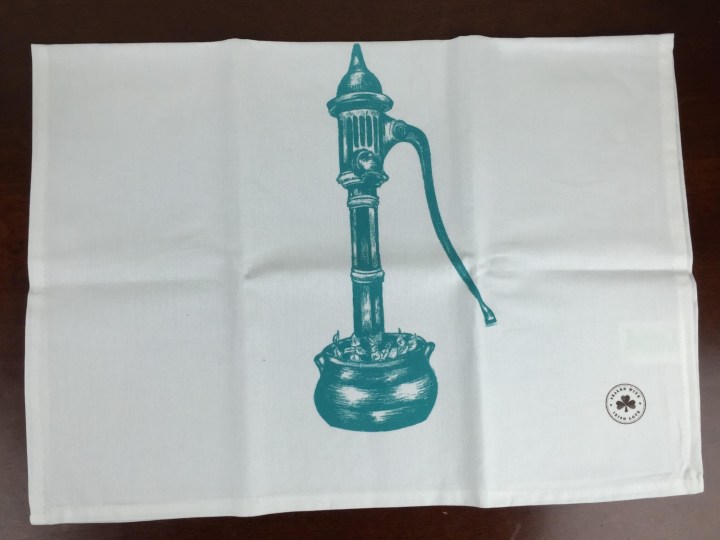 Sealed with Irish Love Water Pump Tea Towel: This color is absolutely stunning! This is a print of traditional Irish imagery that's hand drawn and printed onto a very high quality towel. I loved that the stamp was on the towel as well! You could wrap your bread in it and have the little symbol on the top, that would be sweet!
Avokado & Co. Gaelic Handmade Sign: Translated this says I love Sweet Cake! The curator of this box saw these signs and got the artist to design one exclusively for My Ireland Box subscribers! This is so fabulous and when I finish decorating my office it's definitely getting hung. My mother-in-law (Mrs. O'Grady) will try to steal it, but I'll beat her away with a stick. Do you have a saying that you'd place on a sign? Ours would be "It takes a bread to make a bread," but don't ask me to explain it!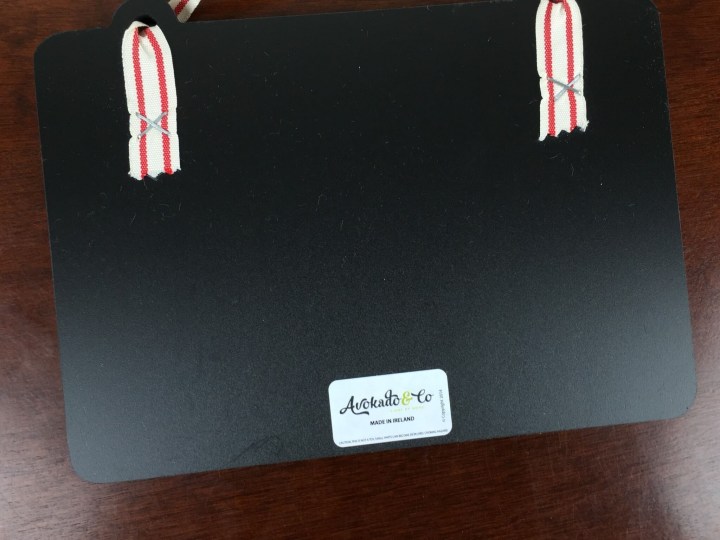 I don't think the ribbon is coming off! It's very nicely crafted.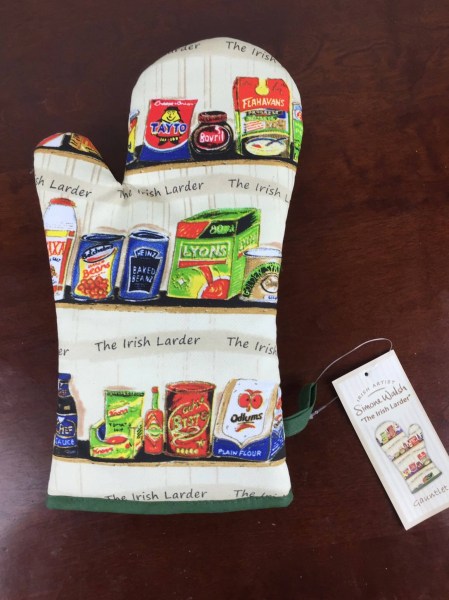 Simone Walsh Irish Larder Theme Oven Mitt: Absolutely everything you'd see in an Irish pantry – especially those Heinz beans! The artist has a whole line based on her original acrylic paintings, which sound pretty fab – textural and accented with metallic gold paint. I love the elevation of the everyday into art. Also I love how they call this an "oven gauntlet" – like you are preparing to do battle with your hot pan!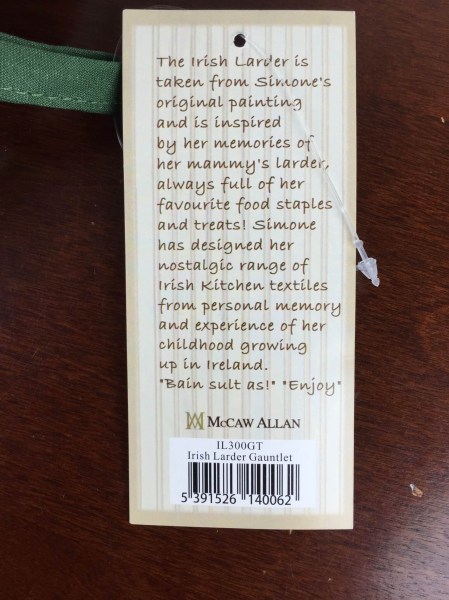 This was another great box, and a totally unique subscription! I really loved the colors of everything and thought they really matched well in a modern home. The December box sells out quickly each year, so if you're interested in picking one of those up, definitely grab it. They also have the sheep box that they were able to restock, and 3 month subscriptions come with a gift as indicated on their site!
Visit My Ireland Box to subscribe or find out more!
The Subscription
:
My Ireland Box
The Description
: MyIrelandBox curates the best of Irish made craft: jewellery, homeware, craft, and beauty products, delivering a monthly box of surprises to your door!
The Price
: $45, €6.20 to Ireland & Great Britain, $10.50 internationally