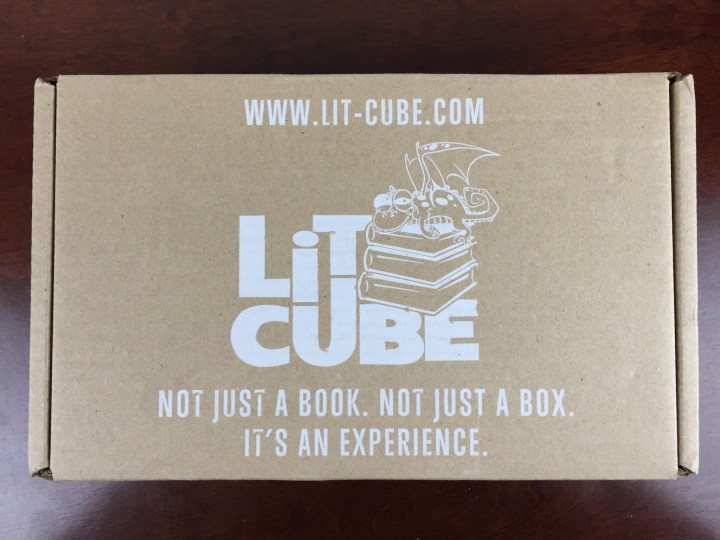 November's Lit-Cube theme was Immortal Kiss! Lit-Cube is a monthly themed book and bookish items subscription box. This box provides you with an immersive reading experience by providing reading material paired with quality themed items!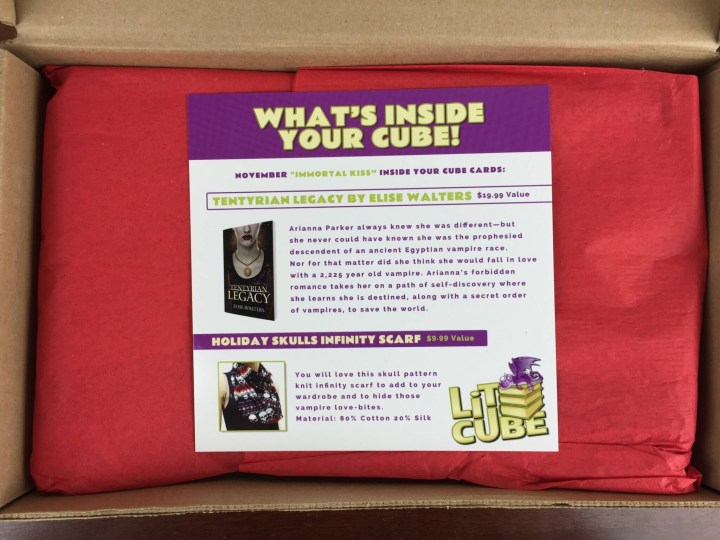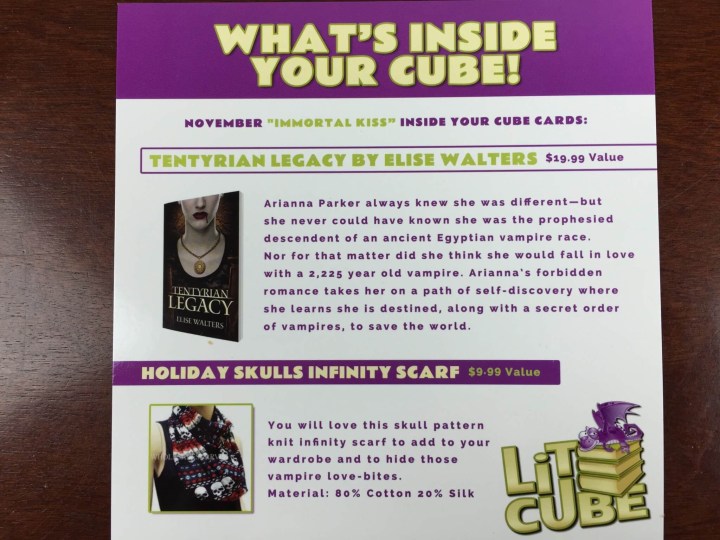 The information card has all the details on each item.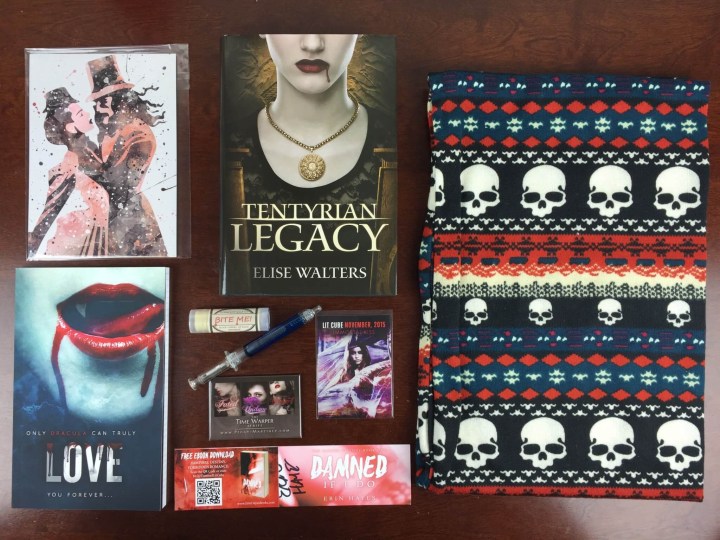 Everything in the box!
Every box contains a little collector's card with the monthly theme. There's also always some extra book swag with free downloads. This month also included a magnet for The Time Warper Series (the first book is free!).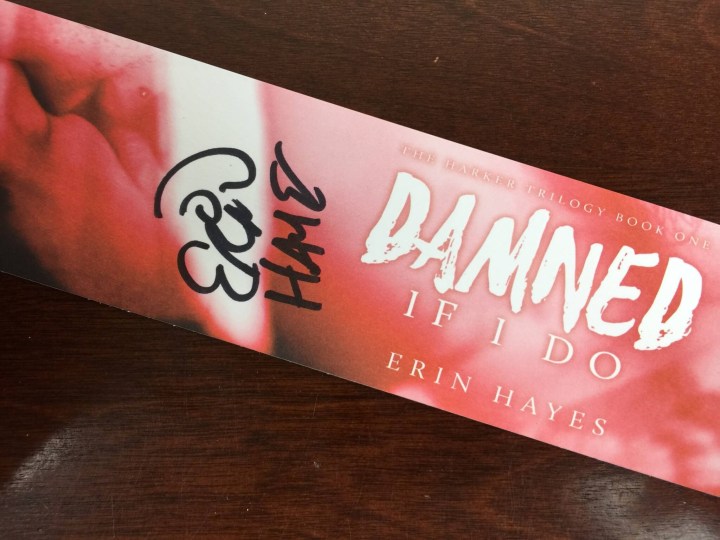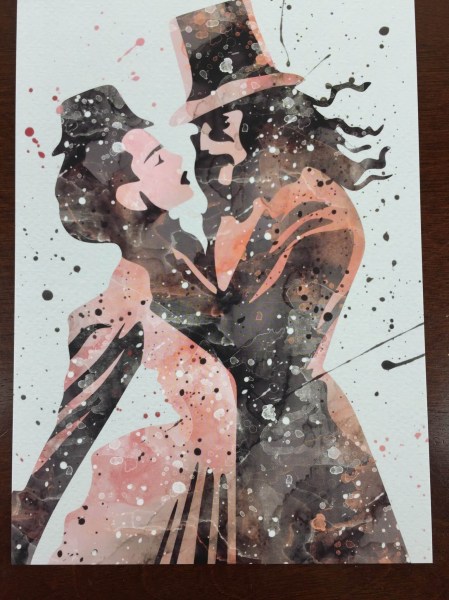 5×7 Dracula inspired print ($6.99) The information card didn't have information about the designer of this, which is lovely. I love the sort of Pollack-ish style with the watercolors.
Lippincott Soap Co. Bite Me! Black Cherry Lip Balm: This is the second month in a row where an item has been different than the card (which was lip balm/pocket mirror set). I do love it. Sometimes when working with artisan producers I think things just sometimes turn out differently!
Syringe Pen: I randomly ran across one of these while setting up a gift guide and thought it was hilarious. I wish mine was red for blood but I still think it's funny!
Whit & Ware Dracula Inspired Journal [on the right] ($9.99) Exclusively designed and printed for Lit-Cube! A pretty delicious cover! It's lined on the inside
Tentryrian Legacy by Elise Waters ($19.99)
Arianna Parker always knew she was different—but she never could have known she was the prophesied descendent of an ancient Egyptian vampire race.

The legacy begins in the sands of Egypt in a time when an ancient city called Tentyris flourished. Its secretive people, ruled by the Council of the Zodiac, lived peacefully alongside humanity. That time was 53 B.C. More than two millennia later, the power of the Tentyrian people has been all but forgotten. The remnants of memory that live on have been turned into twisted folklore about vampires and astrology.

One girl on the cusp of womanhood is about to discover just how real that folklore is.

With telepathic powers that made her parents send her to a mental institution, Arianna Parker always knew she was different—but she never thought a job interview would lead to the discovery of her being a prophesied descendent of an ancient Egyptian vampire race. Nor for that matter did she think she would fall in love with Maximos Vasilliadis, a 2,225 year old vampire. Maximos is the creator of the Tentyrian Brotherhood—a secret order of warriors, pledged to prevent a catastrophic event predicted to wipe out Earth.

Maximos believes Arianna is a descendent of his kind—the Tentyrian vampires—and she has been destined to lead their cause in saving the world. With her 25th birthday approaching, an event that will change her forever, Arianna finds herself caught in the middle of warring vampires—some of whom intend to use her and her power of telepathy for evil.

From the manicured lawns of Connecticut, to the streets of New York City and an exotic island in the Ionian Sea, Arianna must learn to trust Maximos and her heart if she is to save the world, herself, and the Tentyrian legacy.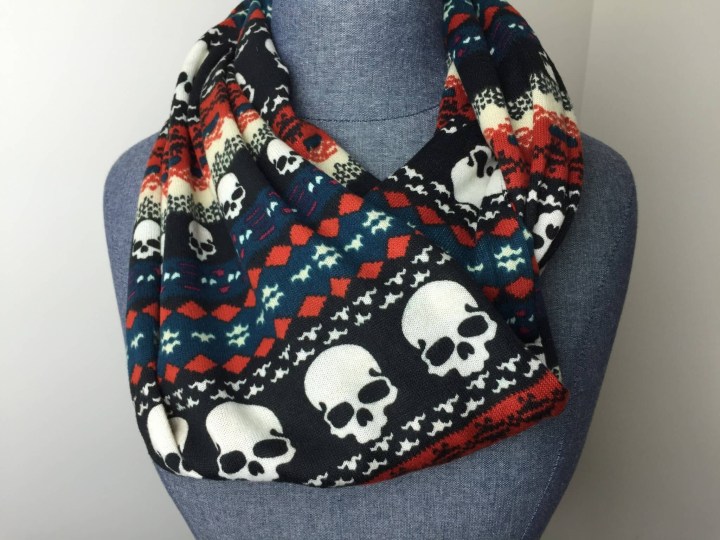 Holiday Skulls Infinity Scarf ($9.99) I wore this today and got tons of compliments! I absolutely loved this.
As always, a well-themed box with really great bookish extras. I totally loved the scarf and print this month, and that this box wasn't afraid to get creepy in November!
Visit Lit-Cube to subscribe or find out more!
The Subscription
:
Lit-Cube
The Description
: Lit-Cube is a monthly subscription box for readers. Lit-Cube strives to pair hand-picked books with high quality literary themed products to bring you a magical reading experience each and every month. Now also offering Junior subscriptions!
The Price
: $21.99 plus $7.99 shipping and handling.