Linen Crate is a newer subscription box that has transformed quite a bit over the past few months – instead of just linens, it's pretty squarely focused on home decor in general. When you sign up you'll fill out a home decor style profile, and your boxes will be based on the color and style preferences expressed in your profile. Every month you'll receive $150+ worth of expertly curated goods in every "Prime Decor" box. There's also an Elite option for a bit less. Every subscriber will receive a bathroom box as their first box, see what we received in our Linen Crate Bathroom Box!  You can see the box schedule here.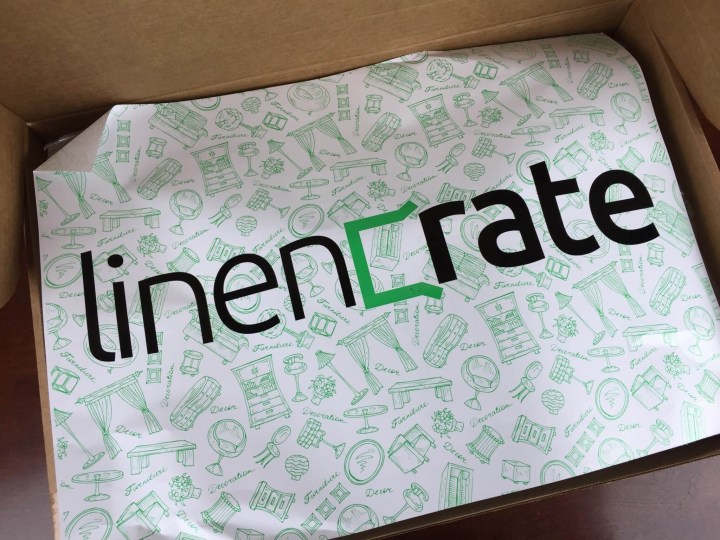 Linen Crate has changed ownership and going forward will focus on modern/contemporary styles. As that has been my preference, I do not expect the style of the items I have received to change. The new owners have dramatically simplified everything by eliminating the style profiles and the multiple frequency options.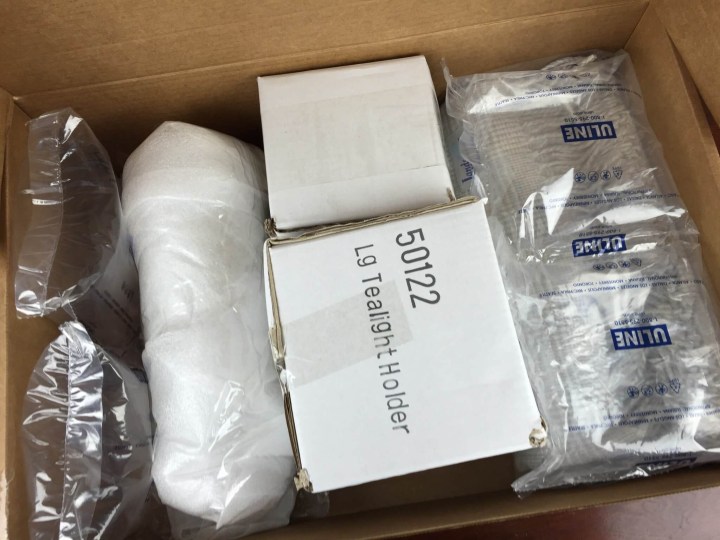 Everything was extremely well protected, wrapped up, and packed neatly and securely. There was no information card but they emailed one to me.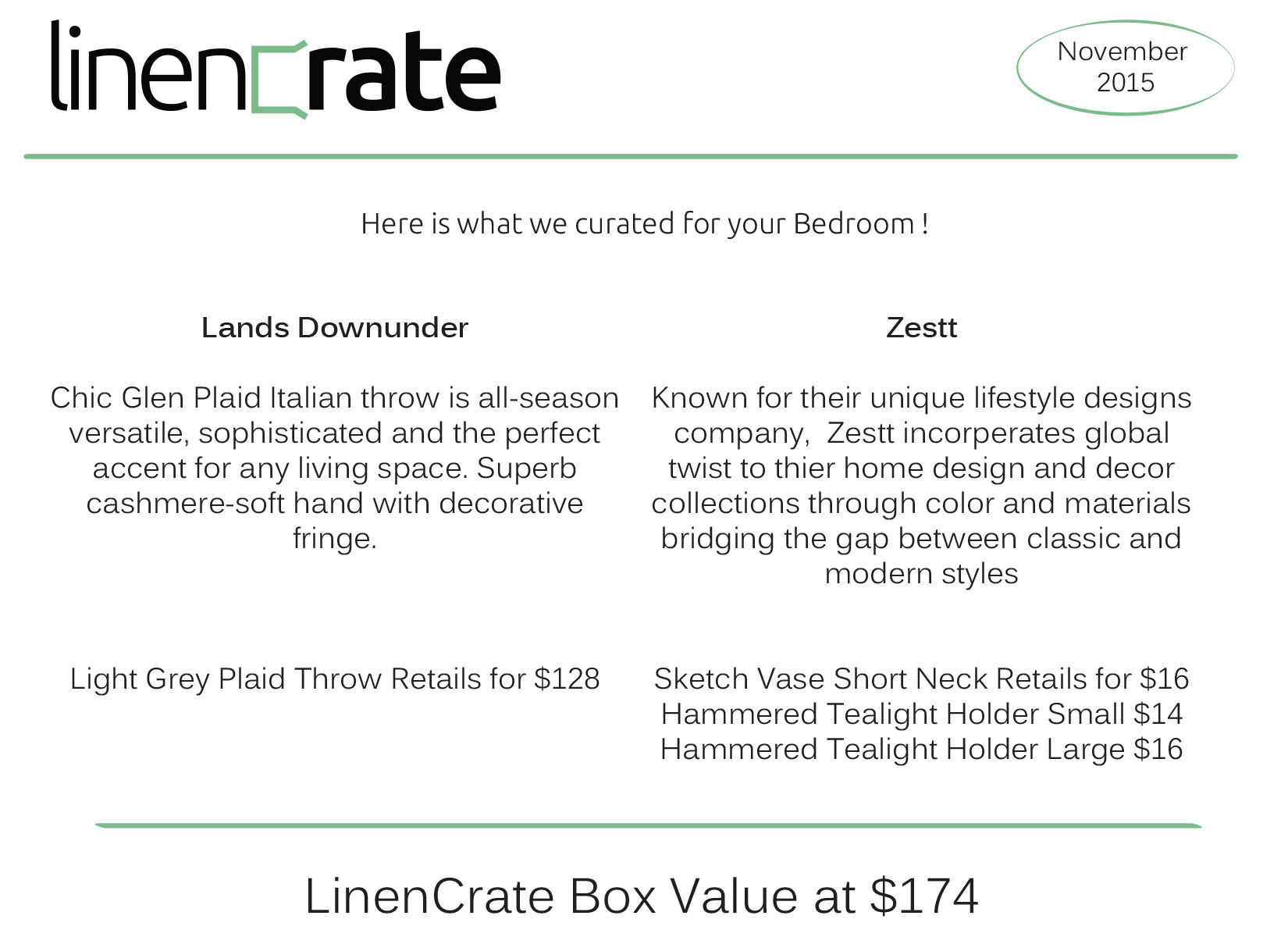 Everything in our November Linen Crate box for the Bedroom!! I was thrilled with the colors because my bedroom scheme is gray and purple!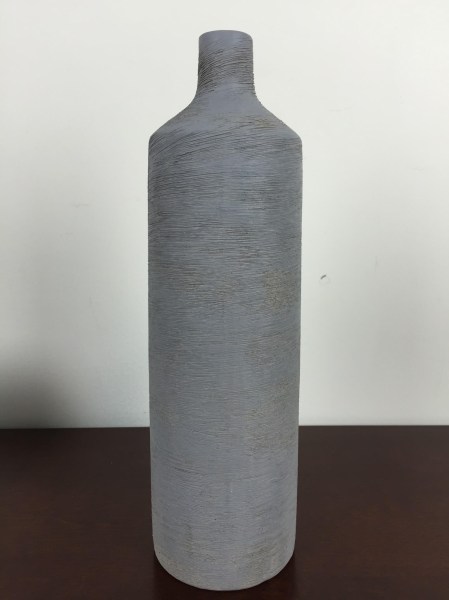 Zestt Sketch Vase Short Neck ($14.99) This is a modern bottle vase design with textural detail to add some interest to the relatively simple shape of the container.
 This definitely matched the description of bridging contemporary and modern styles and I think it would work with a variety of decor motifs.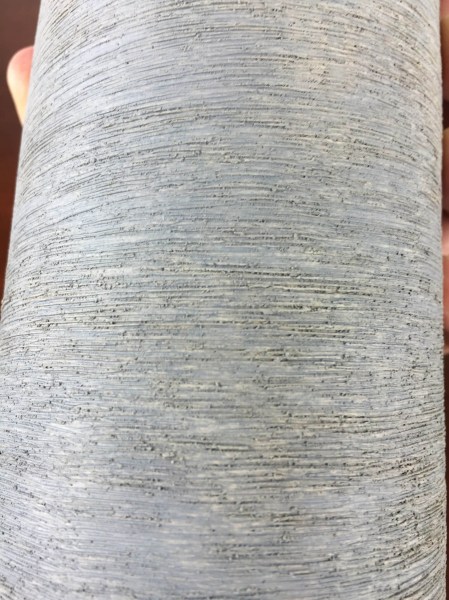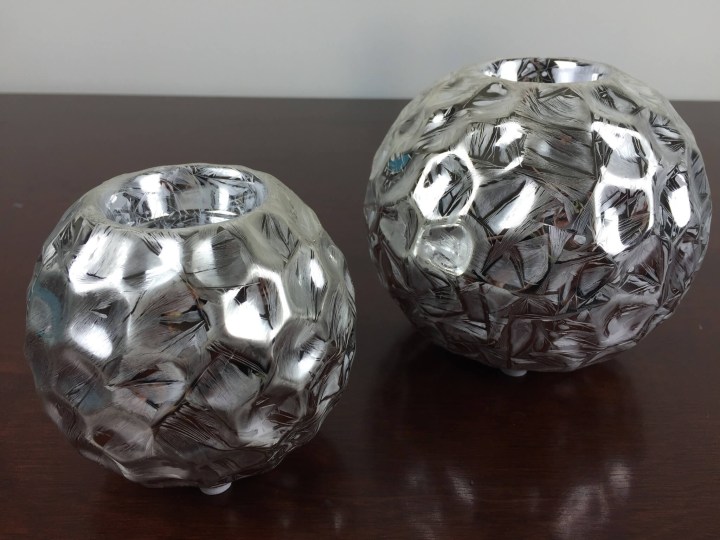 Zestt Hammered Tealight Holders – Small & Large ($30) I absolutely loved these! I wish they came with some extra LED tea lights but I know I have some somewhere, and they look great even without a candle.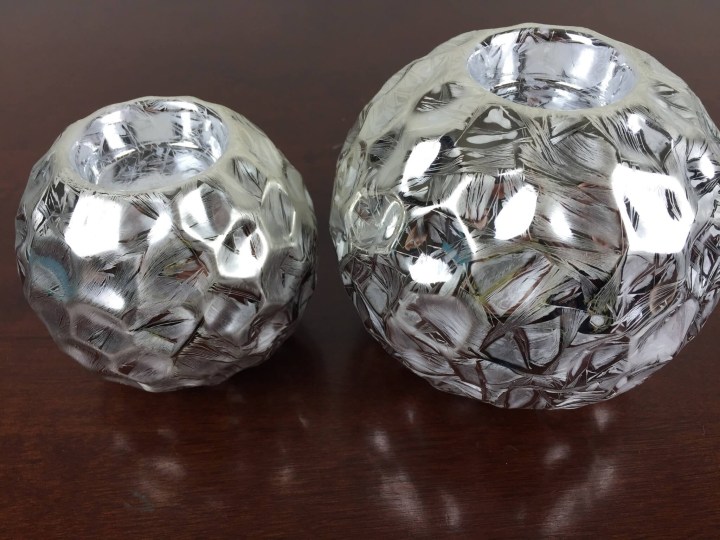 I really like the different patterns (shiny and dull) combined with the lumpy texture of the globes.
Is this too suggestive? ?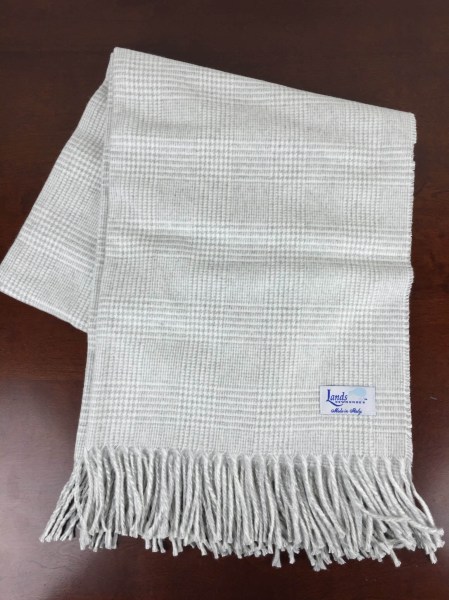 Lands Downunder Luxury Italian Capri Throws ($98) after I was all excited about the candleholders I unwrapped this gorgeous throw. I am ok basically with a blanket in every box!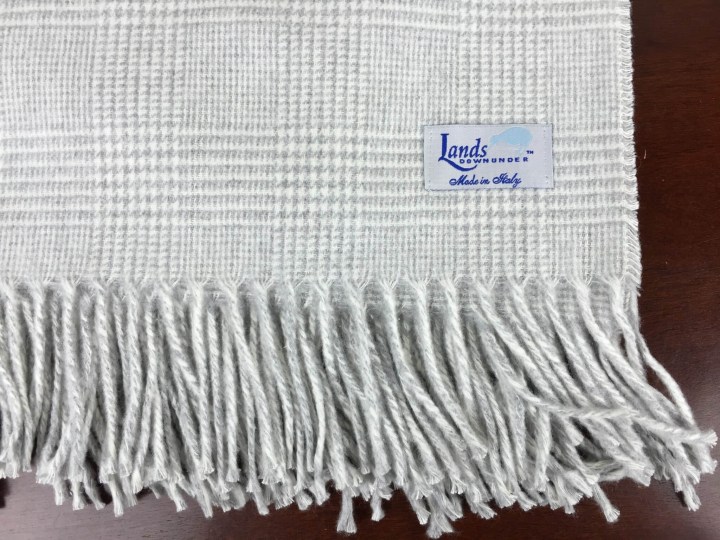 I love the pattern and the fringe and it's super soft. 50/50 cotton and acrylic.
I loved this box! It fit my personal taste well, which matches the box curation in general (tilted towards a modernish home aesthetic). I loved the throw, it was pretty fantastic, and I liked the decor items too. They're easy to tuck into my existing items and incorporate them into my decor to make it a little fuller. I came up with a box value of about $143, which represents a nice savings over the cost of the box too. I'm very much looking forward to seeing what future months bring for Linen Crate – next month is the powder room. Since it will be the second time receiving that box for me and the first time under the new owners, I'm super curious what they'll pack into it.
Visit Linen Crate to subscribe or find out more. You can use coupon code hello40 to save $40 on your first monthly prime crate!
The Subscription
:
Linen Crate
The Description
: Get premium bed sheets, curtains, bath towels, and many more home decor items, monthly – leaving you time for everything else. Each Box You Receive Will Include 6-9 Linens And Accessories Items Curated For The Featured Room Of The Month. Every Month Different Room, Different Accessories And Different Furnishings!
The Price
: $109 for the Prime Crate or $75 for the Elite Crate plus $5.99 shipping
The Coupon
: Use coupon code
hello40
 to save $40 on your first monthly prime crate!
See Linen Crate in the Hello Subscription Box Directory!
The Categories:Home, Housewares, and Household Subscription Boxes.
The Reviews: See all our Linen Crate Reviews.