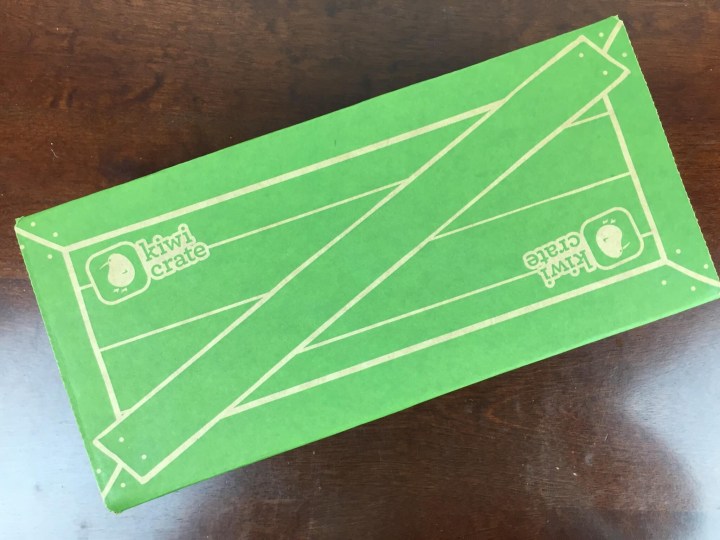 The Kiwi Crate My Glowing Snowglobes crafts offers a quick, easy, and beautiful holiday kids craft! Kiwi Crate is a kids' craft and activity subscription and it comes with everything you need to create 2 excellent crafts. They also offer a variety of single crates without subscription, plus awesome holiday crafts. See all the Kiwi Crate holiday gift subscriptions and holiday shop items here!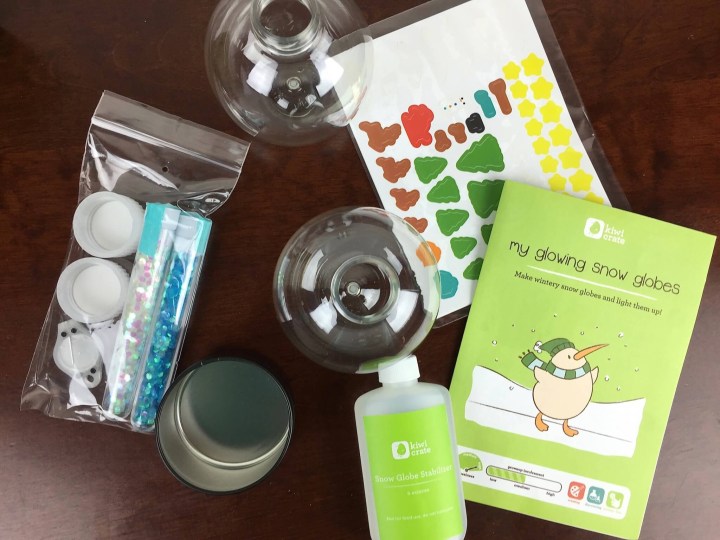 Everything in the crate.  This special pack didn't have the usual explore! magazine, just a great winter holiday craft.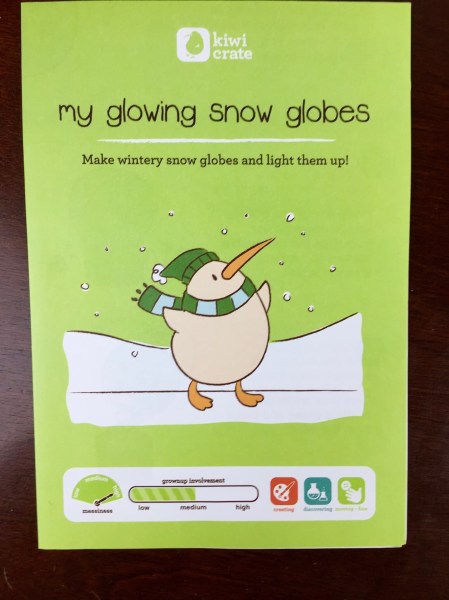 The booklet indicated a high level of messiness and medium parental involvement.  This craft has the potential to be very messy  because of the glitter used, but with parental guidance, it is actually a quite tidy craft.
Complete instructions are provided.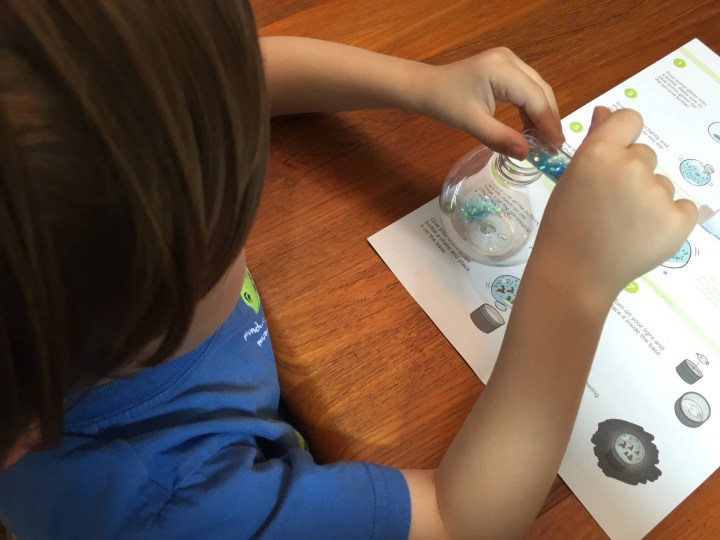 Our four year old was able to do the pouring of glitter without any mess.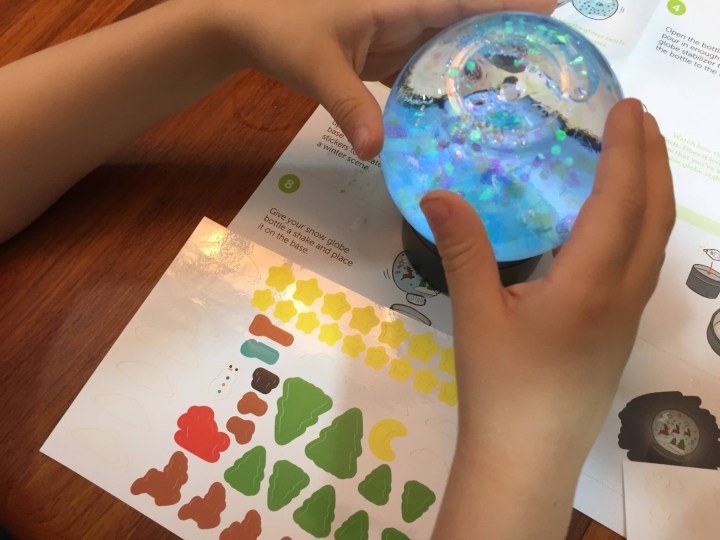 Two kinds of glitter were provided (both kids opted for a mix, of course).   Stickers were also included for creating a scene on the exterior of the globe.
We loved that there were two globes included.  This gives you the ability to swap between two different designs.  In our household, it also meant that each kid could design their own.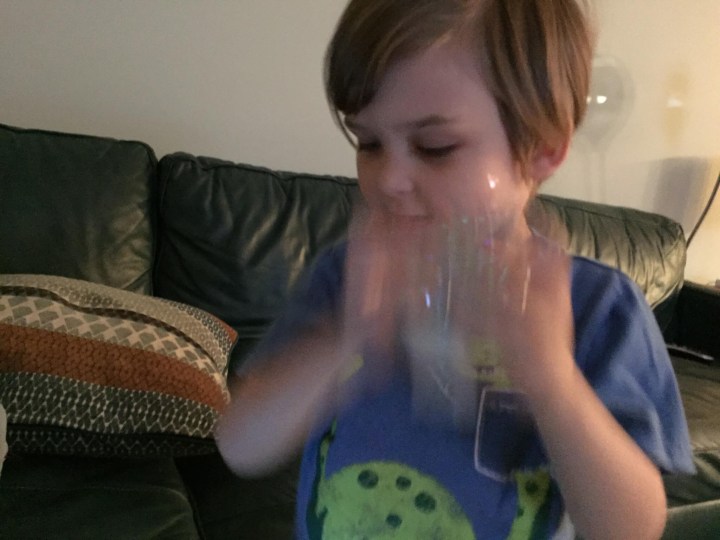 It is at this stage that were were very glad that the globes were not made of glass.
The LED light is very powerful, and it illuminates the globe with ease.  Enough light is cast that these would make superb night-lights to use during winter.
All the kids liked the globes, and the durable plastic jug made the craft nearly baby-proof (though our little engineer would wreak havoc with the base if left to his own devices).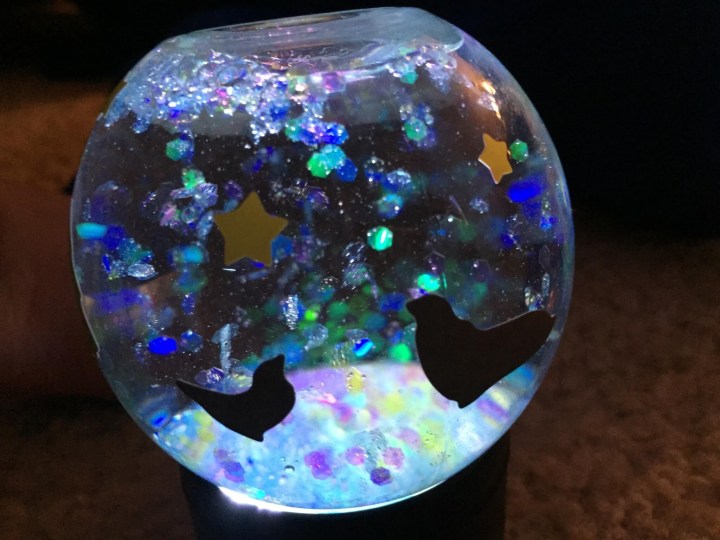 The kids had great fun making this seasonal craft.   Many kids boxes have crafts that good for keeping kids busy, but we loved that this project created a keepsake quality ornament that we can display all season.
Visit Kiwi Crate to subscribe or to find out more about this fantastic kids' craft subscription box! Use coupon code MS30 to save 30% on your first box of Kiwi Crate (or KiwiCo family subscriptions Tinker Crate, Koala Crate, and Doodle Crate ).
The Subscription
: 
Kiwi Crate
The Description
: Arts, crafts, and science activities subscription for kids ages 3-7. Get a monthly subscription filled with all the materials and inspiration that will let your child explore, imagine, and create, all centered around a fun monthly theme!
The Price
: $19.95 per month, down to $16.95 per month on a year long subscription