Jade Canopy is a monthly subscription box that celebrates gardening and home horticulture, bringing garden enthusiasts seeds and bulbs, advice, and various garden-themed treasures. Jade Canopy focuses on organic, heirloom, non-GMO seeds and is suitable for novice and experienced gardeners!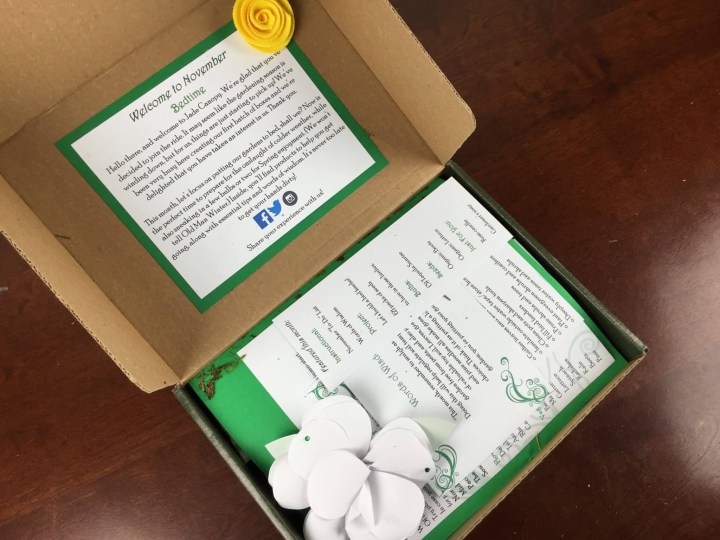 The box was quite lovely, adorned with paper and fabric flowers.  It was decidedly clean and fresh for a box dedicated to those who toil in dirt.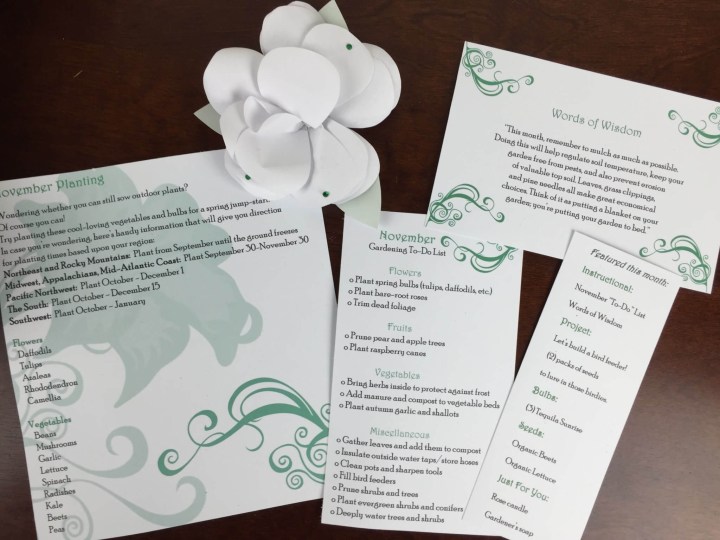 The box included an inventory of the items within, but it had other cool stuff too.  This was perhaps the most pleasant surprise in the box — a handy guide outlining what plants are appropriate for planting this late in the year (to get a jump on Spring), as well as a to-do list of winter prep to get your garden, trees, and grounds ready for over-Wintering and next growing season. We haven't done any of these things and now the list is on the refrigerator as my to-do.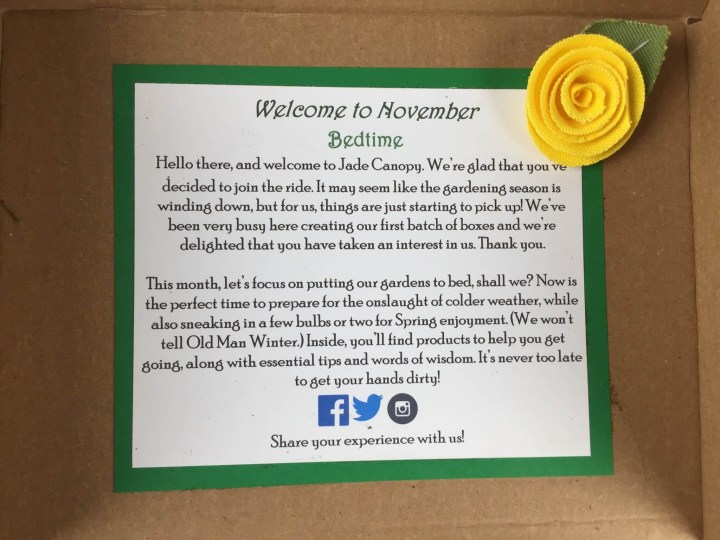 "Bedtime" is the theme, a double entendre alluding to both the preparation of the plant beds for next growing season, as well as the winding down of the current one.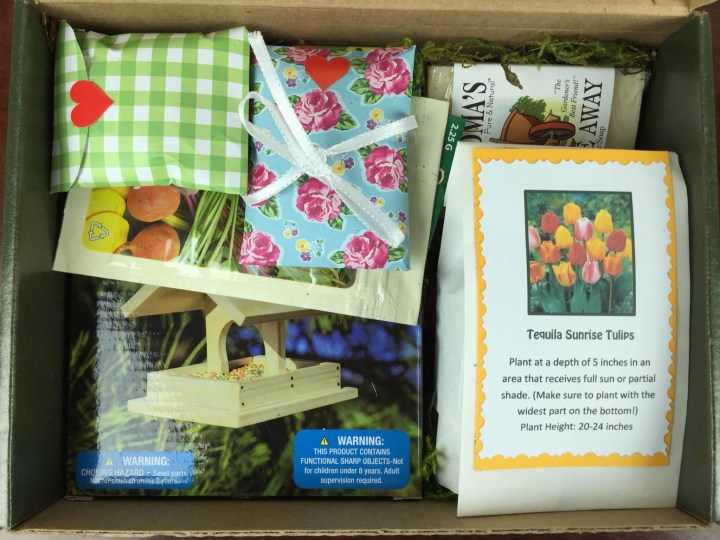 The box contained lots of stuff!  I was expecting a sparser collection, as has been our experience with other garden-themed boxes.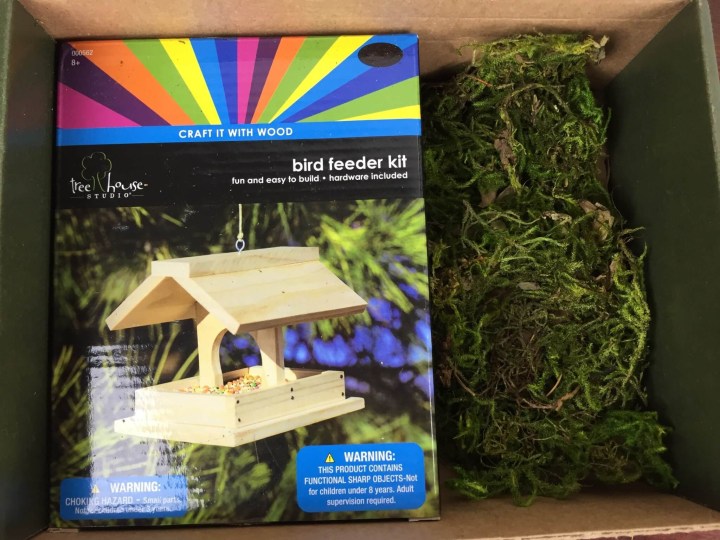 A bird feeder kit was included in the box!  This will be a fun weekend project and will help keep the yard active with birds all winter.  It comes with all required hardware, so you can get started right away.  A nice chunk of moss was included in the box to serve as eco-friendly packing material.
Our box included two packs of organic seeds:  Black Seeded Simpson Lettuce and a colorful beet mix, both items suitable for late-season planting.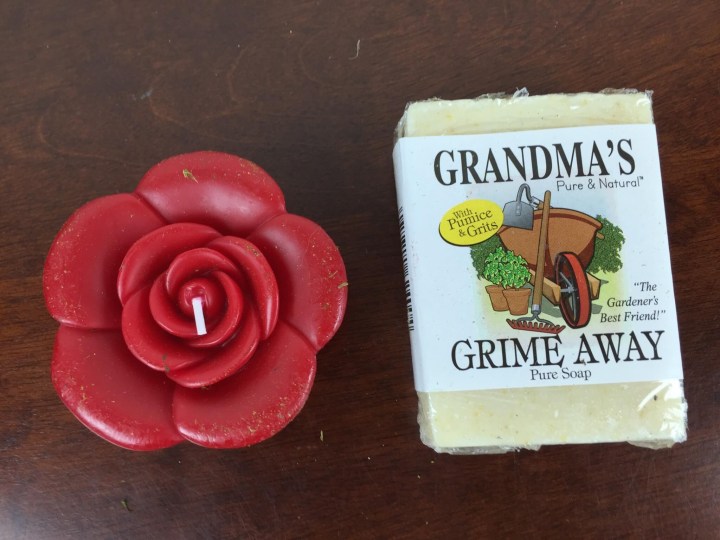 A beautiful rose candle was included in the box, so we can enjoy the beauty of flowers in the midst of winter!  Grandma's Grime Away soap was thrown in, too.  The pumice and grits help grab all the bits of dirt that linger in the creases of your skin.  I like having a bar soap like this around for clean up after yard work, since most hand soaps are focused on either moisturizing or being antibacterial, failing to target the dirt itself.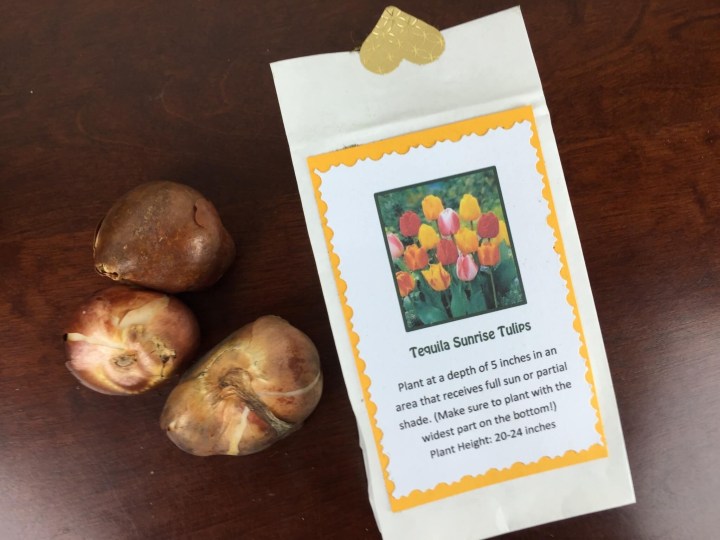 Tequila Sunrise Tulip bulbs are ready to be planted.  These beauties will over-winter and come up early next season.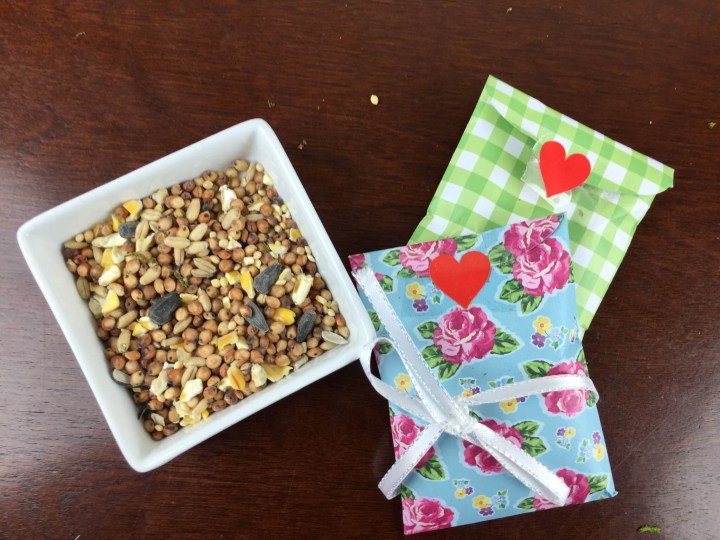 Two packs of seeds were included to get those birds to begin visiting your new feeder!
This box was really great!  The items stuck to the theme of the box and were seasonally-appropriate, a big must for a gardening box.  It was a pretty box for a gardening subscription!  I thought the advice sheet was particularly useful, as it listed specific trees and plants to prune, water, etc, and when to do so, in preparation for Winter.
Visit Jade Canopy to subscribe or find out more!
The Subscription
:
Jade Canopy
The Description
: Jade Canopy is a subscription box that fulfills the needs of novice and experienced gardeners, as well as anyone who purely has a passion for gardening and nature. By providing our expertise, as well as bringing you products that will delight and satisfy your gardening desires, we hope to expand on the world of gardening and cultivate a wonderful growing experience.
We donate 10% of all sales to animal charities.
The Price
: $35.00 per month