Ivy Kids is a monthly subscription box for kids ages 3-8 providing tons of fun educationally focused activities from a certified early childhood educator. There are oodles of activities in every box, providing really an entire month of projects that will  develop fine and gross motor muscles, build math and literacy skills, encourage reading comprehension, and promote scientific thinking.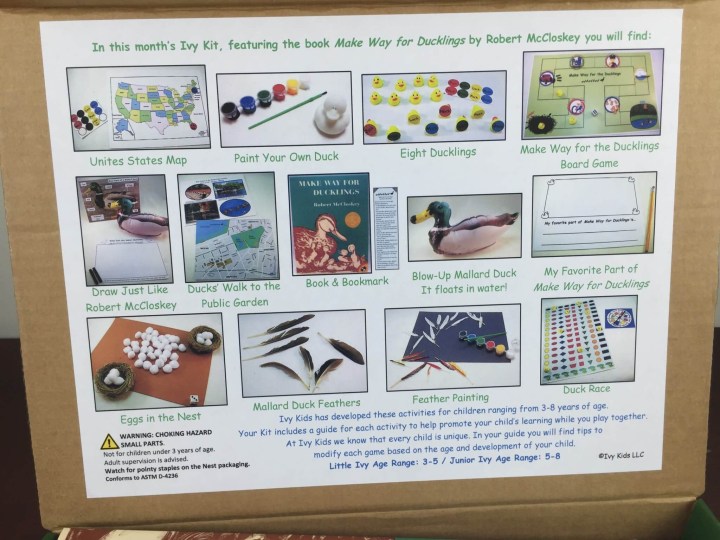 The October 2015 Ivy Kids Kit features the book Make Way for Ducklings by Robert McCloskey. This box encompasses two age ranges: 3-5 (Little Ivy) and 5-8 (Junior Ivy). It's also great to have a box that two kids can participate in.This particular box has supplies for two children, and you can add a sibling pack to your box for $5, which is totally worth it.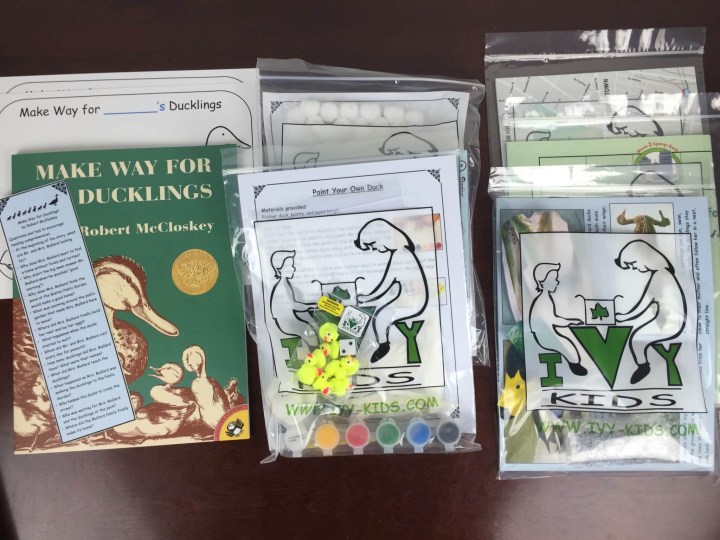 This box has so many activities, just filled to the brim. These are all the supplies that were in my Ivy Kids kit. Each activity is separated by a plastic bag, making it easy to grab and go, and to keep things organized. This is really important with so many activities. (And there are a lot of activities in this box! We use a lot of pictures for this review because it's an accurate representation of what you get!)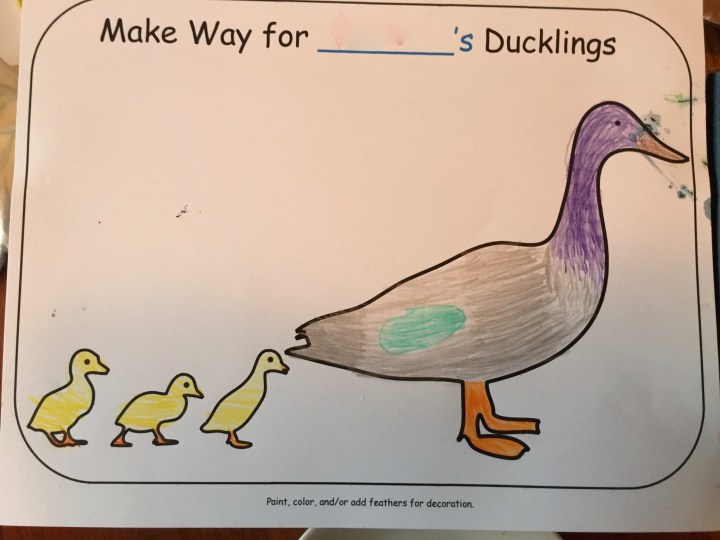 Every box includes a personalized item for your child. Ivy Kids doesn't personalize them for my kids because they know that we don't use our kids names on the blog!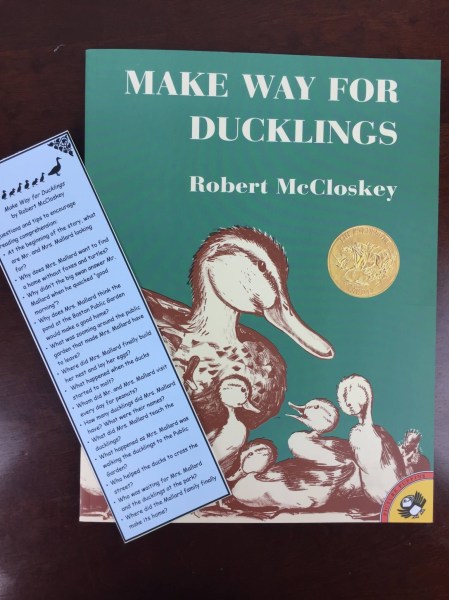 Make Way for Ducklings by Robert McCloskey: Every box comes with a book and the activities build on the book. It also comes with a bookmark with questions and tips to encourage reading comprehension. I was excited to see Make Way For Ducklings, a total classic!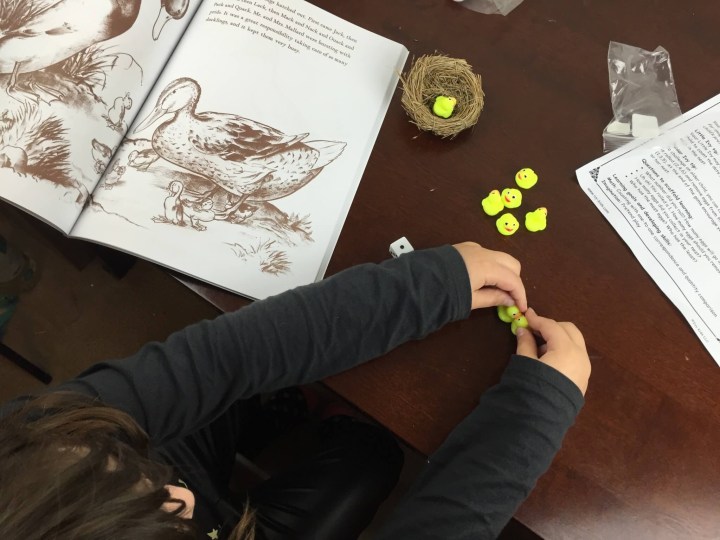 My daughter woke me up the other morning to let me know she was going to start on this box. She loved reading the book and playing with the ducks and nest as she read it!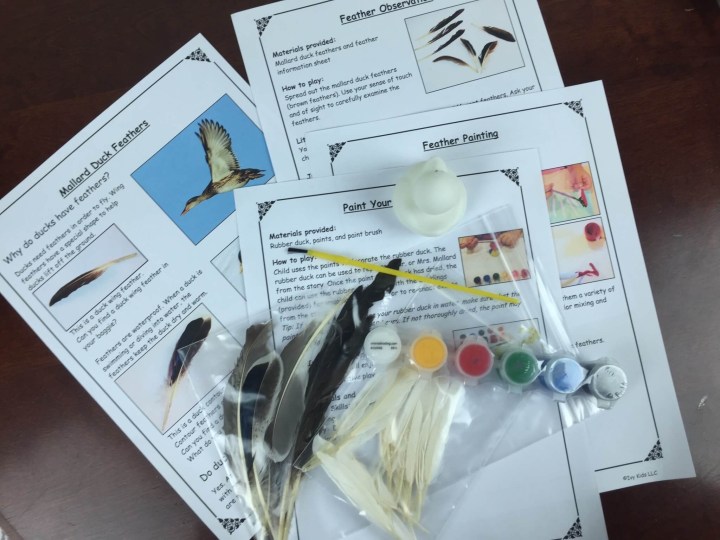 Mallard Duck Feathers
Feather Observation
Some mallard duck feathers were included, along with information about the different types of feathers, as well as a sheet on observing the feathers. You can read to your child or older kids can read it to themselves, but the sheets also include crucial questions to ask to make sure it's a learning activity and not just playing with feathers!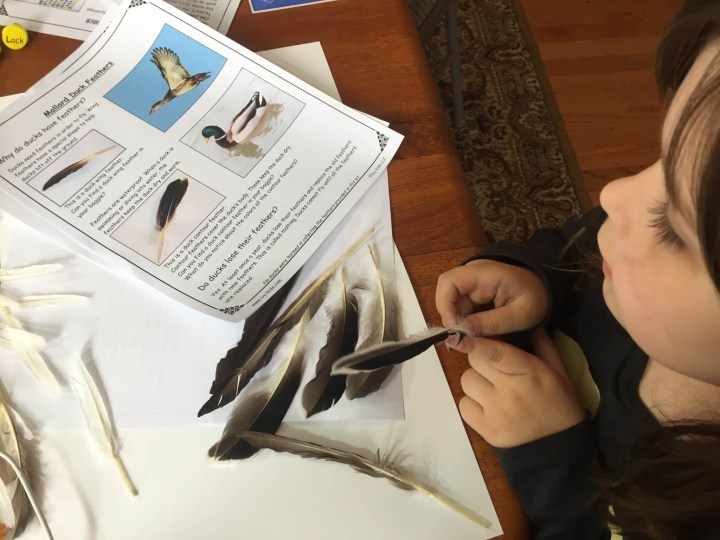 She was really fascinated by this.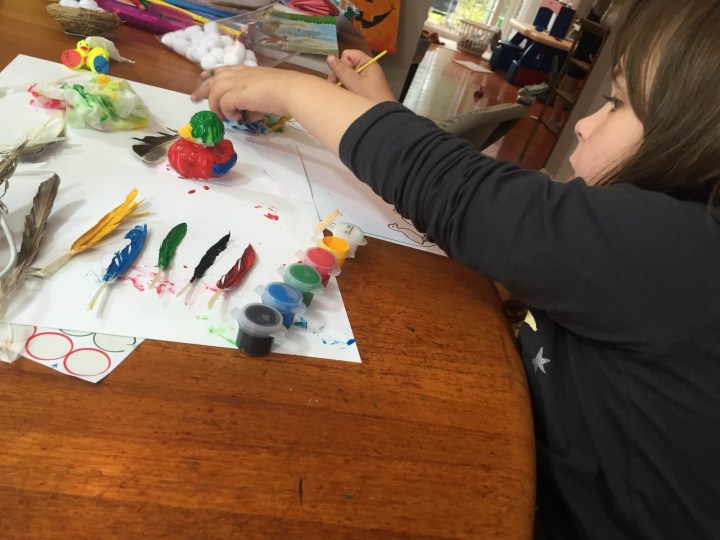 Paint Your Own Duck
Feather Painting
My daughter loved both of these activities! She painted the duck very carefully and I got asked several times to help clean it up so it would be "accurate." She didn't want to paint with the feathers, but she found painting the feathers themselves very engaging and soothing.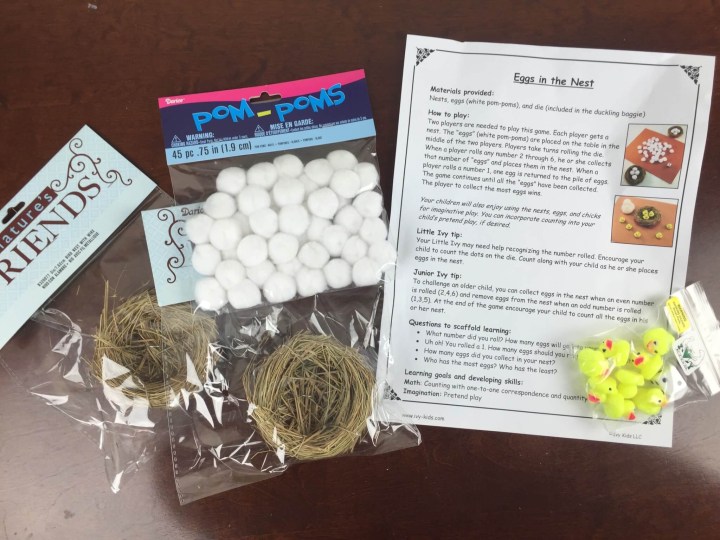 Eggs in the Nest: This was a fun game using the two nests and the "eggs," plus the die. It was silly and fun and we had a good time with it. My son wasn't feeling well the day we did this activity, but I know he will enjoy it as well.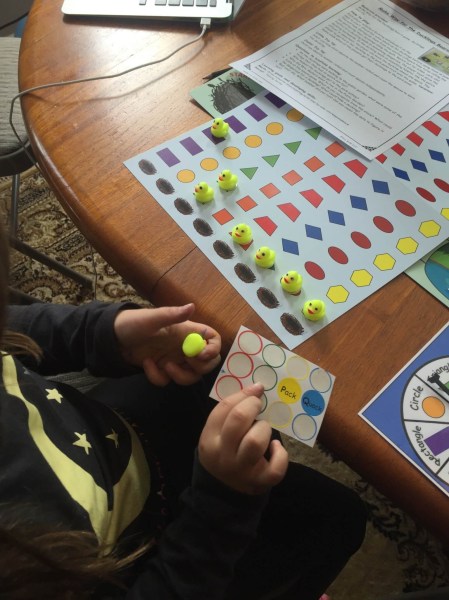 Duck Race: Two more games were included! We raced ducks (I got to select which duck was Pack and which was Quack) and she won! A good game for shape recognition and counting. Plus the little ducklings were irresistible.
Make Way for the Ducklings Board Game: We also played this simple and fun board game that reinforced the events of the book.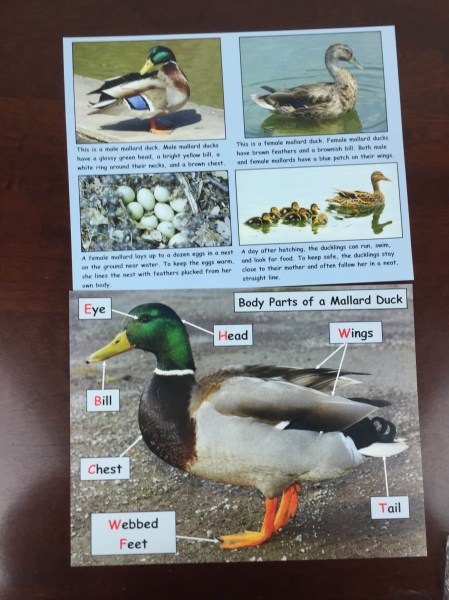 Every Little Ivy box comes with full-color educational cards with facts, and when appropriate, body parts.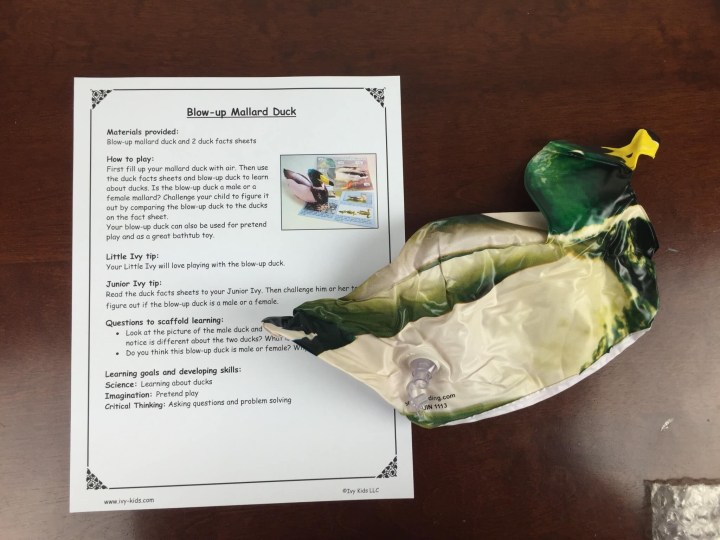 Blow-Up Mallard Duck: This was a super exciting item, and my daughter surprised me by blowing it up herself.  It's a boy duck, obviously!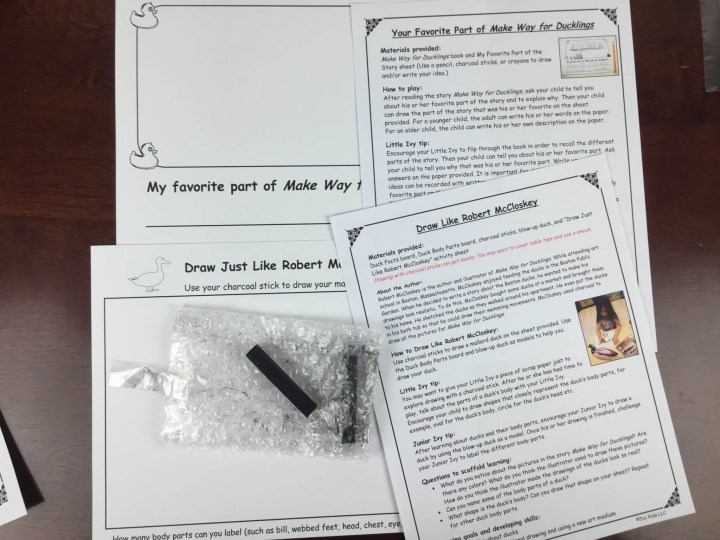 Draw Like Robert McCloskey
Your Favorite Part of Make Way for Ducklings
These two art projects challenged kids to go deeper with the book.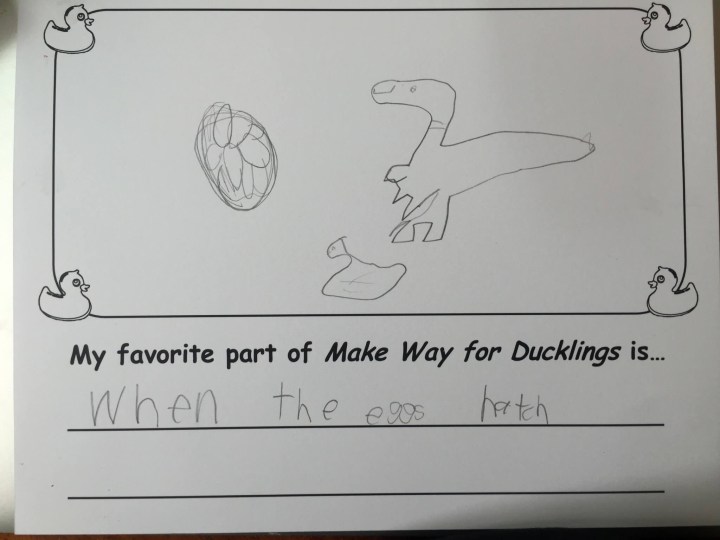 Children had to recall the events of the story and draw their favorite part.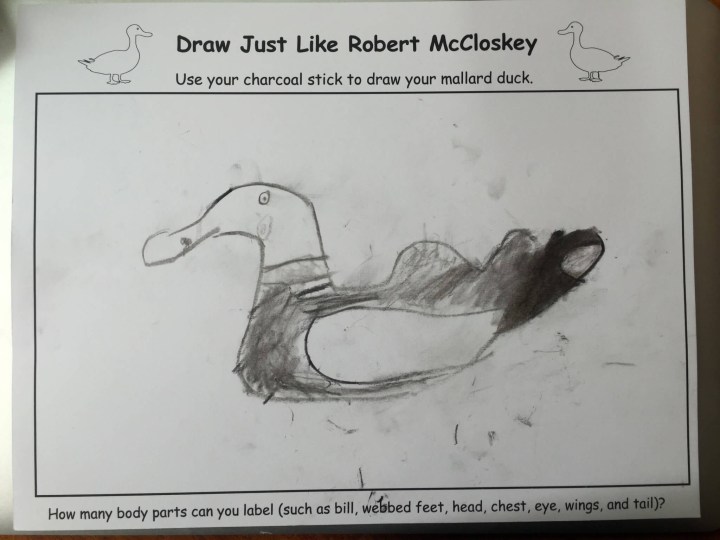 We are really impressed with her drawing skills – she really loves working with charcoal! My son would not like this project – he doesn't like his hands dirty. The information card had questions like what do you notice about the drawings in the book. It also gave some history about his process – including putting ducks in his tub!
The Ducks' Walk to the Public Garden: My daughter was avidly reading all about this and she was very excited to discover that we will be visiting the ducks in the Public Gardens next summer! I loved the map activity – it's a super important skill to learn and there are few "how to read a map" based activities out there.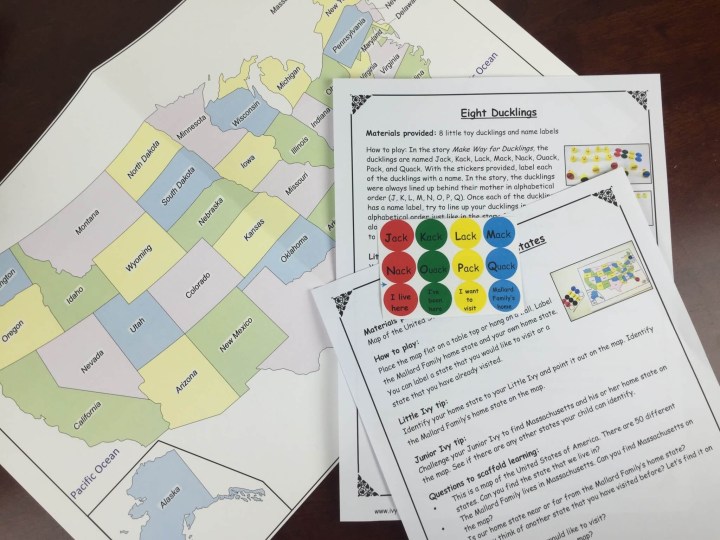 Map of the United States
I would have sworn I took a photo of the labeled map. My Junior Ivy decided she wanted to visit Hawaii. She noticed we don't live too far away from Boston and we discussed how long it will take to drive there (1 day).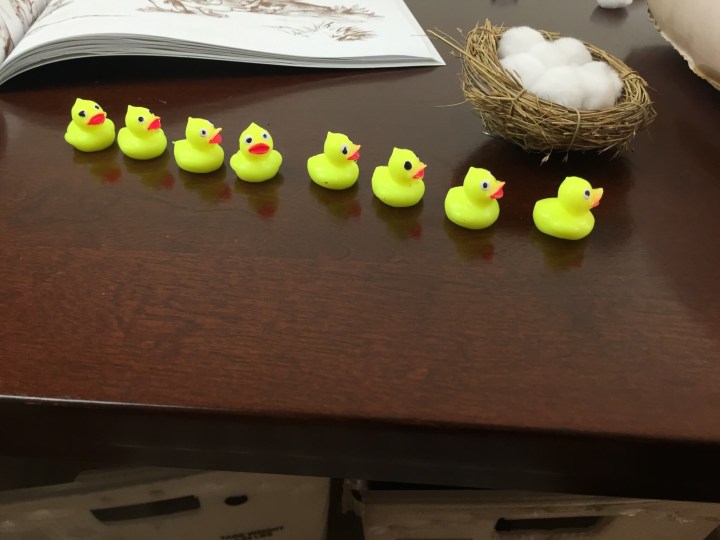 Eight Ducklings: Label them all with the names in the story and mix them up – it's a challenge for younger kids to re-order them!
It's a little easier (ok a LOT) if we don't document all the products of our work because this box is simply so giant, so I think it's easy to say that your child will have plenty to do. Everything is very focused on learning, but it's all very fun and engaging, with great monthly themes! My son was completely fascinated by the mallard ducks last week, and we can't wait to repeat the activities with him. I know he will really enjoy learning more about ducks!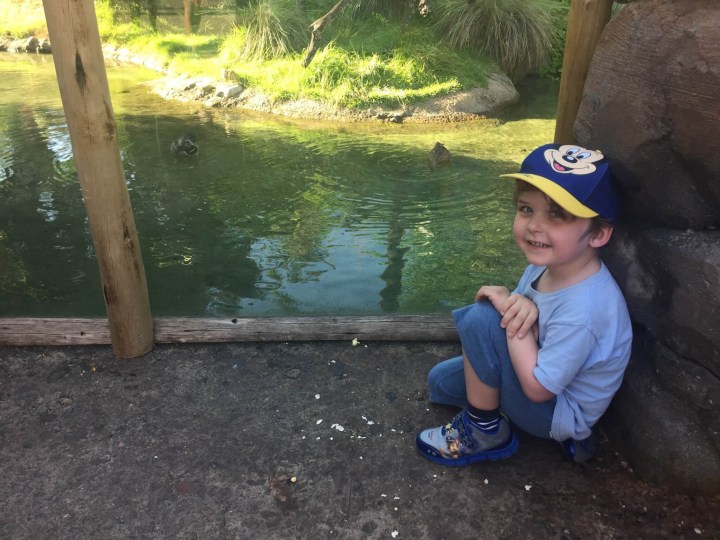 Visit Ivy Kids to subscribe or find out more.
The Subscription
:
Ivy Kids
The Description
: Ivy Kids is a monthly educational subscription box for children ages 3-8 with the goal to make every moment with your child quality time. Have the tools at your fingertips to ensure your child has a solid foundation in math, literacy, and science.
The Price
: $39 per month
The Coupon
: Save 20% on your first box with coupon code
IVY20
or code
IVYFREESHIP
for free shipping on any past kit.