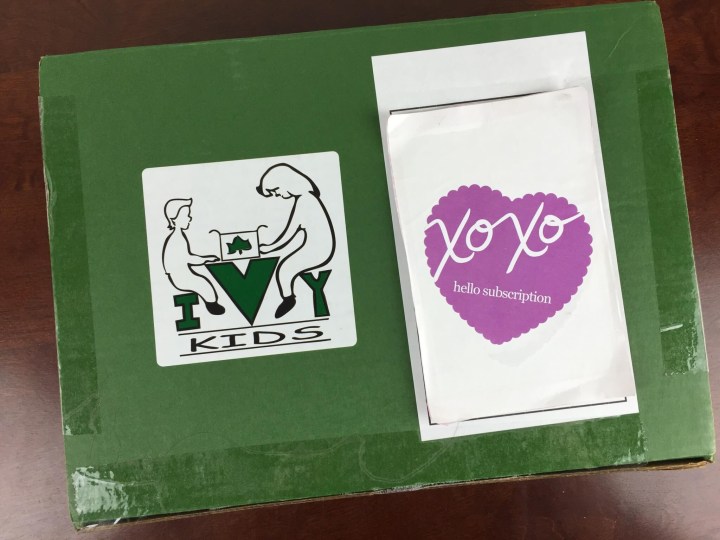 Ivy Kids is a monthly subscription box for kids ages 3-8 providing tons of fun educationally focused activities from a certified early childhood educator. There are oodles of activities in every box, providing really an entire month of projects that will  develop fine and gross motor muscles, build math and literacy skills, encourage reading comprehension, and promote scientific thinking.
The November 2015 Ivy Kids Kit features the book A Color of His Own by Leo Lionni. This box encompasses two age ranges: 3-5 (Little Ivy) and 5-8 (Junior Ivy). It's also great to have a box that two kids can participate in.
This particular box has supplies for two children, and you can add a sibling pack to your box for $5, which is totally worth it — you will get an extra set of all the crafting items.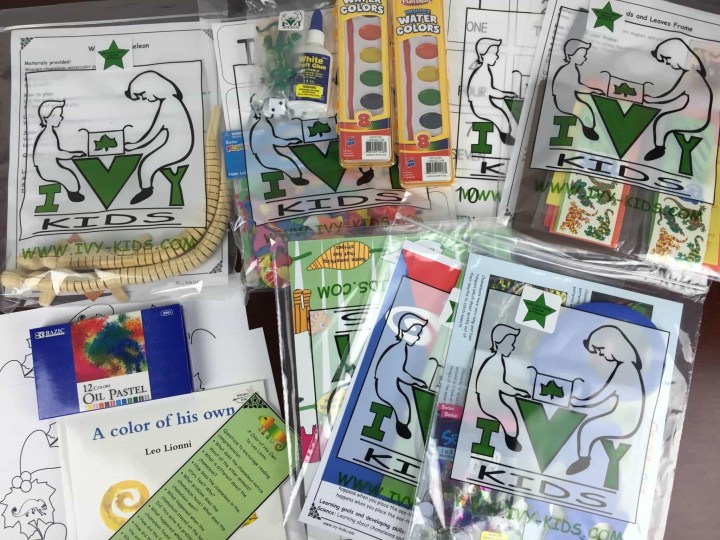 This box has so many activities, just filled to the brim. These are all the supplies that were in our Ivy Kids kit. Each activity is separated by a plastic bag, making it easy to grab and go, and to keep things organized. This is really important with so many activities. (And there are a lot of activities in this box! We use a lot of pictures for this review because it's an accurate representation of what you get!)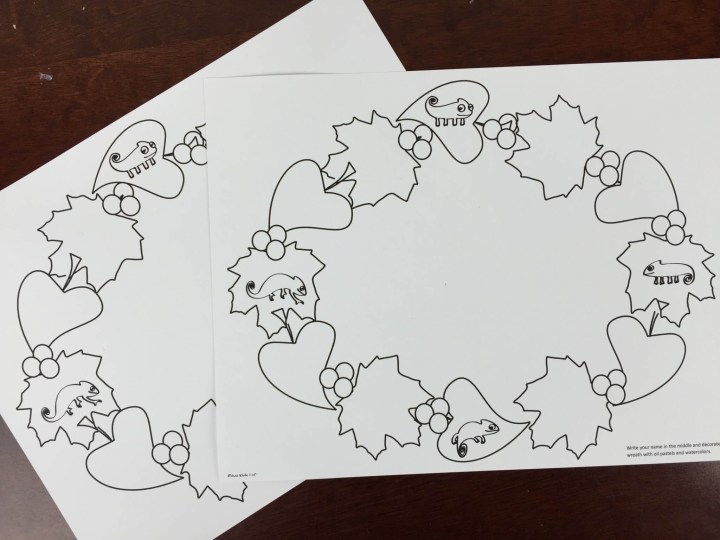 Every box includes a personalized item for your child. Ivy Kids doesn't personalize them for my kids because they know that we don't use our kids names on the blog!  This project would have your child's name in the center of the wreath.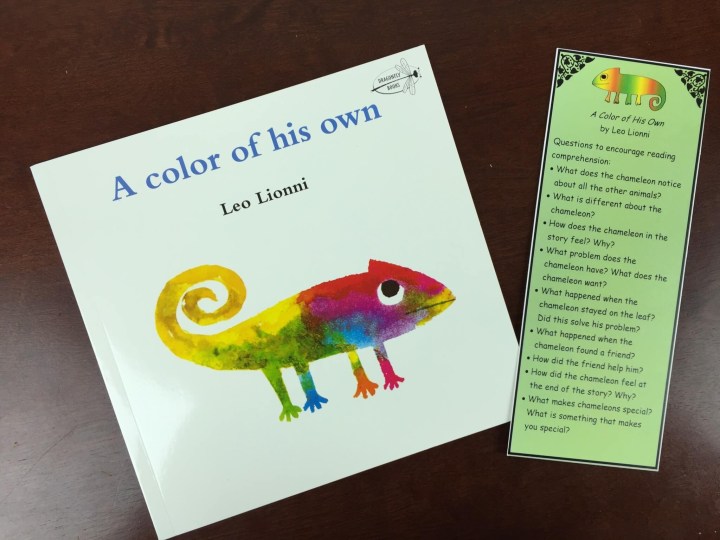 A Color of His Own by Leo Lionni:  This book is loaded with simple, but beautiful illustrations.  
This book is loaded with beautiful illustrations.
The level of difficulty is great for early readers.  Our daughter likes to read the books to her little brother.
Wooden Chameleon:  we received two, because of the sibling pack.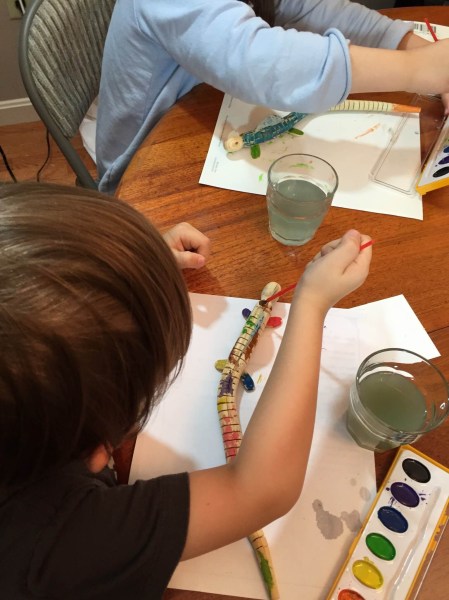 This activity was great — to kept both kids busy for quite a while.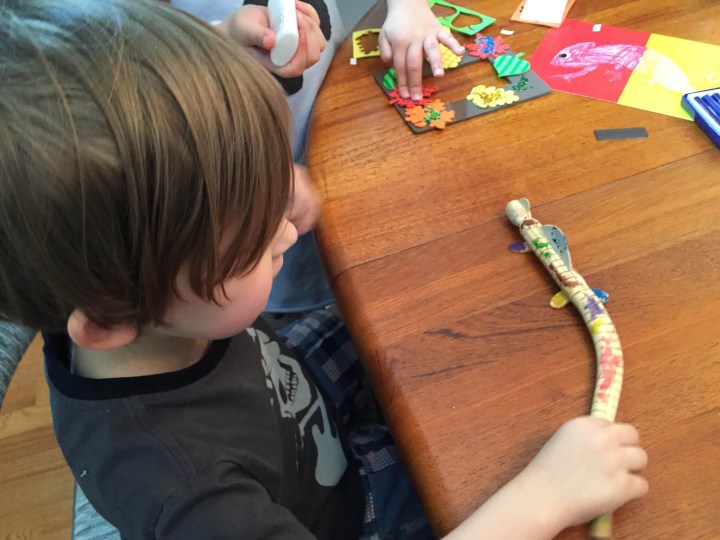 The kids love that the chameleons writhe back and forth.
The activity was tired with a learning guides filled with cool facts about chameleons.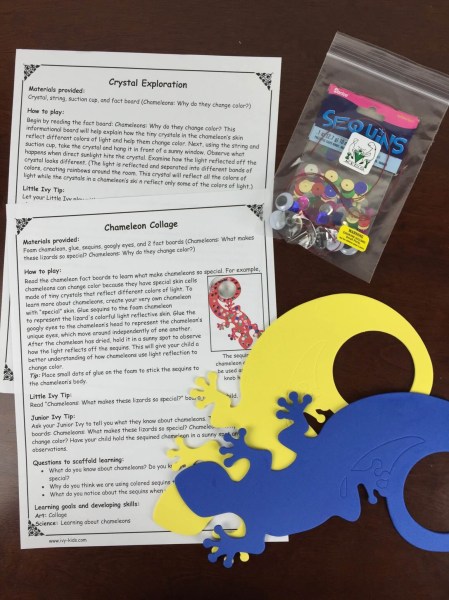 Chameleon Collage:  The kids made their own chameleons with sequins representing the special reflective skin of the creatures.
Crystal Exploration:  a cool crystal refracted light all about the room.   As with all Ivy Kids activities, the sheet challenged the kids to think about why the exploration/experiment behaved as it did.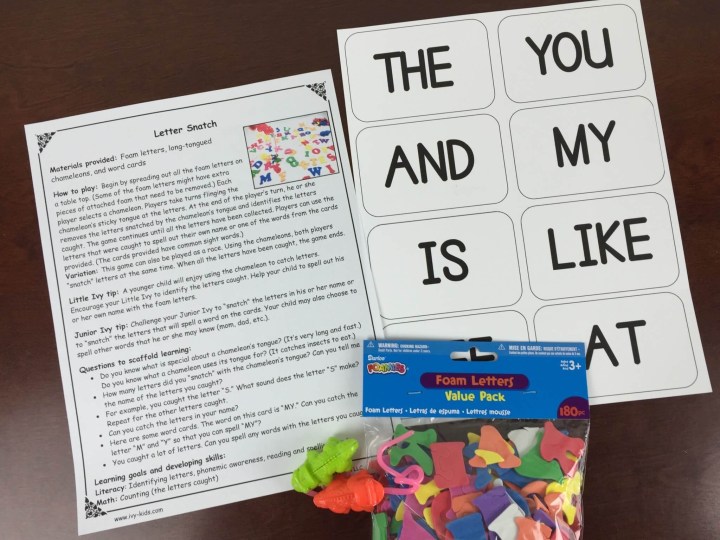 Letter Snatch:  This was a fun and unique way to reinforce spelling and word recognition.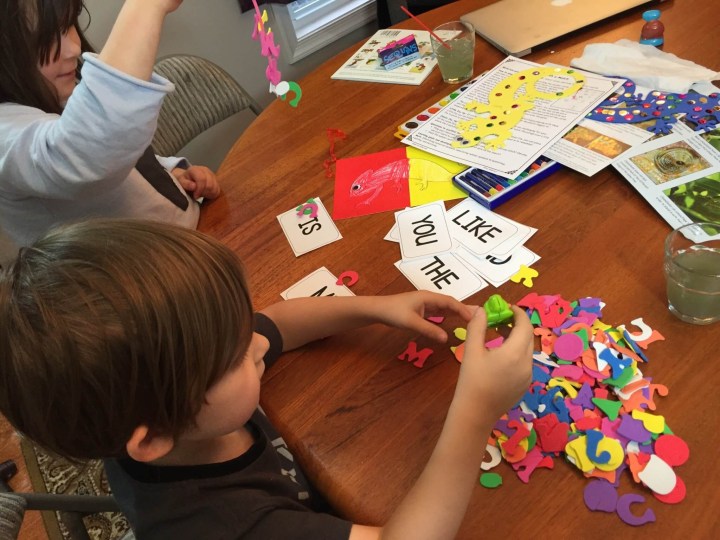 The rubbery chameleons had really sticky tongues that could be flung at the letters.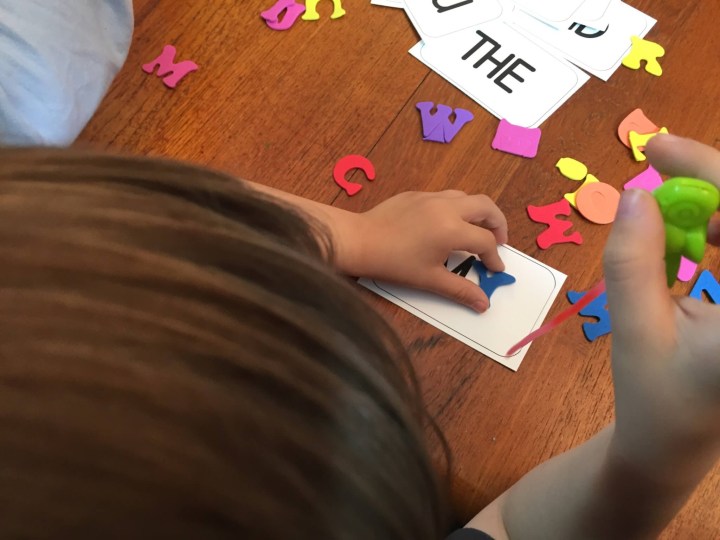 Once collected, the letters were used to spell words from either the cards or their own vocabulary.
Catch a Match:  The sticky-tongued chameleons were used to grab the numbers and the corresponding ladybugs, creating matches.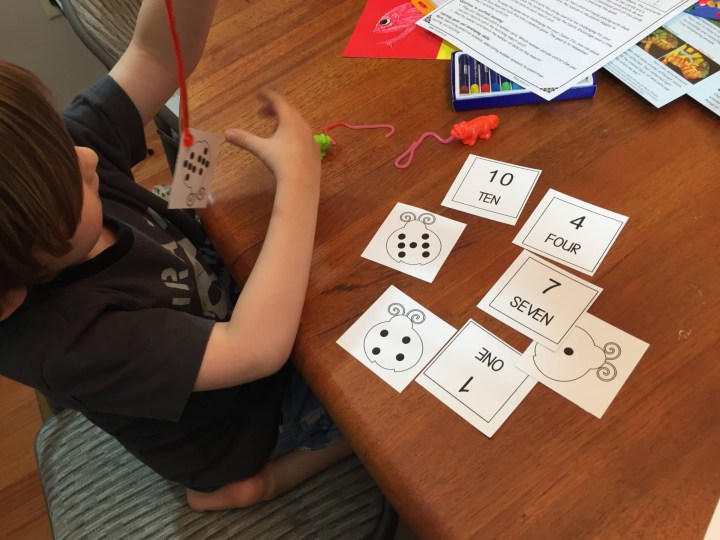 The tongues worked great for this!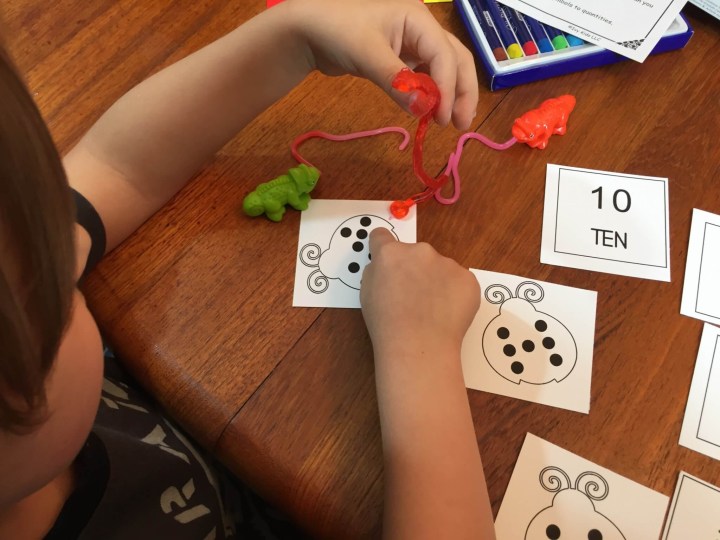 This was superb for reinforcing simple counting, number recognition, and for learning the spelling of the numbers.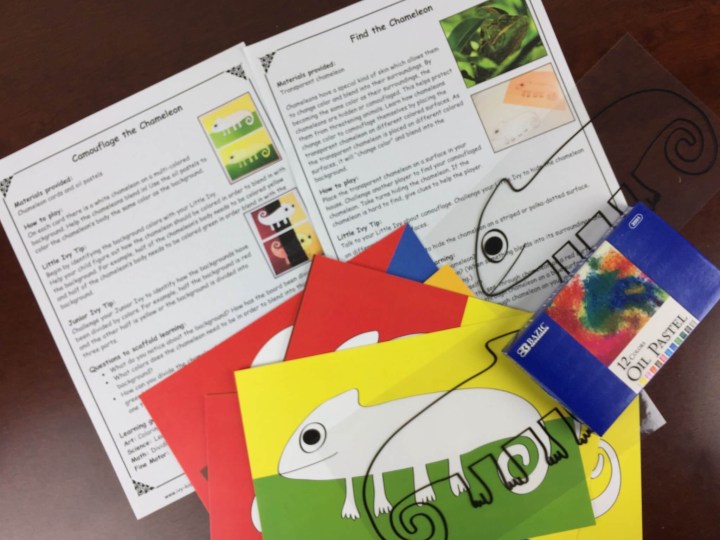 Camouflage the Chameleon:  An art project that had the kids hiding their chameleons by coloring them to match the background patterns.
Find the Chameleon:  This transparency allowed the kids to hide a completely transparent chameleon around the house.  He was tricky to spot, and the kids loved searching for him.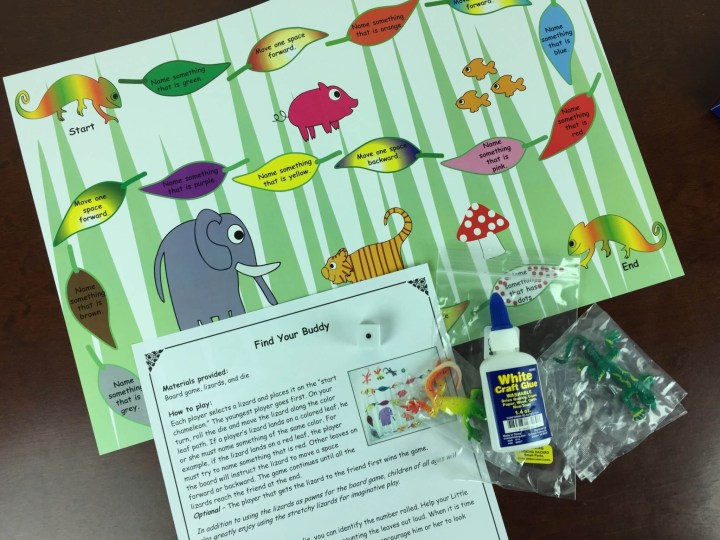 Find Your Buddy:  This fun board game engaged their imagination, asking them to name things that were the same color as the space they are on.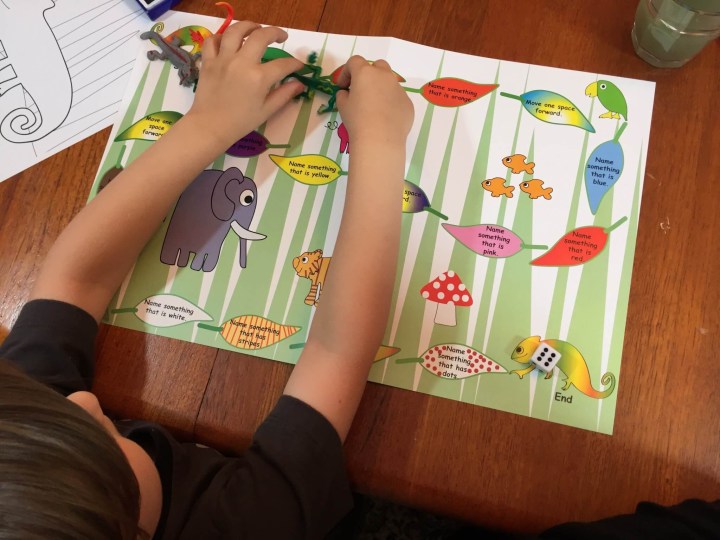 It was made extra fun by having little lizards to use as pieces.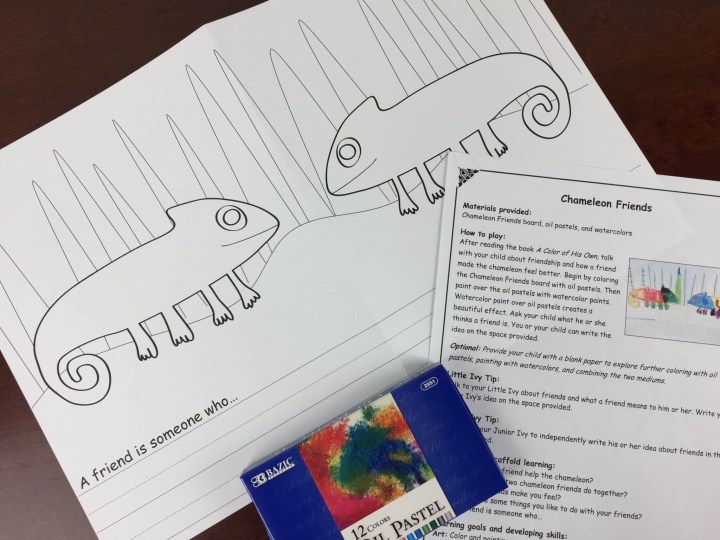 Chameleon Friends:  This activity invited the kids to use pastels and paints to decorate the chameleon buddies, and they were challenged to explore and explain the concept of friendship.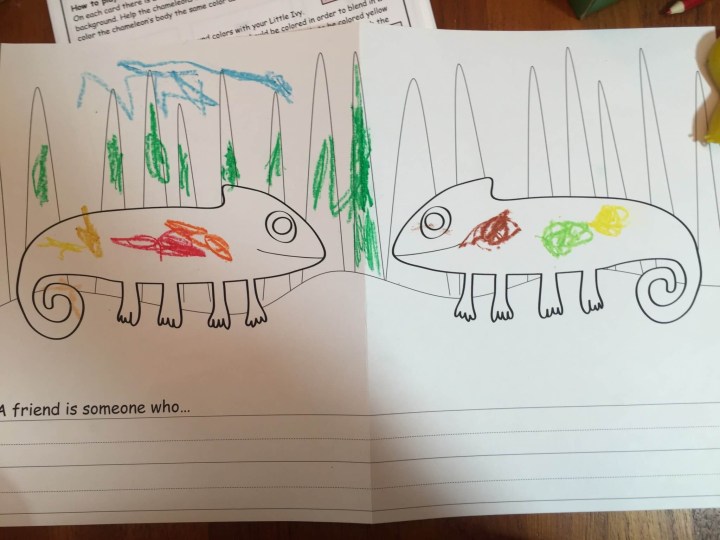 This project was open-ended enough to suit kids of all artistic ability.
Lizards and Leaves Frame:  A cute indoor great to decorate your home for the season.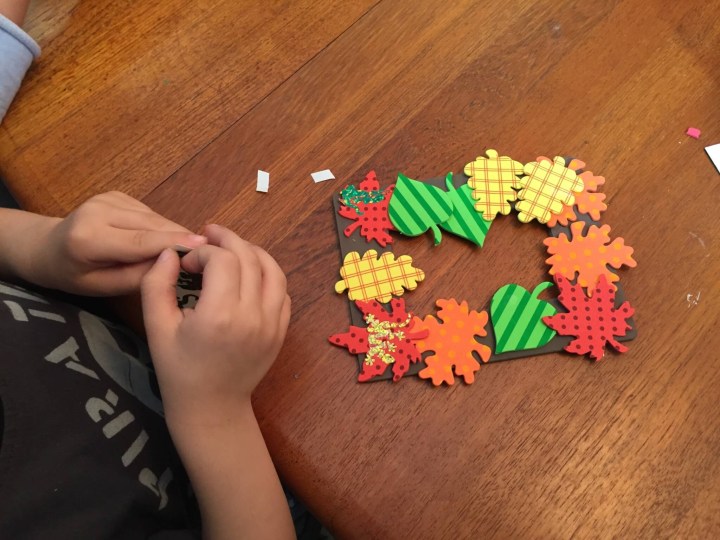 The wacky leaves made a great background for camouflaging the chameleons.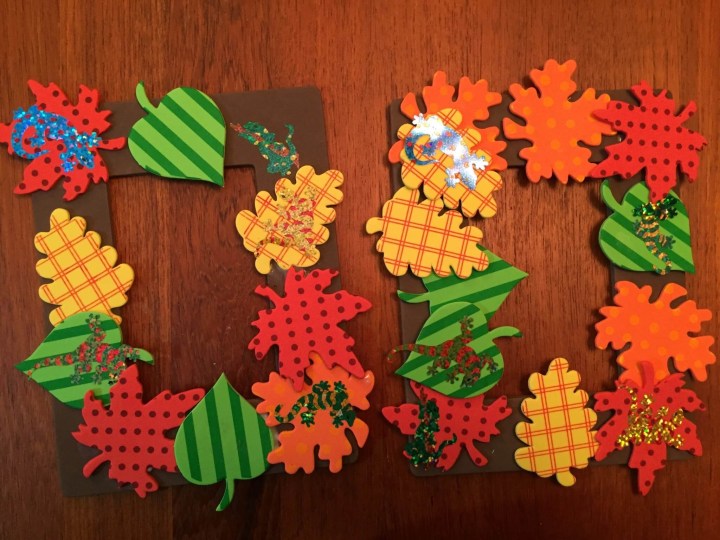 It's a little easier (ok a LOT) if we don't document all the products of our work because this box is simply so giant, so I think it's easy to say that your child will have plenty to do. Everything is very focused on learning, but it's all very fun and engaging, with great monthly themes!  Unless you are crazy like us and try to do all the projects in a day or two (to promptly share our experiences with our readers), Ivy Kids should provide many, many hours of entertainment and exploration.
Visit Ivy Kids to subscribe or find out more.
The Subscription
:
Ivy Kids
The Description
: Ivy Kids is a monthly educational subscription box for children ages 3-8 with the goal to make every moment with your child quality time. Have the tools at your fingertips to ensure your child has a solid foundation in math, literacy, and science.
The Price
: $39 per month
The Coupon
: Save 20% on your first box with coupon code
IVY20
or code
IVYFREESHIP
for free shipping on any past kit.